Sweet Asian Apple Corn Slaw
Sweet Asian Slaw with Apple and Corn is a bright, crunchy slaw tossed with a nutty, sesame oil dressing–healthy and packed with flavor!
Looking for a healthy side dish to go with your Asian theme menu? You may have already made my popular Asian Chicken Cranberry Salad (so good), but this salad is vegetarian!
Sweet Asian Apple Corn Slaw
You're going to love this fresh, beautiful salad, with a touch of summer corn!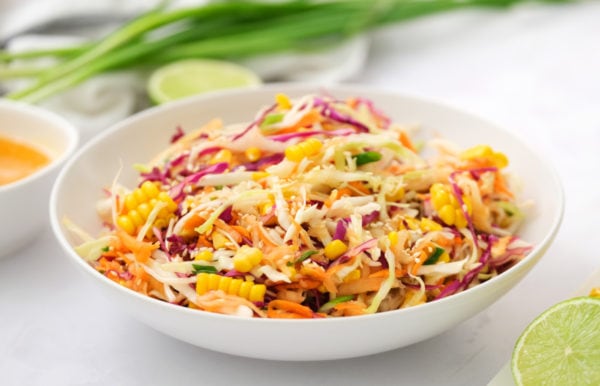 Sweet Asian Slaw with Apple and Corn
Give this Asian coleslaw a try–scrumptious served with grilled meat or fish! Add fresh corn, two kinds of cabbage, toasted sesame seeds (yum!) and whatever veggies you want to use up!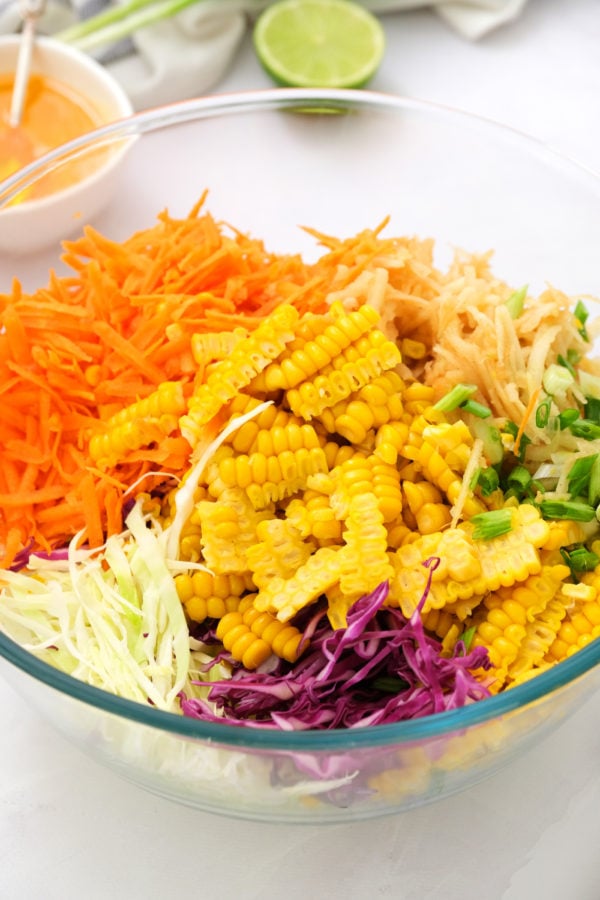 All you need are these ingredients:
Green and red cabbage
Granny Smith apples
Carrots
Green onion
Carrots
Fresh corn on the cob
Soy sauce
Honey
Rice vinegar
Sesame oil
Lime
Sesame seeds
Salt and black pepper
Fresh ginger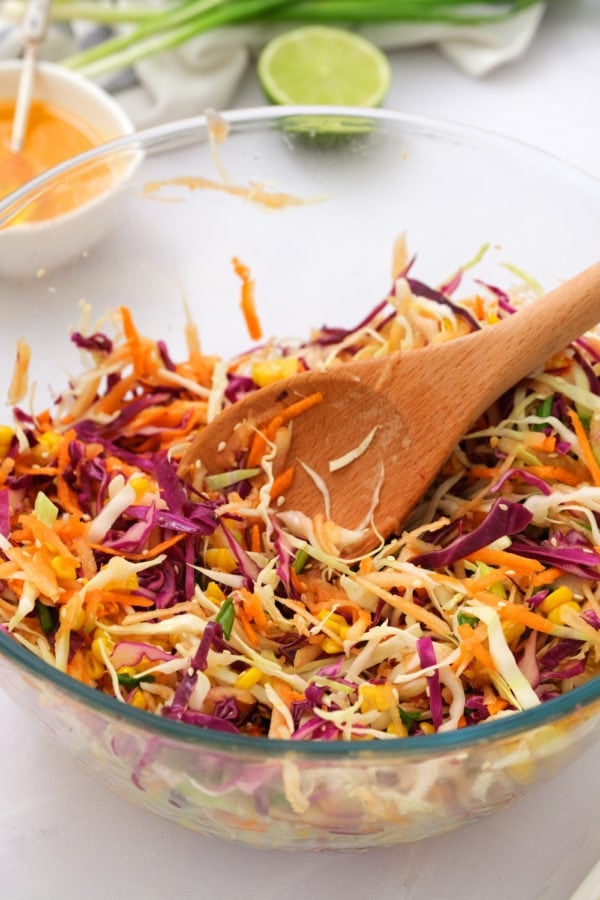 Eat the rainbow salad
This recipe is a great way to eat the rainbow (or your colors).
Not only it looks refreshing and appetizing, but it is so easy to put together for a weeknight family meal or a big potluck party. It's a perfect salad to complement your BBQ meats, delish on tacos, Ahi tuna steak, and other Asian potluck menus.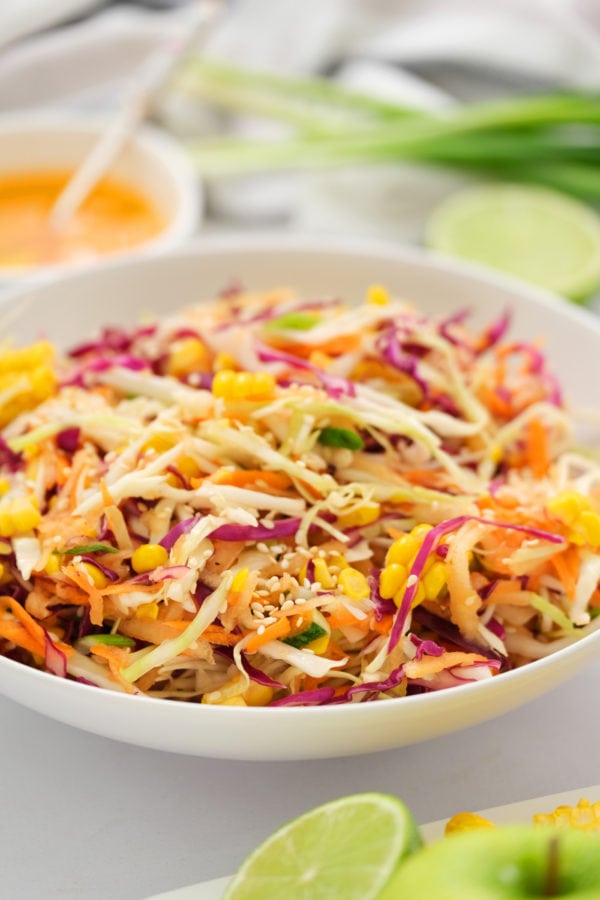 Recipes to serve with this Asian salad:
Mahi Mahi Tacos with Chipotle Sauce and Mango Salsa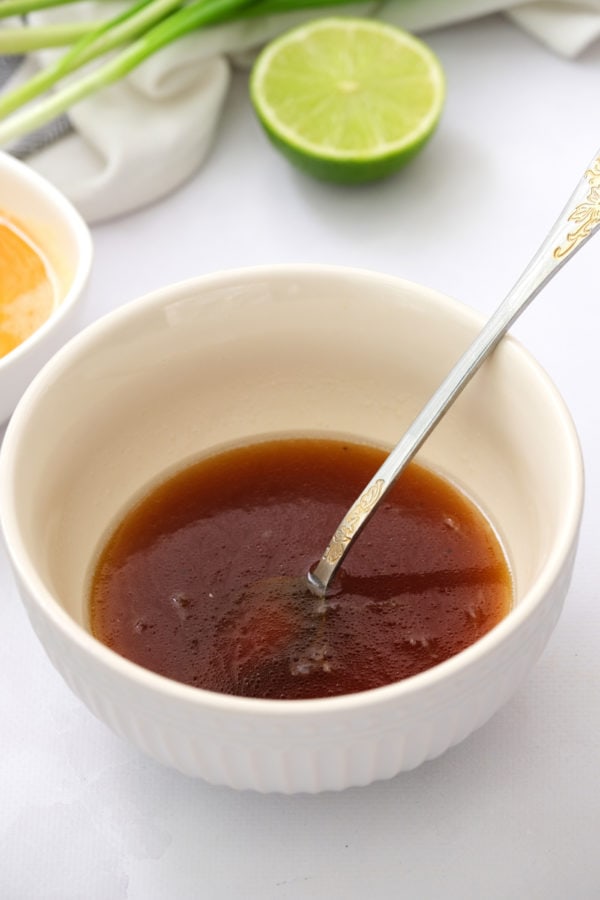 What I love most about this sesame dressing is its light and fresh and can also be served on any noodle salad or a green salad.
How to make asian slaw
With fresh cor in season, I made this for a gathering, so I took the time to boil fresh sweet corn and then slice it off the cob. It very fresh-tasting with the fresh corn, and the apples gave it a nice, tart flavor.
We use this OXO Good Grips® Steel Chef's Mandoline! You can buy it, here. [affliliate link]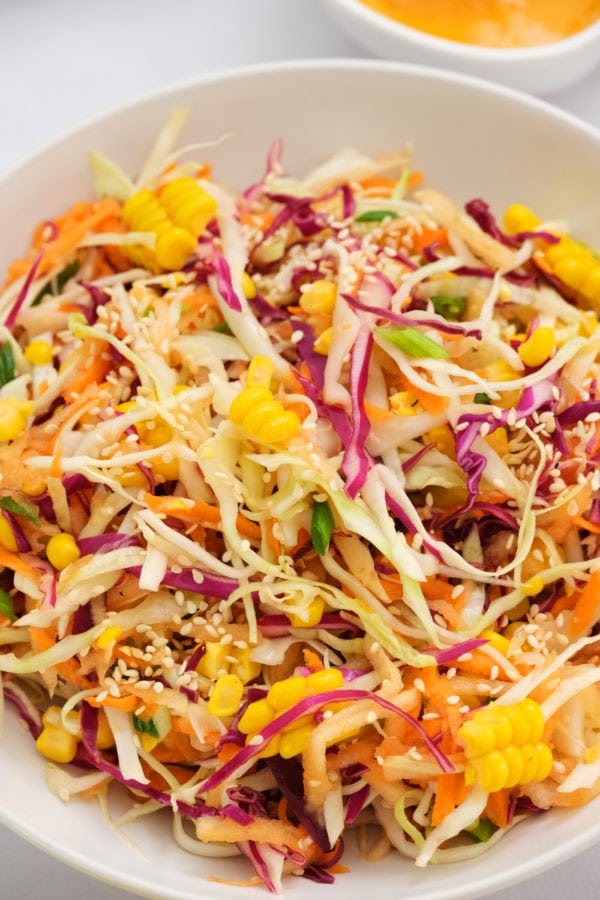 Friends, enjoy for summer for picnics and potlucks, with no worries about refrigeration.
That is a win-win!
You can make it sweet, spicy – it's crunchy, and our whole family loved it, served Asian Barbecue Chicken, and this Caprese Gnocchi Bake on the side.
ENJOY!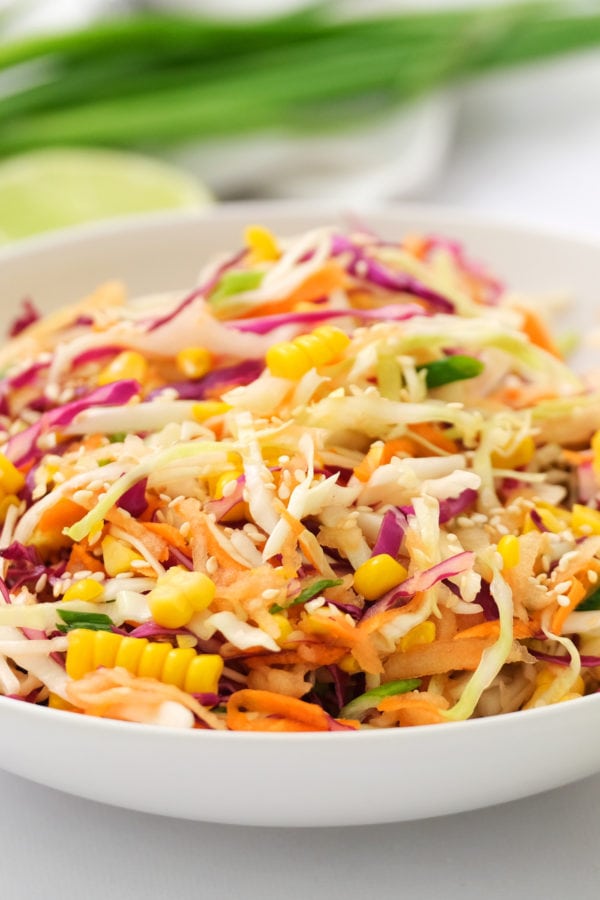 Get the Recipe: Sweet Asian Slaw with Apple and Corn
Ingredients
3 cups green cabbage
2 cups red cabbage
2 Granny Smith apples, grated
2 carrots, grated or thinly sliced
3-5 green onions, chopped
2 cobs corn, cooked and cut off the cob
1 tablespoon soy sauce
2 tablespoons honey
2 tablespoon rice vinegar
1 teaspoon sesame oil
1 lime, juiced
2 teaspoons sesame seeds, toasted
salt and black pepper, to taste
2 teaspoons fresh ginger, grated (optional)
Instructions
Mix the cabbages, apple, carrots, green onion, and corn gently together.

In a small dish combine the soy sauce, honey, rice vinegar, sesame oil, and fresh lime. Mix well; add the toasted sesame seeds and fresh ginger (option).
Notes
Reposted from September 2014.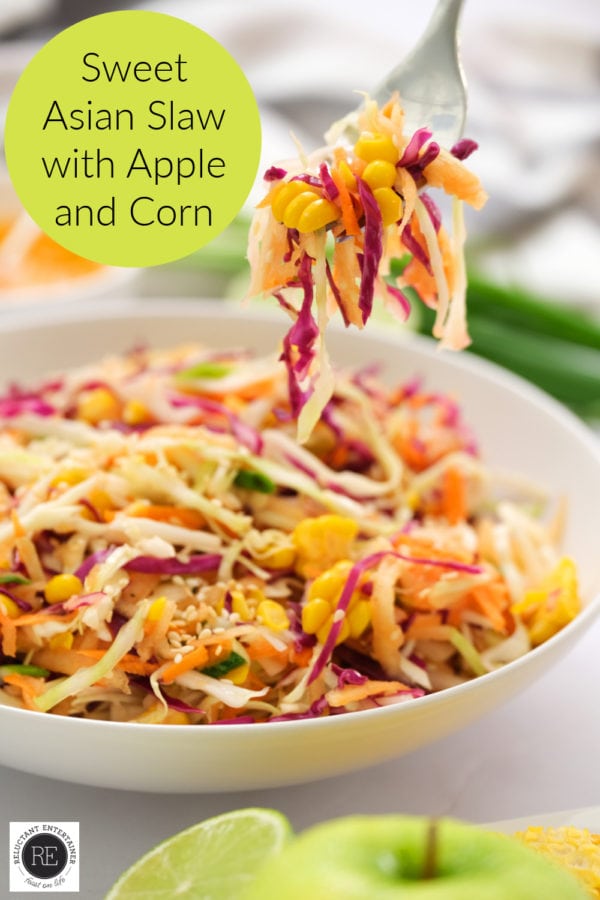 Hello and welcome to my home and table!
I'm Sandy—lover of food, family, cooking, THE BIG BOARD, travel, and bringing people together. Through great recipes and connection around the table, we become better, stronger, and more courageous people. Feasting on Life is real, and every time we do it, we grow a little more. Read more...