Asian Chicken Cranberry Salad
This Asian Chicken Cranberry Salad can be served as a main dish, a side salad, a potluck or holiday dish! It's always the first to go. It's just that good!
A friend and I were recently discussing entertaining, the value of relationships, and why it's important to regularly get together with good friends over a tasty meal.
For this new year, I'd love to challenge readers to not waste time, make entertaining moments happen, work on relationships, and spend time with people who will help you become a better person.
It works the other way, too. I understand that not every entertaining moment is glorious and golden, but the benefits outweight not getting together with people!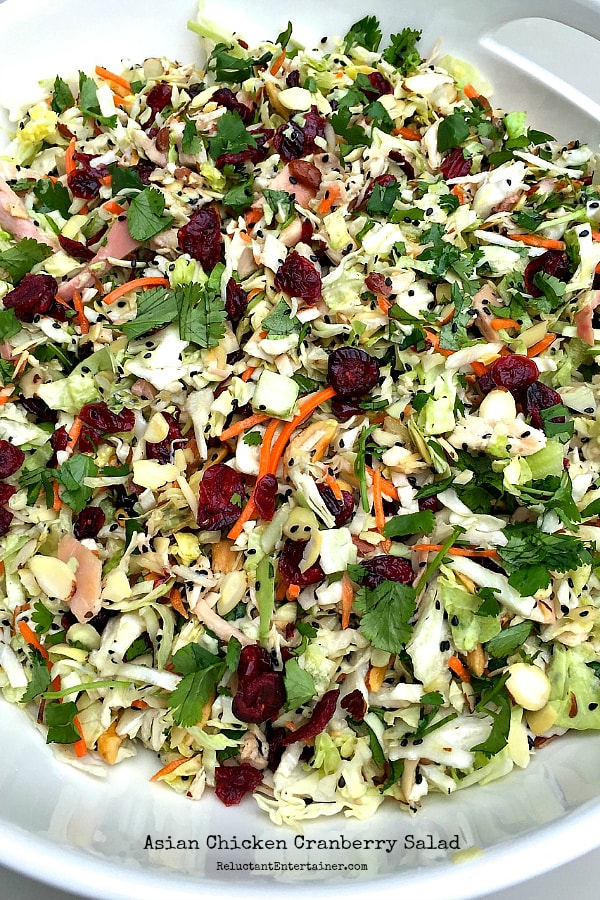 Dr. Brene Brown is a favorite author of mine. My husband introduced me to her when she wrote her first book, and I've recommended her writing to many.
Her message is freeing—about vulnerability, being authentic and real with others, and why connection matters.
"Living a connected life ultimately is about setting boundaries, spending less time and energy hustling and winning over people who don't matter, and seeing the value of working on cultivating connection with family and close friends." ― Brené Brown, Daring Greatly
I want to be one of those people who lives a rich life, surrounded by love and people.
Change entertaining habits.
This may be the year that you change your entertaining habits, and even some friendships (it doesn't mean you dump the friends, you just change the boundaries), and you create a goal of making new connections.
An example might be instead of doing casual pizza every Friday night, maybe invite 2 or 3 people over for a sit-down meal. Remember you don't have to do it all; ask guests to bring a dish!
Or, start hosting a Sunday Soup Night (or afternoon) where you invite the neighbors.
If you don't like to cook, figure out your budget and invite a couple or two out to dinner 2 times a month.
Just try something new!
I know some goals of mine are to be healthy, make new friends, encourage others, and spend time with "wise" people. In fact, I wrote about it here, at my Burn the Candles post.
The results of entertaining are connection and deeper relationships with others. It's great to make new friends, to visit with old friends, and really, if you have a family, it's one of the greatest gifts that you can hand down to your children: the gift of a hospitable heart.
Be smart with time.
I also want to be smart with my time this year, using what I've been given wisely. Sometimes that means we say no to one invite, and yes to another (like hosting in our own home!)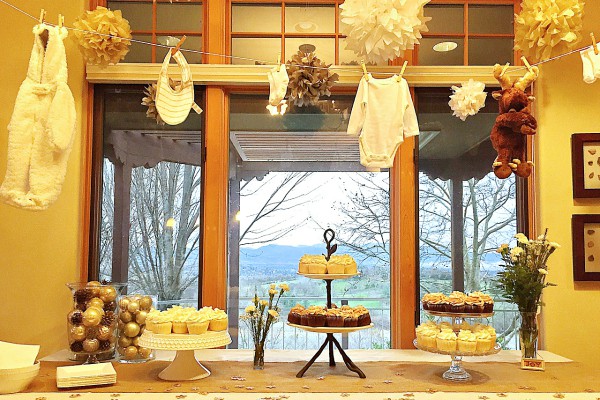 My daughter and I recently went to a baby shower that our friend hosted, with a packed house of about 50 people.
It was awesome to see her daughter so blessed with so many people who cared about her (and an abundance of gifts, which took forever for her to open – lol!), and everything was so darling and baby festive!
(I just had to take a quick iPhone pic!)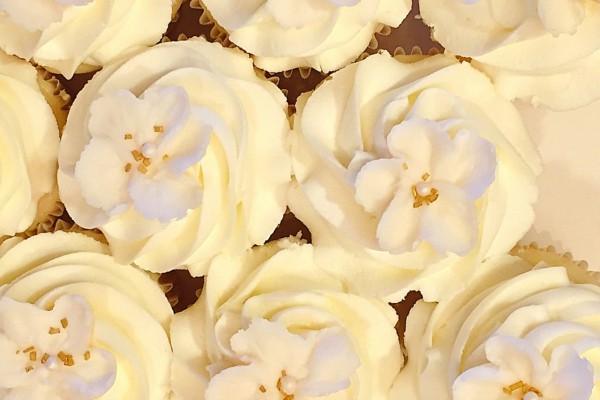 Asian Chicken Cranberry Salad
My friend served an array of luncheon dishes, and I offered to help by bringing one of my favorite salads that everyone loves, Asian Chicken Cranberry Salad.
It's the perfect dish to take to a party, especially if you double the recipe and serve it in a giant bowl (feeds a crowd).
The sweet and tangy dressing with a hint of sesame combined with crisp, thinly chopped cabbage, crunchy, salty sesame sticks, dried orange cranberries, chicken, toasted almonds and plenty of fresh cilantro, makes every bite sensational.
It can be served as a main dish, or a side salad, and I promise, it's always the first to go. It's just that good! You can bring the salad to a party in a large bowl, or serve it at home in individual bowls.
Even with the dressing on, if you're lucky and you have leftovers, it makes for a good leftover wrap the next day.
Remember, chicken is optional. Make the dressing up and store it in a canning jar.
You can toss right before serving, or even a bit in advance. The cabbage does not get soggy! YAY!
I'm not a fan of soggy salads.
Do you have some healthy goals for changing your dining habits this year by including more friends?
Asian Chicken Cranberry Salad
Toast almonds by laying on a paper towel and microwaving for 1 minute, turning once. Or, toast the sliced almonds under low broil for 2-3 minutes, until golden brown. You can also make your own cabbage mix with green and purple cabbage with a tiny bit of carrots.
Ingredients:
2 small bags of coleslaw mix (about 12 cups)
4 cups rotisserie chicken, finely chopped
1 1/2 cups toasted sliced almonds (or cashews)
1 1/2 cup dried cranberries (I used Orange Cranberries from Trader Joe's)
3/4 cup red onion, finely diced
1 cup sesame sticks (found in the bulk aisle at grocery store – optional)
1 1/2 cups chopped cilantro
1/4 cup black sesame seeds
1 cup extra-virgin olive oil
1/2 cup balsamic vinegar
4 Tbsp. low-sodium soy sauce
3-4 cloves garlic, chopped
4 Tbsp. honey or brown sugar
4 Tbsp. minced ginger
2 tsp. toasted sesame oil
Directions:
Layer the cabbage in a large bowl with chicken, almonds (or cashews, or both), cranberries, red onion, sesame seeds, sesame sticks (optional), and fresh cilantro.
Combine the olive oil, balsamic vinegar, soy sauce, garlic, honey, ginger, and sesame oil in a blender. Add 3 tablespoons of water. Process until smooth.
Lightly pour the dressing over the salad mixture, according to how moist you like the salad. Gently toss and serve. (You may have a little dressing left over.)
All images and text ©
Are you following me on Instagram, Twitter, Facebook and Pinterest? Thanks being here today, and if you'd like to subscribe to Reluctant Entertainer, to have each post delivered straight to your e-mail box, then please add your email, here. It's really easy!
This post has affiliate links. Every purchase from these links supports RE at no extra cost to you. Thank you!