Blue Cornbread Asian Pear Sausage Stuffing
Blue Cornbread Asian Pear Sausage Stuffing is made with blue cornmeal, but can also be made with regular cornmeal. Perfect for the holidays!
Friends, you are going to love this Blue Cornbread Asian Pear Sausage Currant Stuffing for your Christmas dinner, delicious with ham, lamb, or prime rib!
A tyranny of the urgent has taken too much territory in our lives. It's time to push back, through the most important meal of the day, and upon the most overlooked and humble part of our home–the dinner table.
The table … where we sit together and ingest the same foods, that at the same time nourish our bodies, and when our thoughts and intentions may just be more earnest, honest, and caring.
Lingering around the table
Dinner is an important part of the day!
And we tend to linger around the table just a little longer when we've prepared a "special" meal, and we have invited guests over to share it with us.
Blue Cornbread Asian Pear Sausage Stuffing
Don't you love the flavors of pears at Christmas? And the blue cornmeal is a very festive look for the holidays, with a tender, soft texture.
Where do you buy blue cornmeal?
Blue cornmeal can be found in natural food stores, or from Bob's Red Mill (here in Oregon).
Blue Cornbread Pear Stuffing
How about pairing these dishes together:
Marinated Cornish Game Hens or Crusted Pepper Prime Rib
This Blue Cornbread Asian Pear Stuffing
Flourless Chocolate Cake with Peppermint Whipped Cream
or 5-Minute Vegan Coconut Cream Dessert
We scrape the last of the stuffing with our fork. We taste great food and great words. We see what's going on behind the eyes of our beloved friends. And if we could only end the day by really listening when someone else speaks.
Let's pledge to one another to never stop inviting people in for dinner. The ending of a beautiful day, the right conversations that our souls need to sharpen our spirits and minds, and a humble way to say thanks for all that has been provided to us.
Not just for the holidays, but for each and every day!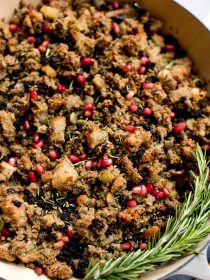 Get the Recipe: Blue Cornbread Asian Pear Sausage Stuffing
Ingredients
3 Tbsp extra-virgin olive oil
3 shallots, diced
2 Asian pears, finely diced
3 ribs celery, diced
Kosher salt to taste
Fresh pepper to taste
1 pound rosemary chicken sausage, removed from casing
3 cloves garlic, crushed and diced
3 sprigs rosemary, leaves finely chopped
9-10 cups loosely packed blue cornbread, cut into 1/2-inch cubes—yellow cornbread works as well!
2/3 cup dried currants
2 cups chicken stock
1/4 cup butter
Instructions
Preheat oven to 350°.

Add shallots, celery, and garlic to a skillet on high heat with 3 Tbsp olive oil. Sauté for about 3 minutes, then add in Asian pear, and cook, stirring often, until soft, about 5-7 minutes. Salt and pepper to taste, then remove from pan and place in separate bowl.

Add chicken sausage to the pan, adding a little more oil if needed. Add in currants and cool until lightly browned. Remove from heat and add to pear mixture.

Add butter to a large oven-safe pan or skillet, then place in oven and allow to melt, about 4 minutes. Remove skillet from oven when butter begins to brown. Remove from oven and place cornbread cubes on top.

Lightly mix chicken, rosemary, and pear mixture in a large bowl, then add to the skillet with the cornbread and butter. Pour over the chicken stock, then lightly mix with hands.

Place in oven for 30 minutes—until top is browned lightly, then lightly mix with a spoon to expose softer parts, and place back in oven for another 10 minutes. Repeat process one more time—this totals about 45-50 minutes, but it doesn't have to be exact—then remove from oven and serve warm!
More stuffing recipes: Easy Stuffing Recipe [Spend with Pennies], Stuffing in a Bundt Pan [A Spicy Perpsective] or Vegetarian Mexican Stuffing Recipe [RE].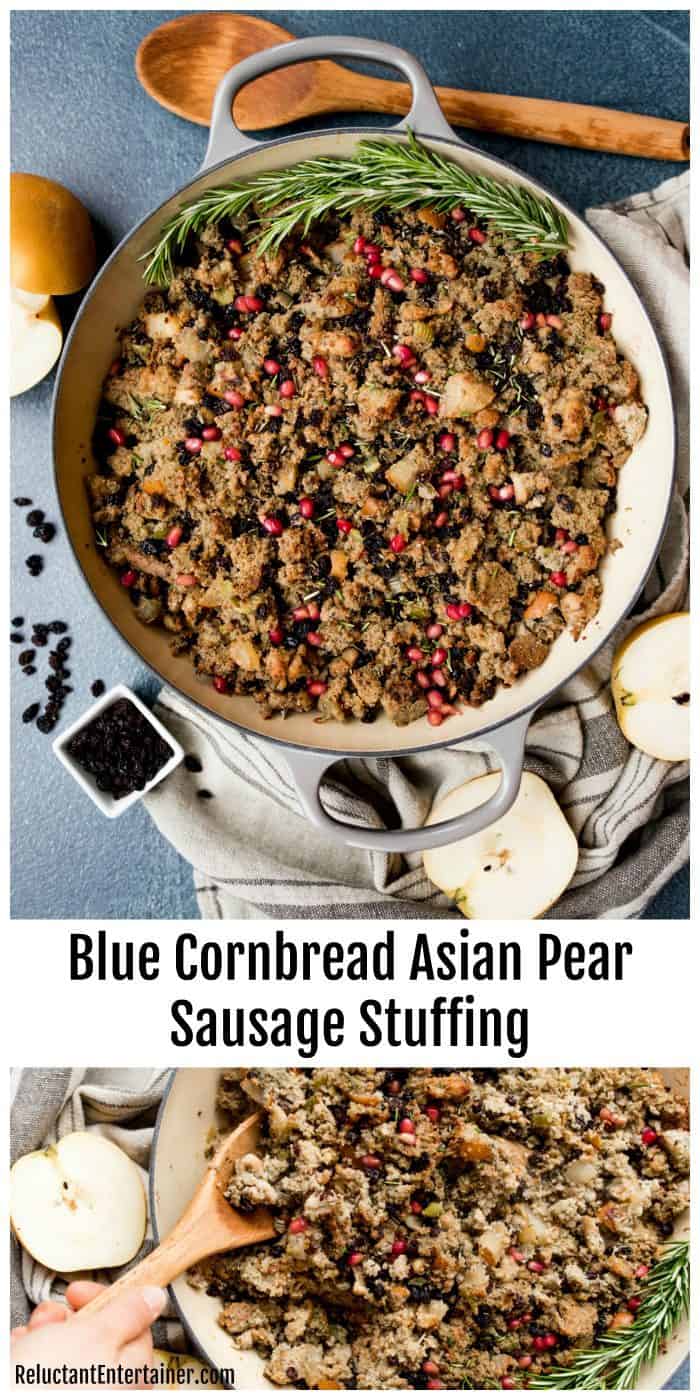 Hello and welcome to my home and table!
I'm Sandy—lover of food, family, cooking, THE BIG BOARD, travel, and bringing people together. Through great recipes and connection around the table, we become better, stronger, and more courageous people. Feasting on Life is real, and every time we do it, we grow a little more. Read more...