Taco-Stuffed Peppers Recipe
This Taco-Stuffed Peppers Recipe is a fun, fancy, makeover of a family favorite … tacos, from 100 Days of Real Food: Fast and Fabulous cookbook!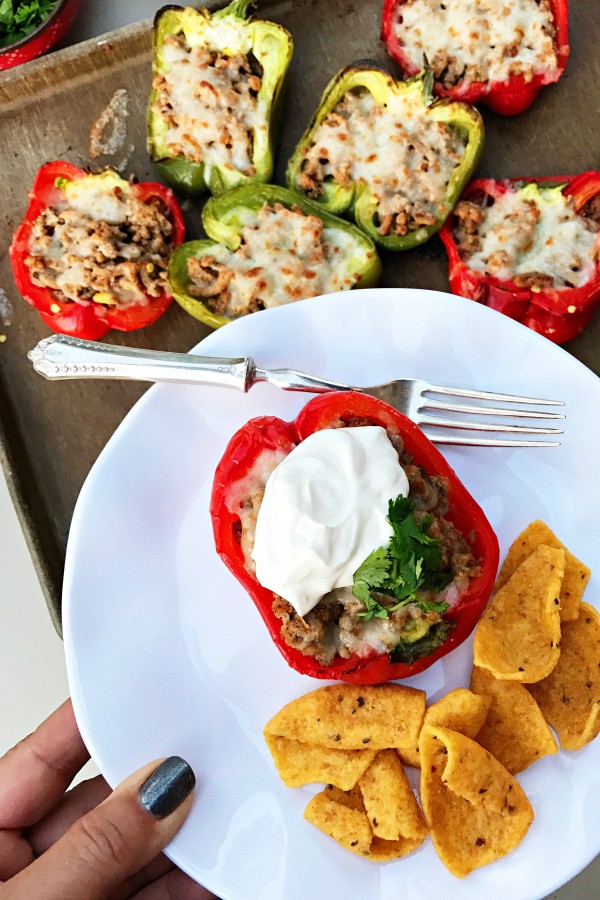 Friends, are you looking for an excuse to stop the rush? You know, the holiday rush?
I never want to revisit those hectic years, and part of changing things up in our family was to look at traditions. Did we all love them, or were they my agenda? We made changes, and we continue to (we're living in a new town now!), and it's freeing and wonderful.
For the holidays, I want to enjoy cooking for my family (like this super easy Taco-Stuffed Peppers Recipe) and others, go to coffee with friends (we're still forging new friendships), keep in touch with lifelong friends, make time for hugs, and cherish memories.
Don't forget to cherish
I think we can get so rushed with the holidays, we forget to stop and "cherish."
When I think of cherished memories, I think of my Mom. All the love and time she put into the holidays to make them special for our family. She'd sew bathrobes, quilt new bedspreads, bake lots of sweets (and give them away).
She's gone now, so when I'm doing holiday baking, I always think of Mom!
I realize how lucky I am, not to have lost my Mom way too early, but to have had her as long as we did.
I'm lucky to understand the importance of certain moments that catch my soul … I grab on to them right away … because they may never come again.
So when I gaze over a baking rack of these freshly decorated cookies, I'm struck by the love for my Mom, and the truth of the amazing gift her life was to so many!
Now I go on … and do the best that I can to be a good mom to my kids!
Today I'm sharing my friend Lisa's new book, 100 Days of Real Food: Fast and Fabulous, by Lisa Leake. You can read more about it, here. It's a great book, with easy tips on how to cut out processed foods, and learn to eat fresh!
Taco-Stuffed Peppers Recipe
Not only does Lisa include fresh ingredients, her book also offers a color photo with every. single. recipe! I don't know about you, but I'm a visual girl!
She also includes seasonal meal plans and shopping lists (and how to shop for real food), tasty packed lunches for kids AND adults, supermarket staples (what stores carry what), and then kitchen tips, including food prep guides and storage cheat sheets!
It's a gorgeous hardback book that I think my readers will LOVE!
I particularly love this recipe, stuffed peppers was one of my mom's go-to recipes!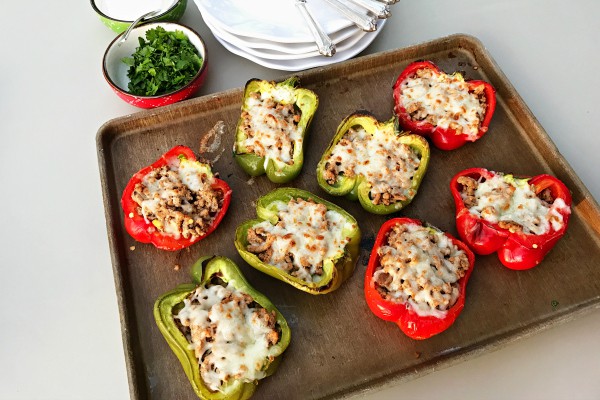 It's also pretty, Christmas-y, and festive.
Plus, a great family (or entertaining) meal.
ENJOY!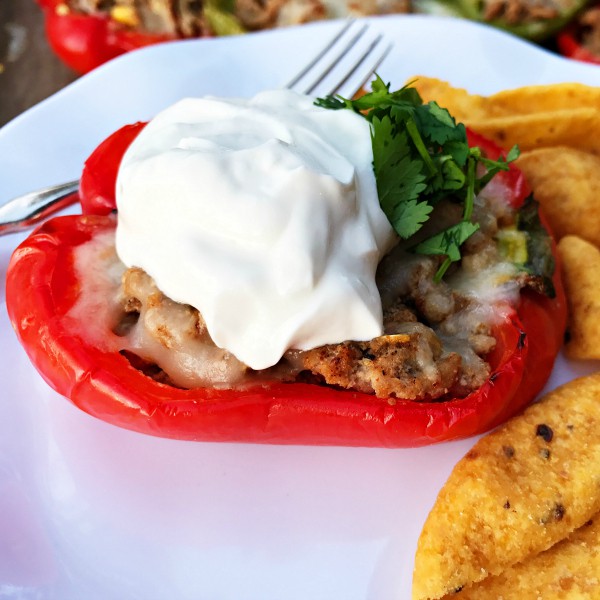 Taco-Stuffed Peppers Recipe
Ingredients:
4 large peppers, any color, sliced in half length-wise and de-seeded
2 Tbsp. olive oil
1/2 onion
1 pound ground pork, beef (I used ground turkey)
1 tsp. chili powder
1/2 tsp. cumin
1/2 tsp. dried oregano
1/2 tsp. salt
Juice of 1 lime
1 cup freshly grated Monterey Jack or pepper Jack cheese
Toppings: sour cream and cilantro
Directions:
Preheat your oven to 400 degrees.
Place the peppers on the baking sheet, cut sides facing up and bake until tender, 15-20 minutes.
Meanwhile, in a large saute pan, heat the olive oil over medium heat. Add the oniona nd cook until soft, 3-4 minutes.
Add the meat and cook until browned and cooked through, 5-6 mintues. Drain off the fat; season with chili powder, cumin, oregano, salt, and juice of lime.
Remove the peppers from the oven. Switch the heat over to BROIL.
Divide the meat into each pepper; sprinkle with cheese. Broil 3-5 minutes until cheese is melted on top!
Serve with sour cream and fresh chopped cilantro!