Ashland Springs Hotel Review in Ashland Oregon
Enjoy my Ashland Springs Hotel Review in Ashland Oregon, a 70-room boutique property, with the top 10 places for where to eat in Ashland, Oregon!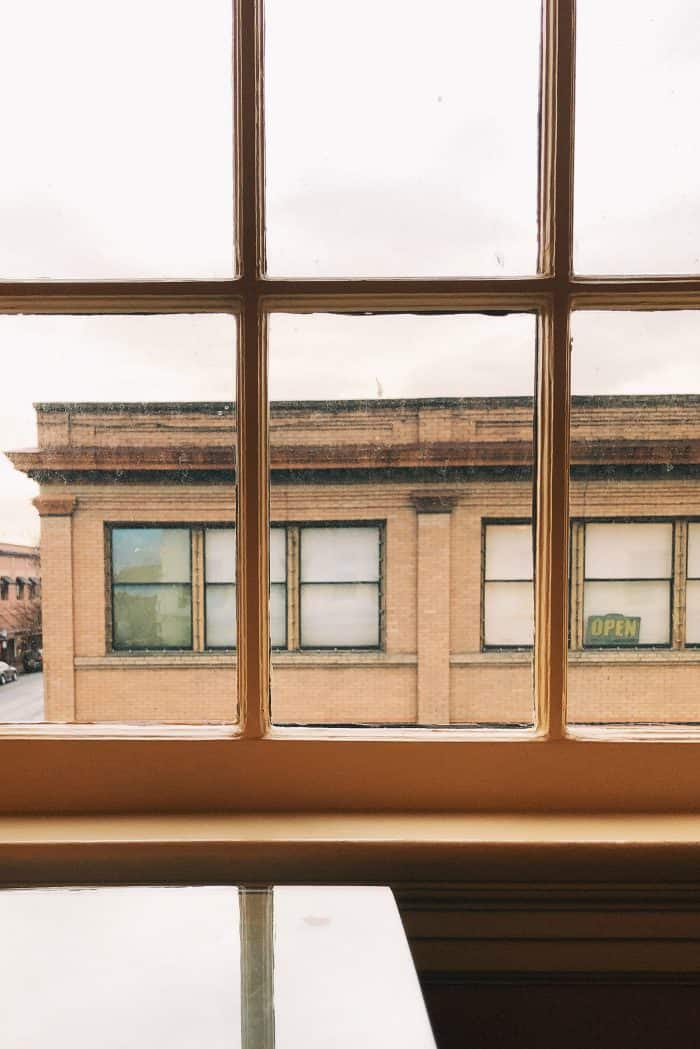 Looking for a place to stay in Ashland Oregon? Ashland Springs Hotel is an elegant colonial-style hotel located in the heart of Ashland, Oregon (at the base of the Siskiyou mountains)?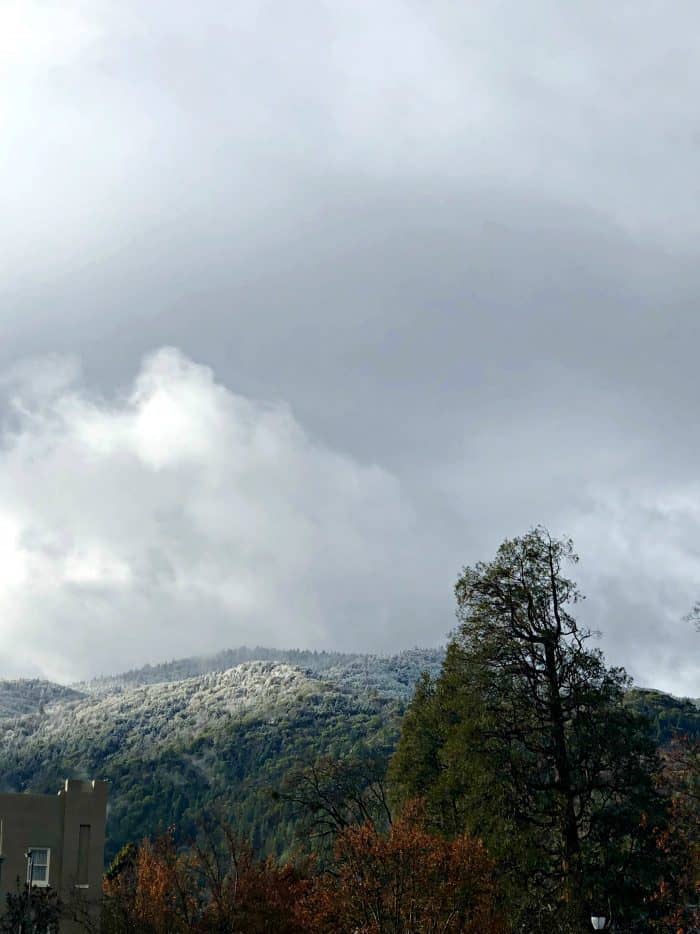 Ashland Springs Hotel
Ashland Springs Hotel is within walking distance of the Shakespeare Festival, and so many great restaurants. It's also within walking distance to beautiful Lithia Park!
My husband and I recently spent a long weekend in Ashland, Oregon. We were guests of Ashland Springs Hotel, a beautiful hotel that comes alive at Christmastime!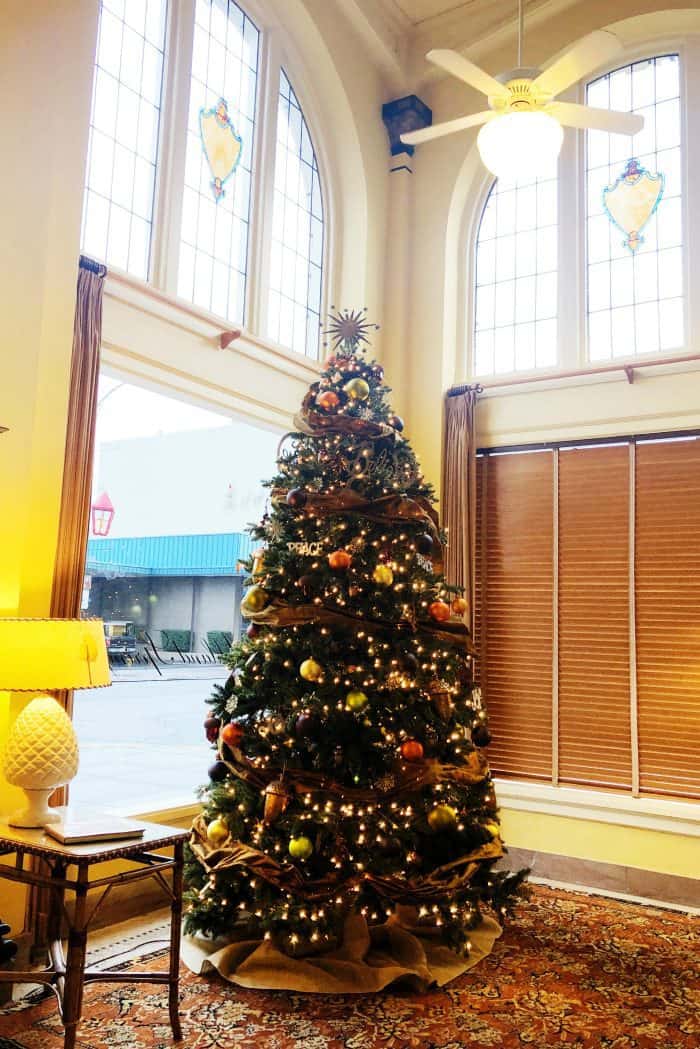 The hotel has a feeling of classiness and elegance, from the gorgeous lobby, to the comfortable rooms with large windows facing Main Street and the serene mountains behind the town.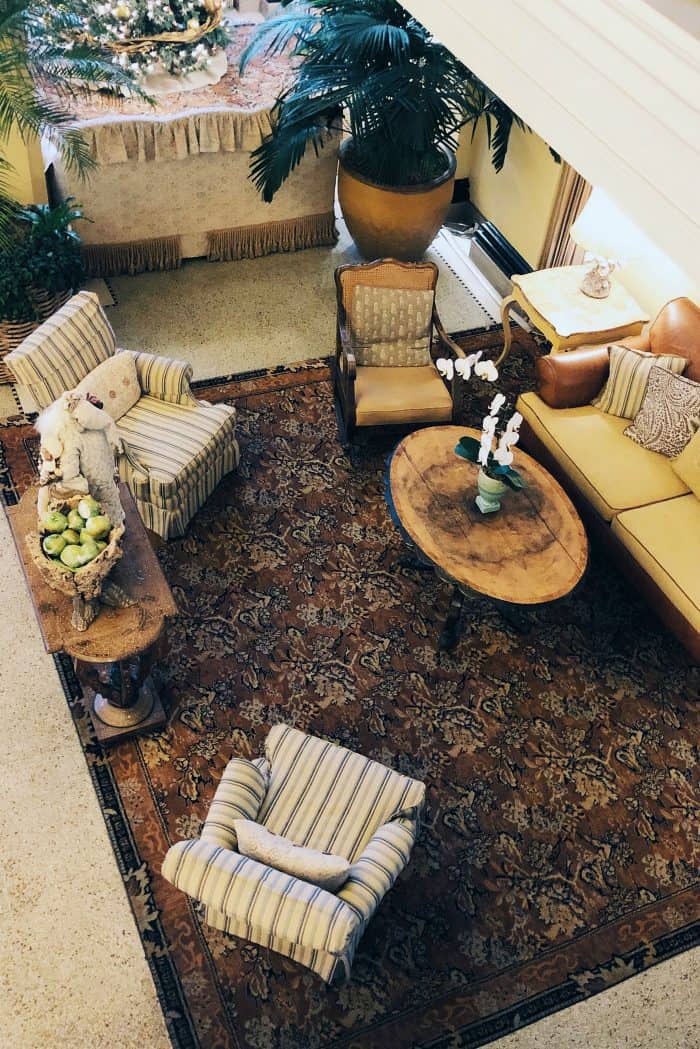 Ashland Springs Hotel Review in Ashland Oregon
Opened to the public in 1925 as the Lithia Springs Hotel, it was the pride of the community, the tallest building between Portland and San Francisco, on the slope of the Siskiyou Mountains. Today the hotel (called Ashland Springs Hotel) still has some of its original features! (Below, backside of hotel:) The history is very interesting to read about before you book your stay!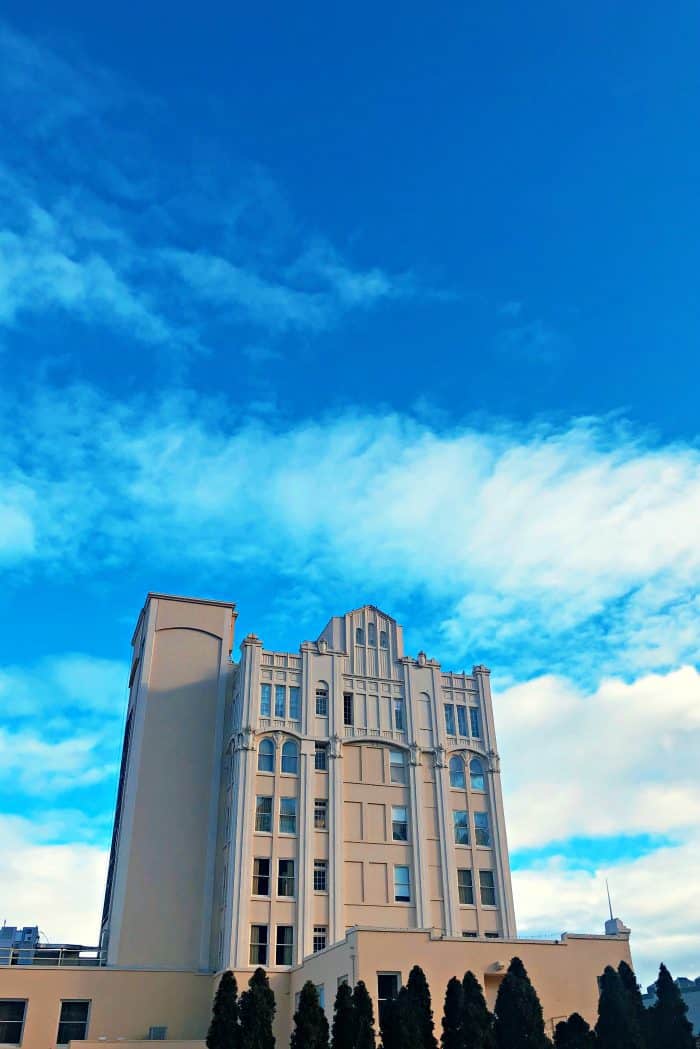 It continues to be a natural stopping place for visitors traveling from the Northwest to California or from California to the Northwest, and for the Shakespeare Theatre.
Take a peek at their Instagram Gallery!
Welcoming reception & staff
When you walk into the hotel, the reception area is particularly inviting, with a roaring (gas log) fire, atmospheric scent of wood smoke, and giant ceiling fans. The staff and concierge are particularly helpful, with great recommendations!
There are a few more very special places to stay in Ashland, hotels owned by the same owners: Ashland Hills Hotel & Suites and Lithia Springs Resort. There is also The Commons in downtown Medford, Oregon.
The hotel rooms
Rooms at the Ashland Springs Hotel have European-style decor, air-conditioning, and flat-screen TVs with cable.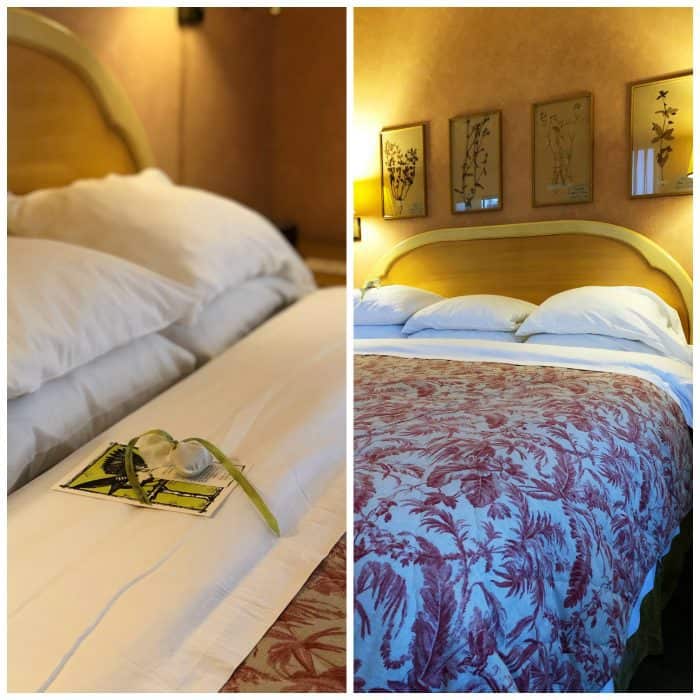 Our room looked out over the High Street, with views across to snowcapped mountains (yes, we got snow when we visited a few weeks ago) on two sides. The rooms are small but quaint.
Oh, and a special touch of "chocolate" and lavender bath tea in each room!
The bed? Out of this world. So much so, I emailed the staff and asked them about the linens, and what made the bed so comfy!
So comfy, we enjoyed our coffee in bed each morning!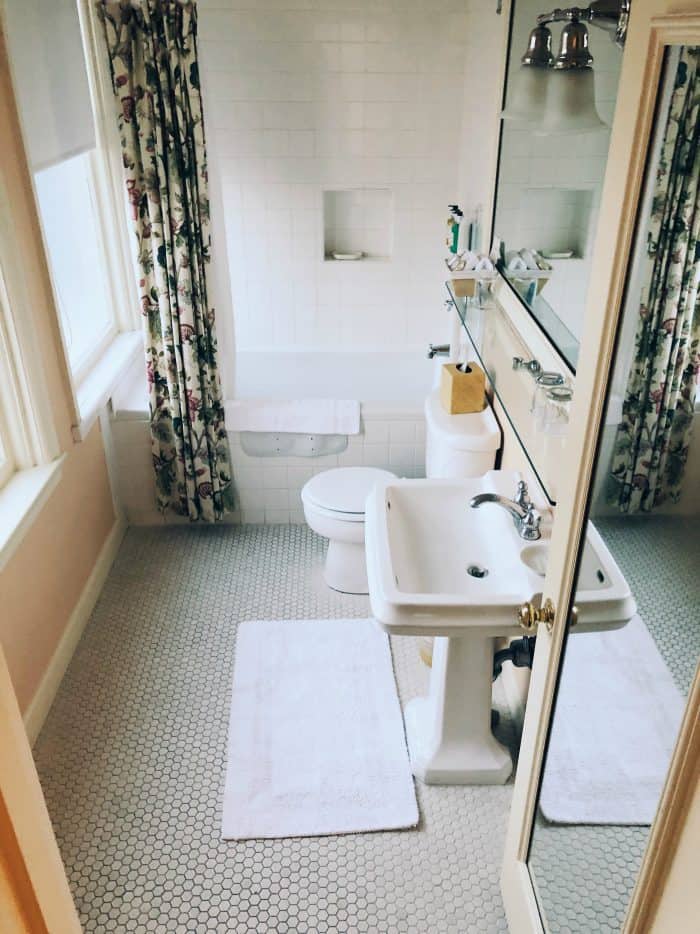 The bathroom is gorgeous, with so much natural light, with a soaking tub and plenty of space for toiletries!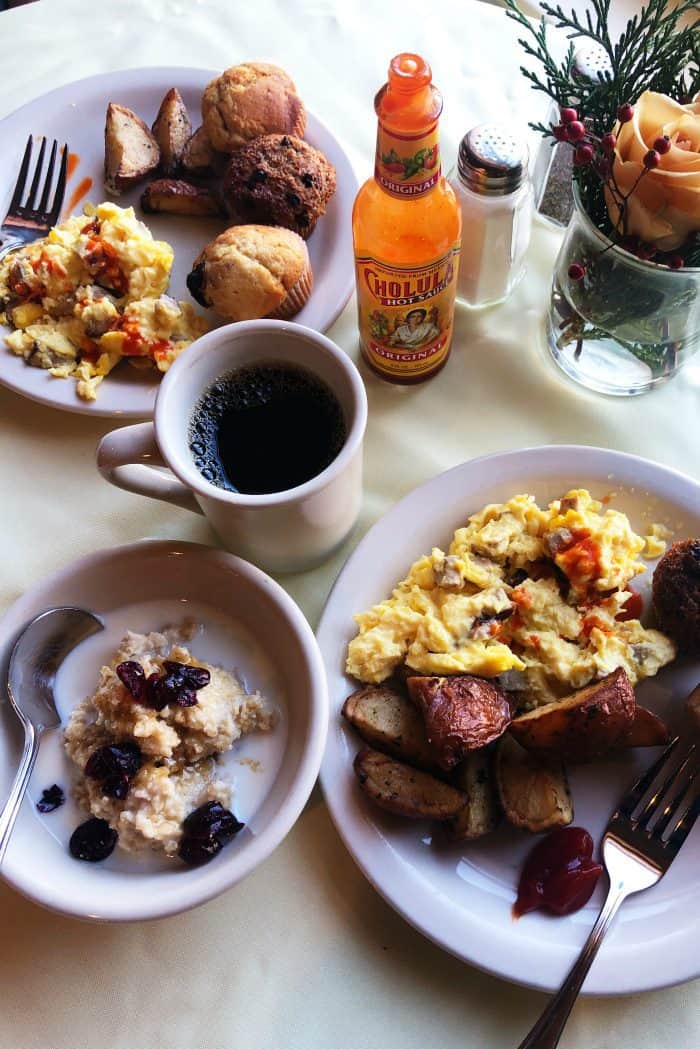 Breakfast included in your stay!
Breakfast is included with your stay. They serve a beautiful continental breakfast on the mezzanine with hot eggs, potatoes, and delicous pastry. They also offer fresh fruit, coffee, tea, waffles, and more!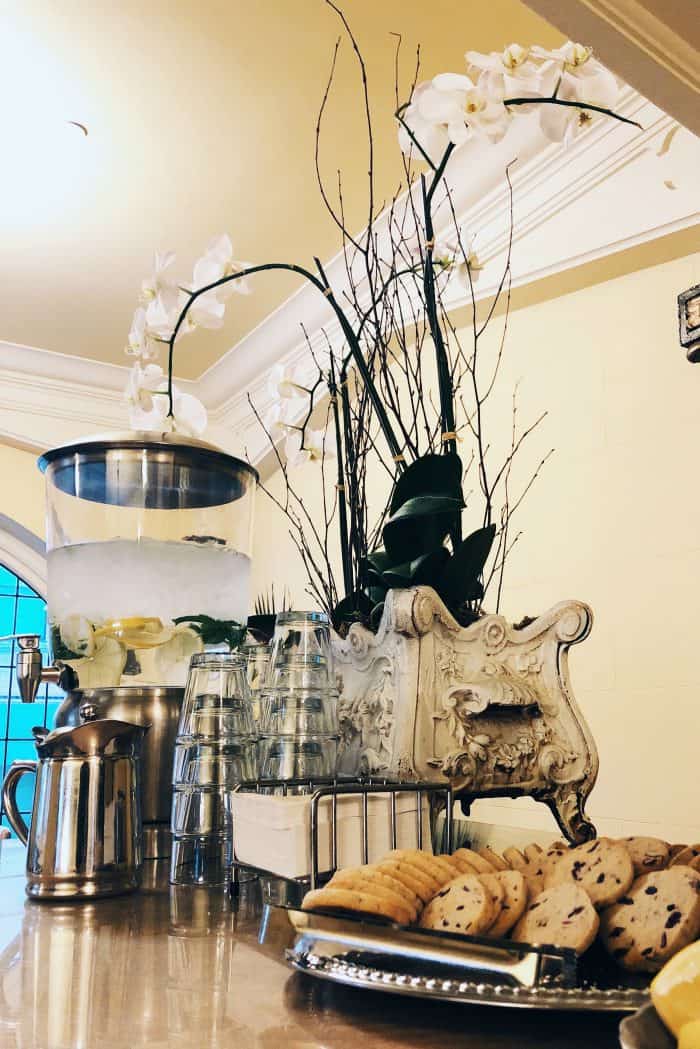 Also included in the hotel rate is free parking, and daily afternoon tea and cookies!
Ashland Springs Hotel bonuses:
Children under age 12 stay free
Pets welcome in third-floor rooms (for a fee)
Larks Home Kitchen Cuisine, serving locally sourced lunches and dinners
Central location, right by the Oregon Shakespeare Festival venue
Elegant air-conditioned rooms with European-style furnishings
Continental breakfast included in room rates, plus free cookies and tea in the afternoons
Five elegant event spaces for weddings and meetings
Free on-site parking and Wi-Fi throughout
There is no fitness center, but they offer free passes to a center that's within walking distance!
Larks Home Kitchen Cuisine
The restaurant at the hotel, Larks Home Kitchen Cuisine, has an excellent reputation for lunch and dinner. They serve fresh, locally sourced Northwest cuisine, and we've never been disappointed.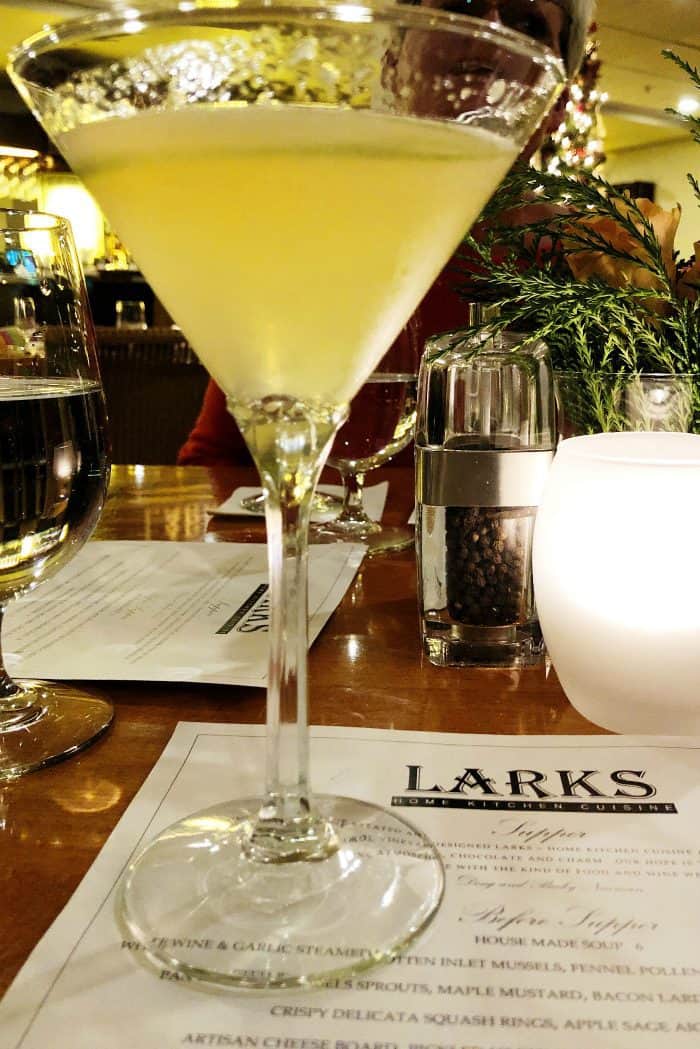 We love the charm, the vintage feel and location of the Ashland Springs Hotel, and can't recommend it enough. We also found that we can park our car in the back of the hotel, and walk everywhere, including to most restaurant locations.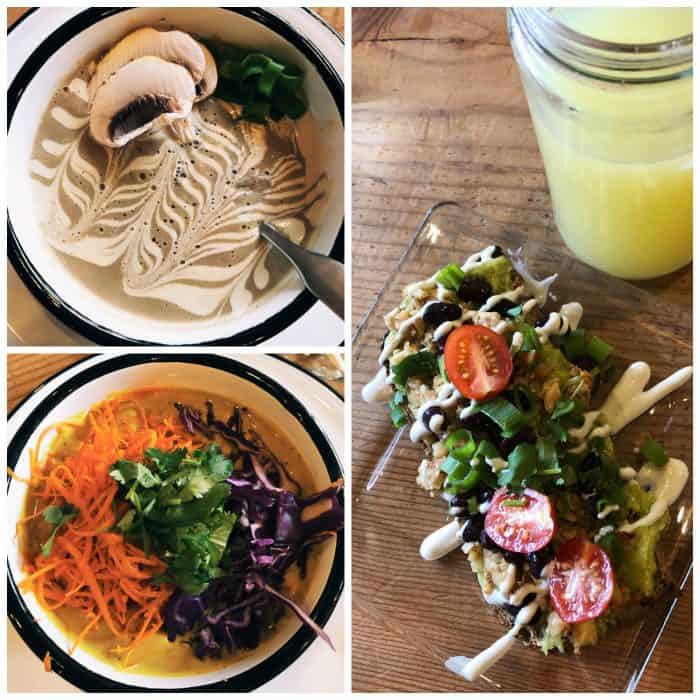 Our top 10 favorite places to eat in Ashland, Oregon:
Larks Home Kitchen Cuisine
NW Raw
Brickroom
Smithfields
Amuse
Alcamy
Cocina
The Loft
Pie and Vine
Sesame
Ashland Springs Hotel sponsored my stay, but as always all opinions are my own!
Hello and welcome to my home and table!
I'm Sandy—lover of food, family, cooking, THE BIG BOARD, travel, and bringing people together. Through great recipes and connection around the table, we become better, stronger, and more courageous people. Feasting on Life is real, and every time we do it, we grow a little more. Read more...