The Pioneer Woman's Mulled Apple Cider – 3 Signed Copies – A Year of Holidays Giveaway!
Today I'm sharing The Pioneer Woman's Mulled Apple Cider, perfect for the fall, holidays, or a cozy treat on a cold day.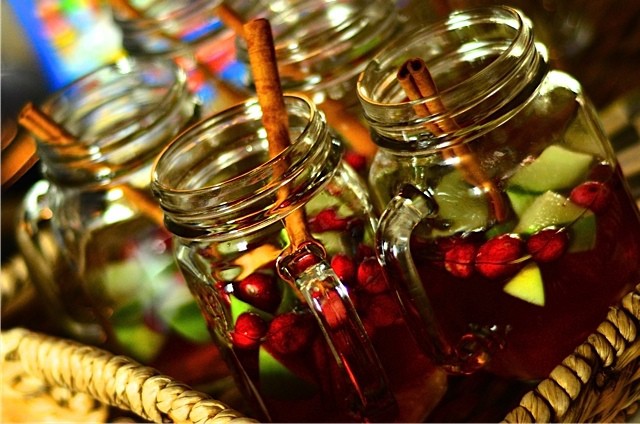 **contest is closed
I've been a busy girl this past month, and I couldn't wait to rest up this weekend–feet up, book in hand, cup of tea and Haggis our doggie by my side–and scroll through the pages of my friend Ree's new book, The Pioneer Woman Cooks: A Year of Holidays: 140 Step-by-Step Recipes for Simple, Scrumptious Celebrations, which arrived at my house during my whirlwind month of travels.
And more good news – today Ree is giving away 3 signed copies to my readers! Yipee!
It's so beautiful. I'm so very proud of her. She covered 12 holidays, and the book is so well done. I'm a picture-gal–I love pictures that tell a story, the whole story, and Ree's photography is perfect for making me smile, especially when I see Charlie always posing for the camera!
Here's a little excerpt from Ree, summing up what the book is about. Quite honestly, it's more than a holiday book, because most recipes could be made almost any day of the week. I like that.
There's nothing more delicious than a holiday.

Oh, is it ever true. Whether it's the anticipation of Christmastime or the ghoulish glee of Halloween, if I see a holiday on the horizon, I simply can't contain my excitement. There's just something about the traditions, the family togetherness, the resurfacing of childhood memories . . . the making of new ones. Holidays are wonderful, special, and fun . . . and they always make me happy.

And one more thing: They make me want to cook! –Ree
I, too, get excited for the holidays, and cooking! There's just nothing quite like bringing people together in a cozy home, and making them happy with a home-cooked meal.
Starting the holidays off this week, I decided to make Ree's Mulled Apple Cider recipe, which we've all been enjoying!
Have I told you how delicious my house smells? Sometimes I think it's worth making hot cider with mulled spices, just to get the house smelling GOOD.
I even pulled out the bourbon, and thought I'd take Ree up on her idea of spiking the cider!
Warm, mulled apple cider makes life worth living on freezing cold winter days. Warm apple cider spiked with brandy? Ditto. Times a thousand. Mmmmmmm.

Serve this in a nice mug with a piece of rum cake, then curl up by the fire, wrapped in a fuzzy blanket, and work on your Christmas list.

And that's an order! – Ree
With Halloween here this week, I'm keeping this delicious drink brewing on our stove. And I'll probably be making it again for Thanksgiving, and then again for Christmas … I just love easy recipes that make people happy!
The Pioneer Woman's Mulled Apple Cider
Recipe from The Pioneer Woman's "A Year of Holidays" Cookbook. Makes about 1 1/4 gallons.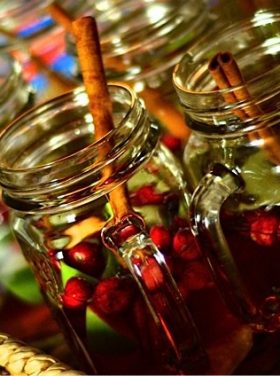 Ingredients:
1 gallon apple cider
3 Granny Smith apples
1 orange
1 T. allspice berries
5-7 cinnamon sticks
1/2 cup fresh cranberries
1/2 cup sugar
1 cup apple brandy or regular brandy (optional)
Directions:
Pour the apple cider into a large pot over medium-high heat.
Dice up the apples and toss them into the cider.
Peel the rind off the orange in large pieces and toss them in.
Add the allspice berries, the cinnamon sticks, and the cranberries.
Add the sugar and stir it around to dissolve.
Bring the mixture to a low boil, then reduce the heat to low and simmer for 45 minutes to 1 hour. Add the brandy if using, then simmer for another 10-15 minutes. Serve warm.
All images and text ©
** contest closed.
GIVEAWAY:
3 winners will WIN one of Ree's new book, A Year of Holidays.

COMMENT:
What's your favorite holiday, and signature holiday recipe?

EXTRA ENTRIES:
Follow Reluctant Entertainer/Sandy Coughlin on Pinterest
Follow Reluctant Entertainer on Facebook
Follow @SandyCoughlinRE on Twitter
Follow Sandy Coughlin on Google+

Then head back to this post and leave a comment that you did the above!

Good luck! Contest ends Wednesday, 11/6/13, at 9 PM PT. I'll announce the 3 winners over at RE Facebook page!
Amanda from i am baker gathered a few of us together to host a mini round-up of other fabulous recipes + more chances to win a signed copy:

Bev Cooks made Chipotle Chicken Chili

Recipe Girl made Pecan Pie

She Wears Many Hats made Perfect Cream Scones

Two Peas and Their Pod made Dulce De Leche Brownies

Add a Pinch made Rum Cake
Thank you Ree, for your generosity and love to all of your fans, and for providing 3 of your books for this giveaway! And thank you, Ab-Co, for helping photograph Mama in the kitchen.