Cowboy Caviar Pineapple Dip
Enjoy Cowboy Caviar Pineapple Dip, served as a dip with chips or a side salad, perfect for Game Day or a spring and summer potluck or party!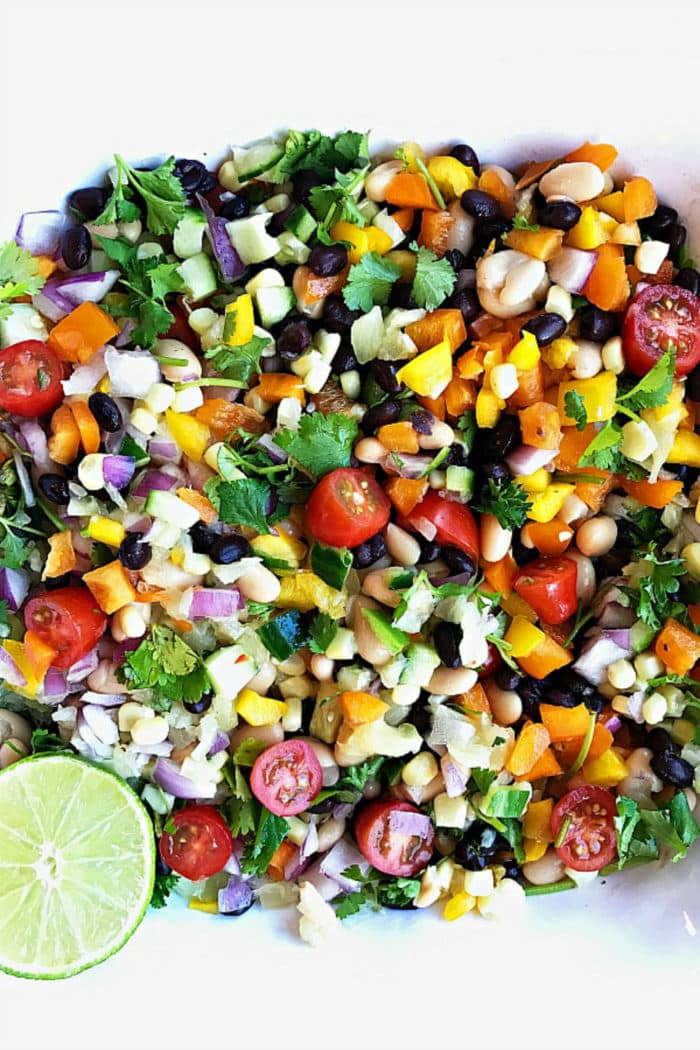 Friends, today I'm sharing a delicious fresh Cowboy Caviar Pineapple Dip, perfect for hosting, for all those healthy eaters!
It's also perfect for game day, a potluck, or weekend gathering!
Cowboy Caviar Pineapple Dip
Chop and serve as a side salad or with your favorite chips! Don't forget to get the BIG BOARD (the 12 x 36-inch is my favorite size for chips and dips or salsa!)
I'm also sharing a few tips on when we let perfectionism get in the way (keep reading).
I recently experimented with my food processor, making this Cowboy Caviar Pineapple Dip, with my favorite "dicing" setting.
All you need are these ingredients for caviar dip:
Olive oil
Sugar
White vinegar
Chili powder + Salt
Cherry tomatoes
Cannellini Beans
Black beans
Pineapple slices
Sweet corn
Cucumber + onion + yellow bell pepper or orange + red pepper
Cilantro
Jalapeno
I love any dish that has the color of the rainbows! And these recipes seem to be the first to be devoured at a party, because it's so fresh!
It was so easy to dice the veggies perfectly and quickly in my new food processor. My salad was complete in 15 minutes!
Here are a couple other fresh recipes for dips:
Imperfections save us from ourselves
When I go to visit friends in their homes, I never look around for imperfections. Which is funny, because it's the imperfect things in our homes and lives that make us real and relatable to others. Let's say something does catch our eye … Oh, good, she has a junk pile, too. Or, Whew! She didn't get those cobwebs. Or, … did I mention the dirty oven? (LOL).
These things save us from ourselves! They make us knowable, willing to push past the thought that we don't have our act together all the time, but we're still open to bringing people in, because our priority is about the bond and relationship with others.
It's true, our imperfections make us humble. We reach out anyway, because we know that we need others in our lives, and our world opens up and becomes much larger when we share our stories, views, and journeys with others.
I'm always reminding myself to stay humble with my thoughts and keep my mind on true hospitality! :)
This recipe is great served for Cinco de Mayo or any Mexican party! A true party pleasing snack, served with your favorite chips!
More DIP recipes:
Southern Caviar Dip [RE], Cowboy Pasta Salad [Belly Full], Cowboy Caviar Quinoa [Oh Sweet Basil], and Texas Caviar Bean Dip Recipe [RE].
Get the Recipe: Cowboy Caviar Pineapple Dip
Ingredients
1/2 cup olive oil
1/4 cup sugar
1/4 cup white vinegar
1 teaspoon chili powder
1 teaspoon salt
1 cup cherry tomatoes
1 15 oz can Bush's Cannellini Beans, rinsed and drained
1 15 oz can Bush's black beans, rinsed and drained
1 20 oz can pineapple slices (or use fresh pineapple)
1 11 oz can super sweet corn, drained
1 large cucumber, seeded
1 red onion, diced
1 diced yellow bell pepper, or orange
1 diced red bell pepper
1 cup chopped cilantro, 1 bunch
1-2 jalapeno pepper, finely diced (optional)
Instructions
In a large bowl, whisk together the olive oil, sugar, white wine vinegar, chili powder, and salt.

Using your Hamilton Beach 14 Cup Dicing Food Processor, dice separately the pineapple, peppers, onion, cucumber, and jalapeno.

Add tomatoes, beans, corn, red onion, and bell peppers. Stir to combine.

Stir in cilantro. Cover and chill at least 1 hour or overnight to blend flavors (optional). Serve chilled or at room temperature.
Hello and welcome to my home and table!
I'm Sandy—lover of food, family, cooking, THE BIG BOARD, travel, and bringing people together. Through great recipes and connection around the table, we become better, stronger, and more courageous people. Feasting on Life is real, and every time we do it, we grow a little more. Read more...