Blackeye Peas Jicama Caviar Salad Recipe
This Blackeye Peas Jicama Caviar Salad Recipe is perfect for any game day event, a cozy gathering, or summer party or potluck salad or dip!
Every once in awhile, I get into a house slump. You know, I look around and everything feels cluttery, dirty, boring. There's nothing like clean and fresh that inspires me, and it doesn't have to be "new" stuff either, to cook, invite, and even putter.
A clean kitchen inspires me to whip up a few healthy recipes, like today's Blackeye Peas Jicama Salad.
Blackeye Peas Jicama Caviar Salad Recipe
Paul and I took this to a weekly potluck that we attend. It's a great group of people who come together, sharing a main theme (last night was Mexican food), grabbing a plate of food, connecting, communing, giving thanks. It's one of our favorite nights of the week, and we've already created some rich friendships here in Bend.
I love this Blackeye Peas Jicama Caviar Salad, always a hit at a party, because it can be used as either a dip or salad!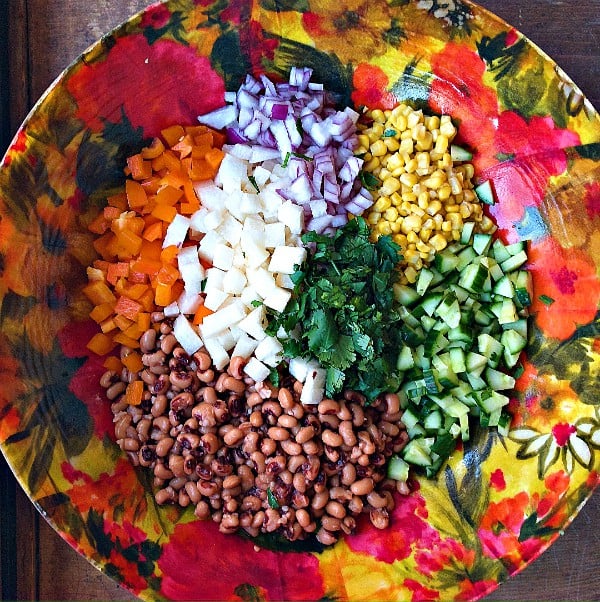 This time I made it with our favorite blackeye peas, jicama, and other fresh veggies!
Serve with chips, or just a giant spoon!
The joy of puttering makes me happy! But if my space is cluttered, and a mess, it's hard to putter.
Do you know what I mean?
Freshen up your home
Today I'm sharing a few tips to help inspire your creative juices, so you can enjoy puttering like I do. (A few readers asked about the rug above, click, here.)
1. Rearrange your furniture. We have 2 ways to move our furniture around in this small house. Our recent rearranging consisted of a better "conversation" space, which I love for cozy winter! We have friends coming to dinner this week, and appetizers will be served in this cozy space.

2. Buy a couple REAL LIVE plants. I love our fiddle leaf figs (2) and fern on top of the fridge. Real life in winter makes me feel that spring and summer are coming! My watering routine is once a week, a small amount in each plant. Simple!

3. Buy 1 bunch of fresh flowers. I buy flowers at either Costco or Trader Joe's. I try to keep it simple and not have them strewn throughout the house, but in maybe 2 locations in our living area.

4. Stash, stack, and steal other ideas. I say stash the stuff that doesn't need to be out (paperwork, hats, gloves, etc:), stack the books and magazines (I often do this under our sectional), and then it's okay to steal other ideas on organization from Pinterest or other sites (links). I specially love The Inspired Room's cleaning and organizing tips!

5. Decorate with fruit. Especially in the wintertime, it's easy to pour a bag of Cuties into a nice wooden bowl.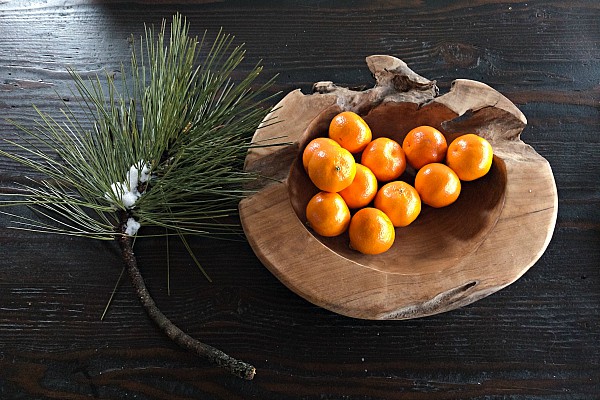 Company-ready. Which reminds me, things do not have to be perfect to invite others in. And believe me, my house is never perfect. It's small, there are 4 of us living here right now, and many days, I don't even go downstairs to see what's happening there.
How do you enjoy puttering in the winter months?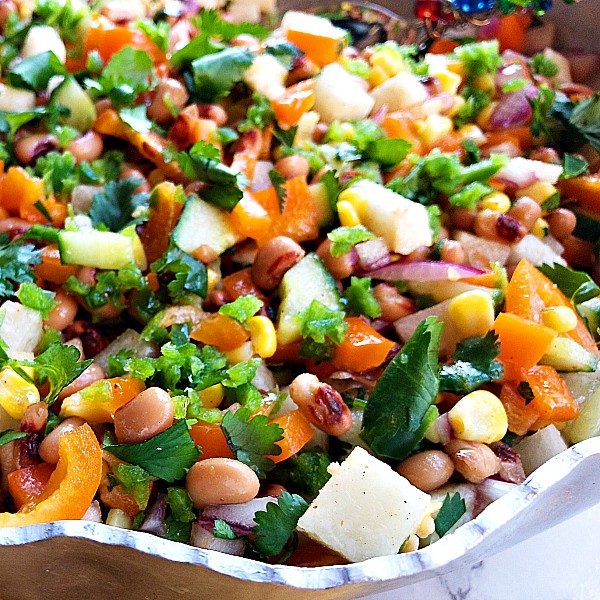 Get the Recipe: Blackeye Peas Jicama Caviar Salad Recipe
Ingredients
2 14-ounce cans Bush's blackeye peas, rinsed and drained
1½ cups fresh corn kernels, or frozen, defrosted
1 1/2 cups jicama, chopped
1 1/2 cups cucumber, chopped
2 medium red, orange or yellow bell pepper, chopped
¾ cup chopped red onion, about ½ small red onion
1 cup chopped cilantro, leaves and stems
1 to 2 jalapeños, ribs removed, seeded and finely chopped
1/2 cup olive oil
1/4 cup sugar
1/2 cup white vinegar
1/2 tsp. red chili pepper
1/2 tsp. cumin
3 Tbsp. lime juice
Salt & pepper
Instructions
In a large serving bowl, combine the drained blackeye peas, corn, jicama, cucumbers, bell peppers, onion, cilantro and jalapeño.

In a small bowl, whisk together the dressing ingredients: olive oil, sugar, white vinegar, red chili pepper, cumin, and lime juice. Drizzle the dressing over the serving bowl and toss until well mixed.

Season to taste with additional salt and pepper.

For best flavor, let the mixture marinate for at least 20 minutes before serving. Serve as a salad or a dip with chips.

Hello and welcome to my home and table!
I'm Sandy—lover of food, family, cooking, THE BIG BOARD, travel, and bringing people together. Through great recipes and connection around the table, we become better, stronger, and more courageous people. Feasting on Life is real, and every time we do it, we grow a little more. Read more...