Gluten-Free, Vegetarian, Vegan Balela Salad Recipe
This delicious Balela Salad is perfect for a gluten-free, vegetarian, or vegan side, salad or dip option to serve to Game Day guests!
This next week we have a Downton Abbey party, the Ducks are playing tonight–Go, Ducks! (our 2 sons go to University of Oregon), and we're hosting another dinner party!
'Tis the season for parties! I'll be sharing some of my lighter recipes that I've been cooking. Actually, I love winter and cooking up a storm, delicious, healthy recipes!
Being social can take a toll on your body, if you let it, or, you can make wise choices, cook healthy dishes, and enjoy food and friends! That is the way I like to do it.
Balela Salad.
In the meantime, I'm bringing this salad to the game tonight. I want to make sure there is a healthy option at the party. (I'm going to stay out of the chips, because once I get started, I cannot stop.)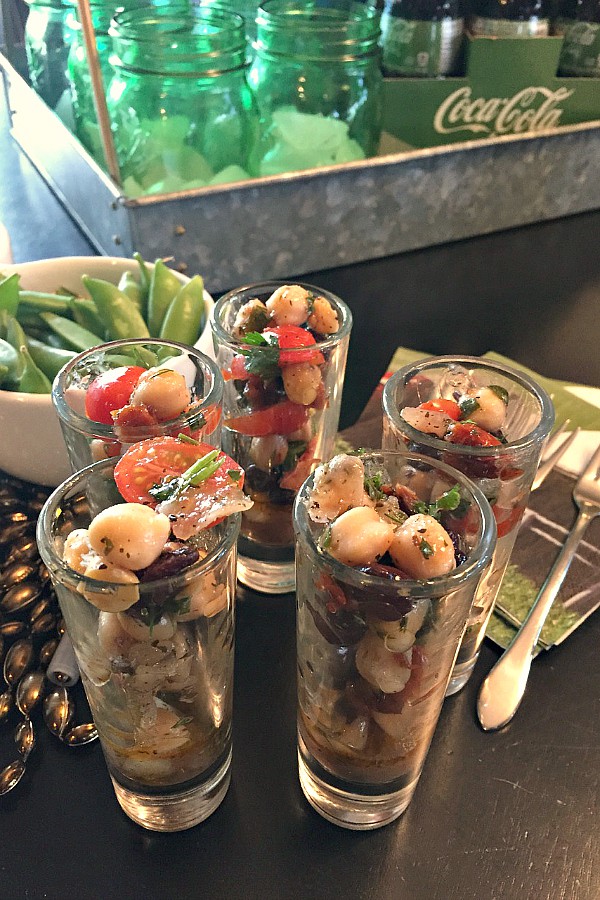 What is Balela Salad?
What is Balela Salad: Balela is a Middle-Eastern chickpea (garbanzo bean) and black bean salad drizzled with an oily, spiced vinaigrette.
Gluten-free, vegetarian, vegan.
I've made this delicious, scrumptious salad before, which is perfect for gluten-free, vegan, and vegetarian guests.
It's also nice to serve as a side dish, as an appetizer (serve in small shot glasses, with mini forks), eat in a wrap, or add to a salad.
I really love the versatility of this salad. Oh, and you can even serve it as a dip, perfect for crackers or chips!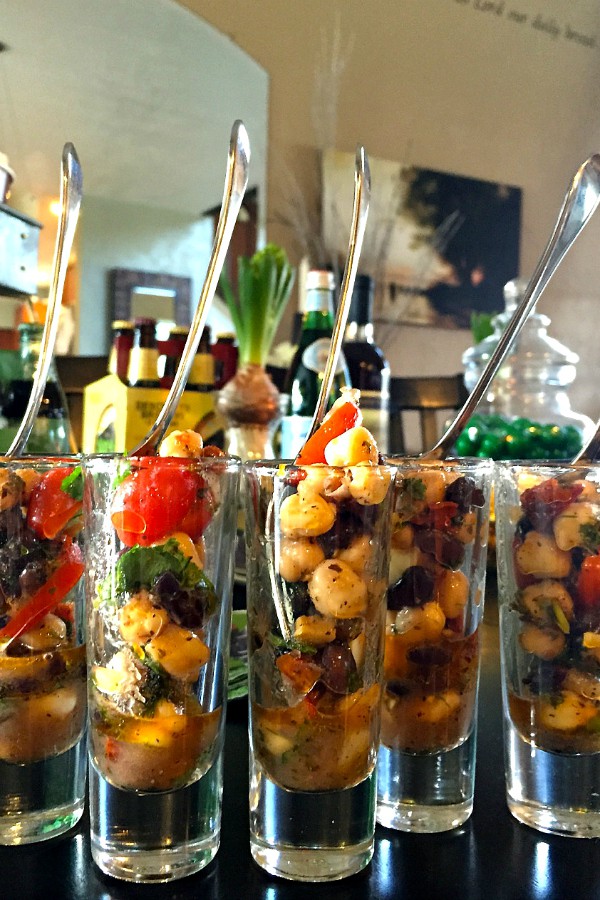 How to serve:
As a side dish
As an appetizer (small shot glasses)
In a wrap
Mashed, on a sandwich
As a dip, with crackers and chips
Dig in, enjoy and are you ready for the game tonight?
Who are you rooting for in tonight's Big Game – University of Oregon Ducks or Ohio State Buckeyes?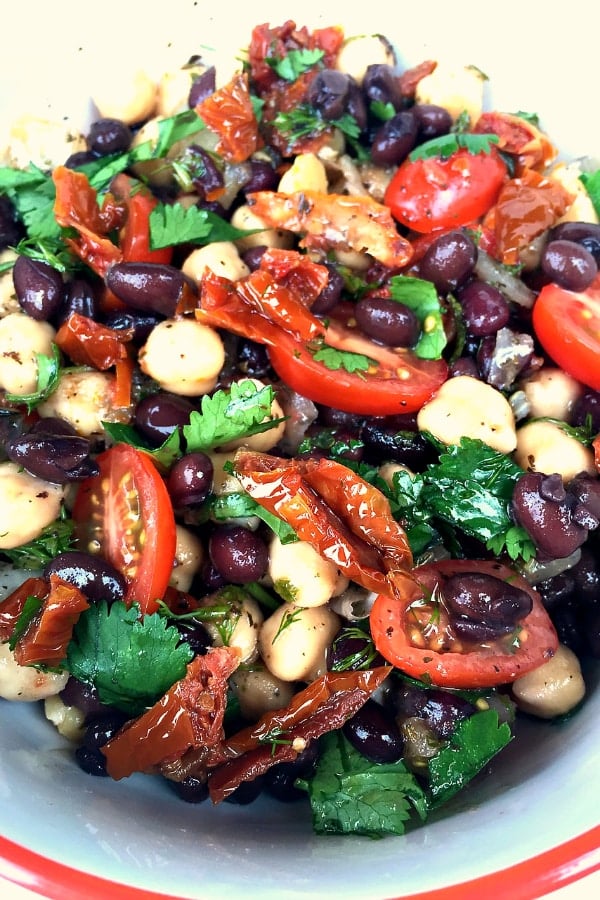 Balela Salad
Balela Salad is perfect for a gluten-free, vegetarian, or vegan side, salad or dip option to serve to Game Day guests! You can also add feta cheese!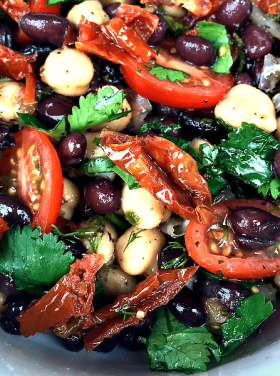 Ingredients:
(2) 15 ounce cans Bush's chickpeas, rinsed and drained
(2) 15 ounce cans Bush's black beans, rinsed and drained
1/2 cup chopped onion (about half a small one)
1 jalapeno, finely chopped (optional)
1/2 cup sun dried tomatoes (best if use the ones in oil in a jar)
1 pint grape tomatoes, cut in half
1/3 cup fresh dill, chopped
1/3 cup fresh basil, chopped (or mint)
1/3 cup fresh Italian parsley (flat leaf), chopped
1/4 cup lemon juice
1/3 cup extra-virgin olive oil
2 cloves garlic, pressed
3 Tbsp. apple cider vinegar
Salt and black pepper to taste
Feta cheese (optional)
Directions:
In a medium bowl, mix together the chickpeas, black beans, onion, jalepeno pepper, sun dried tomatoes, tomatoes, and herbs.
Whisk together the lemon juice, olive oil, garlic, vinegar, and salt and pepper.
Drizzle the dressing over the salad mixture; lightly stir.
Refrigerate salad several hours or overnight to meld flavors.
Optional to add feta cheese.
All images and text ©
So easy to serve in these shot glasses!
Are you following me on Instagram, Twitter, Facebook and Pinterest? Thanks being here today, and if you'd like to subscribe to Reluctant Entertainer, to have each post delivered straight to your e-mail box, then please add your email, here. It's really easy!
This post has affiliate links. Every purchase from these links supports RE at no extra cost to you. Thank you!