Mexican Pasta Shells Salad Recipe
For a Mexican salad, try this Mexican Pasta Shells Salad Recipe made with fresh ingredients, whole wheat pasta, and a tasty, tangy dressing!
Hey, Friends, looking for some ideas for an inexpensive date night? Or a delicious salad for a date night, or for a Mexican lunch or dinner? Then you'll love this Mexican Pasta Salad! Perfect for an inexpensive date night, a potluck dish, or for any Mexican or Cinco de Mayo gathering!
Mexican Pasta Shells Salad Recipe
Today I'm sharing about going on a picnic with your sweetie! Of course this Mexican Pasta Shells Salad Recipe could be the perfect main course. You may also love my Mexican Pasta Salad, with a little different spin (more southwest flavors).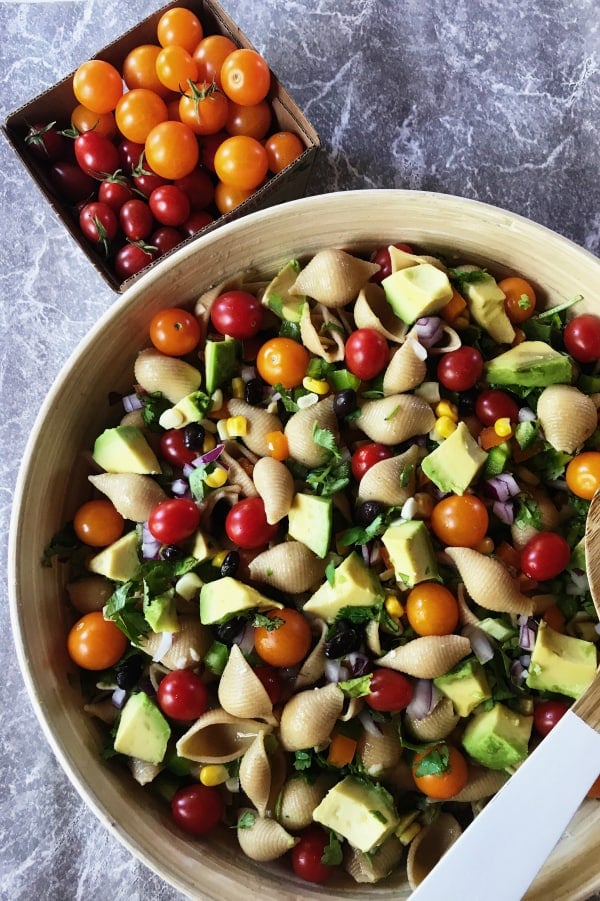 Pack a bottle of wine, and a little brownie dessert. Easy!
Mexican Pasta Shells Salad Recipe
I also love this recipe for a potluck, because it's a real crowd pleaser.
Make ahead and toss in the dressing. Leave the avocados to add right before serving (they can get mushy).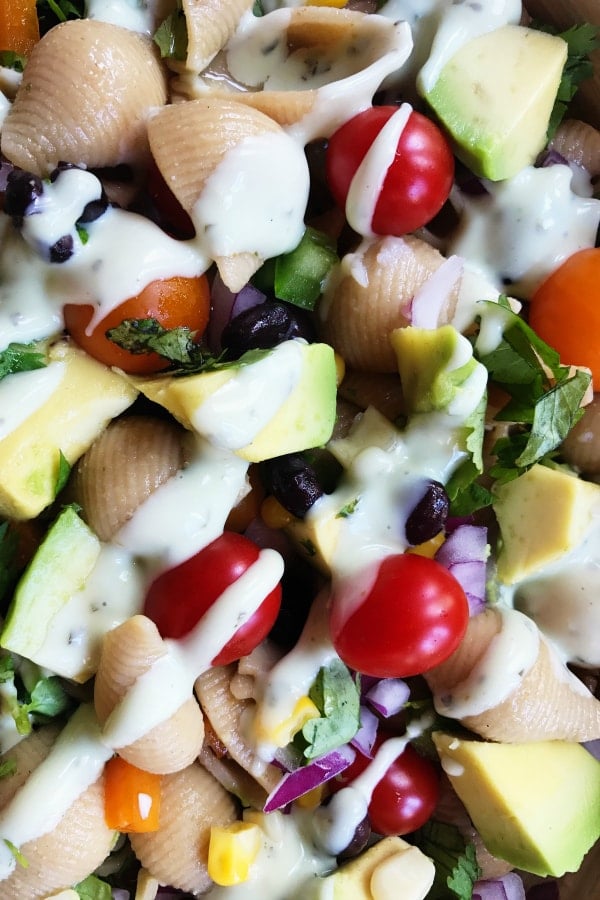 Right before serving, I like to drizzle my favorite bottled dressing (Brianna's Creamy Cilantro Lime).
If you're heading out on a date, make sure and leave some for the kids! They will gobble this up.
Go on Date Nights
Paul and I are big proponents of marriage, and date nights. Date nights have been a routine for us since the day we got married. In fact, when Elliot was born, 2 weeks later our friends came over and babysat and we went on a date. That memory is vivid in my mind, because it was hard to leave the babe, but I knew I wanted to get that pattern set.
Through the years, we came up with different ideas, but mostly we went and shared a meal together. Inexpensive and so needed.
Here are some cheap date ideas

Picnic in the park (or here in Bend, at Smith Rock)

Take a hike (our favorite in Bend is Green Lake)

Fly fishing

Camp in your own yard – get out of the house and sneak into your trailer or RV for a night, pretending you are away

Go for a walk – drive to a new area for a walk

Make a new recipe – we love to cook together!

Garden – my husband is the inspiration, but I'm currently planting fall flowers

Visit a free museum (The Nature Center here in Sunriver)

Share an ice cream cone or soft serve (our friends in Ashland, OR are now serving "soft serve" at their juice bar!)

DIY something fun together, whether a project or a room *

Volunteer together

Go fishing or bike riding

Enjoy a day at the beach, river, or lake

Go to a free concert or movie

Sit down and relax together with no phones, sip on your favorite drink, and dream together
Lastly, get lost in your own town. This has come easy to Paul and me, since half the time we don't know where we are going. We've often gone off streets and into new areas, just to look, have fun, talk, and even get out and take a walk.
We have very little time in this life to shine, to make a difference, to encourage others when they aren't feeling brave, and for me, to promote marriage.
Oh, and don't forget that kindness goes a long way!
Enjoy this Mexican Pasta Shells Salad Recipe, and come back and tell me where you went on a date!?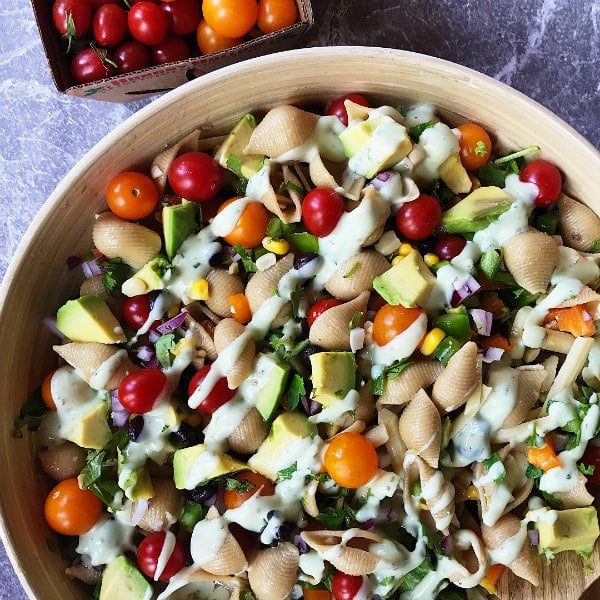 More "shells" salads recipes:
Dill Pickle Pasta Salad [Spend with Pennies], Bacon Avocado Tomato Pasta Salad [Barefeet in the Kitchen], Shrimp and Macaroni Salad Recipe [FoodieCrush], and Tuna and Noodles [RE].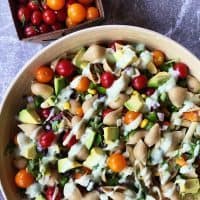 Get the Recipe: Mexican Pasta Shells Salad Recipe
Ingredients
1 pound 16 oz pkg Delallo Whole Wheat Shells
1 1/2 cup corn, fresh or frozen, defrosted
1 15 oz. can Bush's Black Beans, drained
1 cup sweet bell peppers, chopped (green, red, or orange)
2 cups cherry tomatoes, leave whole if tiny
1/2 cup red onion, diced
2 cups white cheddar cheese, we buy Tillamook's Farm shred
1/2 cup packed cilantro, finely chopped
1 ripe avocado, pit removed and chopped
4 Tbsp. olive oil
4 Tbsp. rice vinegar
6 Tbsp. squeezed fresh lime juice
3 tsp. honey
1/2 teaspoon garlic powder
1 teaspoon cumin
1 teaspoon salt
Instructions
Cook the pasta according to package directions. Drain and rinse in cold water; cool and set aside in a large bowl.

In a cup or small bowl, add the oil, vinegar, lime, honey, garlic powder, cumin, and salt. Whisk together.

To the cooled pasta, add the corn, black beans, peppers, tomatoes, red onion, cheese, and cilantro. Gently toss together.

Drizzle the dressing over the salad right before serving; toss to combine.

Place the avocados on top (or in a separate bowl); serve!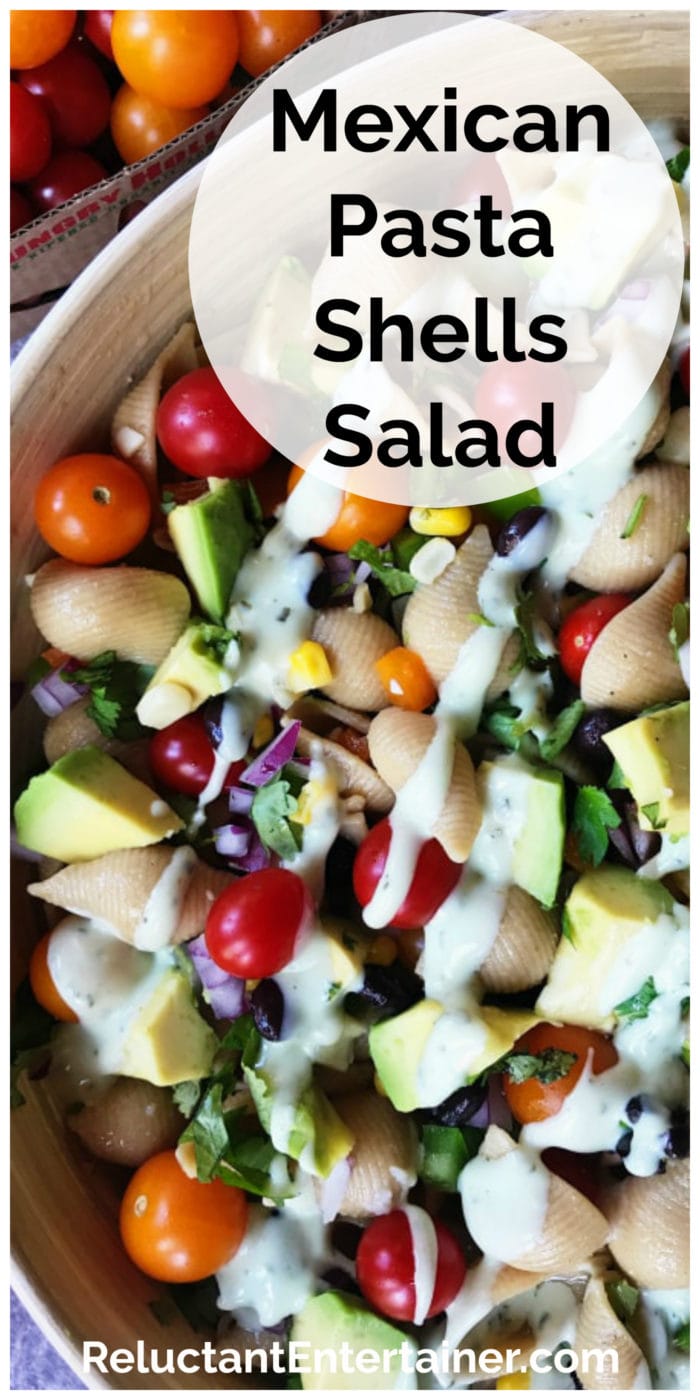 SaveSaveSaveSave
SaveSave
SaveSave
SaveSave
SaveSave
Hello and welcome to my home and table!
I'm Sandy—lover of food, family, cooking, THE BIG BOARD, travel, and bringing people together. Through great recipes and connection around the table, we become better, stronger, and more courageous people. Feasting on Life is real, and every time we do it, we grow a little more. Read more...