Balela Salad or Dip Recipe
Balela Salad is a tasty middle Eastern salad, gluten-free and vegetarian. Great served as a black bean salad or dip; feta cheese is optional.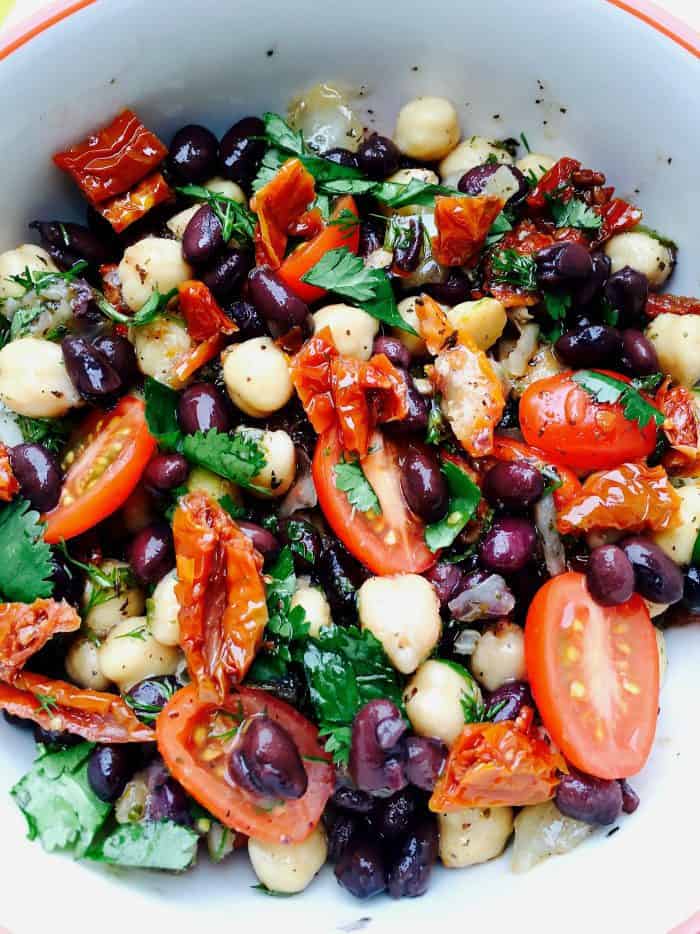 Friends, a yummy, yummy middle eastern Mediterranean style black bean salad, you'll love this Balela Salad or dip recipe today.
Balela Salad or Dip Recipe
This salad is a scrumptious combination of garbanzo beans and black beans, mixed with diced tomatoes, sun dried tomatoes, cucumber, onion, garlic, parsley and basil!
You may also love this Cucumber and Chickpea Salad with Citrus (so good).
Make it gluten-free, vegan, or vegetarian
I love that this recipe is a HIT at every party. Not just for game days. It's light, healthy, and can meet many dietary needs: gluten-free, vegan, and vegetarian. Optional to leave out the feta cheese!
What is Balela Salad?
Balela is a Middle-Eastern garbanzo bean (or chickpeas) and black bean salad drizzled with an oily, spiced vinaigrette.
Of course there are other delicious ingredients, like fresh herbs.
Here's a list of the ingredients:
Garbanzo beans (or chickpeas)
Black beans
Onion and jalapeno
Sun dried tomatoes
Grape tomatoes
Fresh dill, basil, Italian parsley
Lemon juice
Extra-virgin olive oil
Garlic
Apple cider vinegar
Salt and black pepper to taste
Feta cheese, optional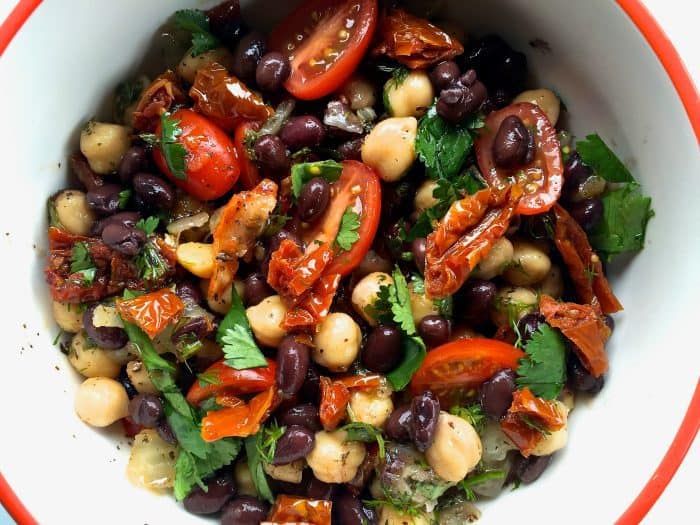 A great side dish or dish
It's nice to serve this Balela Salad or Dip Recipe as a side dish (delicious paired with recipes like Honey Lime Boneless Chicken Thighs or Mexican Pasta Shells Recipe or Mexican Rice Salad), or as an appetizer (serve in small shot glasses, with mini forks), eat in a wrap, or add to a salad.
Looking for a Mexican-themed dessert? I've got it for you: Mexican Flan Cake (watch the video).
I really love the versatility of this salad. Oh, and you can even serve it as a dip, perfect for crackers or chips!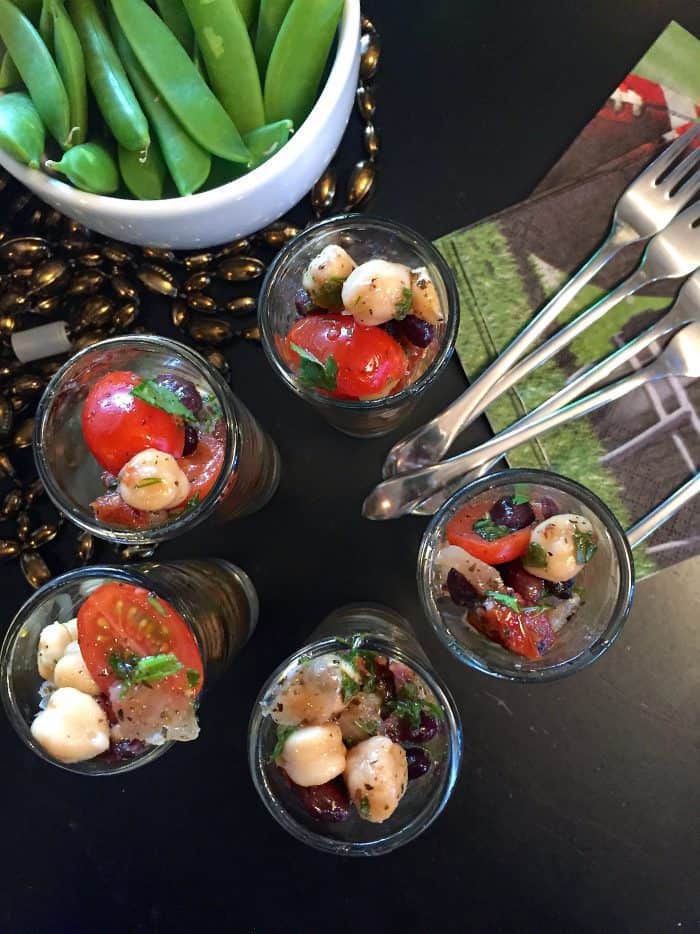 How to serve balela salad
As a side dish
As an appetizer (small shot glasses)
In a wrap
Mashed, on a sandwich
As a dip, with crackers and chips
Super easy to serve in these shot glasses!
Dig in and enjoy!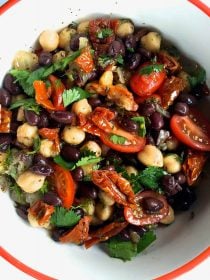 Get the Recipe: Balela Salad
Balela Salad is perfect for a gluten-free, vegetarian, or vegan side, salad or dip option to serve to Game Day guests! You can also add feta cheese!
Ingredients
2 15 oz cans garbanzo beans, rinsed and drained
1 15 oz cans black beans, rinsed and drained
½ cup chopped onion, about half a small one
1 jalapeno, finely chopped (optional)
½ cup sun dried tomatoes, best if use the ones in oil in a jar
1 pint grape tomatoes, cut in half
⅓ cup fresh dill, chopped
⅓ cup fresh basil, chopped (or mint)
⅓ cup fresh Italian parsley, flat leaf, chopped
¼ cup lemon juice
⅓ cup extra-virgin olive oil
2 cloves garlic, pressed
3 Tbsp. apple cider vinegar
Salt and black pepper to taste
Feta cheese, optional
Instructions
In a medium bowl, mix together the garbanzo beans, black beans, onion, jalepeno pepper, sun dried tomatoes, tomatoes, and herbs.

Whisk together the lemon juice, olive oil, garlic, vinegar, and salt and pepper.

Drizzle the dressing over the salad mixture; lightly stir.

Refrigerate salad several hours or overnight to meld flavors.

Optional to add feta cheese.
Hello and welcome to my home and table!
I'm Sandy—lover of food, family, cooking, THE BIG BOARD, travel, and bringing people together. Through great recipes and connection around the table, we become better, stronger, and more courageous people. Feasting on Life is real, and every time we do it, we grow a little more. Read more...