Baked Cedar Planked Salmon Recipe
Enjoy this Baked Cedar Planked Salmon Recipe in the winter months, easy to prepare and bake for a gathering or dinner party!

Friends, many of you know that we love to cook salmon in our home, and serve it for dinner parties, any time of the year.
Whether grilling or baking or broiling, I have a new way to cook it in the winter, to get the flavor of summer, with Cedar Planked Salmon.
Baked Cedar Planked Salmon Recipe
It's easy to prep the cedar planks.
Prepare the salmon just the way you love it. We use a good quality olive oil (DeLallo brand), and then the classic Old Bay seasoning. It's perfect for salmon.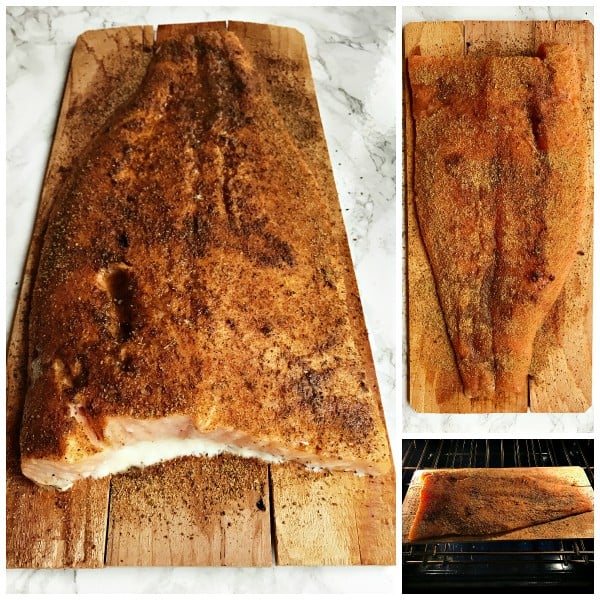 Bake and serve!
Oh, and delicious leftover in recipes like this Seafood Sweet Potato Risotto, or Cedar Planked Salmon Pot Pie (YUM!), Corn Salmon Chowder, or my daughter's Salmon Spring Rolls recipe (so good!)
Hand-written notes
But first … the other day, as I was filling out the paperwork to update our passports (stay tuned, we're headed for the sunshine!), I realized how bad my hand writing has become. I mean, it's really bad! With all the texting, emailing, computer work, paying bills online, etc. I hardly write anything now, besides my signature.
I'm wondering if you're feeling the same way?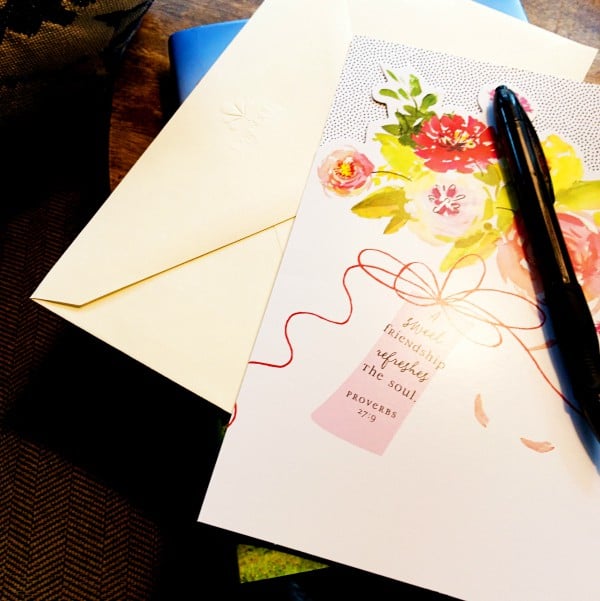 I came across a pile of cards that I had saved, and challenged myself to enjoy a cup of tea, and slowly … slowly … write some notes to some friends.
It doesn't always have to be bad news, or when something falls apart for someone, that we send cards. Sending cards is a way to say we are thankful for people, and that we are thinking of them.
Through the seasons of life, some of my cherished keepsakes are notes from my mother, and some very special friends. I've also saved a stash of thank you notes after we've hosted hundreds of dinner parties in our homes, with guests specifically calling out what they loved about the evening.
It's the little things that count. Saying thank you, I love you, I'm thinking of you, how good the meal was, the special way the table was set, the conversation that went deep, and was oh, so meaningful.
We just need to take the time. Right?
I have a few people I want to thank. I'm a little embarrassed that I'm so late in getting my notes written, but I'm going to do it anyway.
What are your thoughts on snail-mail cards? Yes, no? How's your handwriting? :)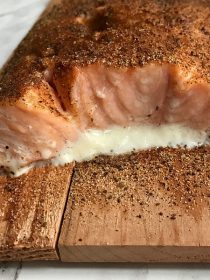 Get the Recipe: Baked Cedar Planked Salmon Recipe
Ingredients
1 cedar plank
1 lb salmon filet, you can leave the skin on
3-4 Tbsp. olive oil, divided
2 Tbsp. salmon rub, I use Old Bay Seasoning
Instructions
Preheat oven to 375 degrees.

Soak the plank in water for at least 45 minutes (or soak ahead of time and freeze).

Rub the plank with olive oil, placing it in the oven while you preheat to oven.

Place salmon skin-side down on plank. Massage 2 Tbsp. olive oil into the salmon; sprinkle with the seasoning. Bake until firm, and flakes easily, about 15 minutes.
Hello and welcome to my home and table!
I'm Sandy—lover of food, family, cooking, THE BIG BOARD, travel, and bringing people together. Through great recipes and connection around the table, we become better, stronger, and more courageous people. Feasting on Life is real, and every time we do it, we grow a little more. Read more...