How to Make Easy Red Wine Sangria Recipe
Easy Red Wine Sangria Recipe is made with red wine, fresh beet juice, apple cider, bourban, and the most delicious spices. ENJOY!
Friends, your guests will be talking about this party Easy Red Wine Sangria Recipe for a long time. Greet your guests at the door with this signature drink, and host the BEST festive Mexican feast!
Summer is a great time to have people over–spirits are high, people are happy, music is playing, and it's just an awesome time to throw a festive party. You could possibly serving this Hugo Cocktail recipe, too.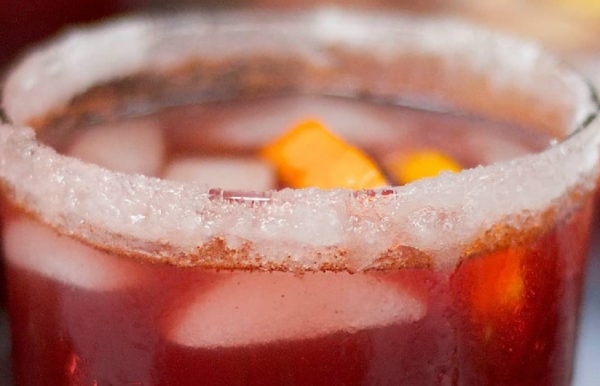 How to Make Easy Red Wine Sangria Recipe
Also, spring and Cinco de Mayo is Sangria season! This Easy Red Wine Sangria Recipe is super to make!
Here's the beauty of hospitality: It doesn't have to be perfect, and many times it's just being willing to provide a place.
Ingredients for Easy Red Wine Sangria
Bottle red wine
Fresh apple cider
Club soda
Bourbon
Cinnamon
Fresh pressed beet juice, buy already juiced, or press your own
Piece of fresh ginger
Lemon
Honey crisp apples
Orange
Cinnamon sticks
Sugar
I made a new Facebook banner, filled with bright summer colors. By the way, are you following me on my Reluctant Entertainer Facebook page? I post a lot of my friends' delicious recipes, plus things that I find inspiring. It's a great way to connect with recipe ideas and great seasonal inspiration. I'd love to see you there!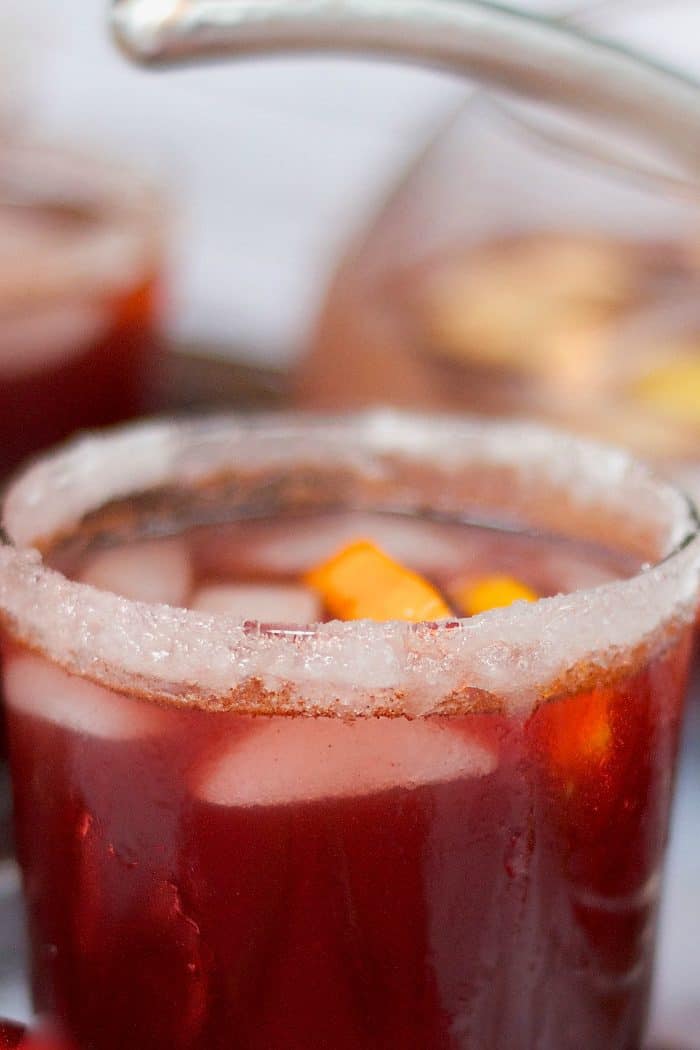 How to make sangria
This recipe includes beet juice! Yes, beets! I am a huge beet lover! You can press your own beets, or buy fresh beet juice (much easier).
The other ingredients (red wine, apple cider, bourban) just come together to make the BEST sangria!
Serve in a pitcher, or a bowl with a ladle.
Ps. You can leave out the beets (but it won't be quite the same, but still very good).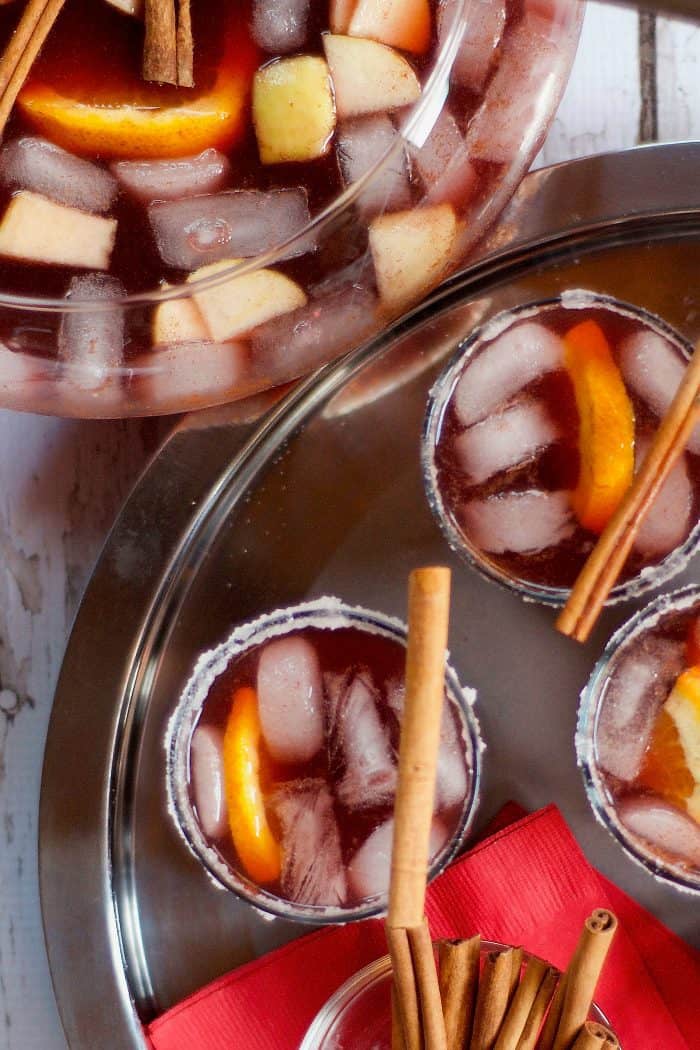 3 SPRING Party Planning Tips
Plan and prepare. Plan a simple meal, making it potluck, so that everyone contributes, and get as much prep work done ahead of time as possible. Don't forget to delegate so you don't have to do it all!
Set the table (or buffet area) the day before, including the "drink station." Use the colors of the season by bringing fresh spring pots and plants to the entertaining area.
Create a signature drink. Think of one simple drink, with a bit of SPRING bling (fruity, healthy, spicy, festive). Bring out the punch bowl and make it easy for guests to help themselves. Have a drink ready to hand to your guests as they walk through the front door!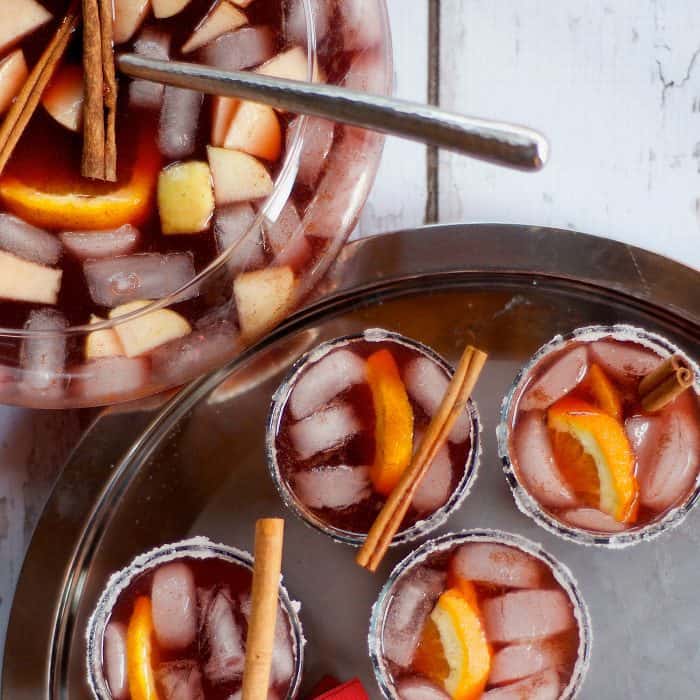 Happy spring and summer hosting, Friends!
More beverage ideas:
Watermelon Malibu Slush [Amanda's Cookin]
World's Best Cosmpolitan Cocktail [Noble Pig]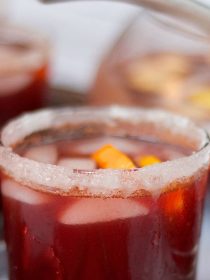 Get the Recipe: Easy Red Wine Sangria Recipe
Ingredients
1 bottle red wine
2 cups fresh apple cider
1 cup of club soda
½ cup bourbon
½ teaspoon cinnamon
1 cup fresh pressed beet juice, buy already juiced, or press your own
1 piece fresh ginger, 1-inch
1 lemon, cut in half (one half juiced, one half sliced)
2 honey crisp apples
1 orange
Cinnamon sticks
Sugar
Instructions
In a large bowl or pitcher, add red wine, apple cider, club soda, bourbon, lemon juice (1/2 lemon), cinnamon and beet juice.

Cut the apples into 1/2 inch pieces (leave skins on). Slice the orange. Slice the other half of the lemon.

Add the fresh chopped and sliced apples, oranges, and lemon to the punch mixture. Refrigerate until serving (at least 1 hour).

Serve in a large pitcher or punch bowl filled with ice. Garnish with whole cinnamon sticks. Offer individual servings in sugar-rimmed glasses, with an orange slice and a whole cinnamon stick!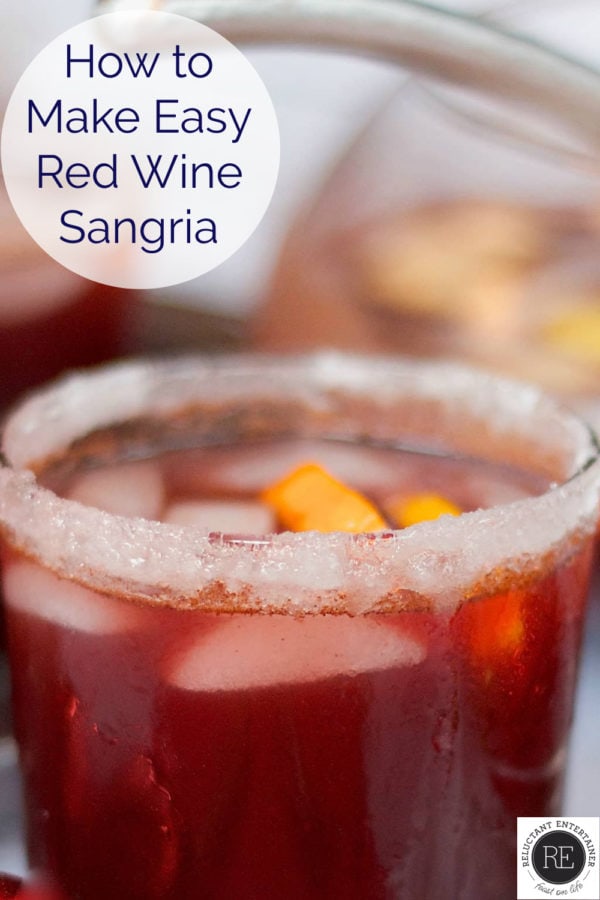 Hello and welcome to my home and table!
I'm Sandy—lover of food, family, cooking, THE BIG BOARD, travel, and bringing people together. Through great recipes and connection around the table, we become better, stronger, and more courageous people. Feasting on Life is real, and every time we do it, we grow a little more. Read more...