Tortilla Chicken Pie
This Tortilla Chicken Pie is a quick meal to make with a few pantry foods, and fresh ingredients such as tortillas, rotisserie chicken, and cheese.
Friends, I've been cooking away in my kitchen (that I love and am sad to leave), in preparation for our move to Bend, Oregon!
Last week, in between GIANT boxes, we cleaned up the piles of mail and paperwork, plumped up the pillows, did a quick vacuum job, and set a pretty dessert table for our son Garrett's college graduation party! This party was a little lower-key than his brother's college grad party a couple of years ago.
I am truly going to miss our beautiful clematis on the back patio (sniff-sniff), and the beautiful scent it gives off.
Let's just say, the climate where we are moving to … well, it's a lot different than the one our green plants thrive in southern Oregon!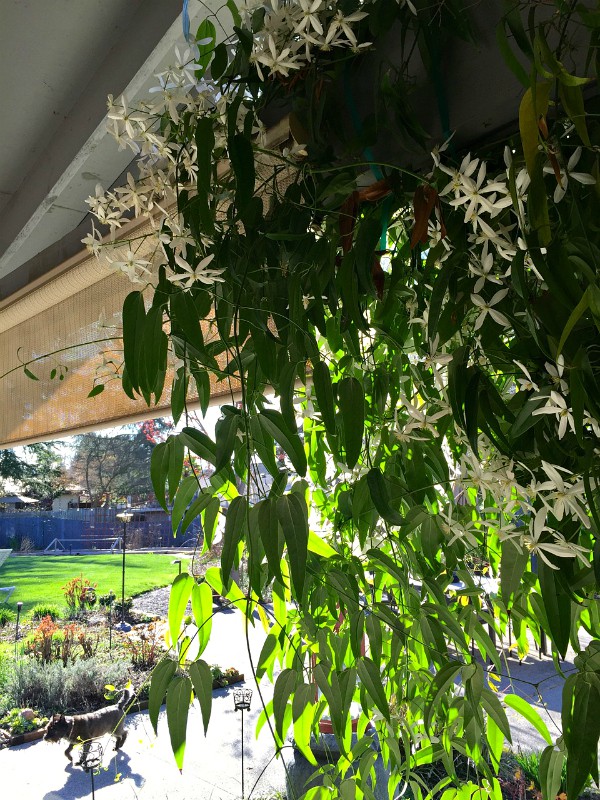 So many friends and family came to celebrate Garrett, to send him off with a gift, well wishes, a hug, and a prayer–as he heads to Beijing here in a few short weeks.
In between the packing and goodbyes, leaving so many beautiful people in our town, my son told me, Mom, I'll really miss your cooking.
Both our boys went to college close enough to buzz home for the weekend if they needed to, always loading up on groceries and some good eats!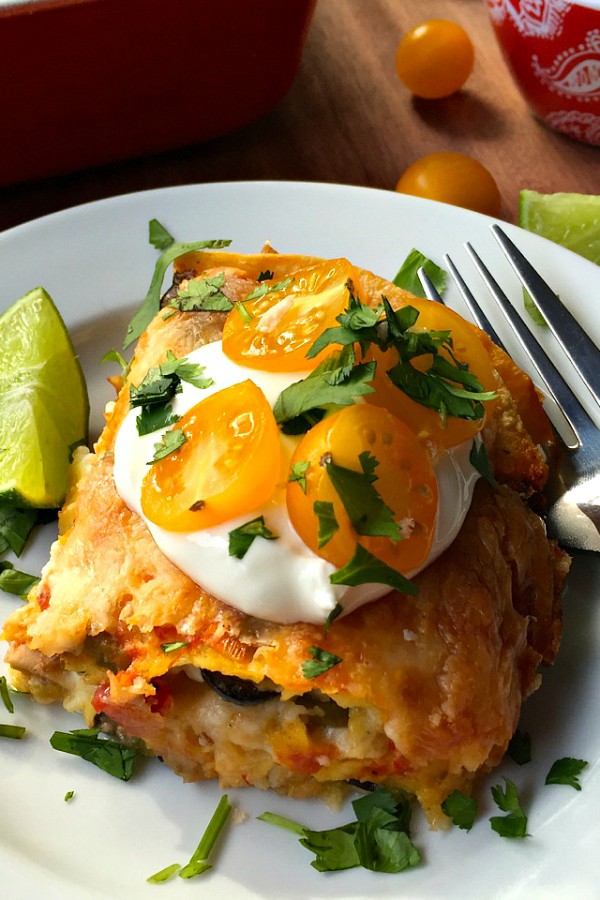 Tortilla Chicken Pie
Simple meals, like this Tortilla Chicken Pie, is how I've shown our sons how to cook. Keep your pantry stocked with base items like salsa, olives, chopped green chiles.
And then rotisserie chickens come in handy. You can even freeze the meat and cheese, and hope that you have sour cream stocked in their fridge.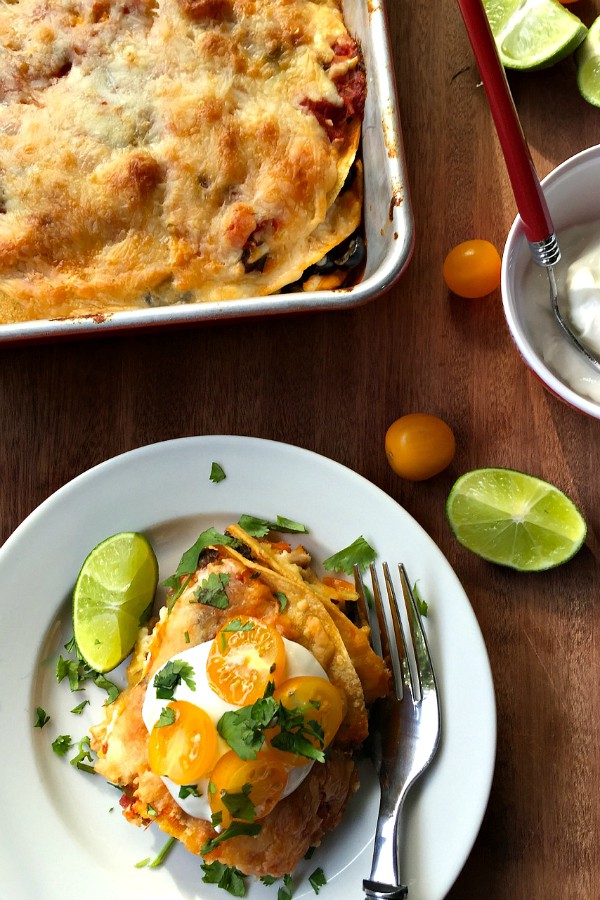 Oh, and this is even better if you can use dark meat (a bit richer), like chicken thigh meat. Or, you could even use ground beef or ground turkey!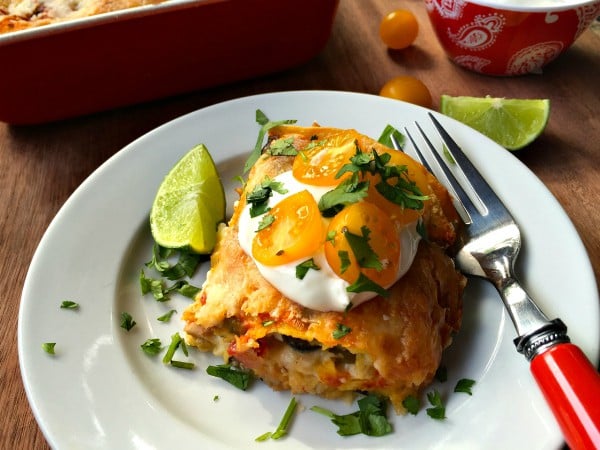 Very simple ingredients, and the topping is always the best part, right?
Sour cream, fresh tomatoes and cilantro, and possibly a few drops of tabasco.
Layer, stack, and serve!
ENJOY! Here's one of my Pinterest pages you may be interested in following :)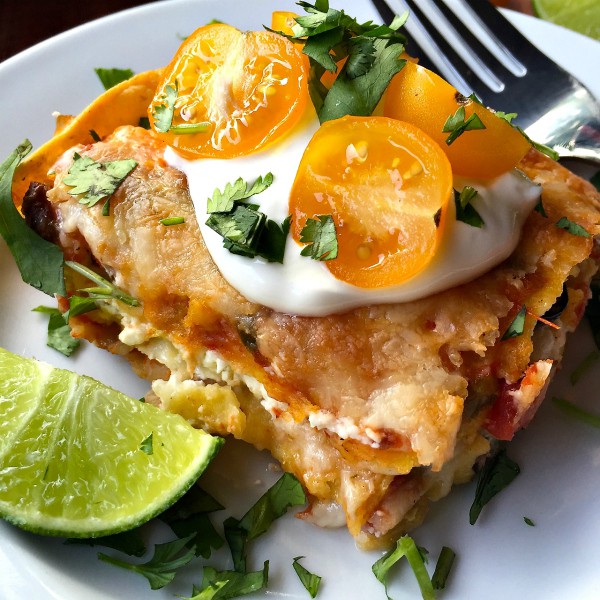 Tortilla Chicken Pie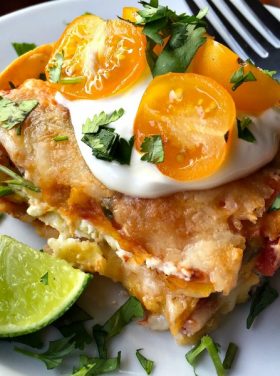 Ingredients:
12 corn tortillas (6-inch)
2 1/2 cups cooked, shredded chicken (I use rotisserie)
1 can (8 ounces) chopped green chiles
2 cups salsa
1 1/2 cups sour cream + extra for topping
3 cups Monterey Jack cheese, shredded
Fresh cilantro
Fresh tomatoes
Directions:
Preheat oven to 375 degrees. In an 8-inch square baking dish, layer 4 tortillas, 3/4 cup chicken, green chiles, salsa, cup sour cream, and cheese; repeat layers. Top with remaining tortillas, salsa, and cheese. Bake until top is browned and bubbling, 30 to 40 minutes.
Garnish with sour cream, fresh cilantro, and chopped fresh tomatoes.
All images and text ©