Pineapple Coconut Cake with Cream Cheese Frosting
This Pineapple Coconut Cake with Cream Cheese Frosting is the perfect dessert to serve at a "pineapple hospitality party," or for any holiday gathering!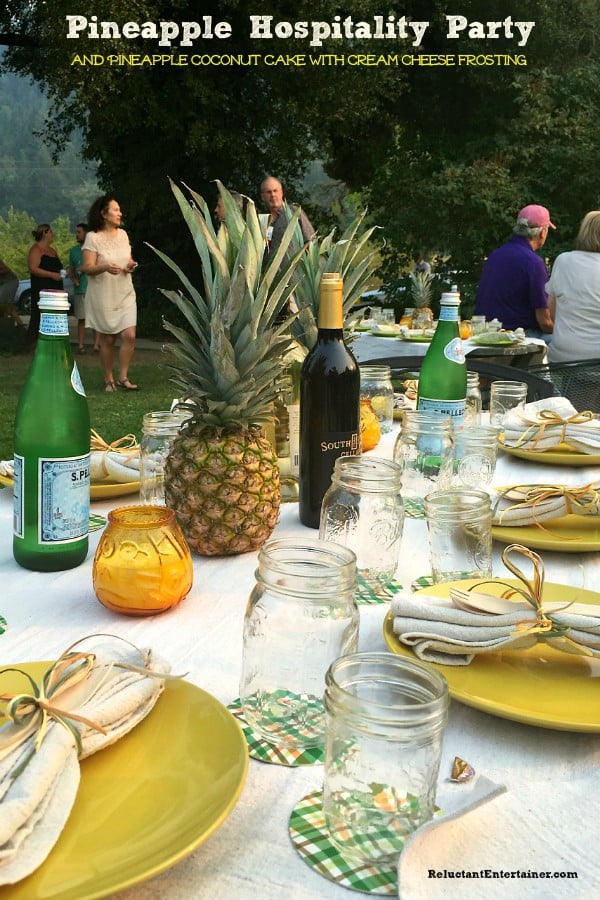 Friends, dessert was fabulous at this recent party we attended: Pineapple Coconut Cake with Cream Cheese Frosting! But first … the party!
It's true, that pictures really do tell a story. For us, the night we spent at Pennington Farms a few weeks ago, was magical, delicious, and so full of personality and beautiful hospitality.
I took a few pictures to share with you my love for this party, plus the pineapple, plus the fact that it's just fun to throw a party … just because.
My friend Cathy owns Pennington Farms, out in the Applegate Valley in southern Oregon.
It now is one of the most successful farms in Oregon, and let me tell you, their foods are so fresh–the best.
Every year she throws a private party for family, friends, ranchers, farmers.
"I'm having this little party. I like you. Wanna come?" I loved hearing those words!
Hospitality is …
Cathy makes people feel seen. She makes them feel valued, loved, included.
She never expects anything in return … she just keeps inviting, including, welcoming people into her life.
That is what hospitality is.
It's truly not just a dinner party, although there's nothing wrong in hosting a dinner party. I do this all the time.
Set the table.
But it's the frame around your heart. It's bold, easy to let others in, wanting to connect people with people, loving, warm, and welcoming anyone.
ANYONE.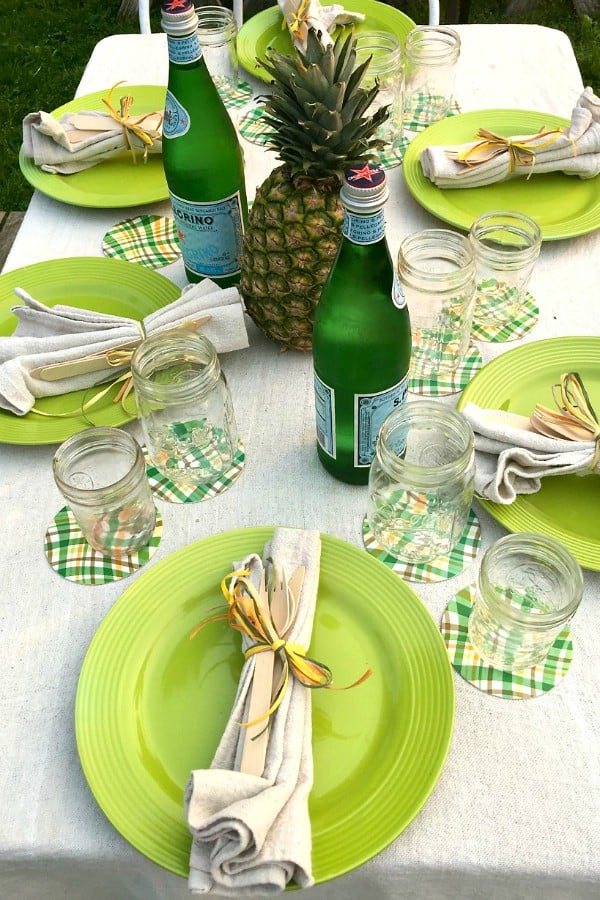 The tables were set with pineapples as the centerpieces (how cute – the beautiful symbol of hospitality).
The menu.
The menu looked like this.
Cathy had her apron on, serving, hostessing, doing everything she is so good at.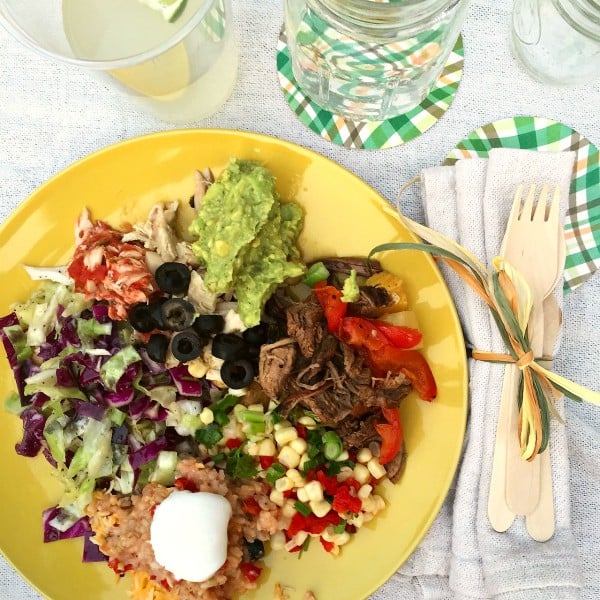 Serving buffet style makes it so easy.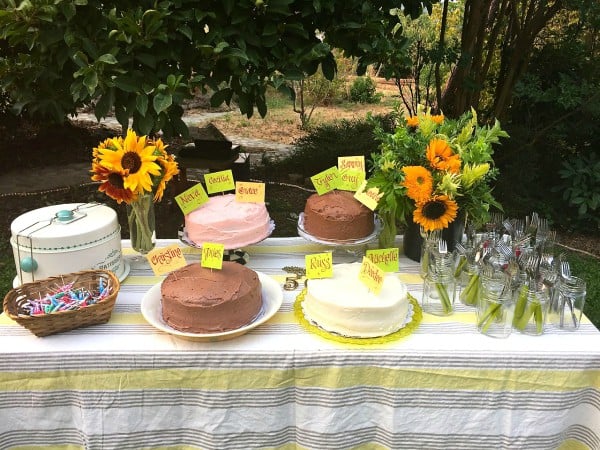 It's all about the desserts.
A dessert table with birthday cakes for her family members. Sweet!
At the end of the party, we were served 2 Pineapple Coconut Cake with Cream Cheese Frosting per table.
Seriously, it was the most creamy, luscious cake we've ever eaten.
For Cathy, hospitality runs deep in her soul.
So beautiful, caring, loving, making people feel at home (we got to see her charming farmhouse), and welcome, wherever she goes.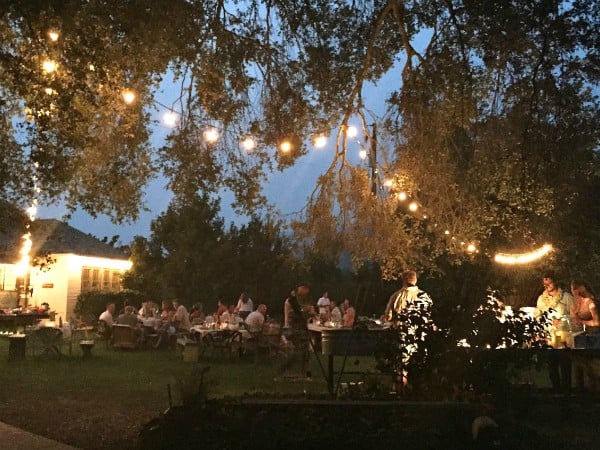 Not just at the farm. Or in the bakery. She's an encourager to all. :)
Pineapple Coconut Cake with Cream Cheese Frosting
Inspired by the pineapple cake that she served, I pulled out my mom's church cookbook and baked a pineapple cake for my family and some friends who were over.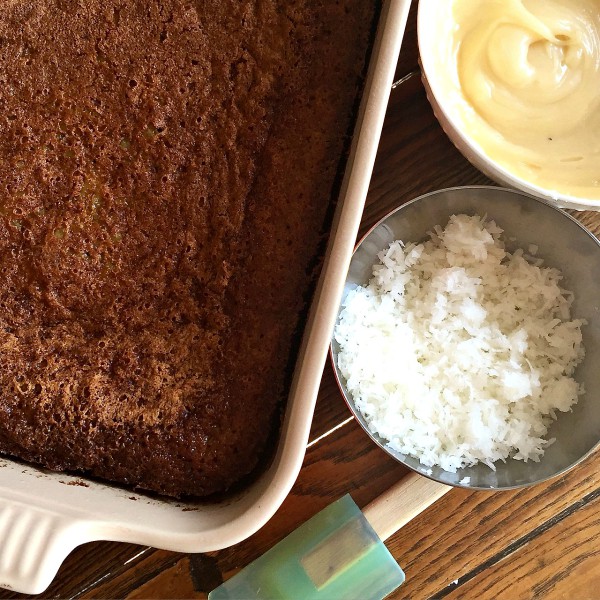 Don't forget to refrigerate the leftovers!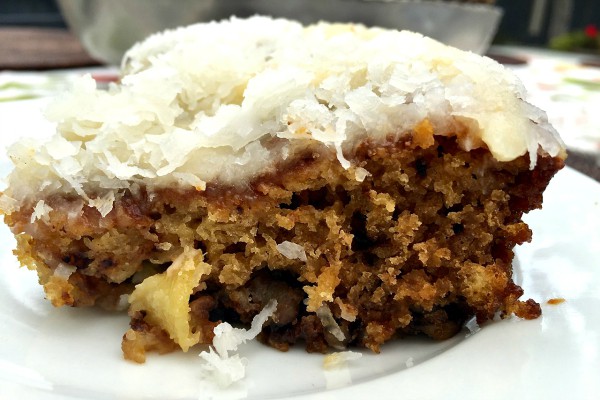 Please try it, and when you add the can of pineapple, think of the true meaning of hospitality and the way you love others.
Or, how you can love others better!
Do you ever think you can "do" hospitality better? In what ways?
Pineapple Coconut Cake with Cream Cheese Frosting
With or without coconut, this cake is moist and delicous! Optional to toast your coconut first. Refrigerate any leftovers (because of the cream cheese frosting).
Ingredients:
Cake: 2 eggs
2 cups sugar
1 teaspoon vanilla
2 cups flour
1 (20 ounce) can crushed pineapple with juice
2 teaspoons baking soda
1 cup chopped walnuts
Cooking spray
Frosting: 1/2 (4 ounce) package cream cheese, softened
1/4 cup butter (1/2 stick)
1 tsp. vanilla extract
1 tsp. coconut extract
1 cup powdered sugar
1 cup coconut (optional)
Directions:
Heat oven to 350 degrees. To make cake batter, in a large bowl, beat together eggs with sugar and vanilla. Add flour, pineapple with juice, baking soda and walnuts and mix well to combine.
Pour cake batter into a 9×13 inch baking pan sprayed with cooking spray. Bake 35 to 40 minutes.
To making frosting, cream together cream cheese and butter. Add vanilla, coconut extract, and powdered sugar and use an electric mixer to beat until frosting is smooth. Frost cake once it has cooled after baking. Add the coconut on top (optional).
All images and text ©