Big Board Pumpkin Spice Taco Board
For casual hosting, set out a Big Board Pumpkin Spice Taco Board. With delicious beef and pumpkin flavors, serve with fresh taco toppings!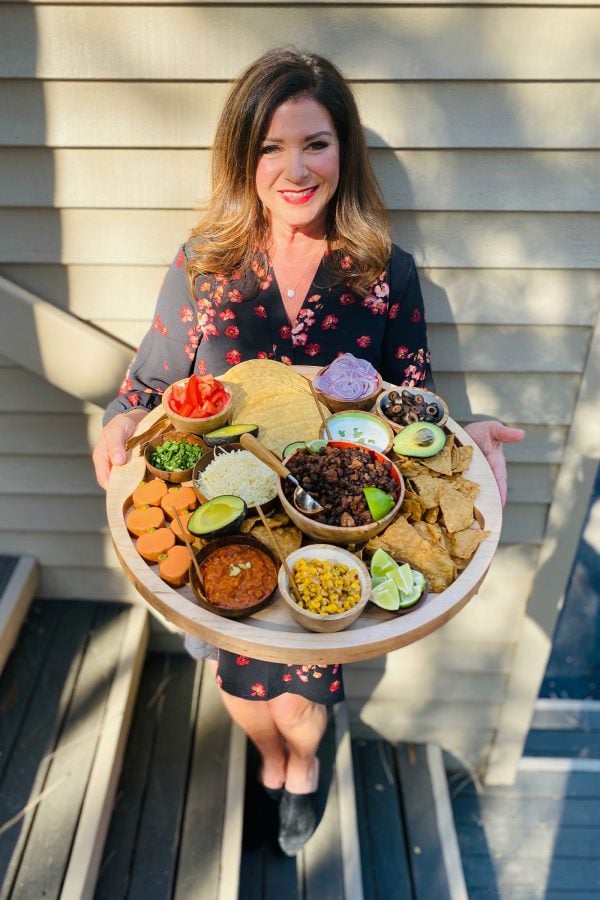 Friends, Fall is in the air. I love it so. Last night we had friends over for tacos and I served this Pumpkin Spice Taco Board! Plus, today we are announcing my new BIG BOARD for sale, that I am so excited about.
The 26-inch board will be perfect for my popular Easy Taco Recipe Dinner Board! [info below] And you can grab ALL my recipes and ideas for The Big Board, so get ready to be inspired!
Pumpkin Spice Taco Board
Set it out, they will come! Everyone loves tacos! Here's what you need for this recipe:
Ground beef
Olive oil + yellow onion
Garlic powder + paprika + pumpkin pie spice
Back beans
Corn tortillas
Roma tomatoes
Mexican cheese
Corn salsa (we love Trader Joe's)
Sour cream
Red onion + olives
Trader Joe's pepita salsa
Trader Joe's Pumpkin Tortilla Chips
Trader Joe's Chocolate Mousse Pumpkins
Avocados + lime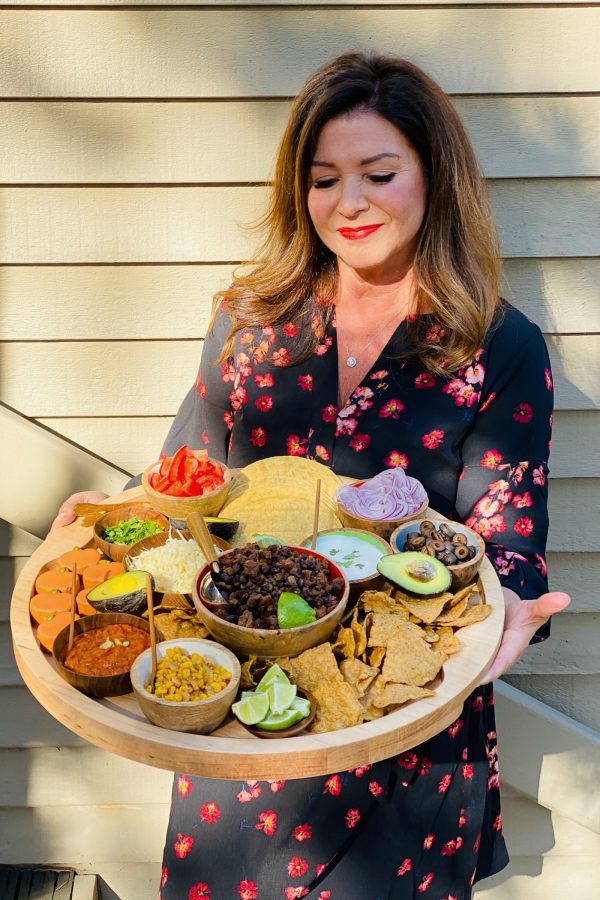 I'm also sharing my NEW Shopify page to buy The Big Board! Thank you for being excited with me, today on LAUNCH DAY! Be the first to get your preorder in!
Friends, The Big Board® is here! Yes, I've partnered with JK Adams, the premier woodmaking company in Vermont, with my own line of RE boards!
20-inch
26-inch
12 x 36-inch
23-inch Lazy Susan
A board with a lip (or raised edged) so the food doesn't fall off
FOOD SAFE
Made in the USA
Undercut handles (a unique design)
Thank you for your support, as we've sold out so many times already!
Order The Big Board® today!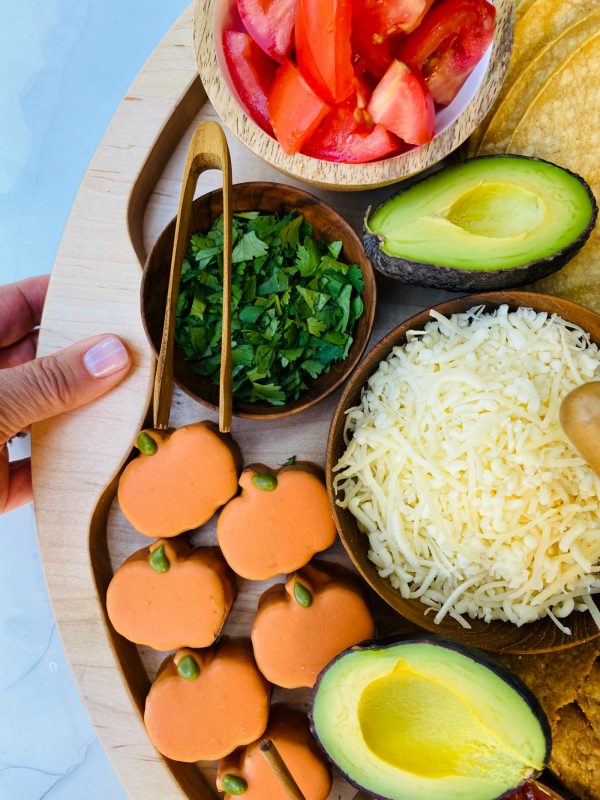 Both come with all-important raised lip with undercut handles. [see above!]
FOOD SAFE FINISH
They're beautiful and perfectly made by America's premier wood maker, JK Adams.
Every board comes with my RE logo on the back!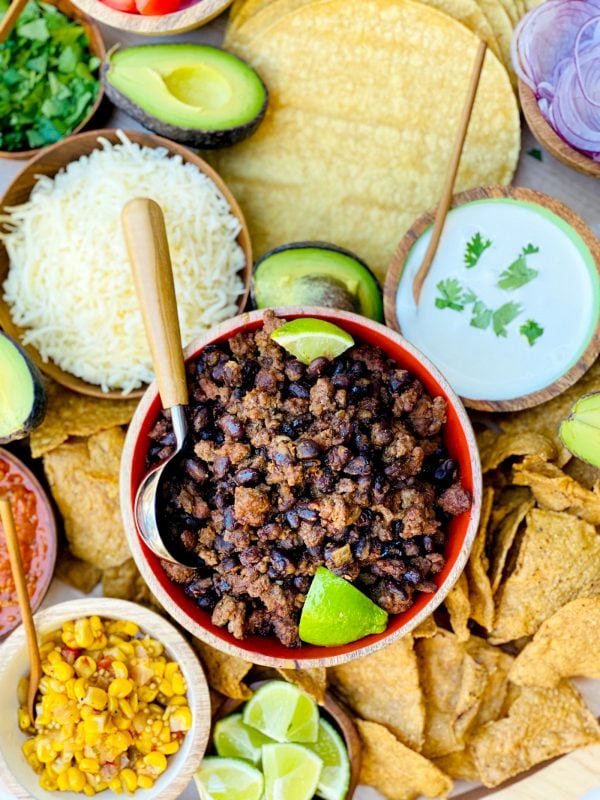 Hot food on the board
Here's a tip with hot food. If you place a hot pan from oven or stove on the board, you need a hot pad. Sometimes I do this.
Or, you can cook the meat (this recipe), and right before serving, place it in a serving bowl.
In other words, NEVER place something very hot on my new boards.
Here's what I love about a dinner board
If you have a big enough table, you can set it in the middle of the table.
Or set on your kitchen counter with a stack of dishes. Let everyone dig in and make their own tacos.
It's fun to set up a taco bar, but on a "board."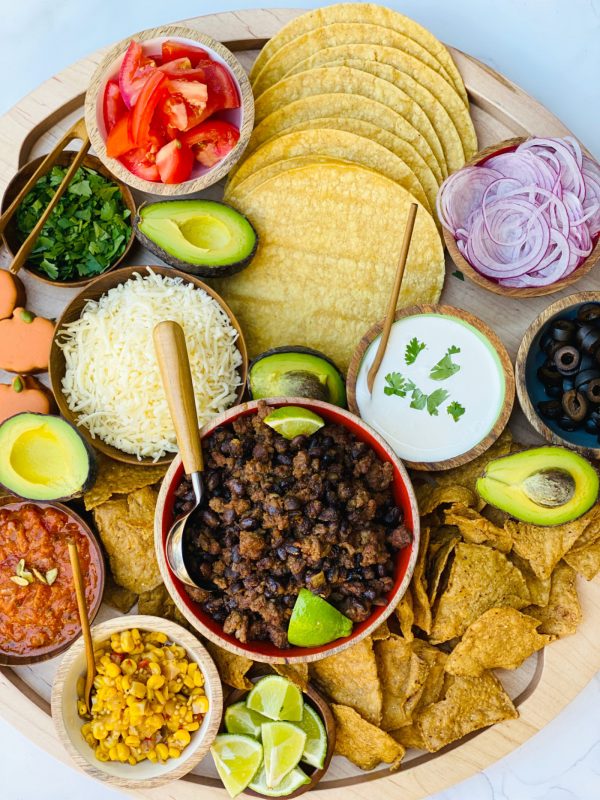 And guess what? The board has a lip so the food doesn't fall off. You can move it from table to counter, or even bring it outside!
I'm so grateful for my RE community here, and for your love and support. I never dreamed an USA company like JK Adams would work with little ol' me, Sandy Coughlin.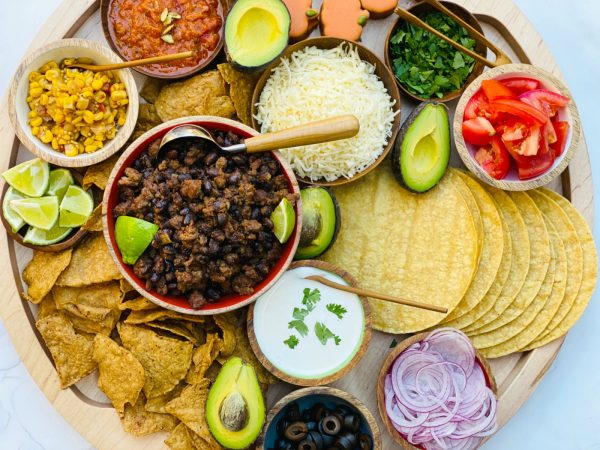 Big Board Pumpkin Spice Taco Board
I'm honored that they saw value in my blog, community (YOU!), and my brand.
ENJOY these FALL tacos this weekend!
Oh, and don't forget a little nosh! We love these little bites of chocolate mousse pumpkins at Trader Joes!
Happy weekend; Happy shopping!
Buy the board, HERE.
More taco recipes:
Taco Tuesday Epic Fish Taco Board
Get the Recipe: Trader Joe's Pumpkin Spice Taco Board
Ingredients
1 lb ground beef
1 Tbsp. olive oil
1 small yellow onion, chopped
1 tsp garlic powder
1/2 tsp paprika
1 1/2 tsp pumpkin pie spice
1 can black beans, rinsed and drained
8-12 corn tortillas, (heat in oven, microwave, or fry)
2 Roma tomatoes, diced
2 cups shredded Mexican cheese
1 cup corn salsa, we love Trader Joe's
1 cup sour cream
Red onion, diced or thinly sliced
1/2 cup sliced olives, drained
1 cup Trader Joe's pepita salsa
2 avocados, cut in half
Limes, quartered
Trader Joe's Pumpkin Tortilla Chips
Trader Joe's Chocolate Mousse Pumpkins
Instructions
Heat a skillet to medium heat, and add olive oil. Add onions and cook for 4-5 minutes. Add ground beef; cook until done. Drain fat if needed.

Add the salt and spices; add the drained black beans. Gently mix and season to taste with salt and pepper.

Arrange the other food items on a board.

Heat the tortillas (microwave, oven, or fry in oil), and place on the board right away, along with the hot meat.

Serve!
Hello and welcome to my home and table!
I'm Sandy—lover of food, family, cooking, THE BIG BOARD, travel, and bringing people together. Through great recipes and connection around the table, we become better, stronger, and more courageous people. Feasting on Life is real, and every time we do it, we grow a little more. Read more...