EPIC Shrimp Louis Salad Board
The Epic Shrimp Louis Salad Board is a fresh, vibrant Shrimp Louie Salad served on a large board with dinner rolls, for a large gathering. This post is sponsored by Rhodes Bake-N-Serv® .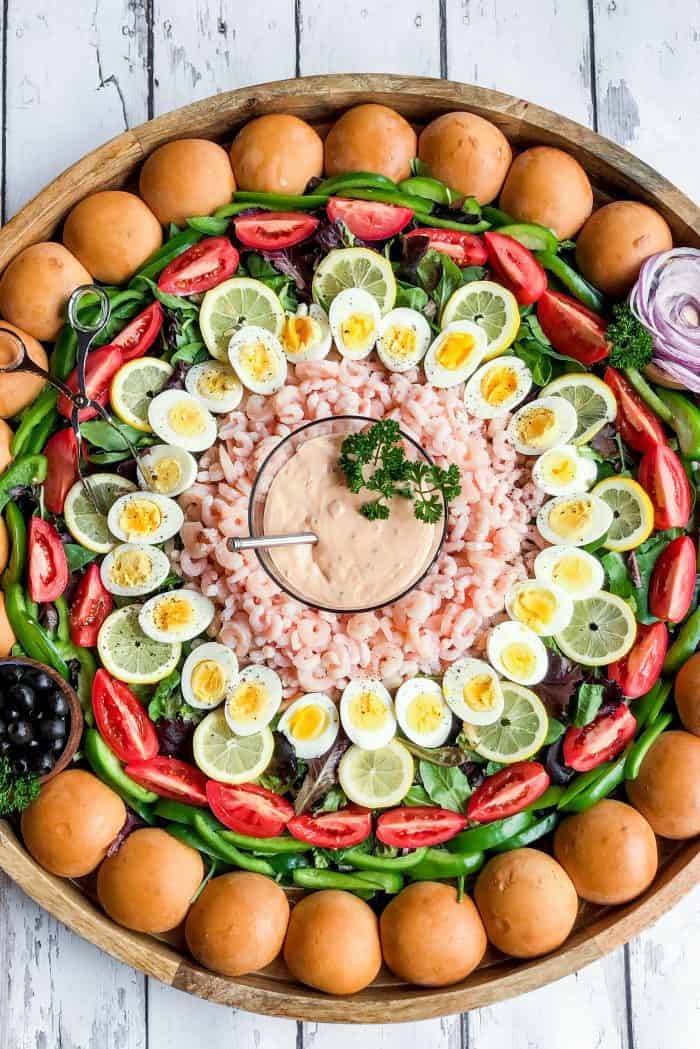 Today I'm sharing another "board" idea for spring: EPIC Shrimp Louis Salad Board!
EPIC Shrimp Louis Salad Board
Think Easter, Mother's Day, a bridal or baby shower, or just a fun, special "spring" way to host! This post is sponsored by Rhodes Bake-N-Serv® .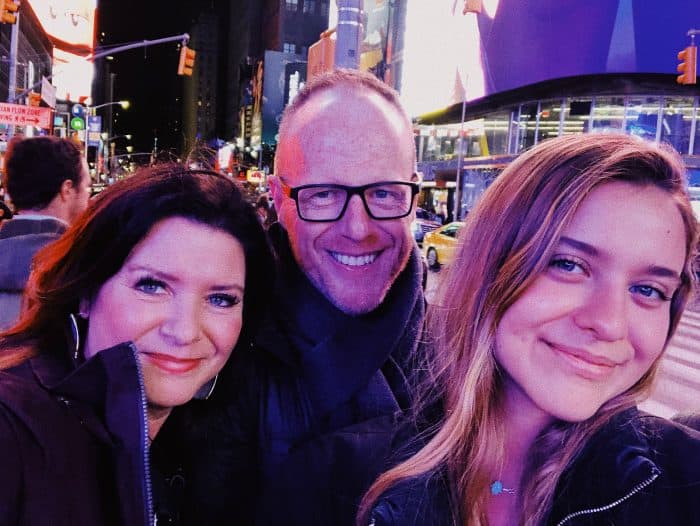 Friends, I'm so loving the month of April thus far. We were in New York City last week and so enjoyed being with our daughter (who's graduating college next month!). So much fun, I'll be sharing all about the trip in a post coming up!
Ingredients needed to make a Shrimp Louie
The Shrimp Louie Salad makes a great stand-alone SPLASH at any party!
The fresh and vibrant Shrimp Louie Salad on an epic board consists of a large bowl of Thousand Island Dressing, surrounded by shrimp, lettuce, hard-boiled eggs, tomatoes, green peppers, red onion, and back olives.
Just the way my Aunt Lillian would always make a shrimp salad for Easter Sunday!
Aunt Lillian taught me that hospitality has nothing to do with a perfect home or gourmet food, but it's how we make our guests feel welcomed and comfortable in our homes.
Simplicity. Selflessness. Friendliness.
EPIC Shrimp Louis Salad Board
Make the dressing ahead of time and chill. Or, guess what? You can buy store-bought Thousand Island dressing!
Prepare the board by adding the bowl first, then the fresh foods in a circular pattern (so pretty!) Want to make the perfect eggs? Perfect soft boiled eggs are the best!
Right before the guests arrive, heat your dinner rolls.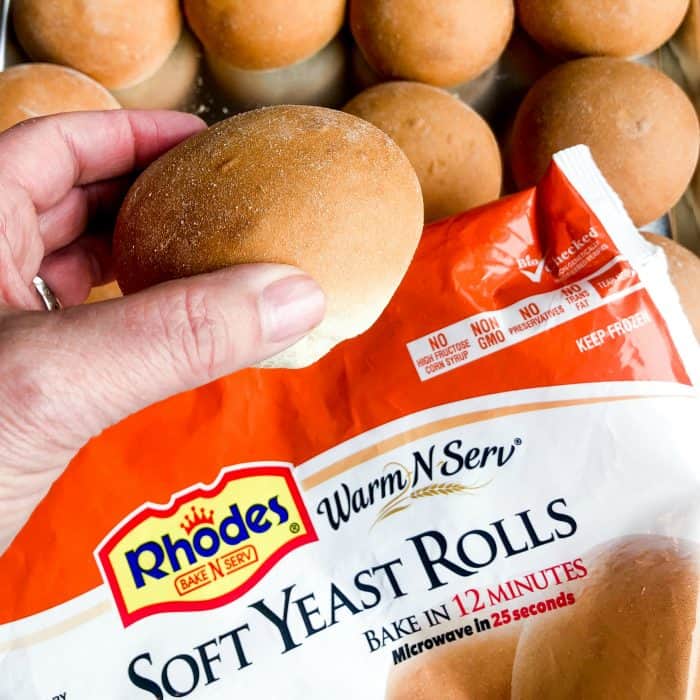 RHODES BAKE-N-SERV™ WARM-N-SERV™ SOFT YEAST ROLLS
You may remember my Party Ham Rolls Charcuterie Board, or this Tuna Melt Sliders Game Day Board, where I used Rhodes Bake-N-Serv™ Warm-N-Serv™Artisan French Rolls.
Rhodes Bake-N-Serv™ Soft Yeast Rolls come in packages of 6 and 12 rolls per bag.
You literally bake and serve.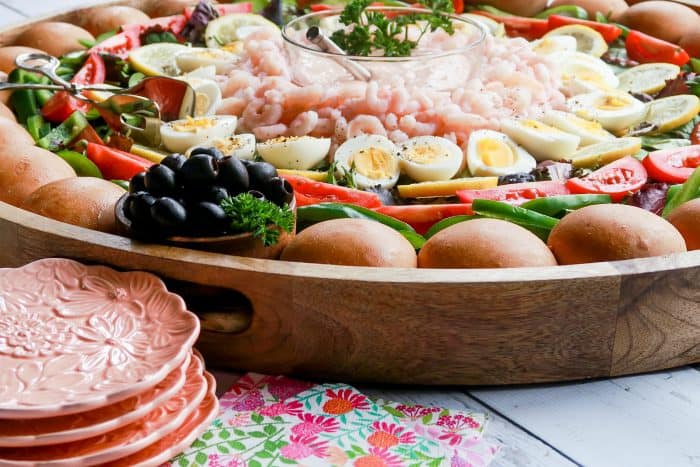 They are non-GMO, made with cane sugar, have no preservatives, and are vegetarian. Made In the USA!
There are so many varieties–Bake and Serve, Thaw and Rise, Buy and Store–but today on this epic tuna melts board, we are serving Rhodes Bake-N-Serv™ Warm-N-Serv™ Soft Yeast Rolls.
They taste so good … just the way my Aunt Lillian made hot rolls for Easter or Mother's Day! :)

What is a Shrimp Louie?
A Shrimp Louie is a traditional salad from California (originated in San Francisco in the 1900's), made with shrimp, lettuce, egg and tomato.
We love to use spring mix lettuce!
The dressing is similar to Thousand Island dressing, made with mayonnaise, chili sauce, Worcestershire sauce, and a few more ingredients. Oh, and don't forget the hard-cooked eggs, Roma tomatoes, green pepper, black olives, and red onions.
And sliced lemons and parsley for garnish!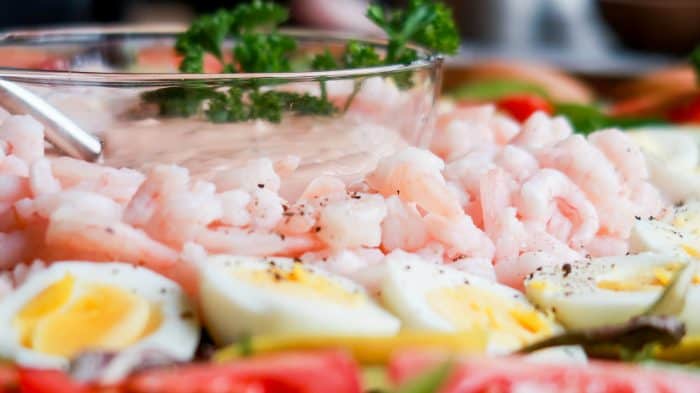 How to make Shrimp Louie Salad and Dressing?
To make Shrimp Louie Salad and the dressing from scratch is easy, and won't take you more than 10 minutes. Make sure you have these ingredients: Mayo, ketchup and Worcestershire sauce!
Don't forget! It's okay to buy store-bought Thousand Island! Just as good!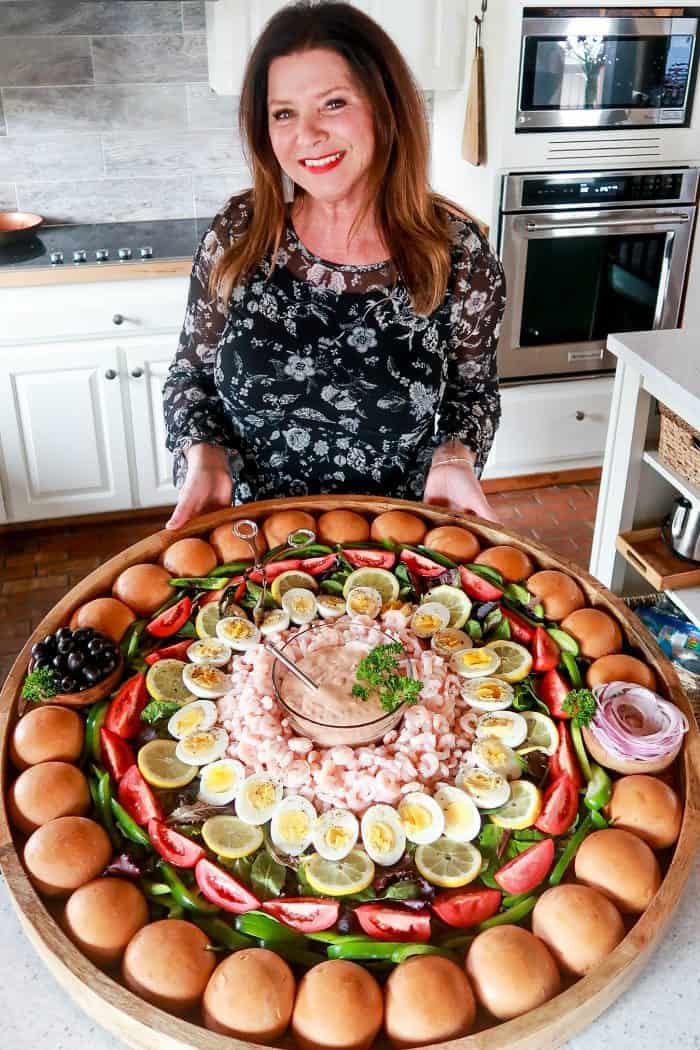 How to serve a Shrimp Louie Salad
Shrimp Louie Salad is a delicious crowd-pleasing lunch salad with shrimp and a creamy, tasty dressing. It's particularly popular in our home during spring and summer months, and always a MUST-make recipe for Easter!
So, when you are ready to serve, set out this EPIC Shrimp Louis Salad Board.
For Easter, serve ham, potatoes, rolls, a fruit salad, a Best BLT Pasta Salad, and this EPIC Shrimp Louis Salad Board. [This dessert is awesome for spring and Easter!]
Let guests choose the ingredients from the board and make their own salad. And dress their own salad!
The rolls make the board complete.
24-inch Charcuterie Board
Friends, here is the board that I LOVE. It's 24-inches in diameter with a 2-inch lip. A "lip" is the secret to the best charcuterie or dinner board, because the food does not fall off.
You can buy in 2 sizes.
Here are the LINKS:
LARGE Hand-Carved Gabrielle Tray – 24 inches round. Buy >> HERE (affiliate link)
SMALL Hand-Carved Gabrielle Tray – 18-inches round. Buy >> HERE (affiliate link)
Rememember it says it is "not food safe," so you need to prepare the board by either laying down parchment paper under the food, or you can "season" it like we did.
Here are a few other options:
Courtland Wooden Lazy Susan – 18-inch round. Buy >> HERE (affiliate link)
LAZY SUSAN is a board that spins. It does NOT have a lip, but it's cool for the center of the table.
Here's an 18-inch wine barrel wood board or a 24-inch hammered large round tray or a 26-inch stainless steel serving platter that you may also like! Check out the weight on these boards.
How to season a Charcuterie Board
If a wood board says it "not food safe," you can lightly sand it down with sand paper, and rub down with beeswax and mineral oil.
We used this butcher block and cutting board oil conditioner after we lightly sanded the board down.
Or, lay down parchment paper! Easy peasy!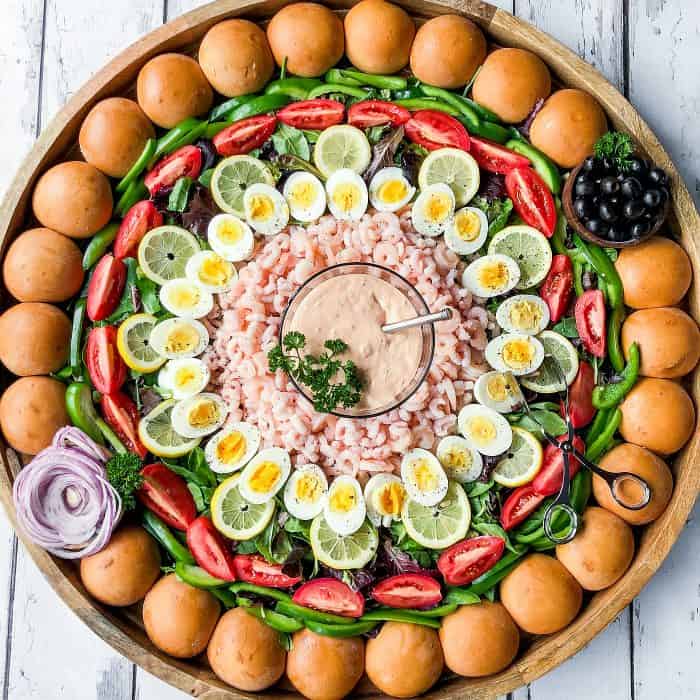 Have you ever been to a restaurant and ordered a Shrimp Louie? It always comes with a hot dinner roll.
Another reason why I love this board … think barbecues and summertime hosting. You can always put the shrimp on ice, too.
Happy spring & summer hosting, Friends!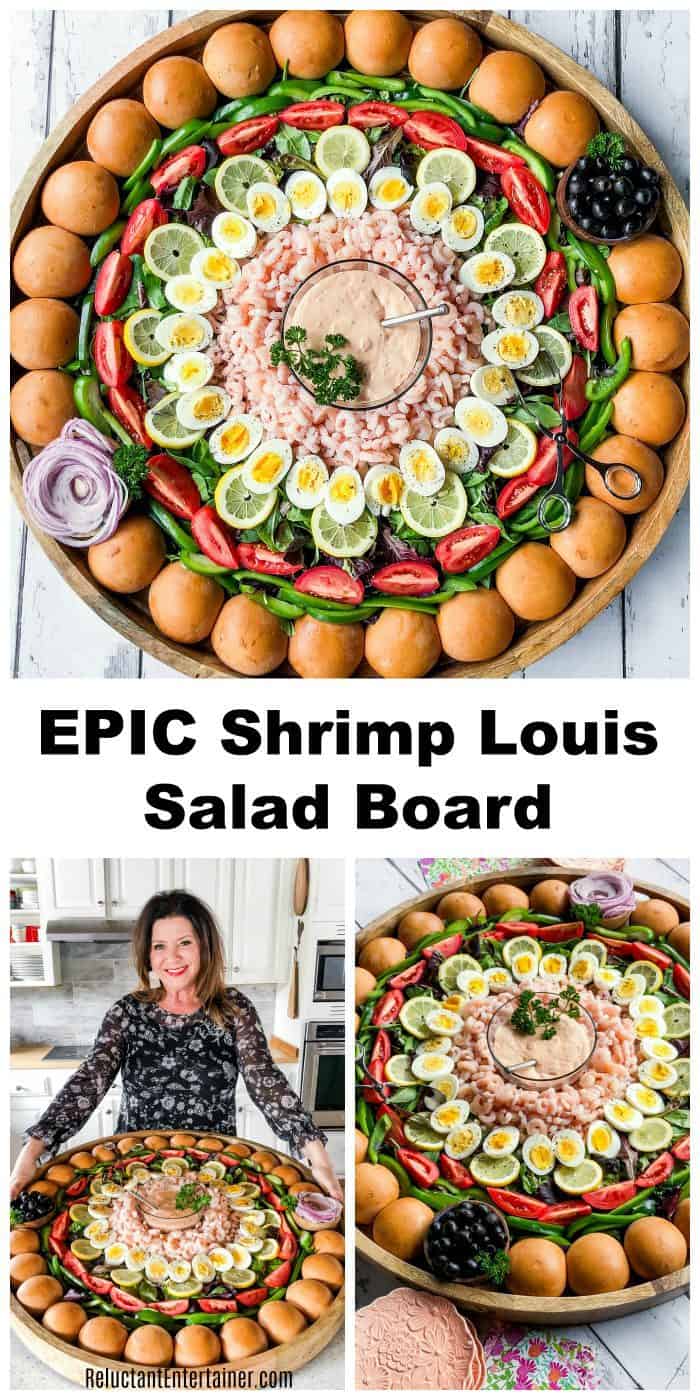 More Easter salads: Pineapple Pretzel Salad [The Cookie Rookie], Fruit Cabbage Salad Recipe [Today's Creative Blog].
This post is in partnership with Rhodes Bake-N-Serv® As always, we've enjoyed this product in our home, and all opinions are my own. This post has affiliate links. Every purchase from these links supports RE at no extra cost to you. Thank you!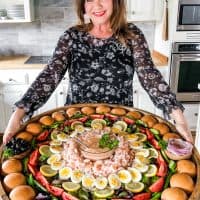 Print Recipe
EPIC Shrimp Louis Salad Board
Ingredients
For the salad:
2 23

oz.

packages Rhodes Bake-N-Serv™ Warm-N-Serv™ Soft Yeast Rolls

2 1

pound

bags small cooked shrimp

1

pound

green salad such romaine or iceburg or spring mix

1

dozen hard-cooked eggs

sliced in half

6

Roma tomatoes

1

green pepper

thinly sliced

1

can olives

drained

1

red onion

thinly sliced

Lemons

cut in quarters for garnish

Parsley

for garnish

Thousand Island Dressing

or make your own, recipe below
Make your own dressing:
1

cup

mayonnaise

1/3

cup

chili sauce

1/4

cup

sour cream

1

tablespoon

freshly squeezed lemon juice

2

teaspoons

white vinegar

1

teaspoon

packed brown sugar

1

teaspoon

paprika

1/4

teaspoon

kosher salt

or to taste

1/8

teaspoon

cayenne pepper

1/2

teaspoon

Worcestershire sauce

2

tablespoons

minced green onion
Instructions
For the salad, boil (hard cook) the eggs ahead of time and cool.

Prepare the shrimp (defrost if frozen); drain.

For the dressing, add all ingredients to a small bowl and mix well. Taste and add additional salt if needed. Refrigerate for at least an hour. Or, use store-bought Thousand Island Dressing.

Make ahead the dressing and refrigerate, or buy store-bought Thousand Island dressing!

On a prepared board (either seasoned or lay down parchment paper), place a bowl of dressing in the center.

Arrange the food on the board (look at picture for design).

Bake dinner rolls according to package directions. Right out of the oven, brush with butter.

Arrange the rolls around the outside right before serving!

Garnish with parsley, lemon slices, and SERVE!