Wonderful Peach Cobbler Recipe
Enjoy fresh peaches with this Wonderful Peach Cobbler recipe, with a hint of almond, this cobbler will have your guests coming back for seconds!
Summer entertaining can be as simple as inviting friends and family, pouring drinks, and whipping up a light meal with the fresh produce that's so bountiful this time of year. My hubby and I recently went up the street to get peaches from our local Roxy Ann Market.
I love supporting the locals, the best way to eat fresh food. In this case, I hand-picked the peaches that were ripe and ready to go, to make this Wonderful Peach Cobbler Recipe (WATCH THE VIDEO BELOW!)
Our friends came for a light meal that evening, and I was bummed that we had to eat inside. So much smoke from all the fires here in southern Oregon makes it impossible to do outdoor entertaining.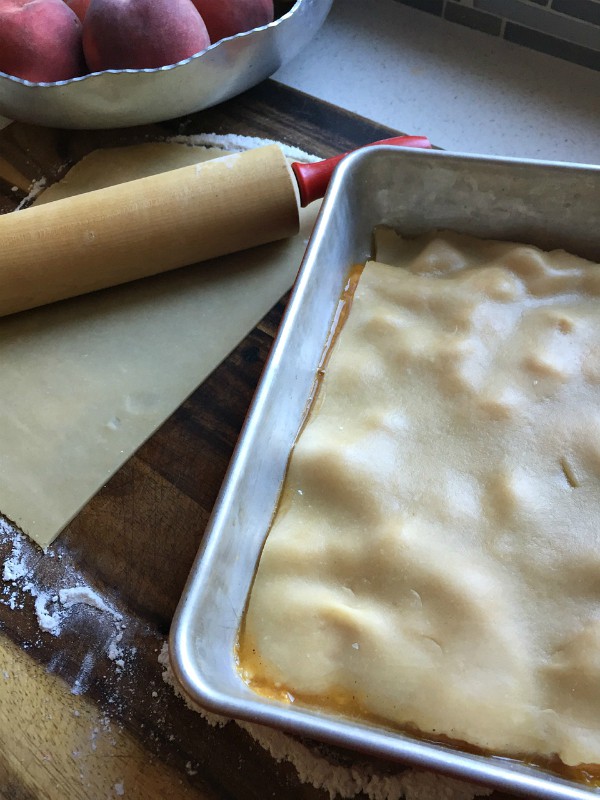 Wonderful Peach Cobbler.
For a refreshing and seasonal dessert, I made a fresh Wonderful Peach Cobbler. Usually when I make this recipe (tried and true, I've been making this since 1999), someone always says … what's the secret ingredient?
The secret ingredient is almond extract, cooked in with the peaches! Have you ever tried this combo? So smooth and comforting!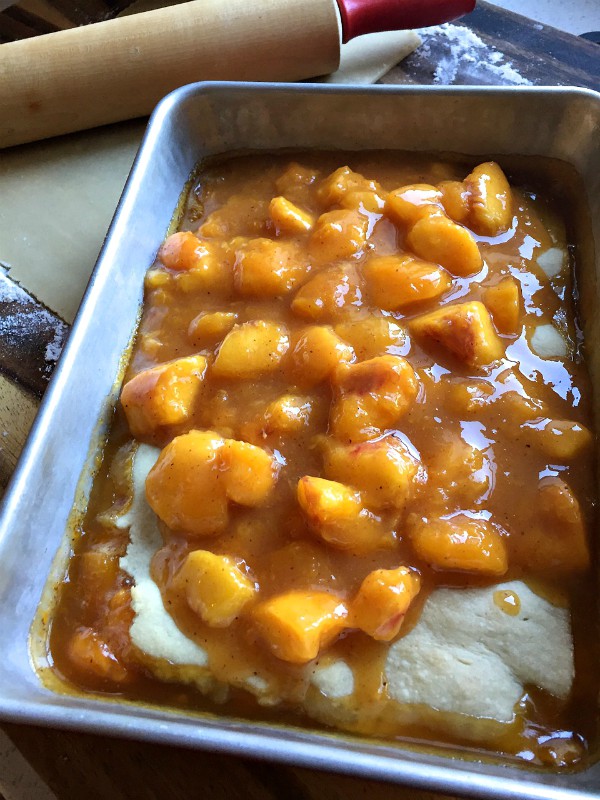 Vibrant and fresh flavors.
Summer for sure influences my entertaining menu. I love vibrant and fresh foods, which is how summer tastes. These recipes are also fresh and lovely: Peach Mint Salad with Toasted Pine Nuts [RE], Peach Quinoa Salad [RE], Blueberry Corn Salad [Two Peas and Their Pod], Farro Summer Salad [Lauren Kelly Nutrition].
For additional seasonal flair, you can also add fresh berries to this cobbler. They work in a new flavor, and fresh-picked berries can also be an attractive and colorful finishing touch.
Buttery crust (makes 2).
I always love a dessert that may not be all that good for you (this buttery crust? come on!), but when you're in good company with friends and it's a special dinner, you can always forgive yourself for the calories.
And with genuinely warm hospitality, a sunlit dining room, and a nice bottle of wine, sometimes I just conclude that summer food is meant to be enjoyed!
What seasonal fruit are you enjoying the most this month?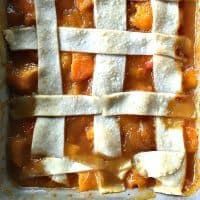 Print Recipe
Wonderful Peach Cobbler
Enjoy fresh peaches this season with this Wonderful Peach Cobbler recipe, with a hint of almond, this cobbler will have your guests coming back for seconds!
Ingredients
2 1/2

cups

all-purpose flour

plus more for shaping and rolling

1

Tbsp.

sugar

1/2

tsp.

salt

1/2

tsp.

almond extract

12

Tbsp.

cold unsalted butter

cut into small pieces

4 to 6

Tbsp.

ice water

6-8

cups

fresh peaches

peeled and cut into chunks

1

cup

sugar

2

Tbsp.

flour

1

tsp.

nutmeg

1

tsp.

almond extract

3

Tbsp.

butter
Instructions
Place flour, sugar, and salt in a food processor and process for 10 seconds. Add chunks of butter and process until the mixture is coarse. Add water, a few tablespoons at a time, until the dough just comes together.

Remove dough and knead lightly on a lightly floured surface. Divide the dough in half and form into disks. Wrap each disk in plastic wrap and refrigerate for at least 30 minutes.

Once dough is chilled, remove from the refrigerator and roll each disk into (2) 8×12 pieces. Set aside while peach filling is cooking. (One will be placed on the first layer of peaches. The other, cut into strips and criss-cross the pieces on the second layer of peaches.)

Combine peaches, sugar, flour, and nutmeg in a large saucepan. Let stand for 15 minutes until syrup forms. Bring the peach mixture to a boil; turn to low and cook for 8-10 minutes. Remove from the heat and add the almond extract and butter. Allow the butter to melt before pouring into a 8×12 prepared (sprayed) pan.

Preheat oven to 475 degrees F.

Spoon half the peach mixture into the bottom of an 8×12 sprayed baking dish, using a slotted spoon. Top the peaches with 1 layer of 8×12 rectangular dough. Place on a baking sheet and bake until the crust is light golden brown, for 12 minutes. Remove from the oven and top the crust with the remaining peaches, and cover with the other crust, cut into 1-inch wide strips. Return to the oven for 15 more minutes. Let cool for at least 30 minutes before cutting and serving.

Are you following me on Instagram, Twitter, Facebook and Pinterest? If you'd like to subscribe to Reluctant Entertainer, to have each post delivered straight to your e-mail box, then please add your email, here. It's really easy! Thanks for being here today!