Old-Fashioned Homemade Vanilla Ice Cream
Old-Fashioned Homemade Vanilla Ice Cream is Millie's recipe, with no cooking involved, and NO sweetened condensed milk in this recipe.
This perfect, creamy, Old-Fashioned Homemade Vanilla Ice Cream recipe everyone loves, and it's so easy to make!
Old-Fashioned Homemade Vanilla Ice Cream
It's easy to strive for perfection, and work too hard to make things too perfect for company. So when I start feeling this way, I always think about my mom … What would Millie do?
I love this Old-Fashioned Homemade Vanilla Ice Cream today, because there is NO cooking involved, and our family has been enjoying this recipe for over 50 years! This recipe makes 2 1/2 – 3 quarts! Oh, and if you love chocolate, you must try this Old-Fashioned Homemade Chocolate Ice Cream!
What are the ingredients to make homemade ice cream?
Easy–eggs, half and half, whipping cream, brown sugar (which makes it so good), regular white sugar, salt, and vanilla. Of course rock salt and ice for the process of making it.
Right away I will tell you, THERE IS NO SWEETENED CONDENSED MILK in this recipe!
How do you make homemade vanilla ice cream with an ice cream maker?
Mom was a low-stress hostess, and she was carefree and happy! She put time and energy into the details, for sure (you can read a bit more about her entertaining style, here), but when the guests showed up, she was all about them. I must say, my dad got right in there and helped. Dad was in charge of the music, the last minute details, and he always greeted the guests at the front door.
For dessert, dad was also in charge of the ice cream freezer, getting the ice (we froze it in milk jugs, so he would chizzle it to fit into the freezer), the rock salt, and then mom was in charge of the recipe.
Follow the directions on your ice cream maker (every appliance is different), but use my ingredients!
Make the ice cream and allow to sit for 30 minutes before serving. ENJOY!
Old-fashioned homemade vanilla ice cream
Mom's Old-Fashioned Homemade Vanilla Ice Cream … there's nothing quite like it.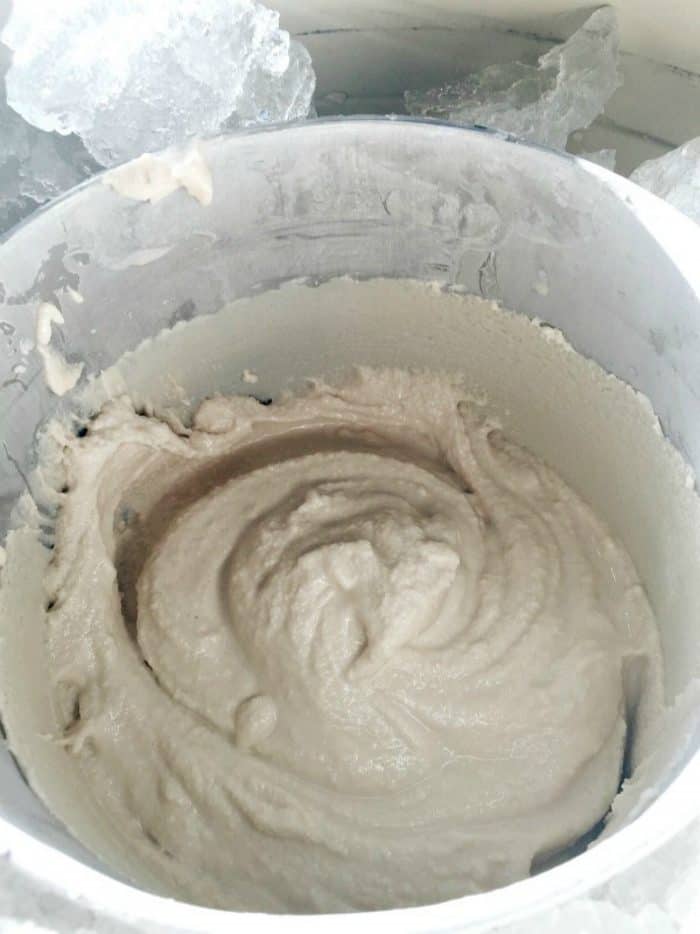 Just ask our guests who came to dinner last week.
I had a very happy heart, as 10 of us gathered around our back patio table, on a warm summer evening last week. Which, by the way, was our first real "dinner party" outside, at our new home!
For me, our new space is about slowing down, enjoying the moment, being present with the people in our lives! And keeping it all as simple as can be!
How fun it was to set the table with flowers that I found on a walk.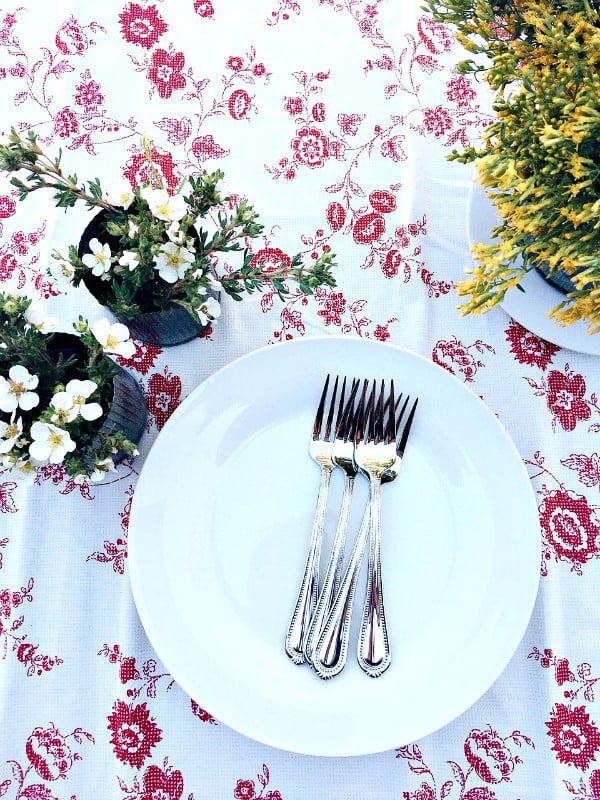 IKEA tablecloth that I splurged on a few weeks ago in Portland.
Otherwise using what I had, creating a simple menu, I was not stressed out. I let the silly things go (what about this, what about that), and I settled in on the friends who were coming to see our new home. I was excited!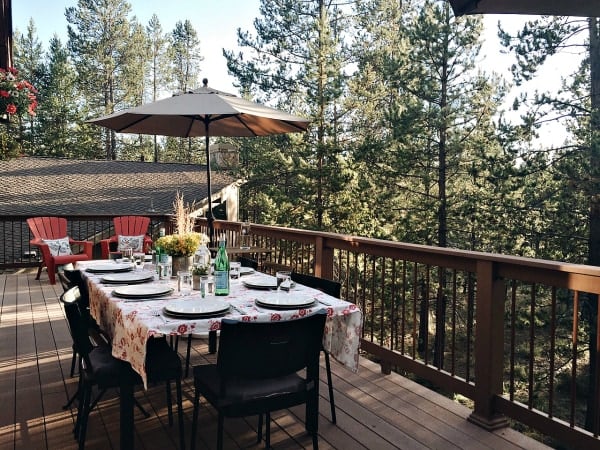 Do I need to cook the eggs first?
No! For this recipe that has been in my family for over 50 years, no. One reader commented on this recipe here:
Of the many rich recipes I've tried (including Alton Brown's very good one), this is by far the BEST and FASTEST because it has lots of eggs, brown sugar and NO wasted time cooking, tempering and cooling. I was one of the many who had reservations about raw eggs, however all eggs in the US are supposed to be pasteurized. I went ahead and took the nervous nerd step of tracking down a carton of eggs which specifically stated "pasteurized" on the carton and had a stamp on each egg. This recipe really works! I also doubled it, making a little over a gallon, but this leftover doesn't last long!
Easy Summer Meal
My family pitched in–preparing this Grilled Lemon Salmon (make your own foil liner) ahead of time for the grill, and pre-slicing and buttering the bread, asking our guest to bring a giant green salad, and slicing the watermelon. BAM. An easy summer meal.
Set the table early in the morning.
Ask guests to bring a dish (a giant green salad).
Keep a menu very simple, fresh ingredients, plus a recipe that I knew off the top of my head.
Make one signautre recipe: Millie's Old-Fashioned Homemade Vanilla Ice Cream. Oh, plus this amazing Vanilla Texas Sheet Cake recipe.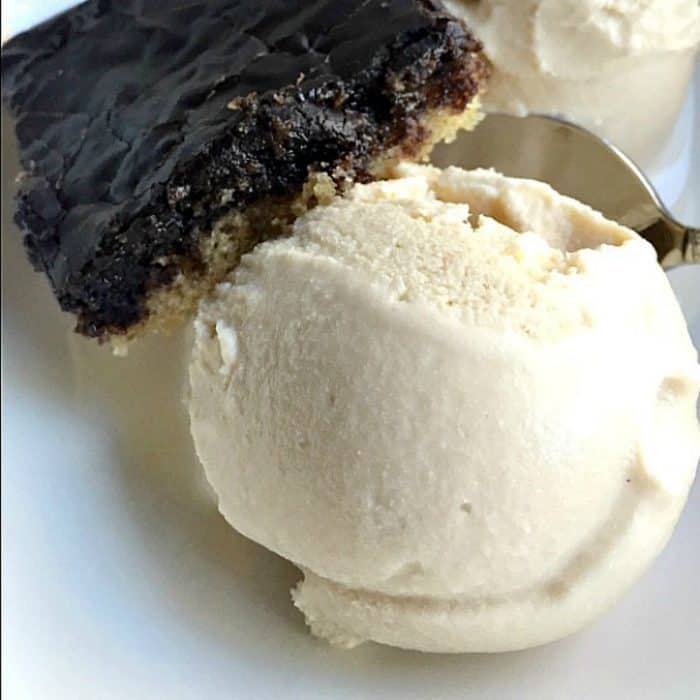 How do you make good homemade ice cream?
Friends, it's all about the recipe. And yes, the eggs are NOT cooked in this recipe.
Mom's recipe has been around for years and it's our favorite to this day!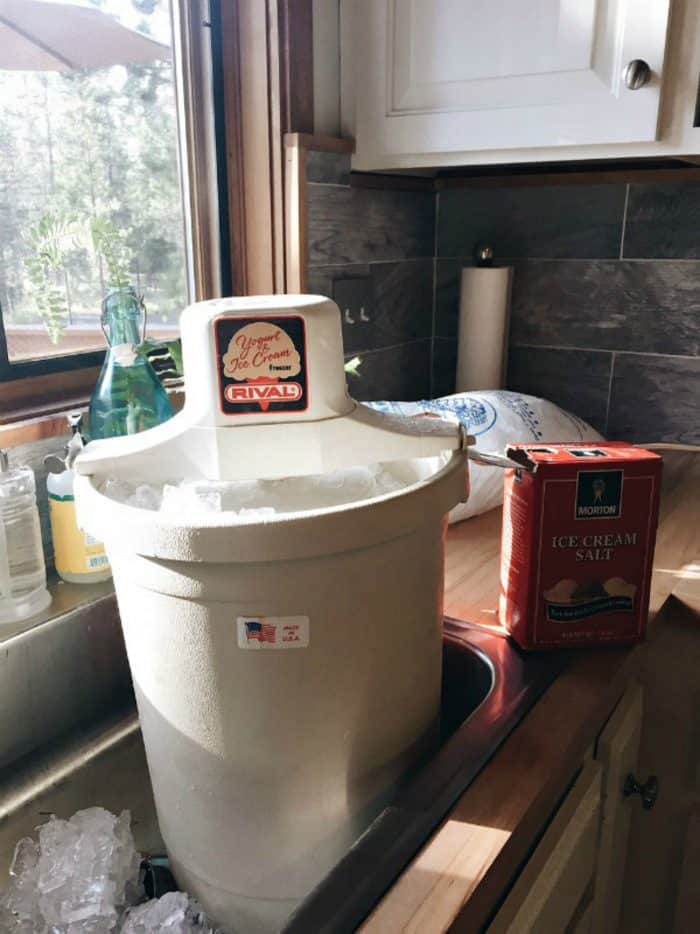 Look for ice cream freezers at yard sales or Good Will. I bought this one for $3. You can also buy them inexpensively.
Make sure when the freezer stops churning, you unplug it! And then, pull out the paddle (my friend Joan and I had a few licks!), and place the lid back on, and allow to continue to freezer (surrounded by ice).
HAPPY SUMMER HOSTING!
More homemade ice cream recipes:
Rocky Road [Barefeet in the Kitchen]
Get the Recipe: Old-Fashioned Homemade Vanilla Ice Cream
I usually double this recipe for a large freezer (to feed 12-18). Makes about 2 1/2 - 3 quarts!
Ingredients
3 eggs, beaten
1 quart half and half
1 quart whipping cream
3/4 cup white sugar
3/4 cup brown sugar
1 tsp. salt
2 1/2 Tbsp. vanilla
ice
rock salt
Instructions
Mix all ingredients together in a large bowl; beat together on medium with a hand mixer or stand mixer for 1-2 minutes.

Fill the ice cream freezer and make according to appliance directions, adding a lot of ice and rock salt.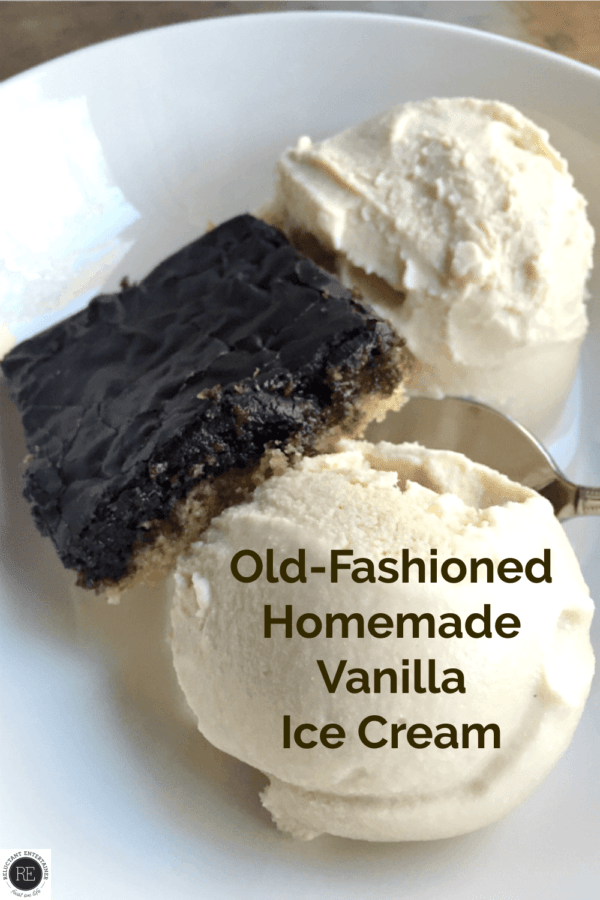 SaveSave
SaveSave
Hello and welcome to my home and table!
I'm Sandy—lover of food, family, cooking, THE BIG BOARD, travel, and bringing people together. Through great recipes and connection around the table, we become better, stronger, and more courageous people. Feasting on Life is real, and every time we do it, we grow a little more. Read more...