Old-Fashioned Homemade Chocolate Ice Cream
Old-Fashioned Homemade Chocolate Ice Cream dessert for a hot summer night of gathering with your family, friends, or neighbors!
"Lazy days of summer" really don't exist in our home this year! Everyone is either working, or coming home after work to company here, with everyone gathering together for a delicious summer meal! It's been a fantastic summer, one that I never want to forget.
So many sweet memories, I think back to my kids being little people.
I always thought, these are the moments. And they were!
But now, as we sit around the table at night, life is even sweeter now than it was then.
How can that be?
We all grow, mature, and learn to love each other more.
We bring girlfriends and boyfriends into the family, and our latest addition: Alder, our Whoodle puppy!
Our puppy has been getting me up rather early (4 am this morning!), and it so reminds me of baby years. I had completely forgotten what it was like to be woken up so early, with no choice except to get up and feed the baby! HA! Alder is a little stinker in the mornings!
The things we long for when our babies are so tiny definitely change over time. I remember wanting a "break," for things to be "clean," for my kids to "stay clean," to get a good night's sleep, for my kids to act like angels (ha!), always getting along.
Yeah, right! Those things seem so simplistic to me now.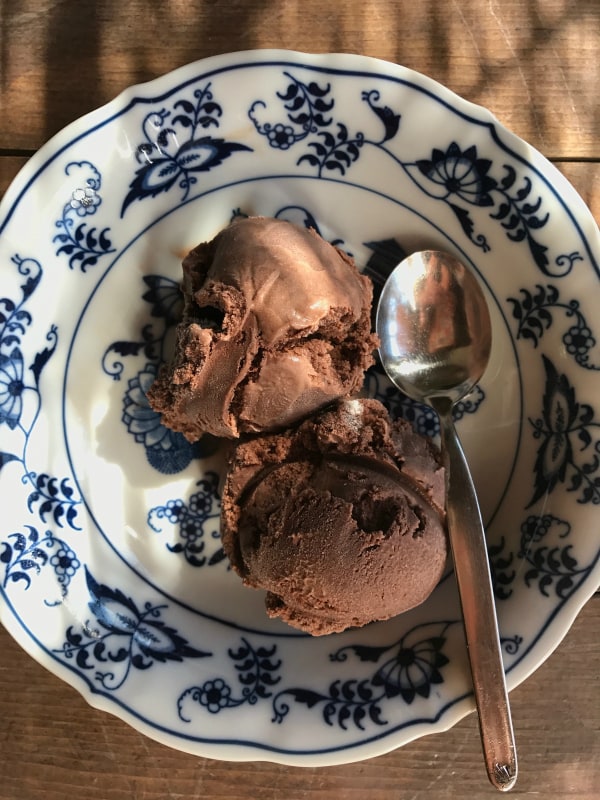 I find myself now savoring the sweet affection our kids have toward each other, delicious conversations, great dinners together (with THIS yummy Old-Fashioned Homemade Chocolate Ice Cream), and seeing and hearing their stories, thoughts, opinions, experiences, through their eyes!
Old-Fashioned Homemade Chocolate Ice Cream
My mom's recipe, this time with cocoa, it's a delicious creamy chocolate-y dessert. For summer, there's nothing quite like homemade ice cream (made with ice and rock salt).
Life is much more complicated now, with so many responsibilities, and quite honestly, not an easy world to live in. But my heart is full, and I'm so grateful.
Here's an old, old story, a little old fashioned (sort of like this ice cream recipe), but it still has grit.
Burned Biscuits

When I was a kid, my mom liked to make breakfast food for dinner every now and then. And I remember one night in particular when she had made breakfast after a long, hard day at work. On that evening so long ago, my mom placed a plate of eggs, sausage, and extremely burned biscuits in front of my dad. I remember waiting to see if anyone noticed! Yet all my dad did was reach for his biscuit, smile at my mom and ask me how my day was at school.

I don't remember what I told him that night, but I do remember hearing my mom apologize to my dad for burning the biscuits. And I'll never forget what he said: "Honey, I love burned biscuits."

Later that night, I went to kiss Daddy good night and I asked him if he really liked his biscuits burned. He wrapped me in his arms and said, "Your momma put in a long hard day at work today and she's real tired. And besides, a burnt biscuit never hurt anyone!"

You know, life is full of imperfect things, and imperfect people. I'm not the best at hardly anything, and I forget birthdays and anniversaries just like everyone else. What I've learned over the years is that learning to accept each other's faults and choosing to celebrate each other's differences, is one of the most important keys to creating a healthy, growing, and lasting relationship.

So, please pass me a biscuit. And yes, the burned one will do just fine!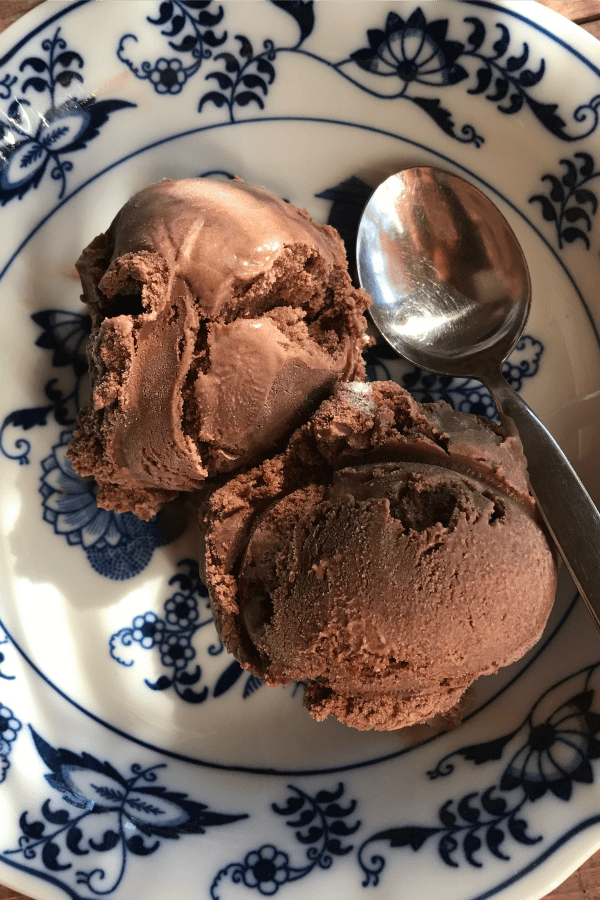 Old-Fashioned Homemade Chocolate Ice Cream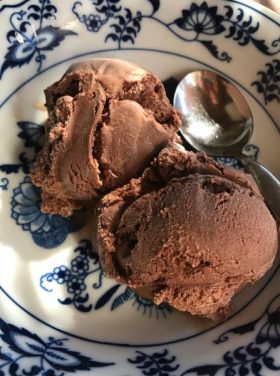 Ingredients:
3 eggs, beaten
1 quart half and half
1 quart whipping cream
3/4 cup white sugar
3/4 cup brown sugar
1/2 cup cocoa powder
1 tsp. salt
2 1/2 Tbsp. vanilla
Ice
Rock salt
Directions:
Mix all ingredients together in a large bowl; beat together on medium with a hand mixer or stand mixer for 1-2 minutes.
Fill the ice cream freezer and make according to appliance directions, layering a lot of ice and rock salt, until the machine shuts off.
Immediately remove the paddle; place the lid back on. Cover with more ice and a heavy towel until ready to eat (so ice cream continues to freeze and set).
All images and text ©
More treats: Banana Chocolate Chip Ice Cream Bites [Baker Mama], White Chocoalte Brownies [Two Peas and Their Pod], Freezer Apple Pie [Southern Plate].
SaveSave
SaveSaveSaveSaveSaveSaveSaveSave