Epic Sandwich Charcuterie Board
An Epic Sandwich Charcuterie Board for easy hosting and holiday parties. Add your favorite sandwich ingredients; guests make their own (warm) sandwich!
Friends, Father's Day and summer hosting are right around the corner, so for casual hosting, how about serving my Epic Sandwich Charcuterie Board?
I love casual hosting, and people don't take themselves too seriously (as in, they come relaxed and ready to have a great time) when you set out a board.
The beauty of serving an epic board is that everyone gets in there and serves themselves.
Epic Sandwich Charcuterie Board
First of all, I bought all of these ingredients at Trader Joe's! I love a one-stop shopping place where I can get in and out of the store – ONE STORE!
Prep ahead as much as you can for this board. You can even place containers or Ziploc bags in the fridge until you're ready to assemble the board.
Slice the rolls and butter. Right before serving, toast (broil) in the oven for about 1 minute!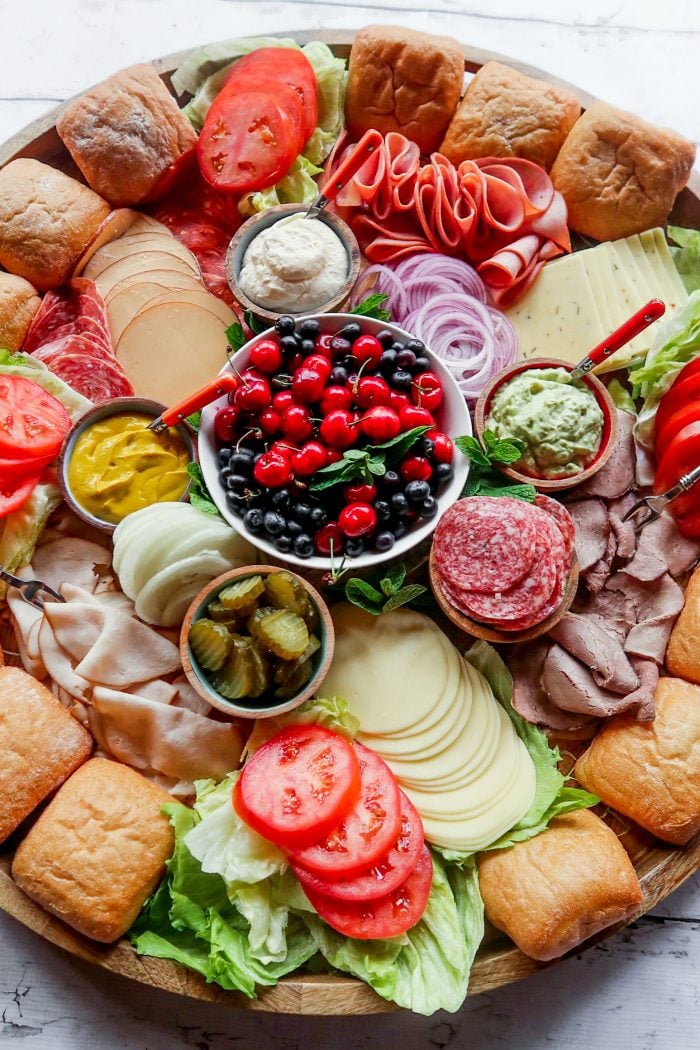 This is a great tip for this board, because it makes the sandwiches softer and warm, the cheese melts, and everyone is happy! [Remember last winter, my Party Ham Rolls Charcuterie Board?]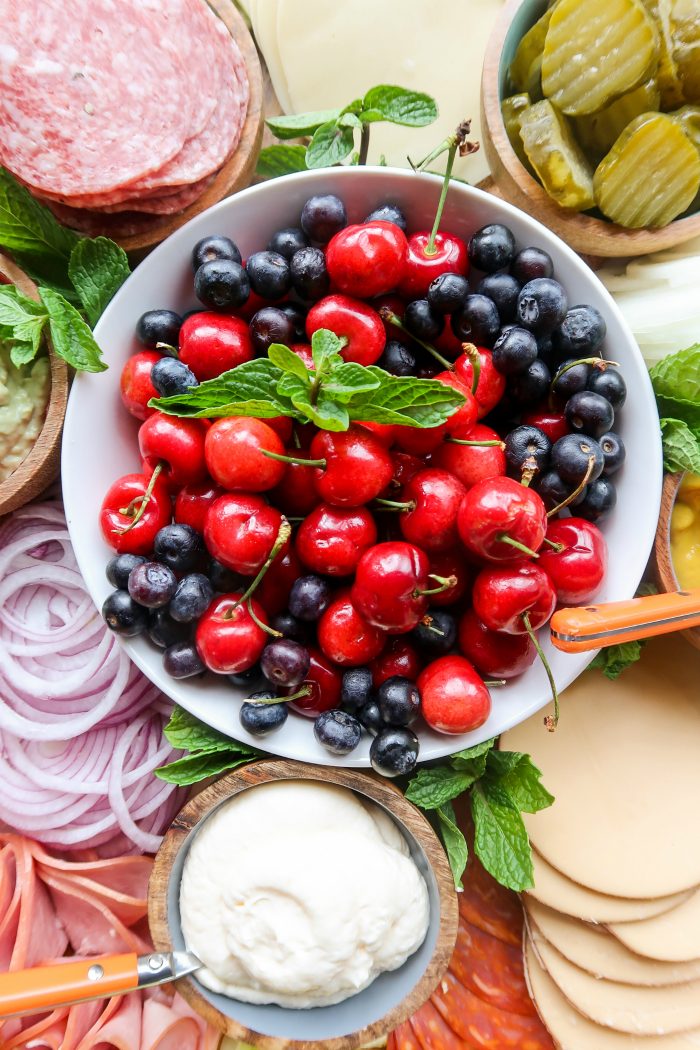 Ingredients for a sandwich board
First of all, a charcuterie has cured meats and cheese. What is salchichón?
Salchichón is a smoked summer sausage similar to Genoa salami (also included on this board).
You'll need your favorite lunch meats and cheese
Sandwich items like lettuce (we like crunchy Iceberg lettuce), tomatoes, and onions
Then you can add extra condiments like pickles, avocado (or guac), herbs, or whatever you like!
My Epic Charcuterie Board
Friends, I bought this board a couple years ago in Pier One. It's 28 inches around, and we use it all the time. You can find more inspiration on my charcuterie/cheese board page on my blog! Or these NEW board sizes!
24-inch Charcuterie Board
Friends, here is the board that I LOVE. It's 24-inches in diameter with a 2-inch lip. A "lip" is the secret to the best charcuterie or dinner board, because the food does not fall off.
You can buy in 2 sizes.
Here are the LINKS:
LARGE Hand-Carved Gabrielle Tray – 24 inches round. Buy >> HERE (affiliate link)
SMALL Hand-Carved Gabrielle Tray – 18-inches round. Buy >> HERE (affiliate link)
Rememember it says it is "not food safe," so you need to prepare the board by either laying down parchment paper under the food, or you can "season" it like we did.
Here are a few other options:
Courtland Wooden Lazy Susan – 18-inch round. Buy >> HERE (affiliate link)
LAZY SUSAN is a board that spins. It does NOT have a lip, but it's cool for the center of the table.
Here's an 18-inch wine barrel wood board or a 24-inch hammered large round tray or a 26-inch stainless steel serving platter that you may also like! Check out the weight on these boards.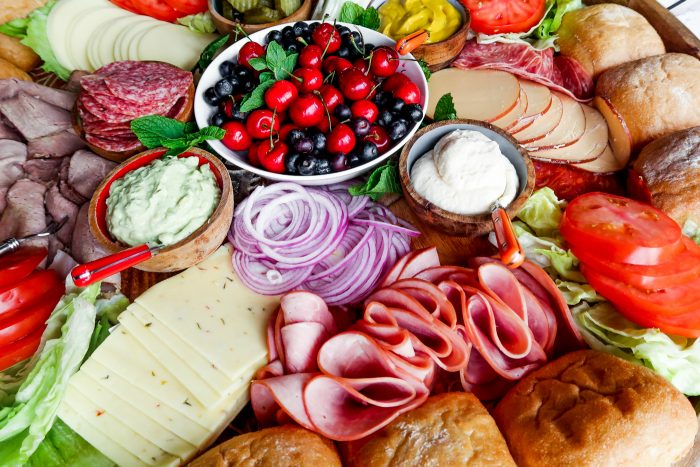 How to season a Charcuterie Board
If a wood board says it "not food safe," you can lightly sand it down with sand paper, and rub down with beeswax and mineral oil.
We used this butcher block and cutting board oil conditioner after we lightly sanded the board down.
Or, lay down parchment paper! Easy peasy!
Boards are also fun for family reunion tables! Check out more of my board ideas on this charcuterie/cheese boards page here on RE. Tuna Melt Sliders are super yummy, and also
You can ask everyone to bring one and see what kind of mix and match recipes and creations you get!
As always, my guests appreciate all my hard work and creativity!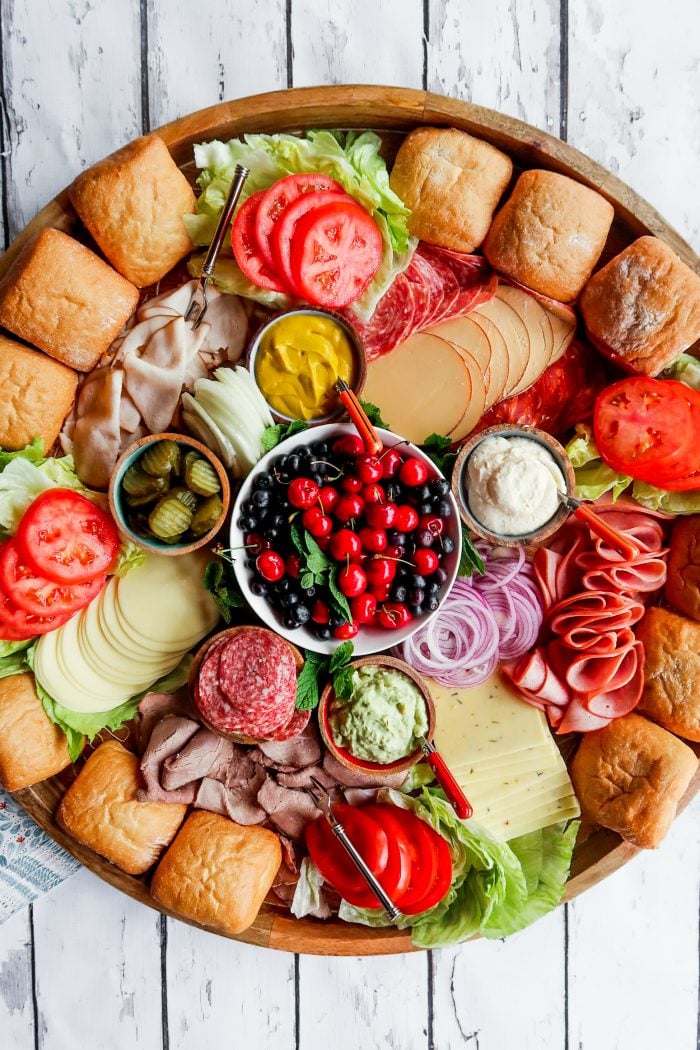 Helping people relax and enjoy the process of mingling and easy hosting is what I love to inspire.
I love to show people that hosting is not about perfection, but about bringing people together!
What kind of sandwich board do you see yourself making?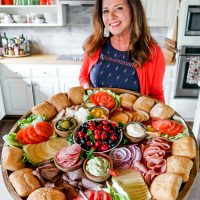 Print Recipe
Epic Sandwich Charcuterie Board
Preheat the rolls right before serving for delicious warm, sub sandwiches!
Ingredients
12

Panini Rolls

sliced and buttered, ready for broiling

1 8

oz

package pepper Jack cheese

sliced

1 8

oz

package smoked Gouda cheese

sliced

1 8

oz

package Provolone cheese

sliced

8

oz

roasted beef deli meat

8

oz

turkey breast deli meat

8

oz

black forest ham deli meat

8

oz

sliced salami

8

oz

salchichón

4

large tomatoes

sliced

1

head Iceberg lettuce leaves

1

red onion

thinly sliced

1

white onion

thinly sliced

Bread & butter pickles

Guacamole

Mustard

Mayonnaise

Cherries

Blueberries

Mint for garnish
Instructions
On a large seasoned board (or lay down parchment paper), arrange the fruit in the center.

Around the outside, place the buttered, sliced rolls. In small bowls add the pickles and sauces.

Arrange the meats, cheeses, and lettuce. Place the sliced tomatoes on the lettuce leaves.

Garnish with mint!

Right before serving, heat the broiler to HPlace the buttered rolls on a baking sheet and broil for about 1-2 minutes (do not burn!).

Place the warm rolls back on the board and serve!
More sandwich ideas: Sweet Heat Chickpea Avocado Salad Sandwich and Monte Cristo.
This post has affiliate links. Every purchase from these links supports RE at no extra cost to you. Thank you!