Fruit Chocolate Hummus Platter
Share a Fruit Chocolate Hummus Platter at your next party. Delicious with summer fruit and mini Naan dippers and your favorite specialty crackers!
At your next outdoor social gathering, instead of grabbing a bag of chips and dips, or even a bottle of wine, how about bringing a fruit plate?
A Fruit Chocolate Hummus Platter is even better! Have you tried chocolate hummus? You can buy this at Costco or Trader Joe's.
How to make a simple cheese plate
On a round platter or plate, arrange the hummus and the brie in the middle.
If you want to serve the brie warm, microwave it for 1 minute right before serving (put on a plate if you do this).
Layer around the cheese and hummus some fruit, "dippers" and crackers.
Add in pecans in open areas, along with the berries. [We love American Pecans!]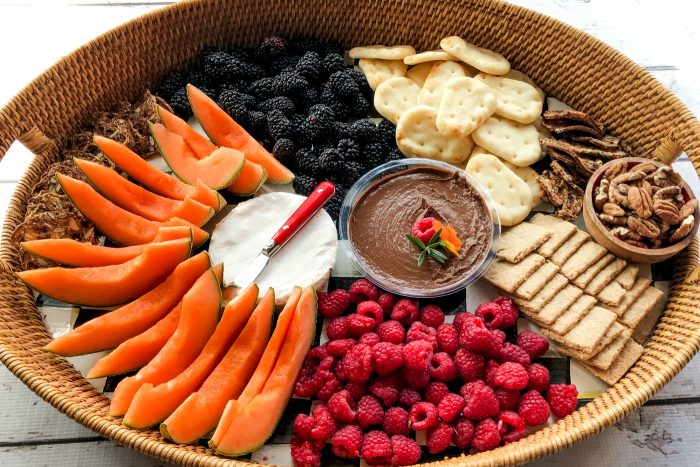 Do you dream about hosting, now that summer is here? To me, summer hosting is so easy, especially when you've already done some spring cleaning and you have the deck or patio ready.
Don't forget for hosting, this Breakfast Fresh Fruit Yogurt Platter or this Cream Cheese Fruit Dip Recipe.
I keep a bottle of Mrs. Meyer's nearby, so I can quickly wipe the table (or I grab a fresh tablecloth).
I have quite a variety of serving trays, but this MacKenzie-Childs Courtly Check is one of my favorites. I've had it for years, and I wiped off the dust and brought it inside.
These little Naan dippers—so fun for charcuterie or fruit trays!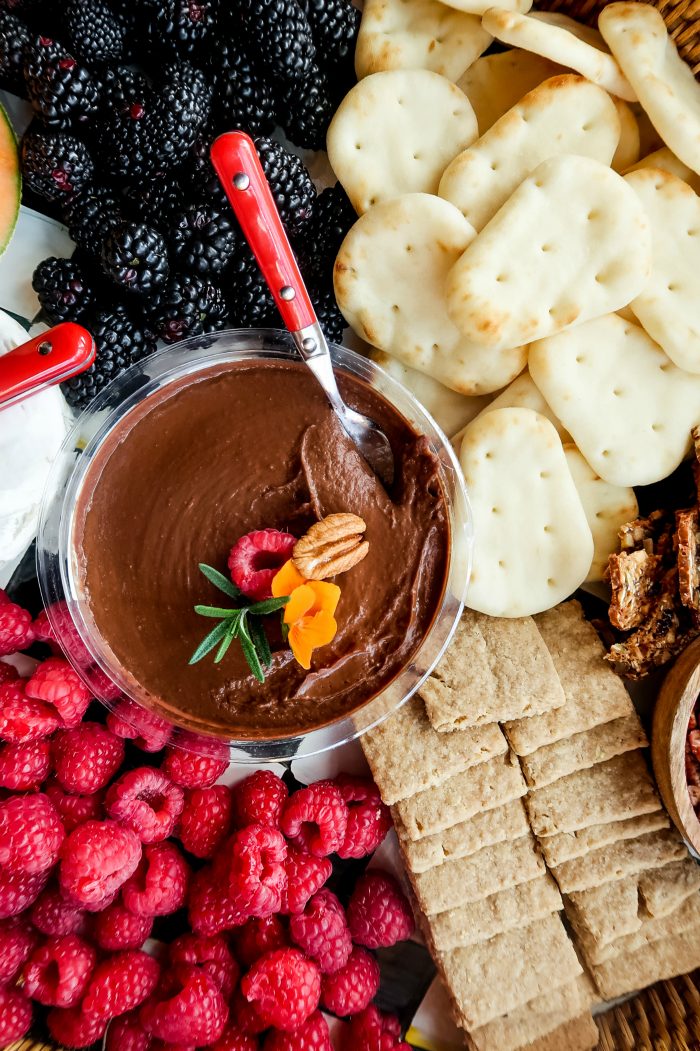 Easy hummus board
Bring on summer, friends, and whipping up an easy cheese board (you can find all my charcuterie/cheese board ideas, here) for your guests!
There's just something about a pretty "board" too that makes the space very inviting when guests sit down.
But, you may be that reluctant entertainer. You want to make the invitation, but you just can't follow through with your heart. Or your heart says yes, but you don't have the courage.
"Consider this: what if the woman who wrestles with God, but doesn't live to tell the tale is the one who refuses to create—a work of art, an authentic life? What if the fatal wound, the one from which we never recover, is regret?" — Sarah Ban Breathnach
This can punch you in the gut.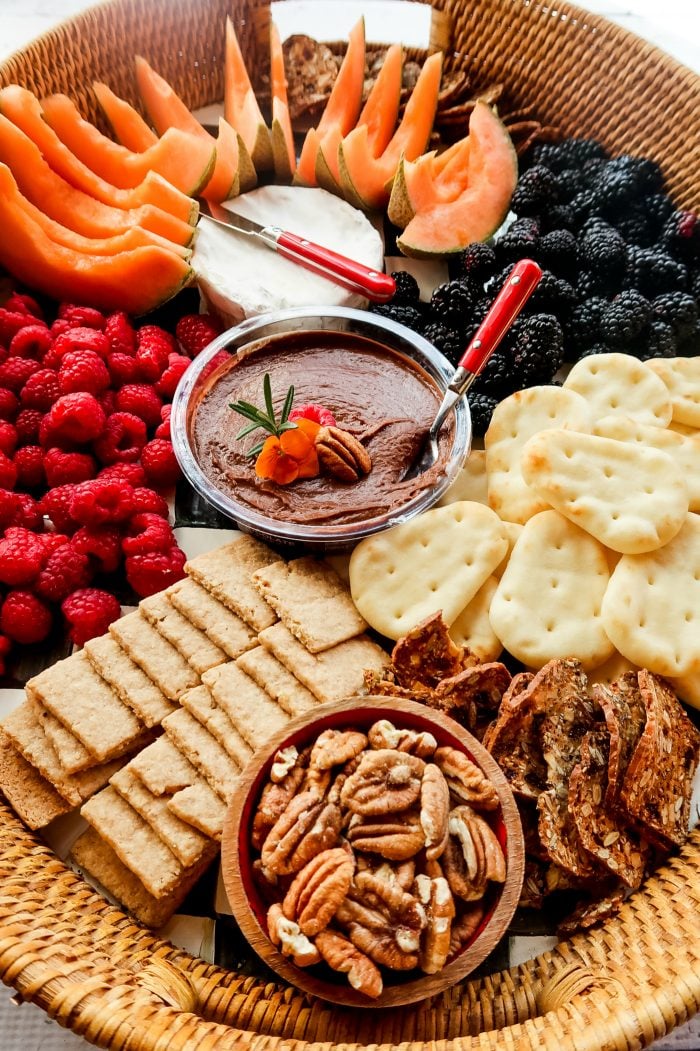 Hosting is creating. Cooking is creating. Inviting is creating (who should we invite, who should get to know who, who do we want to invest in).
Hosting pulls our authentic selves to the limelight. This can be hard for the introvert (you know, you have to invite, greet, make conversation).
But when we refuse to stretch ourselves to be authentic and "known," I think in the long run it hurts us.
Because we all want to be loved and known.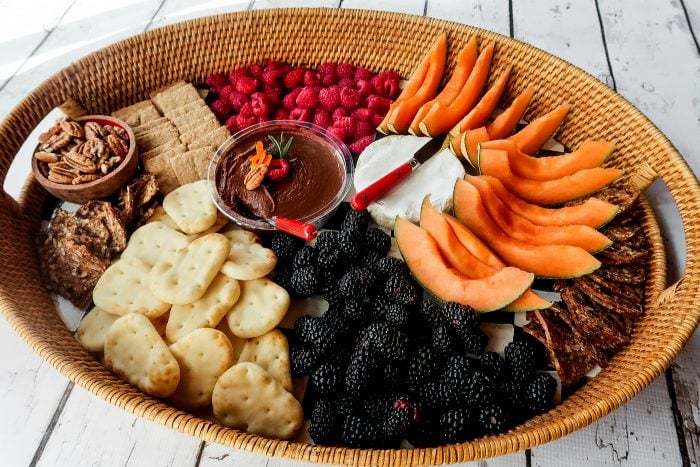 Fruit Chocolate Hummus Platter
Food (and cheese boards) are the perfect way to bring people together. I know I say it over and over, but everyone loves fruit and nuts and cheese, and dipping and sharing and sipping and talking.
How about making this simple board this weekend?
PS. The chocolate hummus and the little dippers I found at Walmart, and here's a summer menu you may want to try!
Happy hosting!
Get the Recipe: Fruit Chocolate Hummus Platter
Ingredients
1 tub dark chocolate hummus
1 package blackberries
1 package blueberries
1 round brie cheese
1 cantaloupe, sliced
1 pkg. Raincoat Crisp crackers
1 pkg. Naan dippers
1 pkg. Effie's homemade cookies
1 cup American pecans
Instructions
On a round platter or plate, arrange the hummus and the brie in the middle. Optional to microwave the brie for 1 minute right before serving (put on a plate if you do this).

Layer around the cheese the hummus, fruit, Naan dippers (bread), and crackers.

Add pecans in a small dish (or in open areas), along with the berries.

Serve!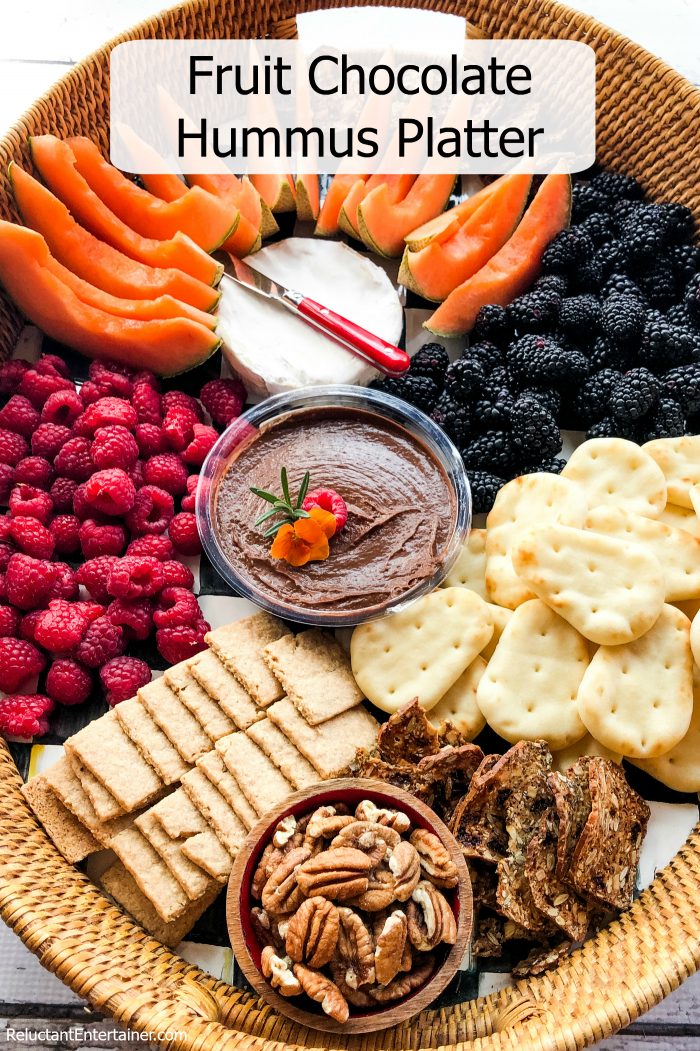 Hello and welcome to my home and table!
I'm Sandy—lover of food, family, cooking, THE BIG BOARD, travel, and bringing people together. Through great recipes and connection around the table, we become better, stronger, and more courageous people. Feasting on Life is real, and every time we do it, we grow a little more. Read more...