3 Hospitality Tips for Kids and Salted Caramel Coconut Banana Cake
Enjoy this Salted Caramel Coconut Banana Cake and simple hospitlity tips for kids!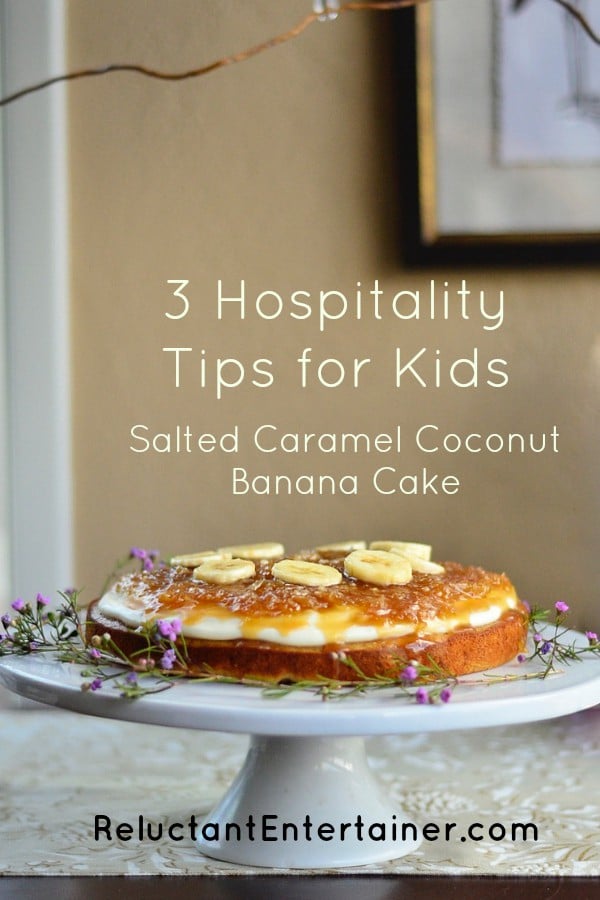 For many people, there is something intimidating about entertaining. So I like to think of the words, "having people over," which I've tried to incorporate into the way we've raised our kids. I like to say, "we're having so and so over for dinner for Easter," rather than, "Kids, get ready! We're entertaining this weekend."
The word just sounds so scary. So I'm glad my kids, who are almost all adults now, have learned that having people over can be fun and enjoyable for us, and also a huge blessing to others!
It really is not about us, it's about the people coming in to our home, and I pray that is a good lesson our kids have learned. Why would it not be?
This time I asked my daughter, Abby, to help me out.
First of all, I want to brag a bit about this girl. She's my baby, yes, but I love her style and creativity when it comes to cooking and helping me out!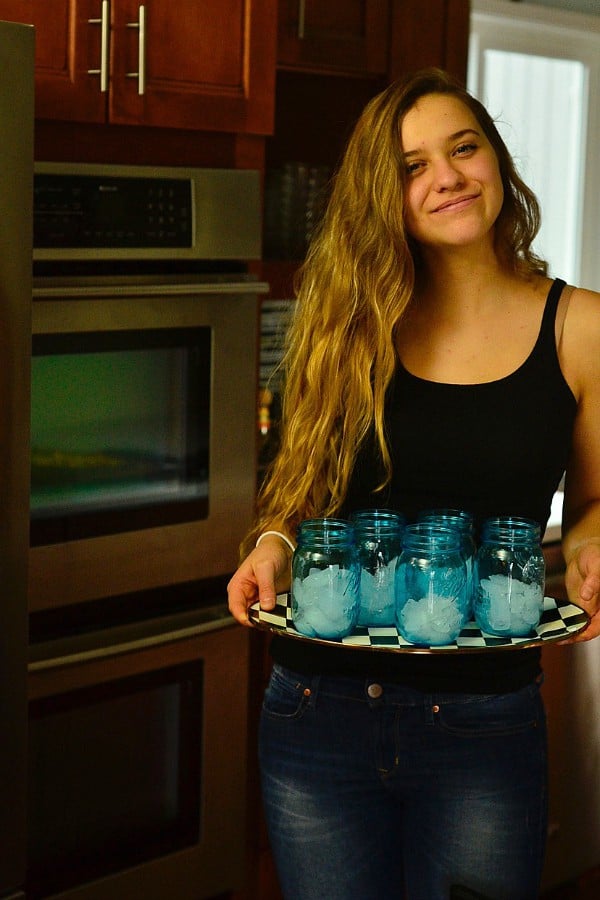 She made this Salted Caramel Coconut Banana Cake for our guests.
Which I think is elegant and decadent, and perfect for Easter Sunday guests!
Here are 3 things I think are important for our kids to learn about having people over.
3 Hospitality Tips for Kids

1. Inviting people over is a gift to our guests. You never know the last time they had a dinner invite. People need each other.

2. Things do not have to be perfect to invite others in. Focus on making the food as good as you can, and adding a little ambience, but imperfect is okay and should even be expected.

3. It's all about them, not about us. As much as reciprocation is nice, it should never be the defining factor of inviting others over. Think about the people who are coming and how you can make their lives better.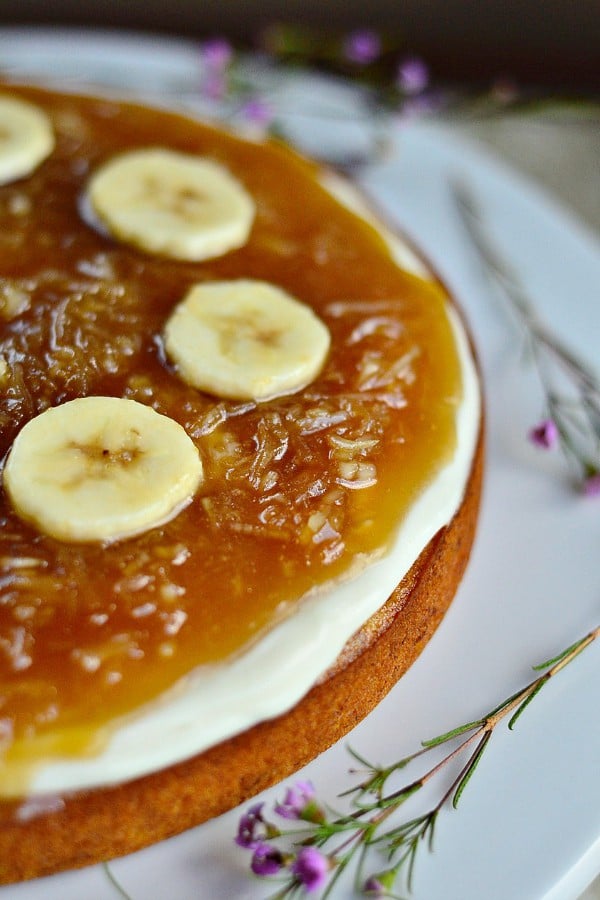 When children are young, hosting others is a huge deal and great teaching opportunity for your family. As they get older though, those early experiences will result in hospitality coming naturally to them, in your home and–eventually–their own.
So thank you to my talented, lovely 17-year-old daughter, Abby, for making the Easter cake, and photographing it as well.
Do you talk about the importance of having guests into your home with your kids?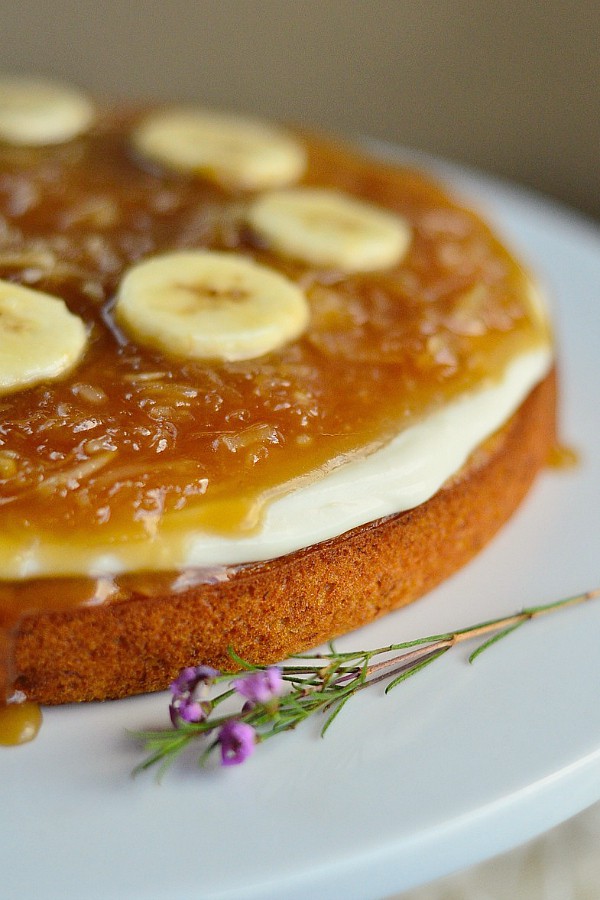 Salted Caramel Coconut Banana Cake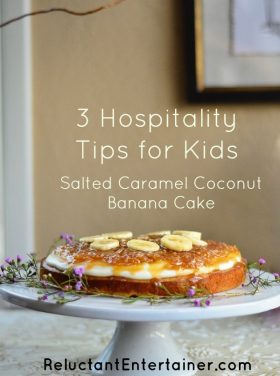 Ingredients:
2 ripe bananas
2 eggs
1/2 cup oil
3 Tbsp. coconut milk
1 1/ 2 cups light brown sugar
1 1/3 cups self-rising flour
1 tsp. vanilla
1 tsp. coconut extract
8 oz. Mascarpone cheese
2/3 cup powdered sugar
1 tsp. lemon juice
1 tsp. vanilla
1 tsp. coconut
1/2 cup butter (1 stick)
1 1/2 cups light brown sugar
1 cup coconut
1 tsp. salt
1 tsp. vanilla
1 banana, sliced
Directions:
Preheat oven to 350 degrees. Grease an 8-inch round cake pan, then line the bottom with parchment paper.
Roughly mash the (2) bananas in a large bowl, then beat in the eggs. Stir in the oil and coconut milk. Stir in the 1 1/2 cups of brown sugar into the banana mixture until well combine. Fold in the flour and the extracts.
Add the cake mixture to the prepared pan. Bake for 1 hour until done. Let cool in the pan for 10 minutes; turn out onto a wire rack to cool completely.
To make the frosting, beat together the mascarpone cheese with powdered sugar, adding in lemon juice and extracts until smooth and creamy. Spread over the cooled cake.
Puree the coconut in a food processor or chop with a knife to make it very fine.
To make the salted caramel topping, melt the butter in a sauce pan and cook on medium heat until it melts. Add the 1 1/2 cups brown sugar, stirring constantly. Add the coconut and salt; continue to stir and add the vanilla extract. Allow to thicken and cool, spreading on top of the other frosting, leaving 1/2 inch around the outside.
Garnish the top of the cake with a sliced banana; serve.
(If the cake is going to be made up ahead of time, soak the sliced banana in lemon juice for a few minutes and drain, before garnishing the cake.)
All images and text ©