Pesto Asparagus Caprese Salad Recipe
Pesto Asparagus Caprese Salad Recipe is an easy spring or summer salad to make for any party, made with caprese ingredients and fresh asparagus!
Friends, it was exactly one year ago this week that we moved into our central Oregon mountain home. The first time Paul and I walked through this dark, all-wood, 1984 home, we knew we could turn it into a modern yet rustic place, that we could call home.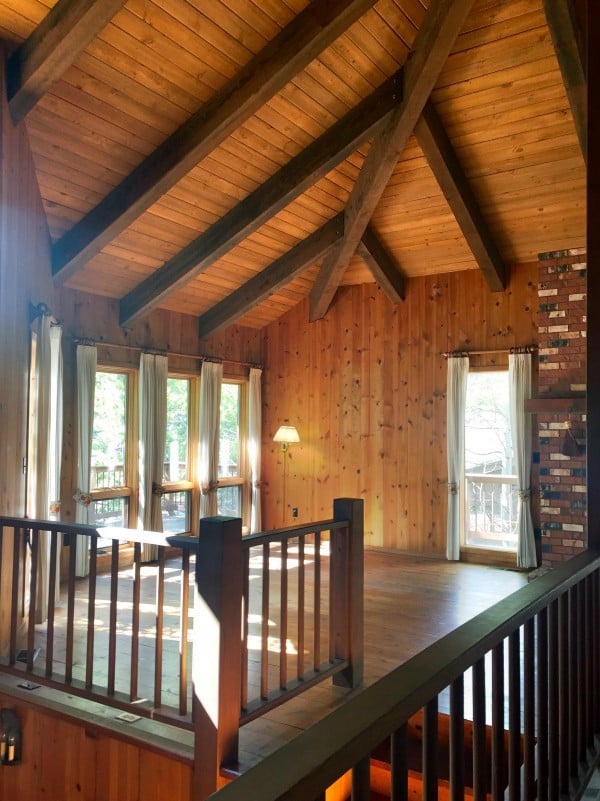 When I originally saw the house online, I instantly caught the vision of an (almost) all white interior, including the fireplace, and thought to myself, we can do this!
Now, one year later, we're back to the season when we moved in … beautiful spring, with cooler mornings and evenings, and warm sunny days. Which makes entertaining outside perfect right now.
This past week, we had our neighbors over for a light summer meal: salmon and salads! You can't go wrong with a mix of salads, and everyone seems to love salmon. Even for those who don't, salads are enough, right?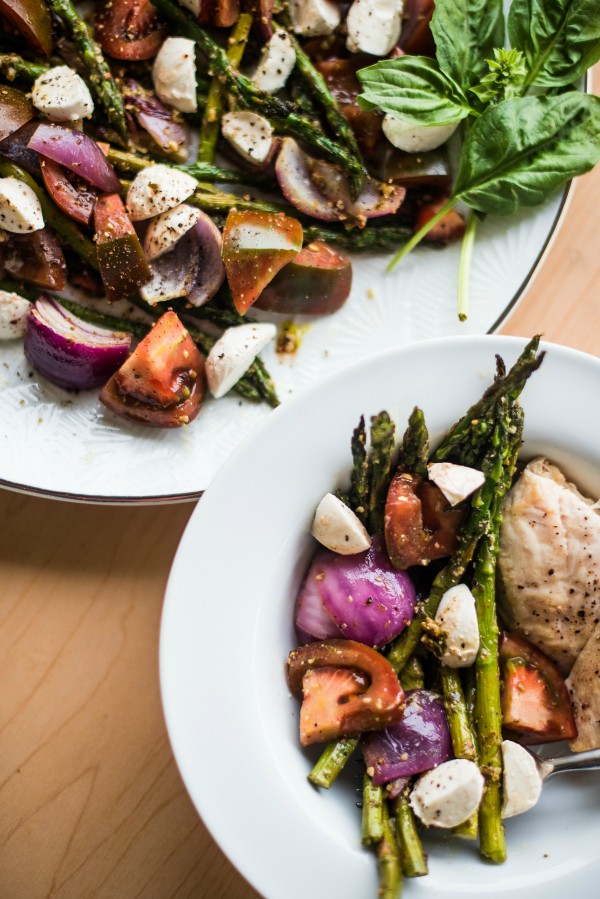 Pesto Asparagus Caprese Salad Recipe
This Pesto Asparagus Caprese Salad Recipe is fresh and delightful. Served with a green salad, broccoli salad, and a wild rice salad – you're good to go!
Want to take it up a notch? Sprinkle with pistachio nuts!
A funny story from a year ago–I was in Italy for 10 days, but saw the house online), as Paul FaceTimed with our realtor. We made the decision right away to put an offer in, the property sight unseen.
I'm so glad we moved on it quickly, because homes in our neck of the woods move rather quickly!
So one year ago, when we walked through our new dark, cold home (though with beautiful features), we were excited, to say the least, even though we knew there was a ton of work ahead of us.
The first thing to go? The minute we had keys to our new home, the first thing we took down was the draperies, which we felt gave the home a dark, rather claustrophobic feel.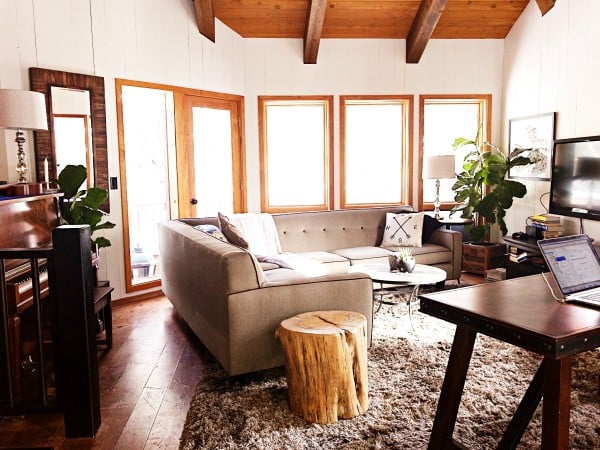 Last weekend I was just reminiscing with my friends who came for the weekend, about how our little woodsy home came to be! The icing on the cake is getting to enjoy it now with friends and family! What is a home if you can't share it with others?
Everyday Hospitality
This summer, instead of our back patio filled with tools and drop cloths, we're enjoying it to the fullest with new patio furniture that my husband made, fresh plants, and plenty of friends who will be dropping by for a drink or a nosh.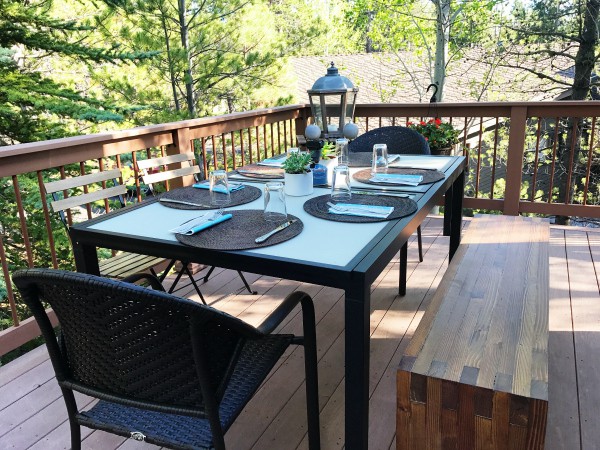 Our patios have really extended our floor plan in the summer months. One on the front wraps around to the back. There's always a cozy place to hang out and enjoy the beauty around us. (More about the bench, here.)
Let's just say, there haven't been many weekends when our house hasn't been well-used, and filled with friends dropping by!
Happy spring and summer entertaining!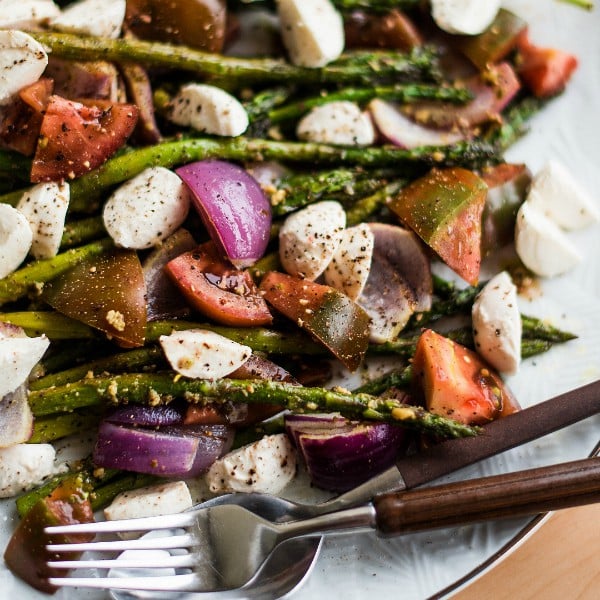 Pesto Asparagus Caprese Salad Recipe
Ingredients:
10 oz. (1 bundle) asparagus
1 medium red onion, cut in large pieces
6 oz. mozzarella balls, halved
2 brown Kumato tomatoes, cut in pieces
3 Tbsp. pesto
Salt and pepper to taste
Pistachio nuts (optional)
Directions:
Preheat oven to 400 degrees.
On large baking sheet, spread out the asparagus and red onion, and add the pesto. Bake for 10-15 minutes (depending on thickness of asparagus), until the asparagus is tender.
Remove from oven and allow to slightly cool. Plate the asparagus and top with tomatoes, mozzarella, and fresh-cracked pepper and salt. (Optional to sprinkle pistachio nuts on top :) Serve!
All images and text ©

More recipes: Cheesy Caprese Dip [Cookie Rookie], Caprese Zucchini Noodle Pasta Salad [Sugar Free Mom].