Neighborly Love and Bacon Asparagus Potato Frittata Recipe
This Bacon Asparagus Potato Frittata is a delicous springtime breakfast, brunch, or dinner dish to serve! (Delightful for St. Paddy's Day or Easter, yes!)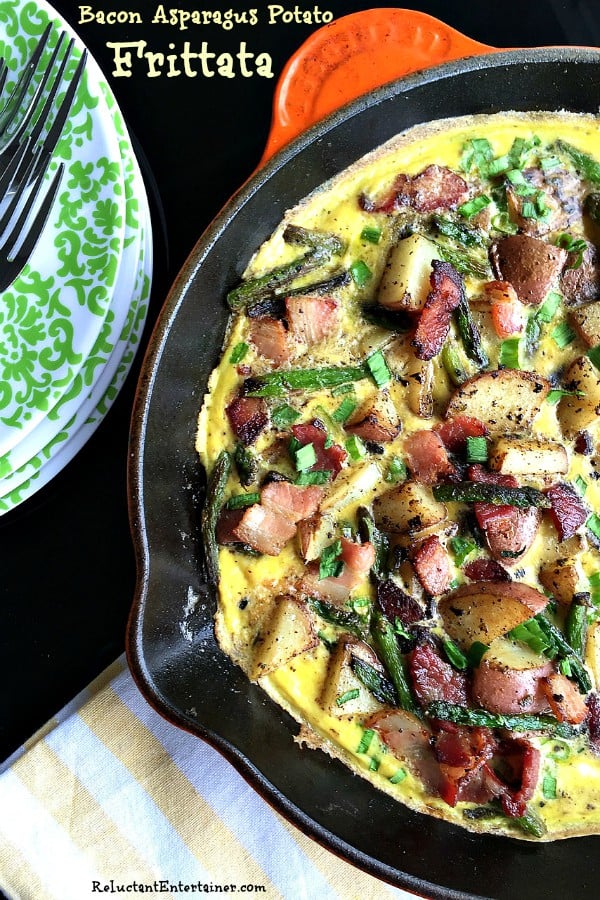 Yesterday we were out talking with our neighbors in the cul-de-sac and I realized how lucky we are! We have awesome neighbors who know us, our kids, and it brings a level of safety in our neighborhood, for sure. Today I'm sharing 10 tips on how to show neighborly love, plus talk a little about the "hard" stuff.
Quick hello and a quick wave.
For those not so lucky, I think we can get perturbed by our neighbors. Because we envision what hospitality or "neighborly hospitality" should look like, and instead garage doors open and close without a "hello," or it's only a quick "wave" and never a real conversation. Bottom line: Some people are just more friendlier than others.
We have beautiful neighbors surrounding us, as we did in our prior neighborhood 10 years ago, but I hear the cries of many who email me, who try to be hospitable, but not much interaction happens. It sucks when you try, and no one gives back!
Do little things.
It's easy to get upset and irritable when neighbor relations don't go our way, when not much interaction happens, or some have snarkly attitudes. It can put a bad taste in our mouths. But then again, I think about ways I can turn things around. Little things I can do to get back on level ground with a humble perspective.
Be "that" house in the neighborhood.
I believe that we've been put where we are (Hello, 10 years in our current neighborhood!), so I want to use it for good. I want to be the house with the light on in the front, where neighbors can knock on our door any time of the day if they need us! (Btw, I just took some blooming tulips to our brand new neighbors down the street. I'm just leaving it at their front door since we've already met, but I plan to take a meal down the road.)
10 Tips to Show Neighborly LOVE.

1. Take cookies or bake a cake or take some kind of yummy food, once in a while.
2. Offer to get their mail or water when they leave town.
3. If you're a pet lover, offer to care for their animals when they leave town.
4. Chat with them when out by the cars or while in the yard working. Ask them about their lives.
5. Invite them over for a meal.
6. Offer to babysit their kids.
7. Lend a helping hand when needed.
8. Take a housewarming gift when they move in!
9. Exchange cell numbers in case you need to text in emergency or a need arises.
10. Make a plan; organize a neighborhood meal or party!
I say, do what you can to bring joy to your neighbors, and don't obsess too much about what isn't. The neighbors not so friendly? There are plenty of other people in your lives who love you and who would love to be blessed with food and time spent with your family.
Neighbor Nights.
Your neighborhood should be a place of peace. And peace comes from positive responses and attitudes, rather than disappointments and frustrations.
I want to introduce you to a friend of mine who does the whole "neighbor thing" right. Ali, from Gimme Some Oven has a very cool vibe going on in her neighborhood. She writes about Tuesday nights around the grill, HERE, and Neighbor Nights, HERE. Here's how she organized it all, HERE. Very inspiring girl, that Ali. :)
Bacon Asparagus Potato Frittata.
Now for the yummy recipe today, which quite honestly, has nothing to do with this post! I planned to post this today, but "neighbor talk" was on my mind.
Using these faboulous ingredients.
I love this one-pot meal for breakfast, brunch, or dinner!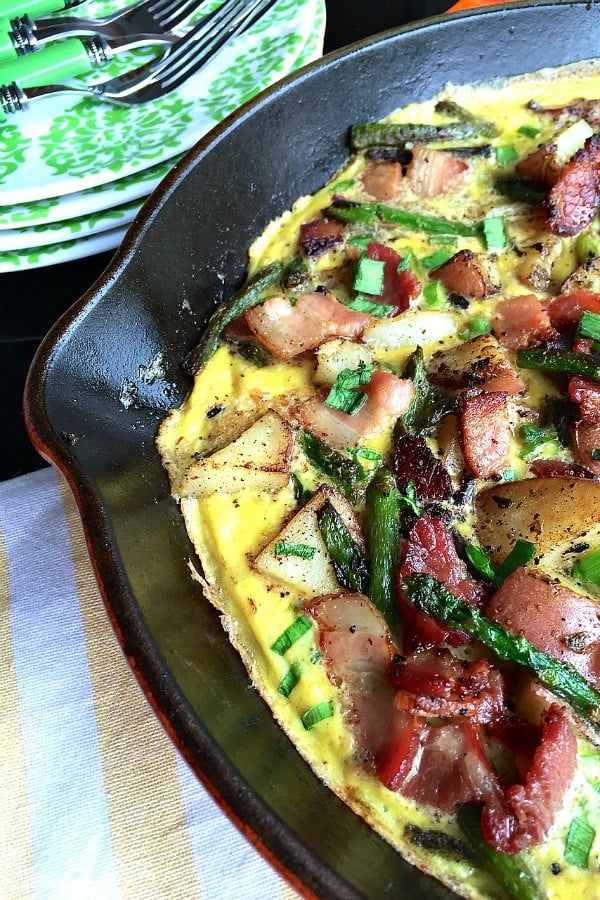 I'd say this serves 4-6, probably for like 4 for our family.
It's also a delightful dish to make for Easter, since asparagus and bacon and eggs go so well with a brunch menu! (Or, hey, how about St. Paddy's day with the green and all those potatoes? wink-wink).
Enjoy, my friends, and Happy Monday!
In what ways have you shown a little "love" to your neighbors?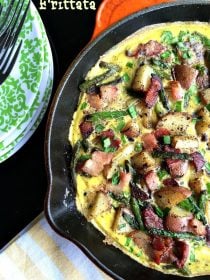 Get the Recipe: Bacon Asparagus Potato Frittata
Ingredients
4 slices thick-cut bacon, cut into 1-inch pieces
1 cup 1-inch-diced unpeeled red potatoes (3 small, 2 medium)
1 lb. asparagus, cut in 2-inch pieces
Kosher salt and freshly ground black pepper
6 extra-large eggs
3 Tablespoons water
1 Tablespoon unsalted butter
1 Tablespoon fresh green onions, chopped
Instructions
Preheat the oven to 350 degrees.

In a 10-inch ovenproof omelet pan, cook the bacon over medium heat for 3 to 5 minutes, stirring occasionally, until the bacon is browned but not crisp. Take the bacon out of the pan with a slotted spoon and set aside on a plate. Reserve 2 Tbsp. bacon grease in the pan; discard the rest (if there is any). TIP: I'll use a paper towel to soak up any grease I do not want.

Place the potatoes in the pan and cook over medium-low heat for 6 minutes, stirring continuously. Add the asparagus and cook another 3-4 minutes, until very tender and browned. If the pan seems dry, add an additional 1 Tbsp. of butter while cooking. Salt and pepper to taste.

Remove the asparagus and potato mixture with a slotted spoon to the same plate with the bacon.

Meanwhile, in a medium bowl, beat the eggs, water, 1/2 teaspoon salt, and 1/4 teaspoon pepper together with a fork. Add the butter, lower the heat to low, and pour the eggs into the hot pan. Sprinkle the bacon, potatoes and asparagus mixture, and green onions evenly over the top. Place the pan in the oven for 8 minutes and bake, just until the eggs are set.

Very easy to serve hot, right in the pan!
Are you following me on Instagram, Twitter, Facebook and Pinterest? If you'd like to subscribe to Reluctant Entertainer, to have each post delivered straight to your e-mail box, then please add your email, here. It's really easy! Thanks for being here today!
Hello and welcome to my home and table!
I'm Sandy—lover of food, family, cooking, THE BIG BOARD, travel, and bringing people together. Through great recipes and connection around the table, we become better, stronger, and more courageous people. Feasting on Life is real, and every time we do it, we grow a little more. Read more...