Best Charcuterie Board Recipe
Best Charcuterie Board recipe is a cheese board with meat, cheese, crackers, olives, veggies served on the Reluctant Entertainer BIG BOARD!
Over the holidays, we served this Best Charcuterie Board, what I call an "anytime charcuterie board." There are basic foods that always work on a charcuterie, so today I'll give you some fast, easy tips! Abby and I put this board together (on my 12 x 36 NEW board), so watch the video!
Best Charcuterie Board Recipe
Board making is easy and fun! There are no hard rules, except to group the food together! Make it your own!
Information for the Best Charcuterie Boards to Buy, includes references and links to buying The Big Board, with a raised edge and food safe. Plus, buy my NEW BOOK: Big Boards for Families!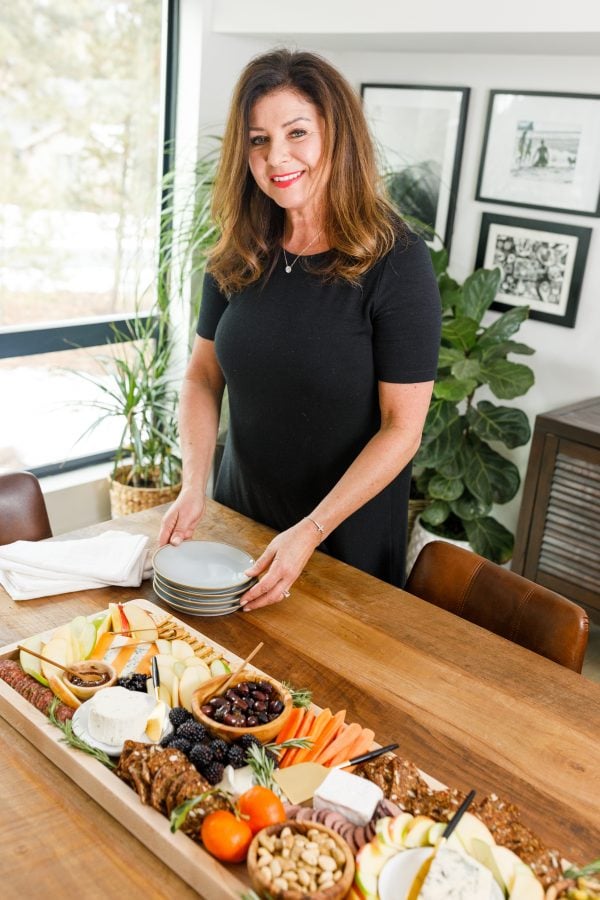 Ingredients for a charcuterie board
Serendipity "blue cheese and sharp aged cheddar" mix
Shallot & Chive Boursin Cheese
Sliced Brie cheese
Apple slices (with lemon juice)
Salami
Delallo Italian Herb Dry Sweet Sausage
Gorgonzola cheese
Blueberries + blackberries
Snap peas
Carrot sticks
Rosemary Marcona Almonds + plain pistachios (we buy both at Costco)
Dried cherries
Delallo Calamata Olives
Fig jam
Lesley Stowe Raincoast Crackers
Butter crackers
Whole wheat crackers
Rosemary
Set out the charcuterie; they will come!
Serve with a stack of napkins, plates, and you decide if you want to add silverware.
For a light dinner, I do like to serve a charcuterie as a meal, and set out the silverware.
If serving as an appetizer, set out small plates, or just paper napkins work, too!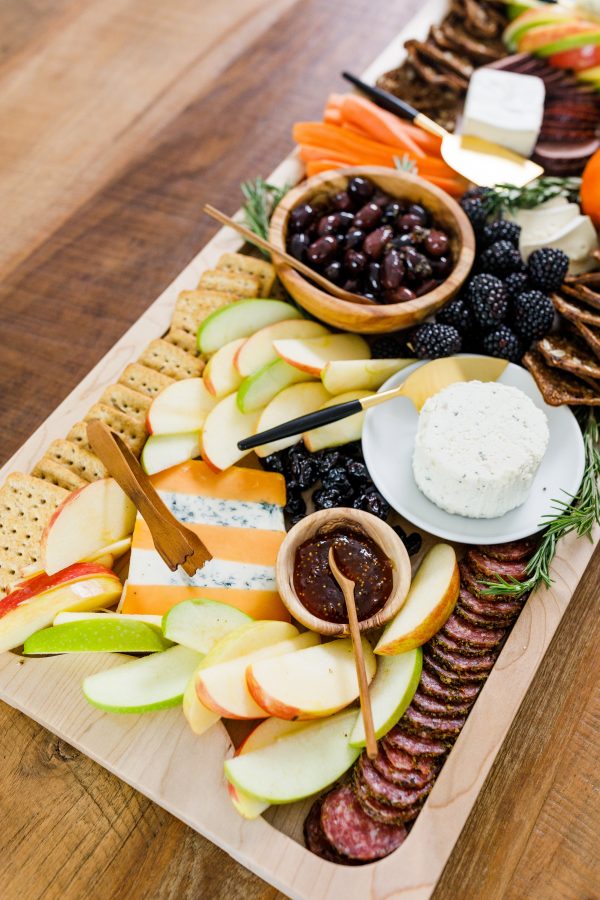 New board gold accessories
You may also want to know about these beautiful gold and black utensils I'm using. Stay tuned because these will be in our store to buy!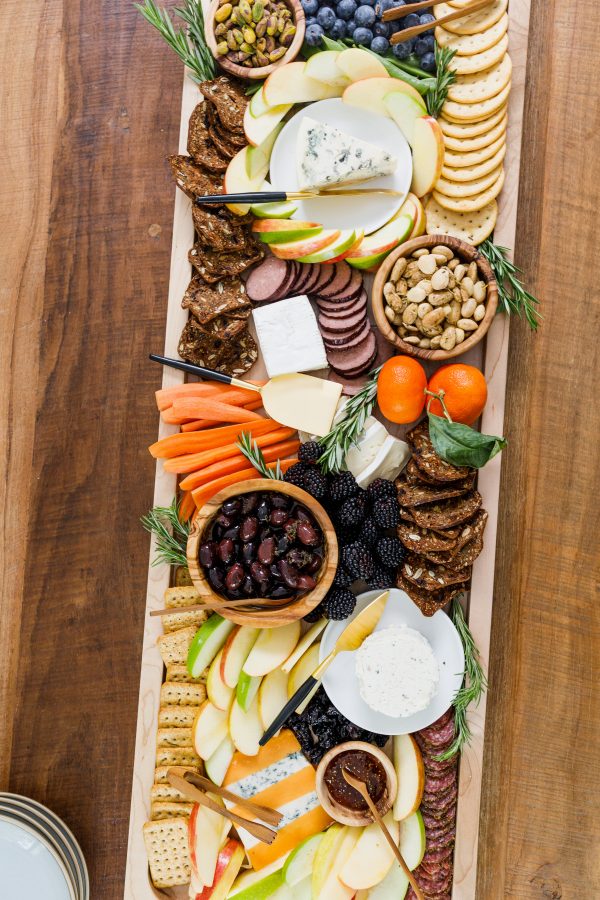 I'm into spring cleaning right now (I know, it's only January), and sprucing up the living room with plants and new pillows! I'm all about keeping it fresh.
My Grandma's piano
When I look over at my Grandma's piano, I must admit I do get sentimental. I know, I only play during the holidays, but I've been thinking about cracking open some of my classical books and playing a little every day.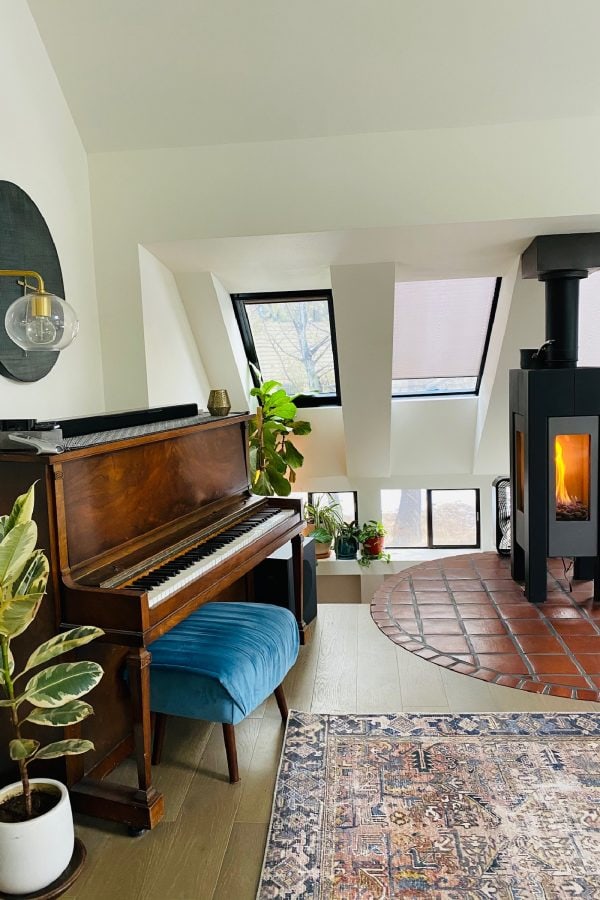 My Grandma's​ hands were rarely idle. You could say she was a nervous person; hands always in motion ironing, cleaning, cooking, rocking her newborn grandbabies, and playing her piano.
Her 100-year-old piano that sits in my living room today. Grandma would be so proud to hear how musical her great-grandkids are. Grandma would be tickling the keys with Gospel music, while Grandpa would sing and tap his foot next to her.
Every movement of Grandma's life spoke of faith and love, patience and endurance, strength and hard work, grace and giving. I love my piano!
12 x 36 board fits on top of a piano
And, I love my new size board because it actually FITS RIGHT ON TOP OF THE PIANO!
So if you're entertaining in the living room, and want to put snacks out, this is the perfect size board!
During this time in history, it's good to have heirlooms to remind us where our family has been, and how they've passed on, and the heritage left behind! Oh, and here's a fun everyday cheese board to check out!
More charcuterie ideas:
Winter Burrata Charcuterie Board
Friends, The Big Board® is here! Yes, I've partnered with JK Adams, the premier woodmaking company in Vermont, with my own line of RE boards!
20-inch round, maple
26-inch round, maple
12 x 36-inch maple
NEW 12 x 24-inch maple
23-inch Lazy Susan
26-inch ebonized BLACK, cherry
12 x 36-inch ebonized BLACK, cherry
A board with a lip (or raised edged) so the food doesn't fall off
FOOD SAFE
Made in the USA
Undercut handles (a unique design)
Thank you for your support, as we've sold out so many times already!
Order The Big Board® today!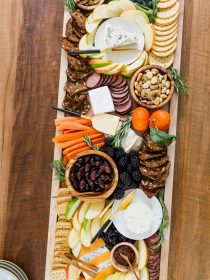 Get the Recipe: Best Charcuterie Board
Made on the 12 x 36-inch big board
Ingredients
1/3 pound Serendipity "blue cheese and sharp aged cheddar" mix
5 oz Shallot & Chive Boursin Cheese
8 oz sliced Brie cheese
1 each green apple, yellow apple, red apple - sliced (with lemon juice)
7 oz salami, thinly sliced
7 oz Delallo Italian Herb Dry Sweet Sausage, sliced
5 oz Gorgonzola cheese
1 cup blueberries
1 1/2 cup blackberries
1 cup snap peas
Carrot sticks
3/4 cup Rosemary Marcona Almonds
1/2 cup pistachios, shelled
1/2 cup dried cherries
3 oz Delallo Calamata Olives
1/4 cup fig jam
1 pkg Lesley Stowe Raincoast Crackers
1 pkg butter crackers
1 pkg whole wheat crackers
Rosemary for garnish
Instructions
Lay down the 5 kinds of cheese on a food safe board. In small dishes, fill with nuts, olives, and jam.

Start filling in the open spaces by fanning out the crackers, and laying down the fruit. Lay down sliced meats, carrot sticks, pea pods, and berries.

Fill in open spaces with fresh rosemary for garnish!
Hello and welcome to my home and table!
I'm Sandy—lover of food, family, cooking, THE BIG BOARD, travel, and bringing people together. Through great recipes and connection around the table, we become better, stronger, and more courageous people. Feasting on Life is real, and every time we do it, we grow a little more. Read more...