Winter Burrata Charcuterie Board
The ultimate Winter Burrata Charcuterie Board: burrata (young mozzarella), salami, nuts. It also has winter fruits: Grapes, pears, and figs!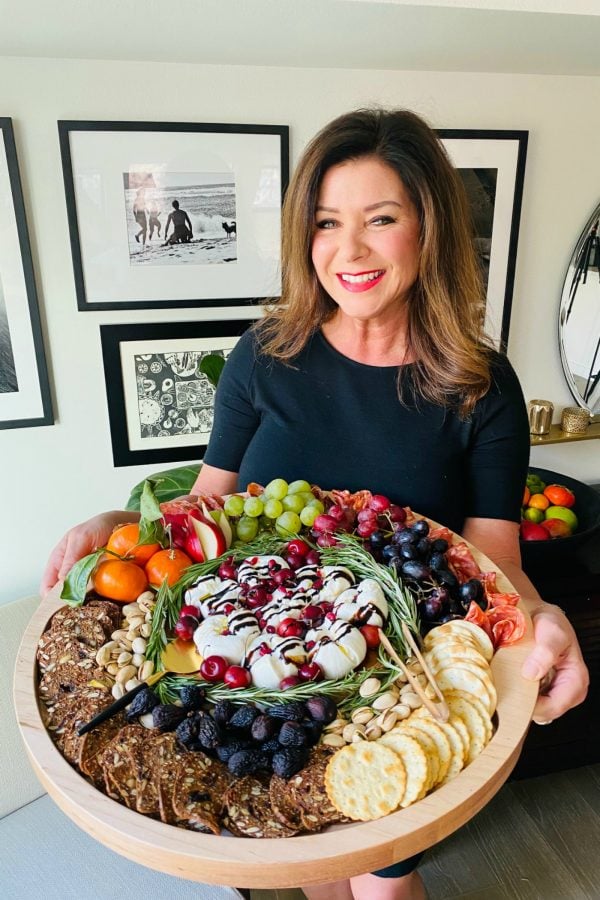 This cheese board is the perfect easy appetizer to share whenever you're entertaining! This board is made on the 20-inch big board!
Winter Burrata Charcuterie Board
Cheese boards will forever be my go-to party appetizer or dish to share. They come together in no time; they're always a hit and easy to make! And yes, we found cherries at our local Fred Meyer, in December! AMAZING! :)
I know we're all looking for ways to connect with loved ones this year, but if we save some of these ideas for next year too, it's fun to dream.
Charcuterie board
Dreaming about hosting again is first on my mind. I can't wait for those gatherings, but for now, getting together means fewer people, yes, but we're still enjoying good food! Like this Winter Burrata Charcuterie Board.
Here are some more winter recipes you may want to try!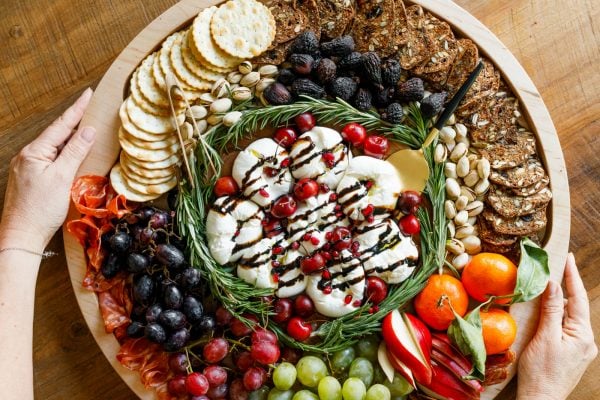 So good, all you need are these ingredients:
Burrata minis (4 in a container) – I buy at Fred Meyer's or Trader Joe's
Fresh cherries
Olive oil
Balsamic glaze
Pomegranate seeds
Dry roast unsalted pistachios
Mixed grapes
Red pear
Mission figs (I buy at Trader Joe's)
Dry salami + spiced salami
Lesley Stowe Raincoast Crisps
Salt and pepper crackers
Fresh rosemary
Tangerines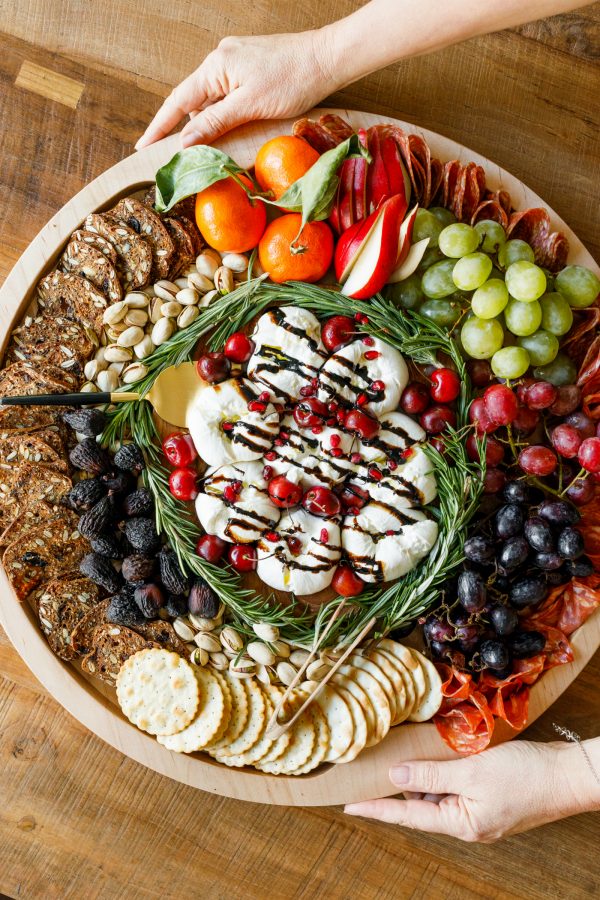 What is burrata?
Burrata as a thin layer of fresh mozzarella stretched around a creamy middle made of soft curd and cream. It's very soft to touch, and in my mind, heavenly.
It's super fresh!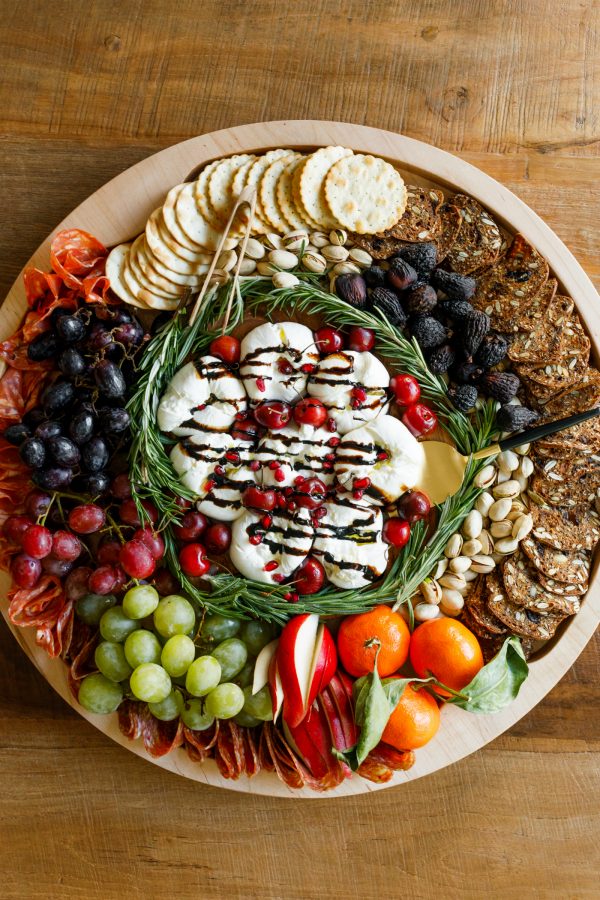 Gift ideas to share
If you're not planning on any gatherings this rest of this year, here are a few gifts you can make and drop off for friends:
Box up a few small charcuterie items
Try to send some small homemade gifts that say, I'm looking forward to getting together when all of this is over, and I'm thinking about you!
We can also think about the small things, like Christmas cards, Zoom chats, calls, and text messages. Or a good old-fashioned call on the phone! I called one of my best foodie buddies this week and we talked for over an hour, catching up. We hadn't talked since before the pandemic!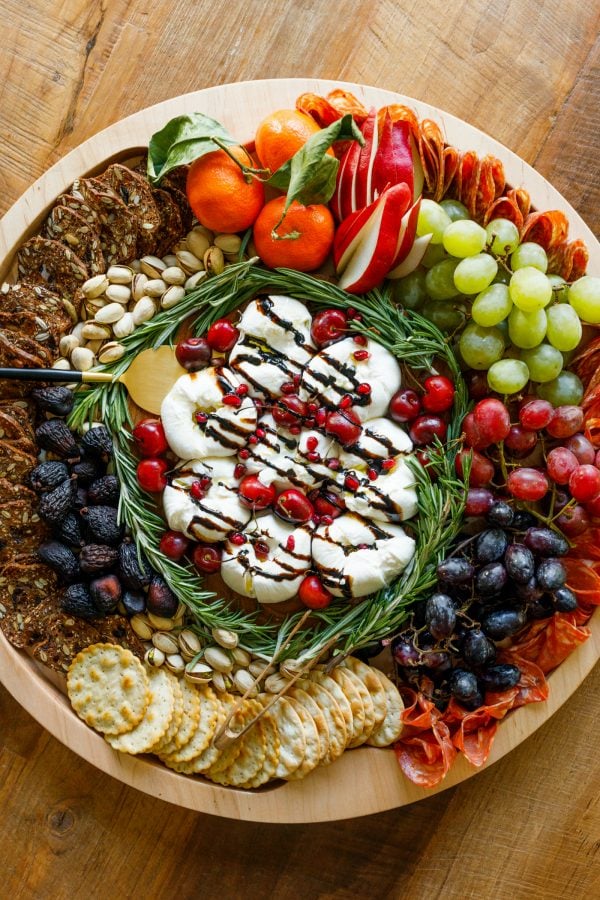 For now, enjoy this delicious winter salad!
Burrata cheese is one of my favorites. It's so pillowy-soft and smooth, and delicious spread open with a drizzle of oil on top! Just look at the photos!
ENJOY!
Friends, The Big Board® is here! Yes, I've partnered with JK Adams, the premier woodmaking company in Vermont, with my own line of RE boards!
20-inch round, maple
26-inch round, maple
12 x 36-inch maple
NEW 12 x 24-inch maple
23-inch Lazy Susan
26-inch ebonized BLACK, cherry
12 x 36-inch ebonized BLACK, cherry
A board with a lip (or raised edged) so the food doesn't fall off
FOOD SAFE
Made in the USA
Undercut handles (a unique design)
Thank you for your support, as we've sold out so many times already!
Order The Big Board® today!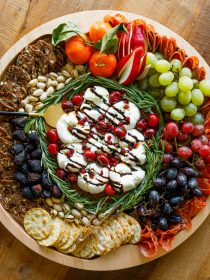 Get the Recipe: Winter Burrata Charcuterie Board
Ingredients
2 8 oz burrata minis (4 in a container) - 8 total, (I buy at Fred Meyer or Krogers)
1-2 cups fresh cherries, (optional to remove the pit)
Olive oil, drizzle
Balsamic glaze, drizzle
2 Tbsp. pomegranate seeds
Fresh rosemary sprigs
8 oz dry roast unsalted pistachios
1 pound mixed grapes, red and green
1 red pear, sliced
4 oz mission figs
4 oz dry salami
4 oz spiced salami
5.3 oz Lesley Stowe Raincoast Crisps
4 oz salt and pepper crackers
3 tangerines, garnish
Instructions
On a round plate, place the burrata, and press open with the back of a spoon. Lay down fresh cherries on top. Drizzle with olive oil and balsamic glaze. Sprinkle with pomegranate seeds and set in the center of the board.

Around the outside of the plate lay down fresh rosemary sprigs (in a circle).

Around the outer inside edge, lay down the crackers and salami.

Fill in open area with nuts, figs, and fruit.

Set the tangerines on the board for garnish, and slice the pear!

Serve and enjoy!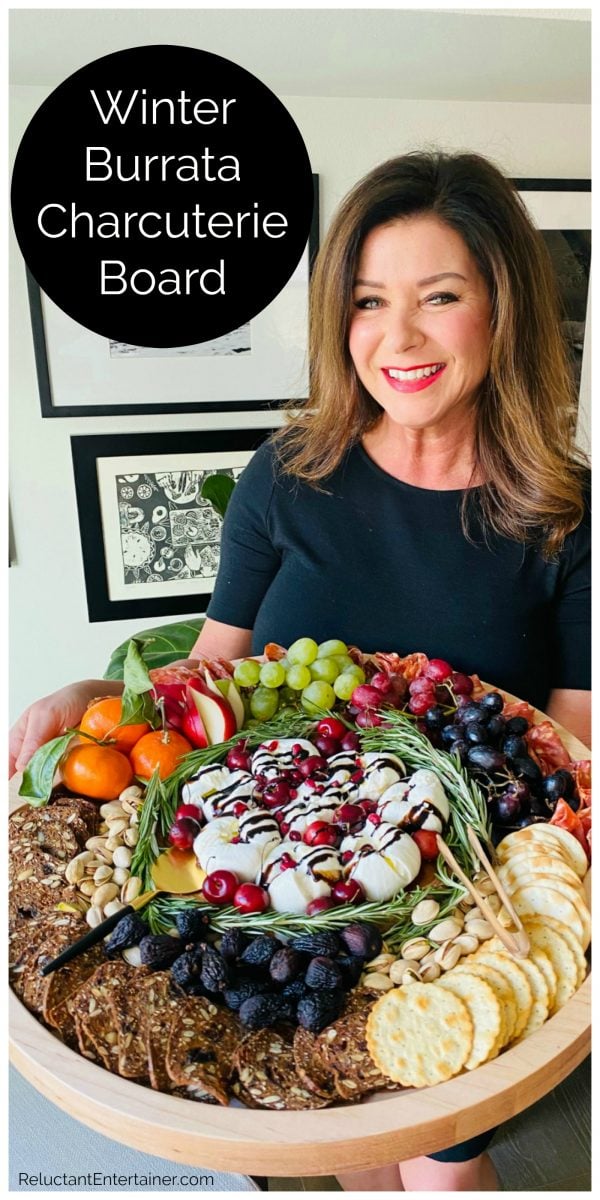 Hello and welcome to my home and table!
I'm Sandy—lover of food, family, cooking, THE BIG BOARD, travel, and bringing people together. Through great recipes and connection around the table, we become better, stronger, and more courageous people. Feasting on Life is real, and every time we do it, we grow a little more. Read more...