How to Make Apple Carrot Dog Biscuits
How to make Apple Carrot Dog Biscuits? It's easy, just follow the simple recipe! You're doggie will be a happy pup!
Meet my friend, Jessica …
I am so excited to introduce to you today my darling friend Jessica. You've seen Jess on RE a few times this past year, helping me with canning and a couple of dinner parties and some cooking, and, well, she's just a very dear friend to me.
Jess loves to entertain, cook, decorate, write, she has a heart of GOLD, and she loves her doggie, Marz, and her husband, Justin. Oh, and she is having her first BABY GIRL in April! We are so excited for her family. So be watching in the future for some very fun DIY projects coming from Jess …
Gift giving for dog lovers …
I think today's post is the perfect gift idea for friends who may have dogs who love a special treat. Read on …
Hello, Friends …
My name is Jessica. I'm a friend (and fellow admirer!) of Sandy's, and I'm happy to be here sharing a DIY post with you today. Since I'm new here, I figured I'd share a little about myself before we get started.
First and foremost, I'm a HUGE dog lover and proud momma to my dog-child, a pit bull named Marz. Secondly, my husband and I are expecting our first child this coming April! Since this will be my sweet pup's last Christmas as the only 'child', I decided to spoil her and add some extra pizazz to her stocking by making homemade dog treats!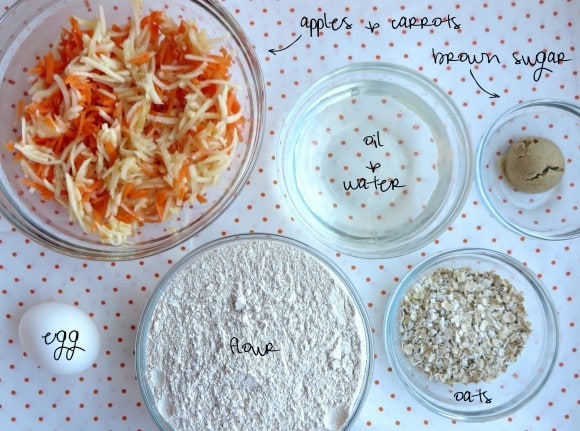 In my house, any guest that befriends my dog is an instant favorite, so these would also make a great hostess gift for a dog-lover like myself.
So for all you fellow dog-lovers out there, here's a simple and healthy Apple Carrot Dog Biscuit recipe for your special pup.
And a perfect gift idea for the holidays, to wrap up and give to your friends who have pets!
Have you made homemade treats for your pets, and if so what's a favorite combination?
How to Make Apple Carrot Dog Biscuits
Ingredients:
2 1/2 cup whole wheat flour
1/2 cup oats
1 TBSP brown sugar
1 apple, peeled and grated
1/2 cup carrots, peeled and grated
1 egg, beaten
1/3 cup vegetable oil
1/4-1/2 cup water (note: the apples add moisture, so only add extra water if necessary)
Directions:
Preheat the oven to 350 and grease a cookie sheet.
Peel and grate apple and carrots (I used food processor).
In one bowl, mix the flour, oats, and brown sugar. In separate bowl, beat the egg and mix in the oil, water, and grated apples and carrots. Add wet ingredients to dry ingredients bowl and mix completely.
Carefully roll 'dough' out and cut out desired shape with chosen cookie cutter.
Bake for 40 – 45 minutes, or until apple juices are soaked and biscuits are firm.
After biscuits cool, feel free to share with the pups in your life! Store in air-tight container.
Bake at 350 for 40-45 minutes.
Serving size: makes 15-20 dog biscuits, depending on the size of cookie cutter.
All images and text ©