Easy Winter Charcuterie Board
Make an Easy Winter Charcuterie Board with meat, crackers, apples, grapes, persimmon and a pomegranate. Add your favorite olives anad cheese!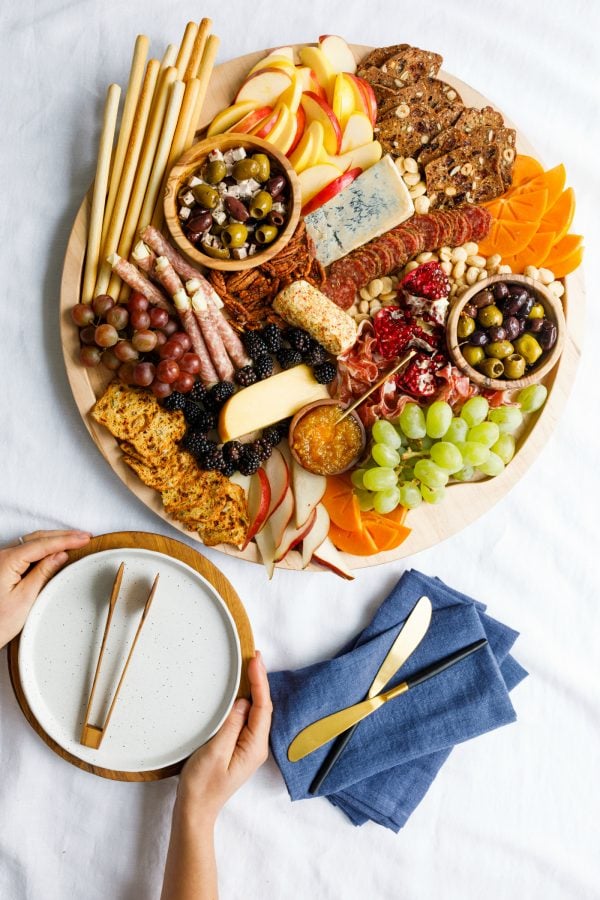 Friends, as winter settles in, an inviting cheese board is always a good thing that makes us happy!
Easy Winter Charcuterie Board
Even with smaller gatherings, it's fun to change up a meal and just snack on an Easy Winter Charcuterie Board.
I'm used to being a hospitable person, and this season of life has called for simpler meals, and smaller cheese boards! That is, unless you have a bigger family!
Easy to shop for a charcuterie board
Grab the shopping list and head to the store for this great charcuterie board! Print it out and take it with you!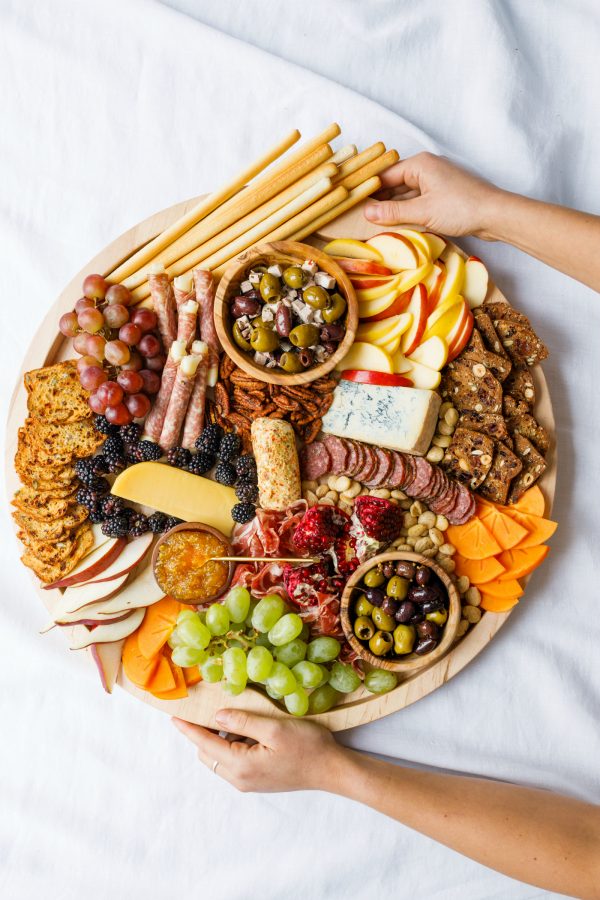 Ingredients for this board:
Yes, we love Delallo products. You can find them in most grocery stores, and for sure your local gourmet store! They are worth buying–the flavors and quality is out of this world!
Pitted Olives
Greek Feta Salad
Italian Herb Sweet Sausage
Traditional Breadsticks
Herbed goat cheese
Gorgonzola mountain cheese
Gouda cheese
Red + yellow apple
Red pear
Persimmon
Bunches of red and green grapes
Raincoats Cheese Crisps + Cranberry Hazelnut Crisps
Pomegranate, cracked open
Marcona almonds
Tangerine jam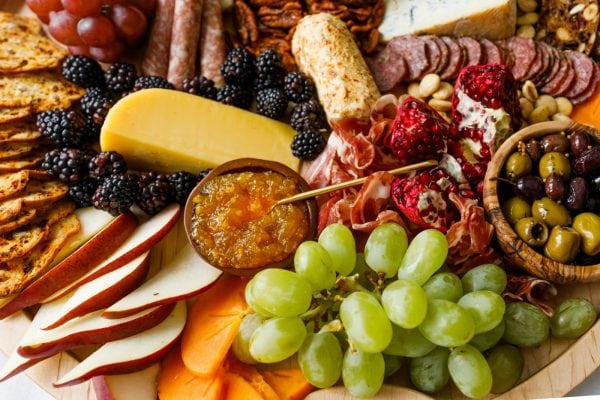 Friends, since our gatherings are with fewer people this year, why not make a beautiful cheese board?
Combine cheese, olives, and meats with other fruits in season, like pears, apples, persimmons, and pomegranates. And then add in the people you love!
A smaller group?
That's okay.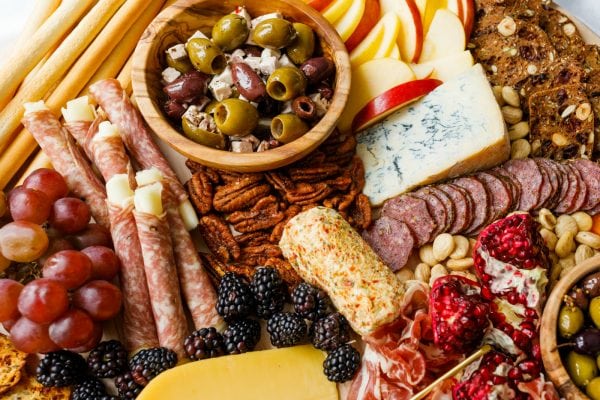 Remember you can halve the recipe, and my 20-inch board is perfect for that.
The Big Board is here! I've partnered with JK Adams, the premier woodmaking company in Vermont, with my own line of RE boards!
20-inch
26-inch
A board with a lip (or raised edged) so the food doesn't fall off
FOOD SAFE
Made in the USA
Undercut handles (a unique design)
Thank you for your support, as we've sold out so many times already!
Order The Big Board today!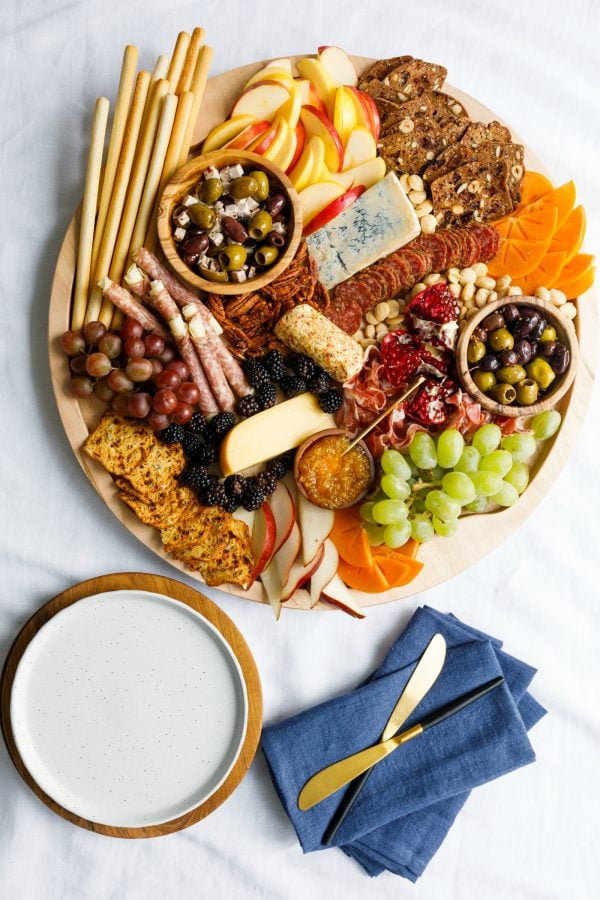 For Paul and me, usually we are intentional inviters. But this holiday season is looking a little different.
We're becoming more "homebodies" for sure, and being creative with meals at home (hey, let's keep things light and fun!), is important.
Our home is becoming a warm embrace, and it's fun to think outside the box for a creative meal.
So … what's on your cheese board this week?
PS. Oh, and for a different season, a few months ago we shared this Epic Summer Mediterranean Board–wow! Make this pear and brie appetizer–so good. Or, have you tried a Brie Apple and Cranberry Grilled Cheese?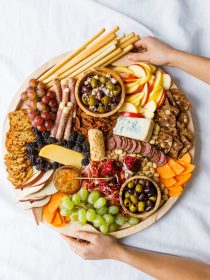 Get the Recipe: Easy Winter Charcuterie Board
Ingredients
7 oz Delallo Pitted Olives
7 oa Delallo Greek Feta Salad
4 oz Delallo Italian Herb Sweet Sausage
2 oz Delallo Traditional Breadsticks
3 oz herbed goat cheese
1/3 pound Gorgonzola mountain cheese
8 oz Gouda cheese
1 red apple, sliced
1 yellow apple, sliced
1 red pear, sliced
1 bunch red grapes
1 bunch green grapes
1 persimmon, sliced and wedged
4 oz Raincoats Cheese Crisps
4 oz Raincoats Cranberry Hazelnut Crisps
1 pomegranate, cracked open
3 oz Marcona almonds
1/4 cup tangerine jam, or any winter jam
Instructions
On a large board with a lip, set 2 bowls of olives on the board. Fill a small bowl with the tangerine jam.

In the center of the board, lay down the 3 cheeses. Crack the pomegranate open and lay down by the cheese.

Next, fan the meat and lay down the crackers around the inside edge of the board.

Place the grapes and apples on the board. Fill in any open areas with nuts, berries, and the persimmon.

ENJOY!
Hello and welcome to my home and table!
I'm Sandy—lover of food, family, cooking, THE BIG BOARD, travel, and bringing people together. Through great recipes and connection around the table, we become better, stronger, and more courageous people. Feasting on Life is real, and every time we do it, we grow a little more. Read more...