Epic Summer Mediterranean Board
For a summer gathering, serve an Epic Summer Mediterranean Board. Fill the board with fish kebabs, hummus, olives, and salads, for a fresh and vibrant meal!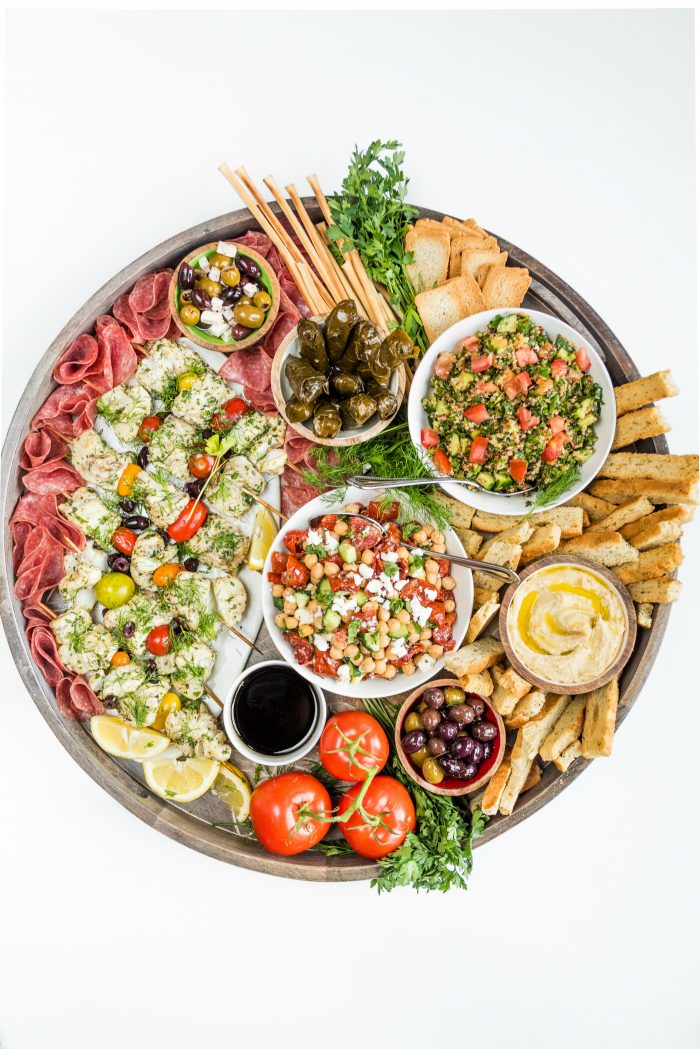 Friends, today I'm partnering with Delallo Foods to share with you a beautiful Epic Summer Mediterranean Board!
Mediterranean Board
Don't you love the vibrants colors? Mediterranean food (so heart-healthy) is our very favorite, too!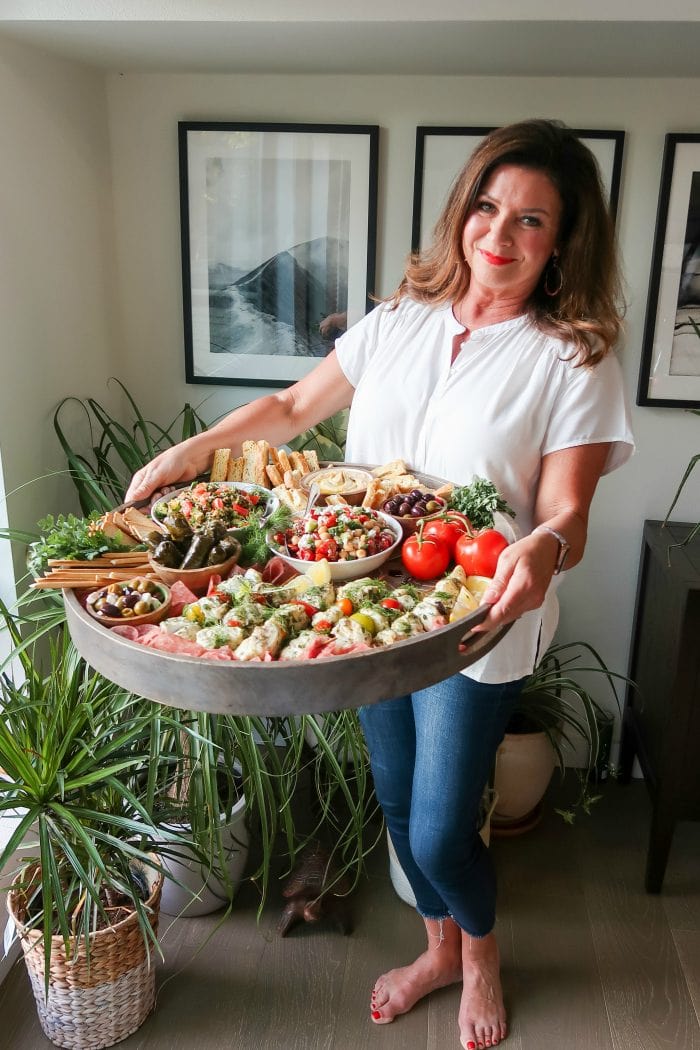 Epic Summer Mediterranean Board
Our friends over at Delallo have put together some beautiful recipes for you to try!
We've made a few salads to enjoy on our epic board–warm and inviting–and ready for summer guests!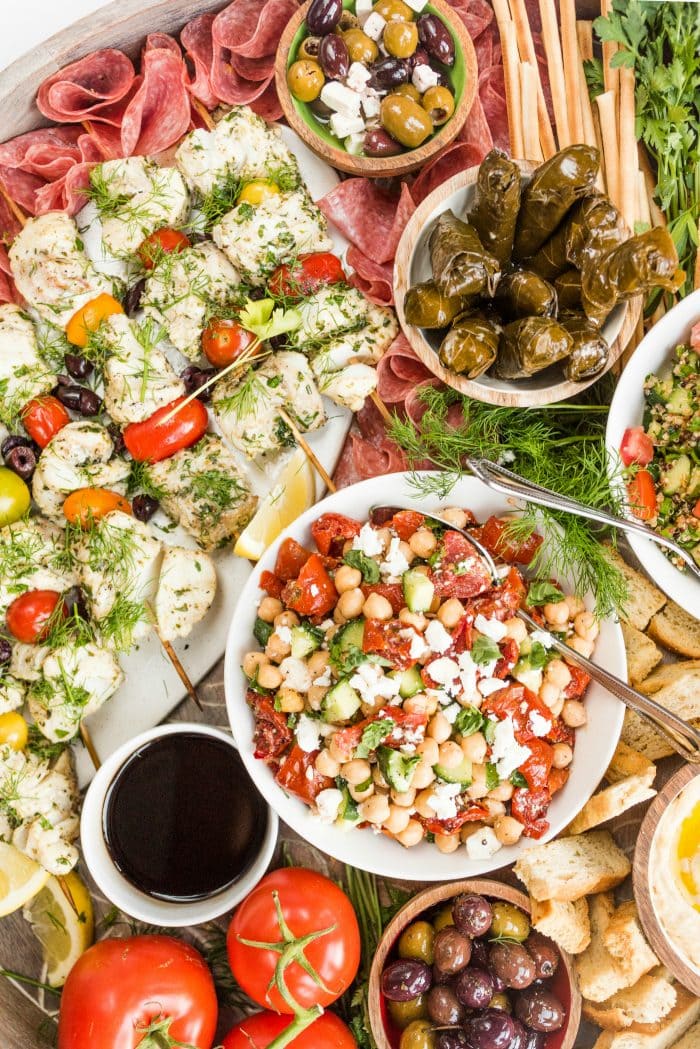 We love how boards bring people together, no matter the size of the party! This board size is 24 inches in diameter.
Marinated Fish Kebabs
For our board, we're bringing it up a notch, taking a couple basic dishes, and adding some new Delallo shortcut products!
Also, this marinated fish kebabs recipe is a breeze to make, made with fresh cod.
Marinate and grill. It's out of this world! [Grab the recipe below!]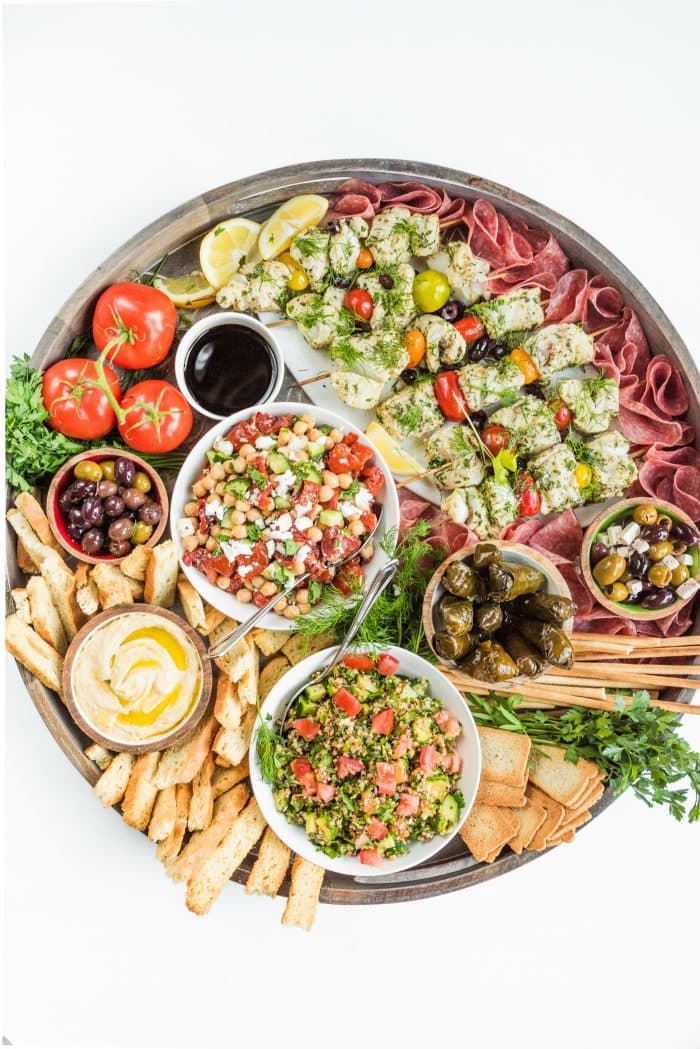 Ingredients for a Mediterranean board
Hummus (make your own with this recipe)
Torinese Thin Bread Sticks
Crispy Rosemary Focaccia Toasts
Original Crostini
Stuffed Grape Leaves 5.25 oz.
Greek Feta Salad 7 oz.
easoned Olive Medley 8 oz.
Sliced Genoa Salami Pack 6 oz.
3 tomatoes on vine
Dill and parsley to garnish
Grab the recpe for Tabouli Salad
Marinated Chickpea Salad Recipe
Mediterranean Fish Kebabs Recipe (below)

Around the table
We believe the best memories happen around the table, and that good food brings a little extra happiness to everyday life through handed-down or classic recipes!
Today we're creating some traditional Mediterranean dishes, serving them on The Big Board with olives, grape leaves, crostini crackers, and more!
For example, this Marinated Chickpea Salad with Feta and Roasted Tomatoes recipe takes no cook time, and it's packed with protein. Delallo's Italian Roasted Tomatoes have to be my very favorite!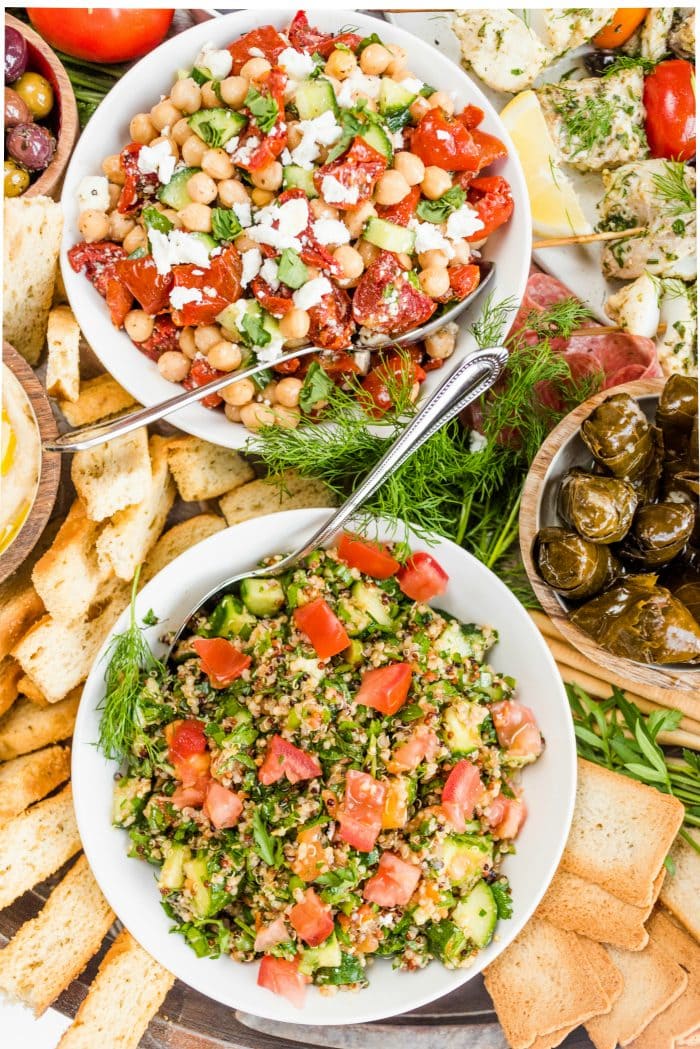 Tabouli Salad
For Tabouli (Tabbouleh), typically this dish calls for fresh tomatoes, too, but we used Tomato Bruschetta instead.
Make a board with these two salad recipes any time of year, especially when there are no fresh tomatoes available!
More recipes to add to your Mediterranean Board:
Greek Pitza: Use Naan bread instead pizza dough. Grill instead of baking it.
Chicken Shawarma Bowl: Instead of eating it as a pita/wrap, serve it as a bowl with farro.
Mix lemon juice with pesto; toast pine nuts and sprinkle/scatter them on the hummus.
Saute chickpeas with chopped Calabrian Chili Pepper in the pepper's oil; drizzle on hummus!
Muhammara Roasted Red Pepper Dip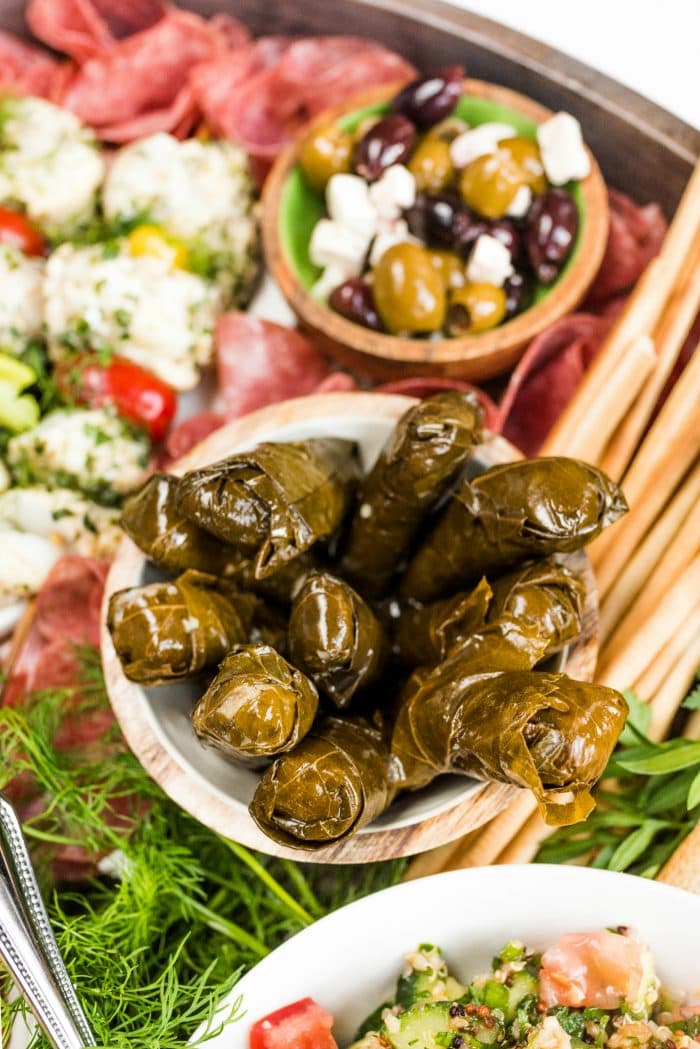 Be inspired with these easy recipes and ideas for a small gathering in your home!
Summer is the best time, especially now when we can eat outside together!
ENJOY!
Friends, The Big Board is here! Yes, I've partnered with JK Adams, the premier woodmaking company in Vermont, with my own line of RE boards!
20-inch
26-inch
NEW 12 x 36-inch
23-inch LAZY SUSAN
A board with a lip (or raised edged) so the food doesn't fall off
FOOD SAFE
Made in the USA
Undercut handles (a unique design)
Thank you for your support, as we've sold out so many times already!
Order The Big Board today!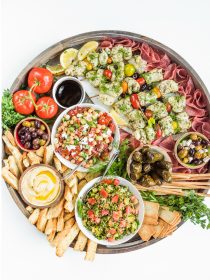 Get the Recipe: Epic Summer Mediterranean Board
Use the finest Delallo products for this board! This board is 24 inches in diameter.
Ingredients
The board
1 c hummus, drizzle with olive oil
Torinese Thin Bread Sticks
Crispy Rosemary Focaccia Toasts
Original Crostini
DeLallo Stuffed Grape Leaves 5.25 oz.
DeLallo Greek Feta Salad 7 oz.
DeLallo Seasoned Olive Medley 8 oz.
DeLallo Sliced Genoa Salami Pack 6 oz.
3 tomatoes on vine
Dill and parsley to garnish
Tabouleh Salad
Marinated Chickpea Salad
Mediterranean Fish Kebabs Recipe:
2 lbs cod or other firm, white fish (like swordfish or halibut)
Lemon wedges
Fresh dill, roughly chopped
1/4 c kalamata olives, chopped
12 cherry tomatoes
Marinade for fish kebabs
1/2 c parsley, roughly chopped
1 Tbsp marjoram
1 Tbsp fresh rosemary, roughly chopped
3 medium cloves garlic, peeled and microplaned
1 1/2 lemons, juiced, zest form 1 lemon
1 tsp honey or sugar
2 tsp kosher salt, plus more to taste
2 tsp of ground cumin
3/4 cup avocado or grapeseed oil
6 large skewers, about 10-12'', soaked in water
Vegetable or canola oil to coat grill grates
Instructions
Soak your skewers in water for at least 30 minutes.

Rinse and pat dry your cod fillets. Cut into 18 even chunks. Set aside.

In a medium bowl, combine all ingredients for the marinade; parsley, marjoram, rosemary, garlic, lemon juice and zest, honey, salt, cumin, and avocado oil. Whisk to combine, then add fish pieces to the bowl and toss to coat. Allow fish to marinade for 15-20 minutes. After fish has marinated, thread 1 piece onto a soaked skewer, followed by a cherry tomato, a cod piece, another cherry tomato, and a final fish piece—in total, each skewer should have 3 pieces of fish and 2 cherry tomatoes. Repeat until all fish is used.

Heat grill to about 375 degrees. Oil the grates well with an oiled rag. Place fish onto grill and cook for 3-4 minutes per side. If desired, brush or drizzle the remaining marinade onto the fish at the beginning of the grilling process.

When fish is cooked and just beginning to flake, carefully transfer to a platter. Garnish with fresh dill, olives, and lemon.

On a large board, fill bowls with salads, hummus, olives, stuffed grape leaves, etc.

Place the fish kebabs on a platter, and then on the board.

Fill in open areas with crackers! Add 3 whole tomatoes for garnish.

Serve!
This post is sponsored by Delallo Foods; all opinions are my own!
Hello and welcome to my home and table!
I'm Sandy—lover of food, family, cooking, THE BIG BOARD, travel, and bringing people together. Through great recipes and connection around the table, we become better, stronger, and more courageous people. Feasting on Life is real, and every time we do it, we grow a little more. Read more...