Asian BBQ Bean Dip
Start your New Year's party right with this Asian BBQ Bean Dip, a new spin on the traditional taco dip, sponsored by Bush's Beans.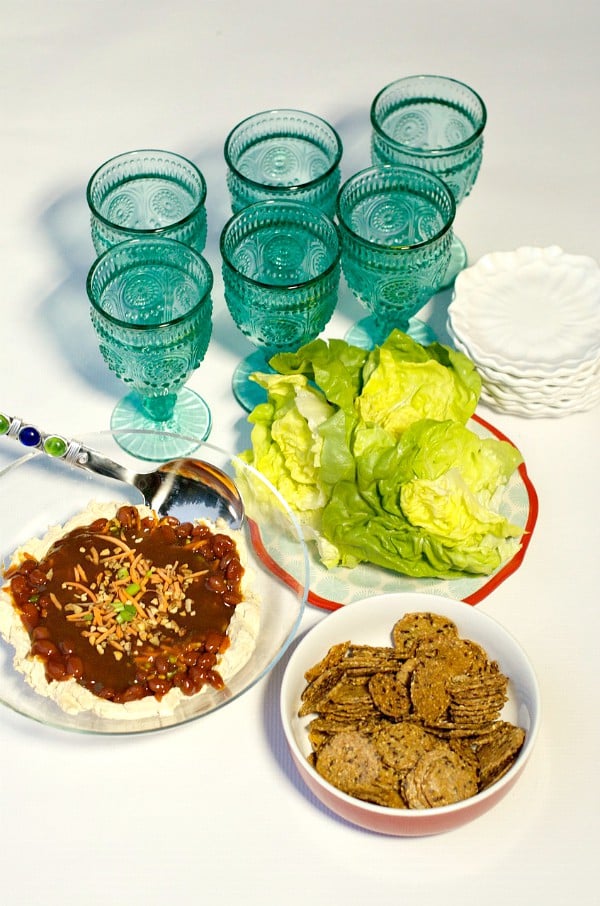 Celebrating the New Year does not require formal attire, linen tablecloths, fresh flowers, and fine wine — it really just requires being with the people you love, ideally with some good eats to share!
It's fun to host NYE, and in the past, we've hosted some pretty big parties. This year, we're keeping it small and simple, with an "Asian" theme.
Asian BBQ Bean Dip
Today I'm sharing a delicious appetizer, or potluck dish; a spin on the traditional bean dip, using BUSH's Asian BBQ Beans.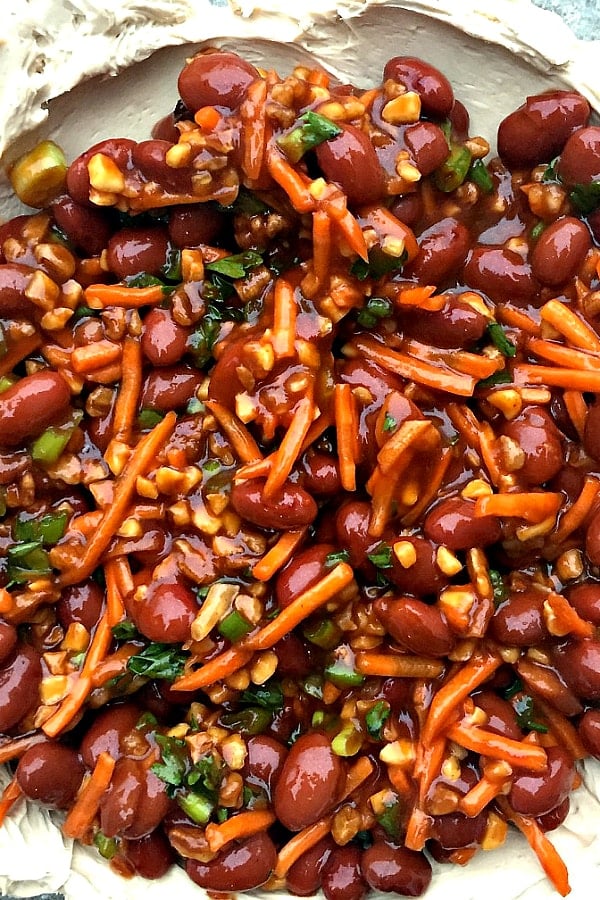 And, better yet, you can serve it as a dip with chips or crackers, or lettuce wraps with crunchy lettuce leaves!
Send out the party invites (or text your friends).
Start off with these Coconut Mango Mojitos!
Pass around the Won Ton-Wrapped Shrimp, serve a Thai Peanut Noodle Salad, Pork and Shrimp Won Ton Soup, Asian Pork (or chicken) Wraps, and this dip (or lettuce wraps), ending with this Mango Sorbet!
New Year's Eve perfection!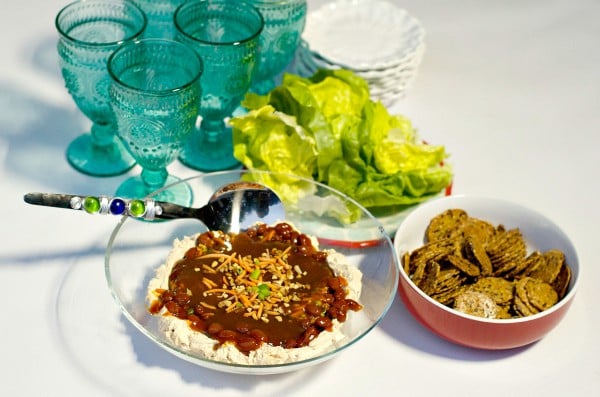 3 party tips:
1. Write out your menu. What are you bringing? What are your guests bringing? Work backwards, and figure out what you can prepare ahead of time.

*The more you can do ahead of time, the more relaxed and calm you'll be during "crunch" time. Crunch time is one hour before the guests arrive!

2. Plan out the oven time. Are guests bringing foods already baked, or will they need your oven? What can you bake ahead of time to free up your oven for guests?

3. Set up the party area. Set up the area where the food will be served, buffet or different stations, with napkins, plates, and serving utensils.
Turn your living room coffee table and floor cushions into seating-and-eating areas.
Have a good New Year's Eve this week, Friends!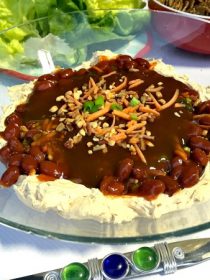 Get the Recipe: Asian BBQ Bean Dip
A delicious spin on the traditional taco dip!
Ingredients
1 cup BUSH's Asian BBQ Beans
1/2 cup shredded carrot
1/4 cup chopped unsalted peanuts
3 tablespoons chopped green onions
3 tablespoons reduced-sodium soy sauce, divided
2 garlic cloves, minced
2 tablespoons brown sugar
1-1/2 teaspoons cornstarch
1/2 cup water
2 tablespoons ketchup
1-1/2 teaspoons Worcestershire sauce
1/2 teaspoon cider vinegar
1 package, 8 ounces reduced-fat cream cheese
Sesame rice crackers or tortilla chips
Lettuce leaves
Parsley, optional
Instructions
In a large bowl, combine the beans (do not drain), carrot, peanuts, onions, 2 tablespoons soy sauce, and garlic. Cover and refrigerate for several hours.

In a large saucepan, combine brown sugar and cornstarch; stir in water, ketchup, Worcestershire sauce, and vinegar until smooth. Bring to a boil; cook and stir for 1-2 minutes or until thickened. Cool for 5 minutes. Cover and refrigerate.

Just before serving, in a small bowl, beat cream cheese and remaining soy sauce until smooth. Spread evenly into a 12-in. serving dish. Cover with bean mixture; sprinkle with parsley (optional) and drizzle with sauce. Serve with crackers or chips or lettuce leaves.
Are you following me on Instagram, Twitter, Facebook and Pinterest? If you'd like to subscribe to Reluctant Entertainer, to have each post delivered straight to your e-mail box, then please add your email, here. It's really easy! Thanks for being here today!
This post is sponsored by Bush's Beans, but as always, all opinions are my own!
Hello and welcome to my home and table!
I'm Sandy—lover of food, family, cooking, THE BIG BOARD, travel, and bringing people together. Through great recipes and connection around the table, we become better, stronger, and more courageous people. Feasting on Life is real, and every time we do it, we grow a little more. Read more...