Mini Cheesecakes with Salted Caramel Topping for New Year's Eve
These Mini Cheesecakes with Salted Caramel Topping are excellent for New Year's Eve, making twenty-four mini cheesecakes.

Friends, if you're hosting tonight for New Year's Eve, or possibly friends are stopping by tomorrow, on New Year's Day, then you'll love these Mini Cheesecakes with Salted Caramel Topping!
Just in time for a grand party, or if you're bringing a potluck dish, everyone seems to love cheesecake!
Mini Cheesecakes with Salted Caramel Topping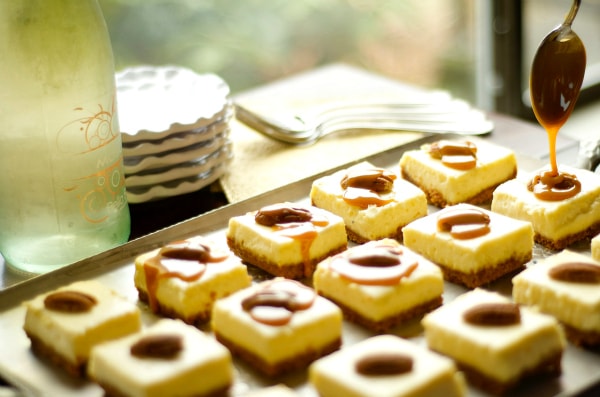 You can add chocolate or caramel sauce on top, with a simple pecan, and a dash of sea salt – it's elegant and so pretty!
Cut in 24 squares.
Serve on a silver platter!
Inspiration for 2016
I love this photo from last year at our New Year's Eve party!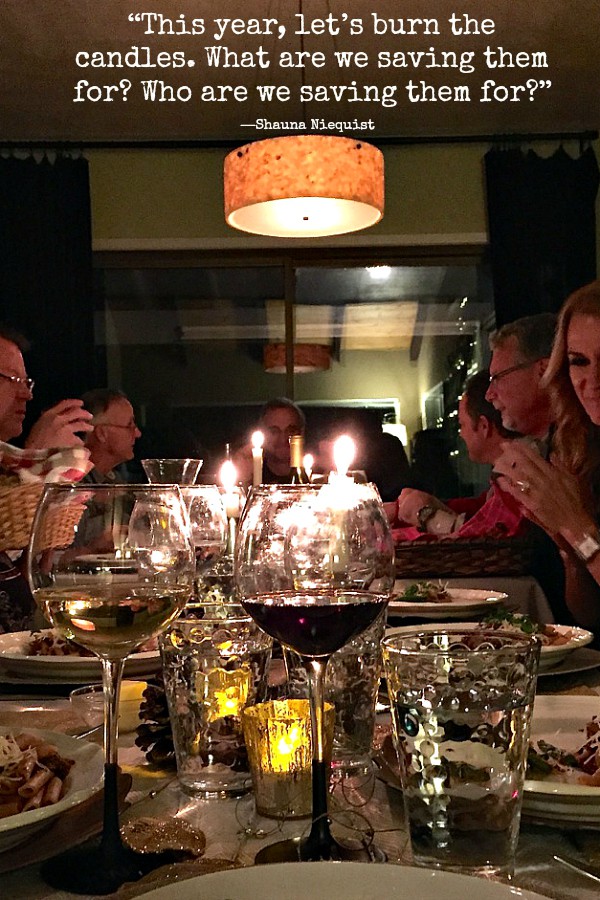 It's better to burn the candles in our drawers, inviting friends over for a lovely, casual gathering, than keep all our entertaining supplies stocked up, in the cupboard, and they never get used! (Read more, for 2016 entertaining inspiration!)
Happy New Year, Friends!
What are you looking forward to in 2016?
Get the Recipe: Mini Cheesecakes with Salted Caramel Topping
Ingredients
2 1/4 cups graham cracker crumbs
1/4 cup dark brown sugar, firmly packed
2 tsp. cinnamon
1/2 cup butter, melted
4 8 oz. each cream cheese (32 oz.), softened
1 cup granulated sugar
3 Tbsp. whipping cream
1 tsp. vanilla
4 eggs
Salted Caramel Sauce, I use Smucker's Simple Delight Salted Caramel Topping
24 pecan halves
Instructions
Heat oven to 350°F.

Mix graham crumbs, brown sugar, and butter; press onto bottom of 9×13 foil-lined pan. Bake for 10 minutes; cool.

Beat cream cheese, granulated sugar, cream, and vanilla in large bowl with mixer until blended. Add egg, one at a time, and beat just until blended. Pour onto the graham cracker mixture.

Place 9×13 pan in a roaster. Fill with water halfway up the sides. Bake for 20 minutes, or until the center is set.

Cover and refrigerate for at least 4 hours, up to 3 days.

Gently lift the cheesecake out of the pan. Cut into 24 squares; place one pecan half on each square. Serve with salted caramel sauce drizzled over the top; sprinkle with sea salt.
Are you following me on Instagram, Twitter, Facebook and Pinterest? If you'd like to subscribe to Reluctant Entertainer, to have each post delivered straight to your e-mail box, then please add your email, here. It's really easy! Thanks for being here today!

Hello and welcome to my home and table!
I'm Sandy—lover of food, family, cooking, THE BIG BOARD, travel, and bringing people together. Through great recipes and connection around the table, we become better, stronger, and more courageous people. Feasting on Life is real, and every time we do it, we grow a little more. Read more...