RecipeGirl's Avocado-Pine Nut Salad
This Avocado-Pine Nut Salad with delicious Mozzarella cheese, is the perfect potluck, luncheon, party or dinner party salad!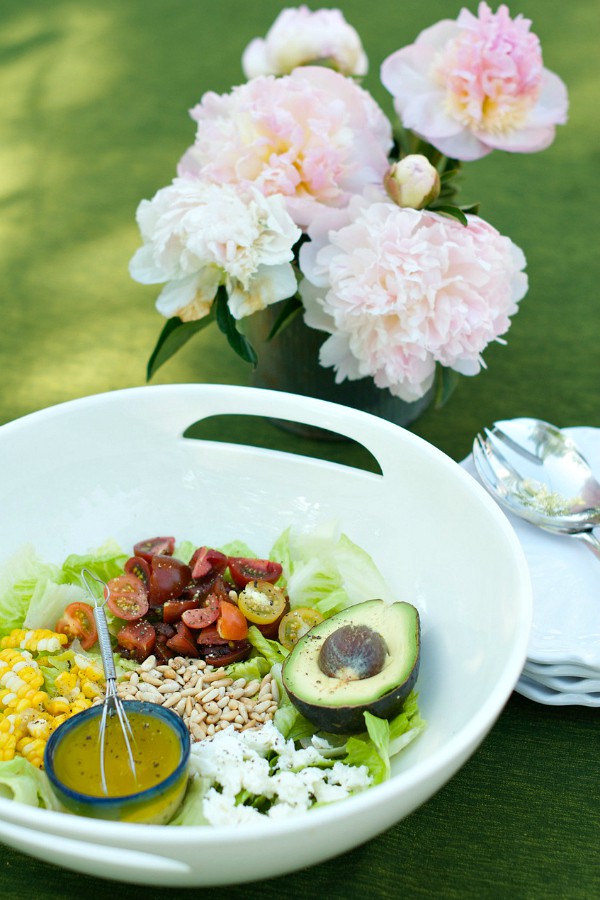 Just last night I found myself reflecting on how quickly life is changing, with Abby graduating this week. I just spent the weekend with 2 of my longtime blogging friends, Lori and Carrie, and Carrie's daughter is her first child to fly out of the nest, and Abby is my last.
We talked a lot about hospitality, and how we host the hearts of our families.
Hospitality always starts with us, and if you have a family, that's a great place to start. It's what we're required to do well, before we get going in so many directions, and put too much on our plates. (I'll tell you more about this amazing place we had lunch over the weekend in Portland … it was so good, it deserves its own post.)
Literally, feeding our families and the time around our table are gifts we have today, not necessarily gone tomorrow (we get to keep the moments cherished in our hearts), but just different tomorrow.
My tomorrow is a bittersweet feeling, as we're entering empty-nest-land, but also a feeling of excitement and newness.
With so many parties coming up this next week, with so many school and summer celebrations, I couldn't help but think about hospitality, and how many of my friends are gifted with this virtue.
Hospitality is an action.
An expression of the heart.
It's giving through the celebration of food, with the people in our lives.
It's a way of living, and not always a party, and for sure not always perfect.
But our hearts are ready to love and give out …..
Avocado-Pine Nut Salad.
Last weekend our kids were all home, a rare thing. We had several family meals together, one salmon, with this salad, and corn on the cob … a typical summer meal.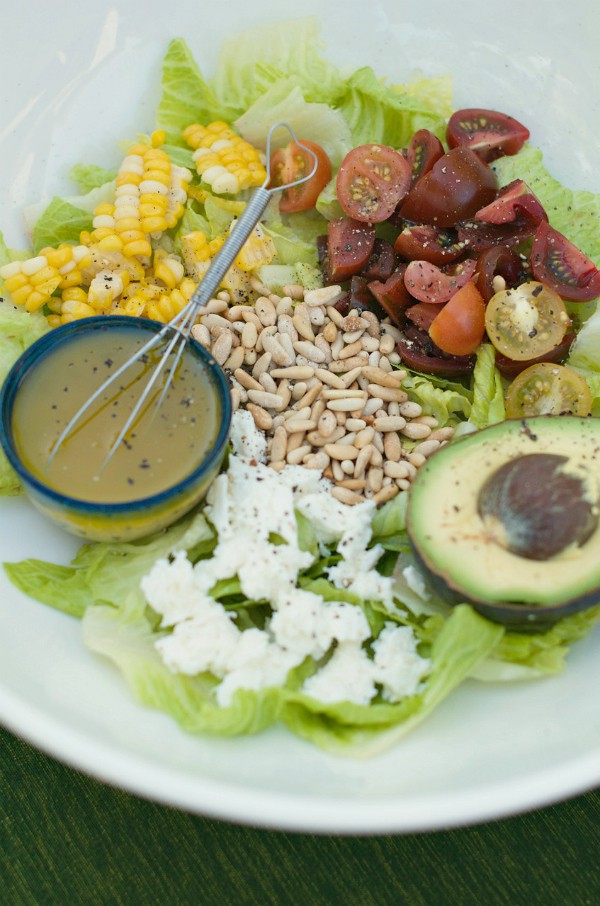 I used fresh Mozzarella cheese.
Toasted the pine nuts in the microwave for about 2 minutes (toss after 1 minute).
I find the best salad is always with fresh ground pepper!
I've learned a lot from my blogging friend, Lori, who is one of the most hospitable people I know. This recipe is adapted from her cookbook, The RecipeGirl Cookbook, and it's perfect for summer entertaining!
I'll be making this a LOT this summer, and it's super yummy with fresh corn!
Has hospitality changed for you at all over the years?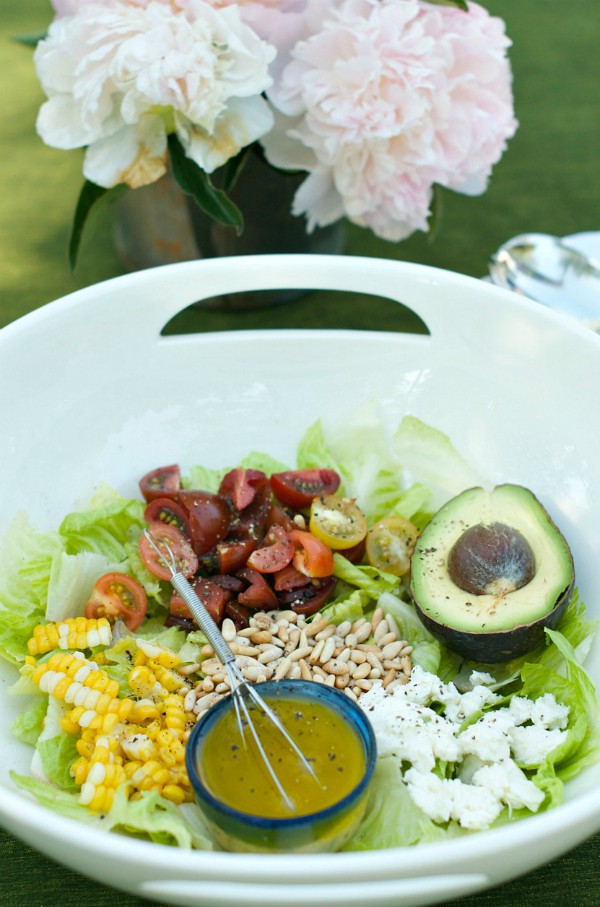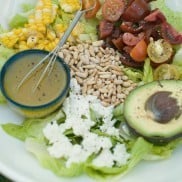 Print Recipe
Avocado-Pine Nut Salad
Adapted from RecipeGirl.com and her book. An easy way to roast raw pine nuts is to microwave them on a papertowel for 2 minutes, tossing with your hand after 1 minute (they burn easily if not watched).
Ingredients
2

medium vine-ripened

or cherry tomatoes, chopped

1

head green leaf lettuce

chopped

1

head red leaf lettuce

chopped

1

large avocado

chopped

1/3

cup

pine nuts

toasted

1

cup

fresh corn

1/4

cup

fresh mozzarella cheese

shredded

4

Tablespoons

white wine vinegar

3

Tablespoons

olive oil

1 1/2

Tablespoons

Dijon mustard

Salt and pepper

to taste
Instructions
1. Place dressing ingredients in shaker jar. Shake well and refrigerate until chilled.

2. Prepare salad ingredients and toss with chilled dressing.

3. Serve immediately.

 
Are you following me on Instagram, Twitter, Facebook and Pinterest? If you'd like to subscribe to Reluctant Entertainer, to have each post delivered straight to your e-mail box, then please add your email, here. It's really easy! Thanks for being here today!
More corn salad recipes …
Bacon and Avocado Corn Salad {RecipeGirl}
Blueberry- Corn Salad with Prosciutto {RecipeGirl}
Blackeye Peas Fresh Corn Salad {RE}
One of my favorites!! Summer Green Salad with Cilantro Lime Vinaigrette {RE}