Sunset Party Menu with Bacon and Dill Buttermilk Biscuits
This post shares everything you need to plan a Sunset Dinner Party, with a delicious Bacon and Dill Buttermilk Biscuits recipe!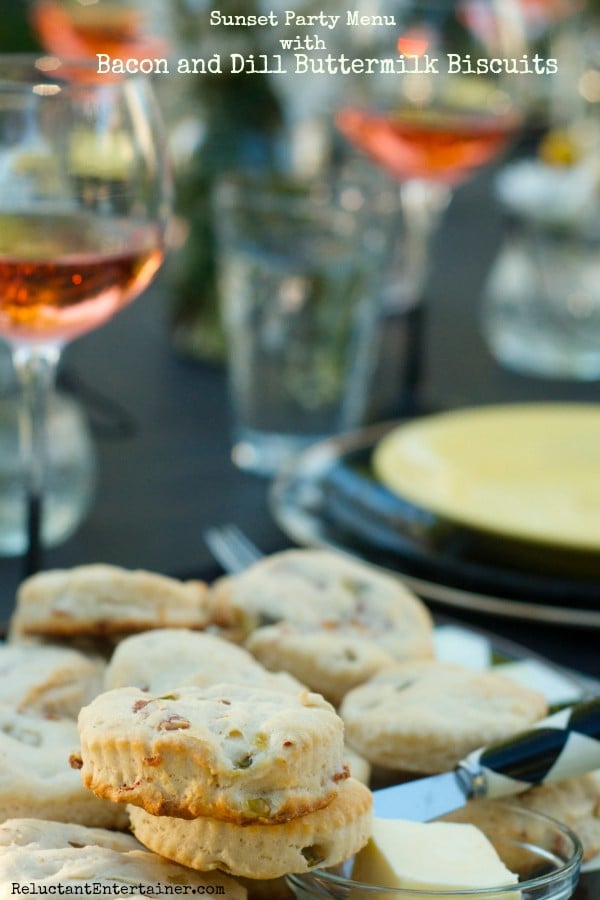 Hosting an outdoor dinner party is all about, well, enjoying the outdoors, and a delicious menu! Oh, and the people, who are the key ingredient. You can't have a successful dinner party without special people around your table!
Recently we hosted a different kind of party, a small intimate summer dinner party, where "pickles" were the theme. Yes, pickles. :)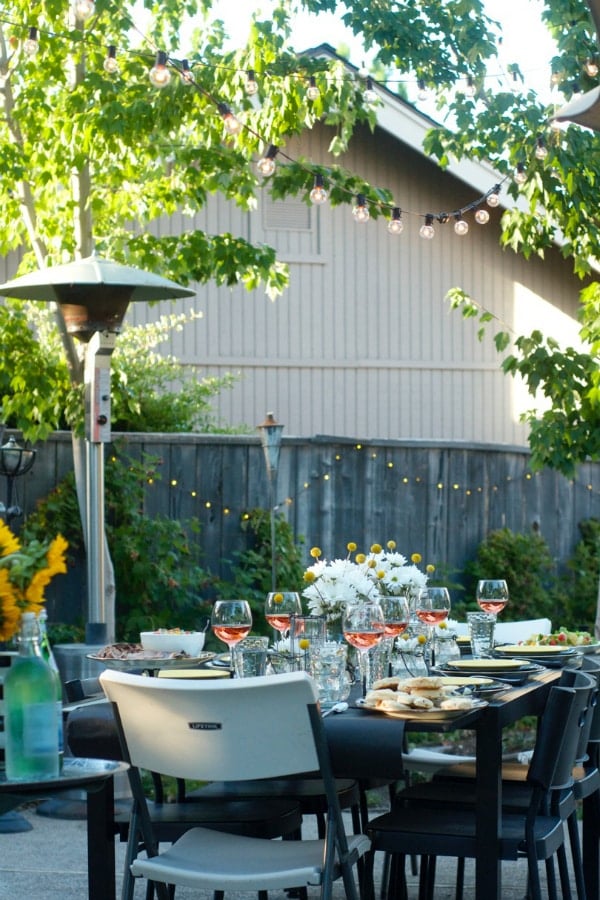 This summer I partnered with Farmer's Garden™ by Vlasic®, creating recipes using their five delicious varieties ofFarmer's Garden™ by Vlasic® pickles: Zesty Garlic Chips, Bread & Butter Chips, Kosher Dill Spears, Kosher Dill Halves and Dill Chips. I first tasted their pickles to make sure that the flavors were authentic to their name.
Grandma's pickles.
Right away the look of the jar, the taste of the varieties, the memories that flooded my little world, all brought me back to my grandparents' farm on Vilas Road. The year, about 1969, and in Grandma's mud room, my sister and I would play imaginary games, including dressing up with aprons, hats, boots—whatever clothing we could find—and the scent of the memory? Fresh dill. Off to the side of the mud room was a root cellar lined with canned provisions in different sizes of canning jars.
We enjoyed Grandma's cukes, canned as different varieties, such as dill, and bread and butter pickles. My mom learned to can as well, but they never tasted quite like Grandma's.
Repurposing the jars.
The Farmer's Garden cucumbers are hand-packed in a traditional mason jar, and pickled using home-style canning techniques to lock in the bold, fresh taste – just like my Grandma's method.
Another cool fact, the Vlasic jars are so unique to original canning jars, I was able to reuse them in my table setting for the fresh flowers! This was a very fun, creative way for me to make my table more interesting! Yellow and black coordinates so perfectly with daisies, and who doesn't love a billy bob?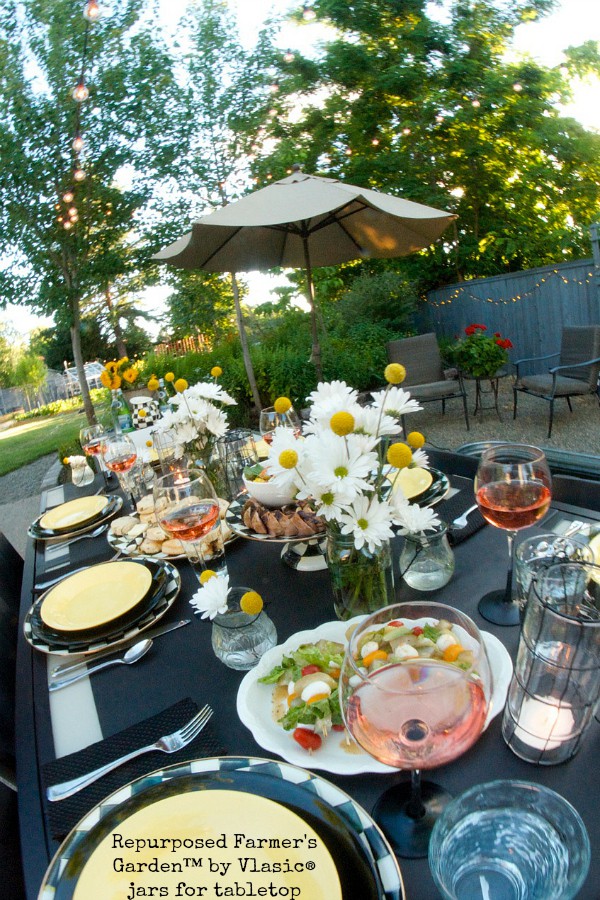 Finest ingredients.
Farmer's Garden pickles are also artisanal-quality, premium pickles, made with honest ingredients and no artificial flavors. They are made with the finest, specially selected ingredients – deliciously ripe cucumbers, whole garlic cloves, slices of red bell pepper, rounds of carrots and fresh herbs and spices – harvested at the peak of freshness.
Making the biscuits.
So yummy, I added them to buttermilk biscuits!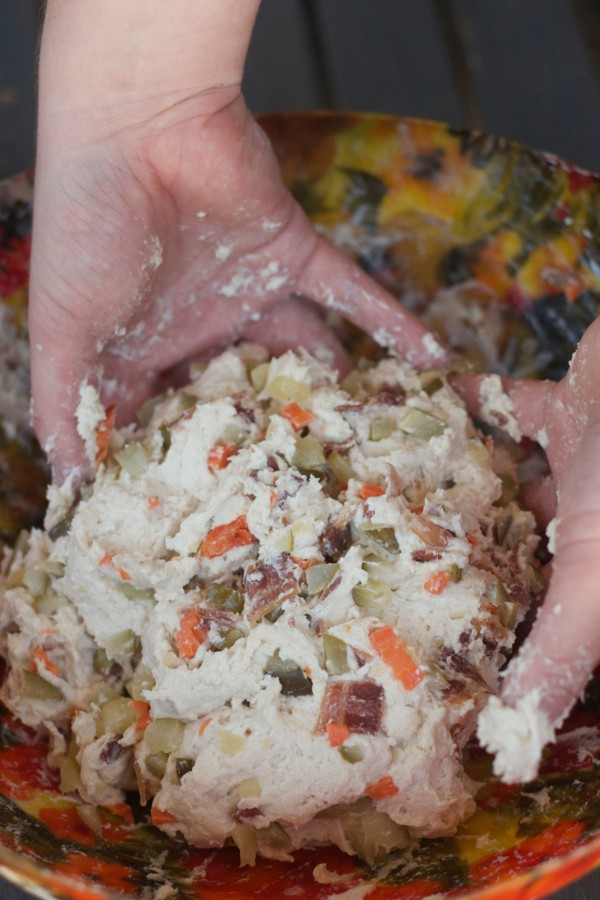 Summery pleasant.
After serving drinks and Braised Pork Belly Canapes appetizers, my husband and I had made a pork tenderloin with a balsamic glaze, served with a side gorgonzola, Farmer's Garden pickle, with fresh chopped tomatoes and corn bruschetta. It was so summery pleasant!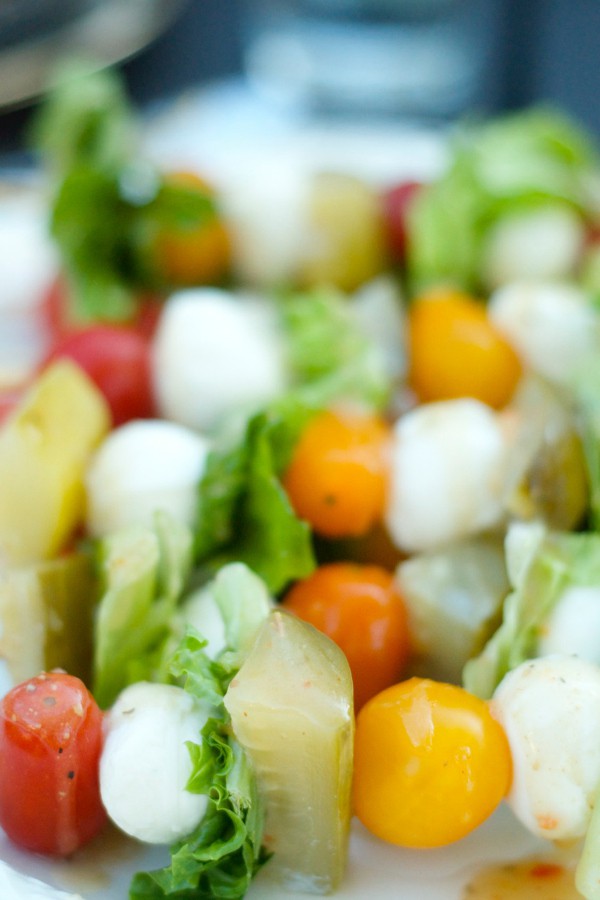 Instead of a traditional salad with bread, we served pickle caprese salad kebabs, with Bacon and Dill Buttermilk Biscuits. Dessert was a lovely Peach Blueberry Crisp served with vanilla ice cream.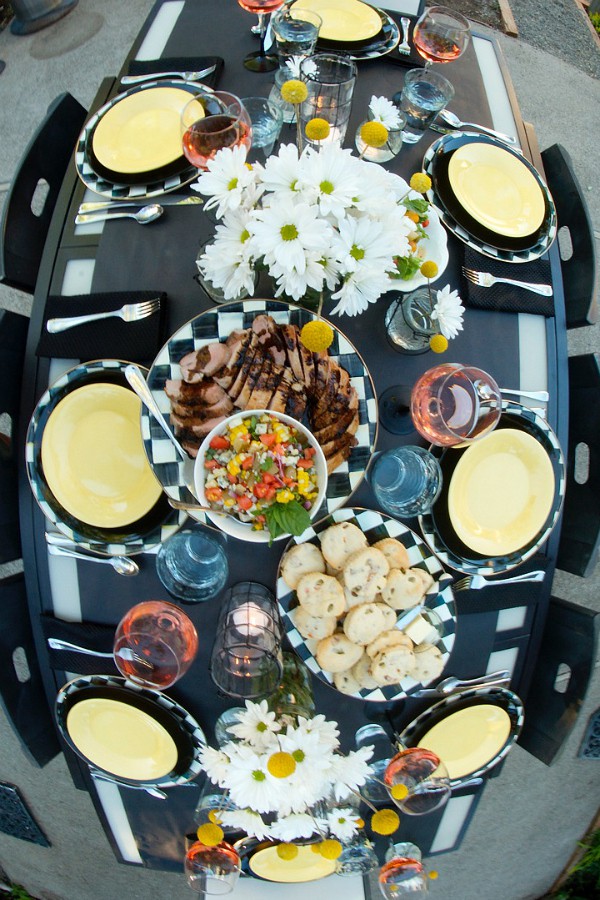 To sum it up, we had happy guests, and I was happy to share the menu with them, using the Farmer's Garden pickles!
They loved the combinations and couldn't wait to try the recipes for themselves.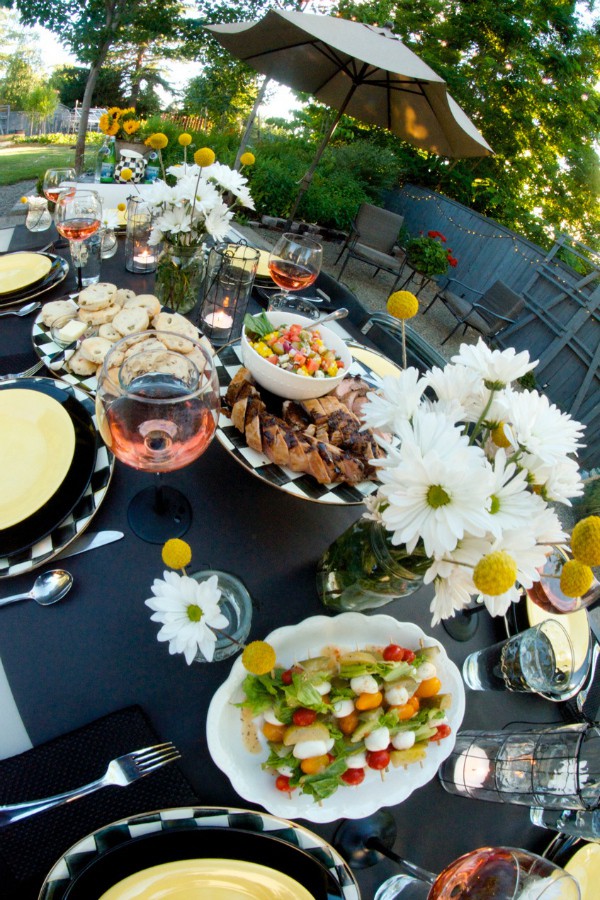 Sunset Party Menu.
Braised Pork Belly Canapes
Pickle Caprese Salad Kebabs
Bacon and Dill Buttermilk Biscuits (recipe below)
Pork Tenderloin with Fresh Blue Cheese Bruschetta
Peach Blueberry Crisp
Do you have any pickle memories or favorite recipes to share?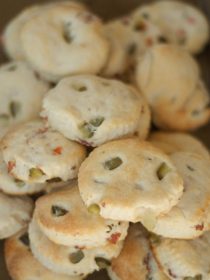 Get the Recipe: Bacon and Dill Buttermilk Biscuits
TIPS TO FREEZE: Place the unbaked biscuits on pans in the freezer for about 30 minutes, or until frozen. Transfer the frozen biscuits to a plastic bag, and freeze up to 3 months. Bake frozen biscuits on lightly greased cookie sheets 17-19 minutes, until lightly browned.
Ingredients
1 cup shortening
4 cups self-rising flour
1 3/4 cups buttermilk
8 slices fully cooked bacon, cut in small pieces
1 jar Farmer's Garden® by Vlasic® Kosher Dill Spears, about 1 cup chopped
Instructions
Preheat oven to 425 degrees.

Carefully slice out the seed portion of the inside of the pickle. Chop the pickles in tiny pieces. Set aside.

Warm the precooked bacon for a few minutes, either on the stove or in the microwave. Cut into small pieces. Set aside.

Using a pastry blender, cut the shortening into the flour until crumbly.

Add the buttermilk, stirring with a wooden spoon until dry ingredients are moistened. Fold in the pickles and the bacon until mixed in.

Turn dough out onto a lightly floured surface, and knead 4 to 5 times. Pat or roll the dough to 1/2 inch thickness, cut with a 1 1/2 inch round cutter, and place on 2 lightly greased cookie sheets.

Bake for 15-17 minutes, or until lightly browned.
This post is sponsored by Farmer's Garden™ by Vlasic®, but as always, all opinions are my own.
Visit Farmer's Garden on their blog, Facebook, and you can follow them on Twitter!
Hello and welcome to my home and table!
I'm Sandy—lover of food, family, cooking, THE BIG BOARD, travel, and bringing people together. Through great recipes and connection around the table, we become better, stronger, and more courageous people. Feasting on Life is real, and every time we do it, we grow a little more. Read more...