Baked Salmon with Coconut Broth is Perfect for a Dinner Party
This Baked Salmon with Coconut Broth is so fantastic, it's easy, fresh, flavorful, and has a great presentation to serve to guests.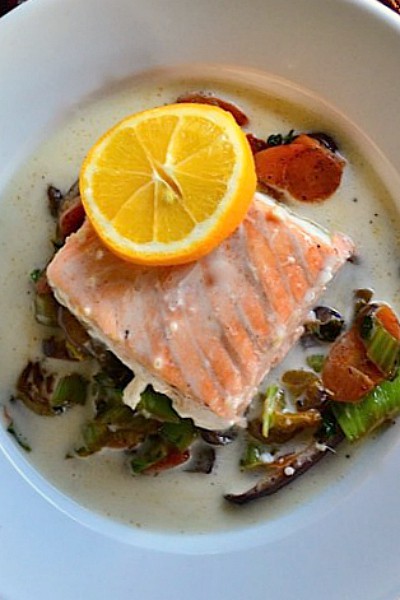 Wouldn't it be nice if we could find a food truck that cooked salmon like our little Asian restaurant up the street? You walk up, put in your order, and in 5 minutes have a meal like this?
I made this for dinner a few nights ago and WOWSA, it was delicious!
Look at the freshness of these ingredients (not all ingredients, but still so pretty!) I'm really wanting to get baby bok choy planted in our garden!
One thing I've noticed about really healthy eating is that it takes lots of prep work and time to make.
So you if you don't have the right ingredients, or time, it's easy to reach for the wrong foods.
We've been on a roll in our kitchen as of late, in trying the whole living.com recipes. Many of you follow me on Instagram and have been seeing these little snippets of deliciousness. We'll be able to pull the vegetables from our garden here in a few months for many of these recipes, and I can't be more pleased. My husband works hard in the garden and he loves it when he sees his hours of work go into delicious recipes.
This one is so fantastic, I'm saving it to make for dinner guests this summer. I love everything about it. The look. The flavor. The presentation. All you have to do is get your prep work done with all the chopping, make the coconut sauce, and then pop the salmon in the oven while you sauté the veggies!
All dinner party qualities that I look for in a main dish to serve to my guests!
Now to plan the party … :)
Do you have any dinner parties on your calendar and, if so, what do you plan to cook as the main dish?
Happy Weekend, Friends!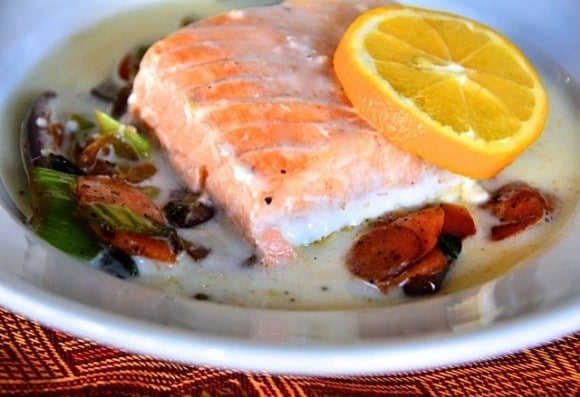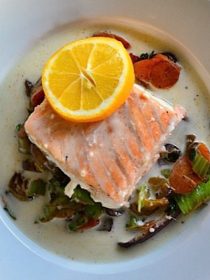 Get the Recipe: Baked Salmon with Coconut Broth
Adapted from wholeliving.com website. Double the recipe for company!
Ingredients
1 smashed clove garlic
1/2 thinly sliced small red chile
1 chopped stalk lemongrass, outer layers removed
1/2 cup organic stock
1 cup light coconut milk
Two 5-oz skinless filets wild salmon
2 Tbsp extra-virgin olive oil, divided
Coarse salt
1/2 sliced red onion
1 cup thinly sliced carrots
1 sliced head baby bok choy
1 cup cooked brown rice, divided
Sliced scallion, for garnish
Lemon, for garnish (or lime)
Instructions
In a small pot, bring garlic, chile, lemongrass, broth, and coconut milk to a boil. Reduce heat and simmer until fragrant, about 20 minutes. Strain; discard solids. Keep warm.

Heat oven to 375 degrees. Rub salmon with 1 Tbsp olive oil and season with salt. Bake until just cooked through, about 10 minutes.

Meanwhile, heat 1 Tbsp oil in a skillet over medium-high heat. Add onion, carrots, and bok choy and cook, stirring, until tender, about 5 minutes.

For each serving, top 1/2 cup cooked brown rice with salmon fillet and vegetables. Ladle with broth, garnish with scallion, and squeeze with lime.

TIP: Refrigerate fish and broth in an airtight container up to one day.
Are you following me on Instagram, Twitter, Facebook and Pinterest? If you'd like to subscribe to Reluctant Entertainer, to have each post delivered straight to your e-mail box, then please add your email, here. It's really easy! Thanks for being here today!
Hello and welcome to my home and table!
I'm Sandy—lover of food, family, cooking, THE BIG BOARD, travel, and bringing people together. Through great recipes and connection around the table, we become better, stronger, and more courageous people. Feasting on Life is real, and every time we do it, we grow a little more. Read more...