Staying on Course with the Menu and Easy Tossed Green Salad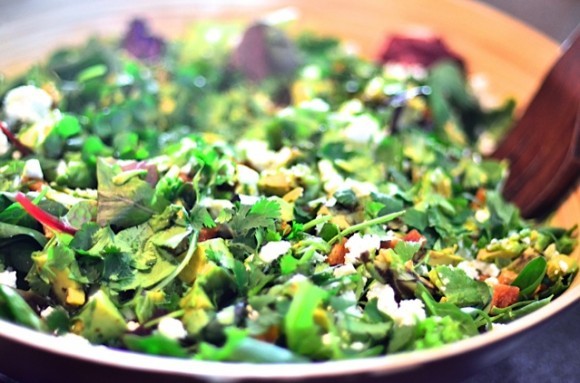 Have you ever attempted to have friends over for dinner for what you thought would be a nice, mellow time – full of good food, laughs, and an overall special time of being together?
You're probably thinking that I'm writing about "bad" guests, but I'm not.
I'm writing about me and you, as hostesses, and how we start off with the best intentions when we invite people to our houses, but then we change the rules on ourselves.
We start off with a simple menu, and then we put pressure on ourselves, and the menu grows and gets complicated.
Sound familiar?
I say, learn to stick with your menu. Stay on course. Write it down, if that helps, and try to remember to delegate.
The last thing you want to do is burn yourself out as the hostess, and ruin all hospitable moments. It's really sad when that happens, because hospitality should be a continuous ebb and flow in life. You give, and others give back to you, you give and …
You invite, you get invited back, you invite and … your circle of friends continues to grow!
At least that is how it works for our family. We are surrounded by beautiful moments with food, family and friends.
And I never want it to stop.
4 Tips for Staying on Course with the Entertaining Menu

1. Invite your guests. Figure in your mind how much food you will need when planning the menu.
2. Write the menu down. Make your grocery list on the next page.
3. Delegate part of the meal so you don't have the burden of making the whole meal.
4. Determine when you'll prepare the food, like prep work the day before or the day of.
When you find yourself delegating part of the meal, do you purposely give certain people the same food items to bring time after time?

I do, especially when they are really good at making that one dish.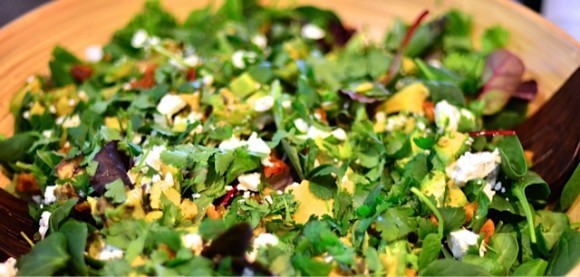 My friend Syndi makes the best super salads! She brings a gigantic bowl of fresh greens and yummy surprises every time – enough to feed extra stragglers, too. (Those would be our kids' friends.)
This particular salad today includes some fantastic ingredients … one being cups and cups of fresh cilantro. Total yumminess.
Super Easy Tossed Green Salad

Spinach/mixed greens
Chopped up dried baby pineapple from Trader Joe's
Chopped spicy pecans from Trader Joe's
Sesame honey cashews from Trader Joe's
Diced Avocado
Chopped Cilantro – lots!
Crumbled goat cheese
Paul Newman's low fat Asian dressing
There wasn't a lick of salad left in the bow. Let me just say, we all loved it.
I wanted to share an Instagram photo I took this week of our garden and lettuce beds. Only a few short weeks until we'll have a bounty of lettuce and salads will be our main dish 3x a day! :)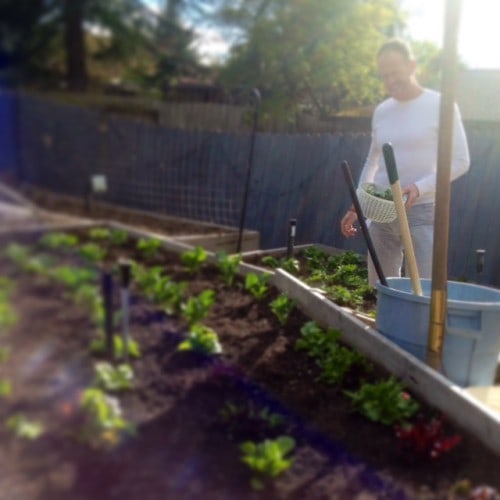 Do you have a hard time sticking with your menu or delegating part of the menu to your guests? And do you look forward to salad season ahead?
Hello and welcome to my home and table!
I'm Sandy—lover of food, family, cooking, THE BIG BOARD, travel, and bringing people together. Through great recipes and connection around the table, we become better, stronger, and more courageous people. Feasting on Life is real, and every time we do it, we grow a little more. Read more...