Baked Spicy Delicata Squash Salad with Feta
Delicious Baked Spicy Delicata Squash Salad with Feta, so fresh and tasty with pomegranate seeds (optional) on top. Serve as an appetizer or salad!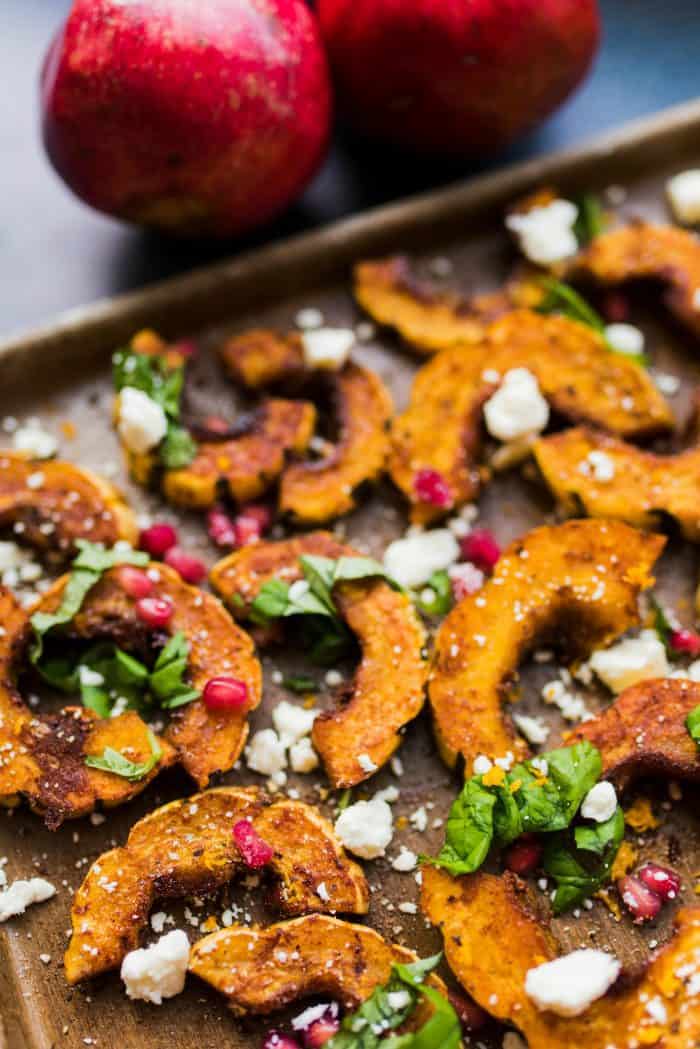 We love this recipe today, Baked Spicy Delicata Squash Salad with Feta (and delish as an appetizer, too!)
Cozy days of winter
Do you ever have days where you feel you've gotten nothing done? Hand raised, this happens to me a lot. My best days are when I get up early, get dressed, exercise and knock off a few things on my to-do list. But honestly, in the winter, I want to stay in my robe and slippers, probably way too much.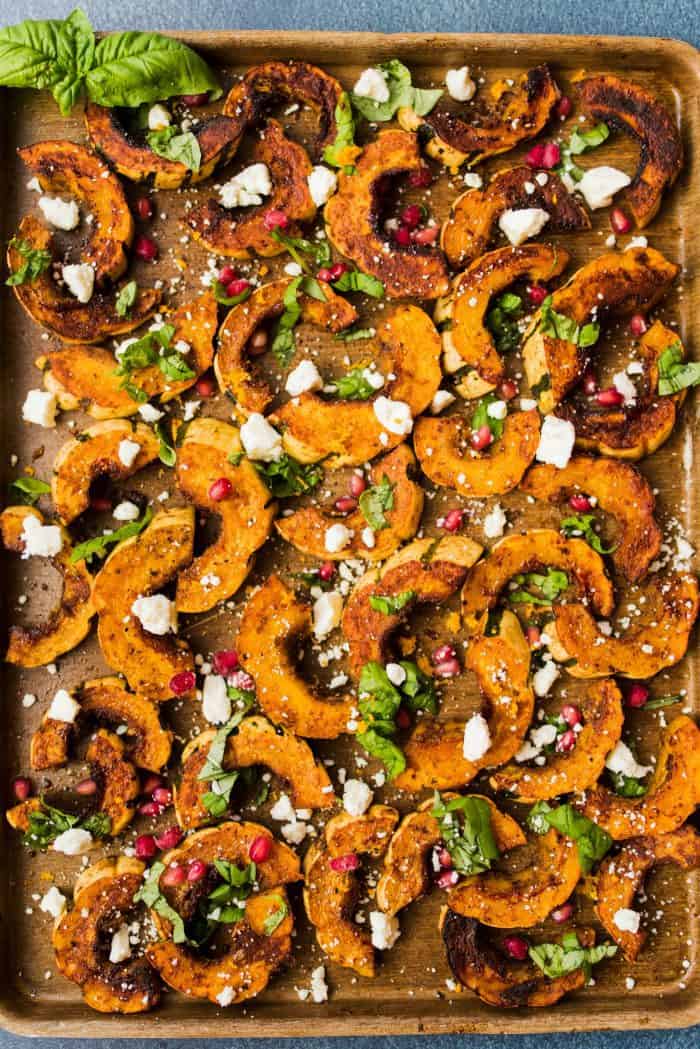 At the end of the day, if I know I'll be feeding people for dinner, that makes me happy and motivated.
There's something about seeing your table full of people you love, with a big pot of some kind of comfort pasta or soup.
Or pulling a scrumptious appetizer from the oven to serve as a casual "come for wine and dinner" night.
Baked Spicy Delicata Squash Salad with Feta
Or making your favorite main dish, and serving a healthy salad, like this Baked Spicy Delicata Squash Salad with Feta, asking your guests to bring bread and wine.
It's better to delegate
There's no harm in asking people to share the cost of a meal. In fact, it's pretty much the way most people host now.
It's better to delegate some of the meal than think you can never host because it's just too expensive.
We need to come together more than ever, and the table can be a place of camaraderie and encouragement.
Today's lovely winter salad is one you may want to make this month.
I have several squash recipes on my blog, like Acorn Squash Sprouted Rice Bowls and Squash Appetizer Rounds Recipe.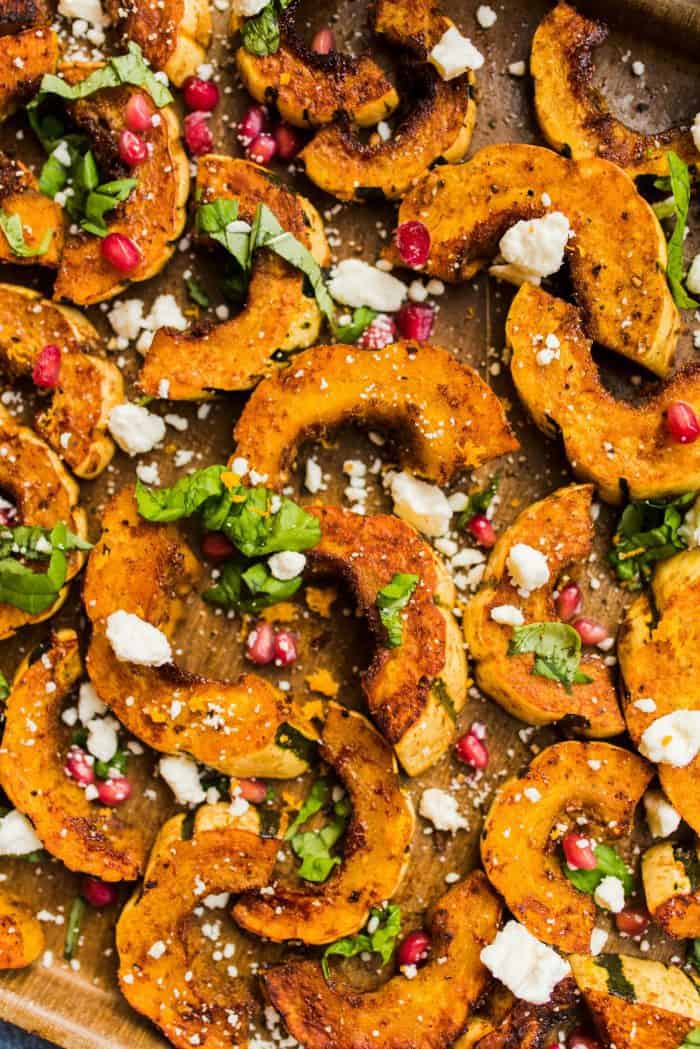 But what exactly is delicata squash?
Delicata squash taste a lot like butternut squash, but they're much smaller and easier to prepare. Delicata squash weigh about a pound each, and their skins are edible, which means no peeling required!
Scoop out the seeds with a fork, slice, and bake.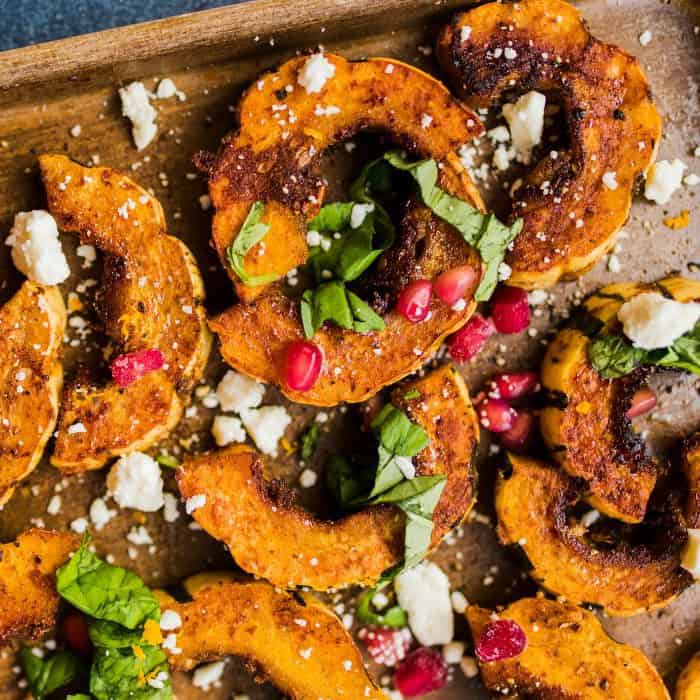 What's the best way to cook delicata squash?
After the squash is cut, mix in the spices and olive oil. Lay on a baking sheet and bake!
The squash will start to caramelize, which makes that flavor so yummy!
Assemble with feta and pomegranate seeds and enjoy!
Super festive, and you can also serve with cheese and nuts!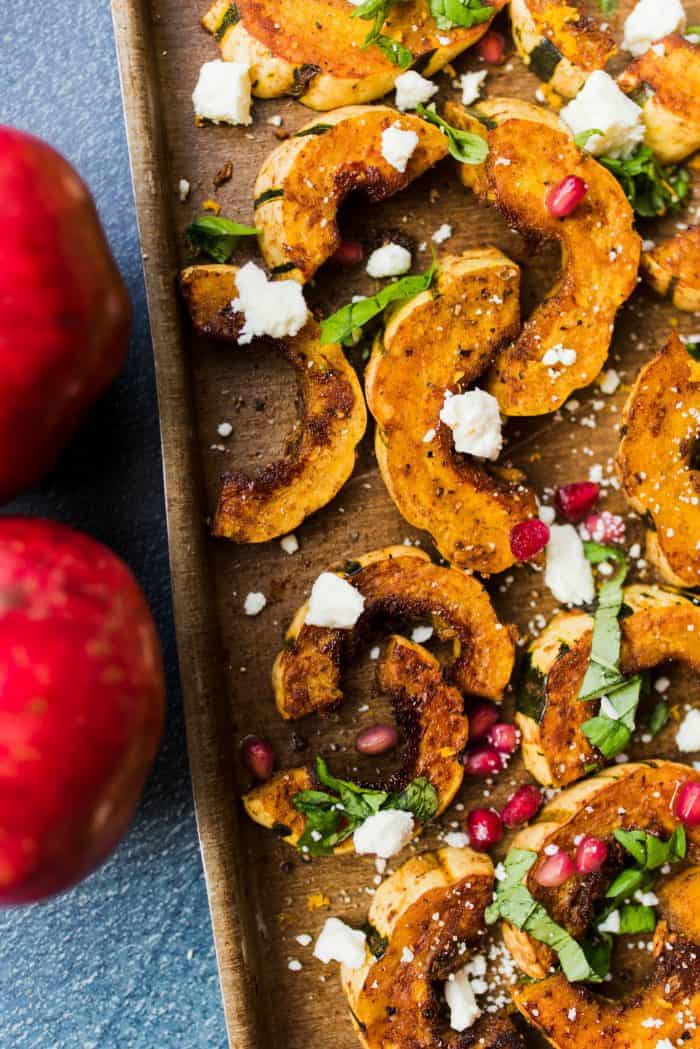 Is the skin of delicata squash edible?
Of course you know butternut and kabocha squash you have to peel before eating. Or, you can bake or grill with the skin on, but it's not edible. But certain varieties, like acorn and delicata, have softer, more tender skin, which means you can eat them. No need to peel.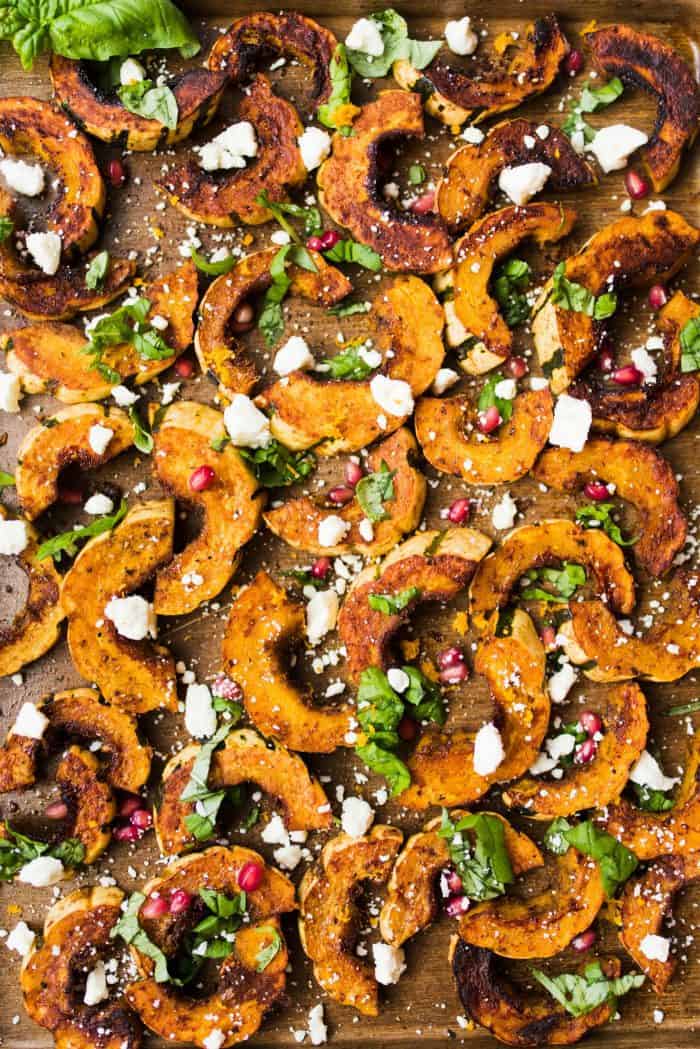 Enjoy, my friends, as a salad or a healthy appetizer!
More delicata squash recipes: Delicata Squash and Sausage Gratin [Kalyn's Kitchen], Angela's Stuffed Delicata Squash [Aggie's Kitchen], and Bacon Delicata Salad [Beyond Frosting].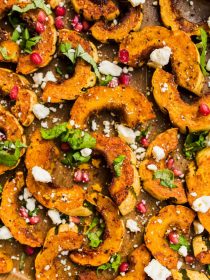 Get the Recipe: Baked Spicy Delicata Squash Salad with Feta
Ingredients
2 delicata squash
1/3 cup olive oil
Salt and pepper to taste
1 tsp cayenne pepper, plus a few pinches
1 tsp ground coriander
1 tsp cinnamon
1 orange, zested
1 tsp garlic powder
1 handful basil leaves, finely chopped
1/4 cup pomegranate seeds, optional
1/3 cup feta crumbles
Instructions
Preheat the oven to 450° F.

Prep the delicata squash with a sharp knife, removing each end, then slicing each squash in half the long way. Use a spoon to scoop out and discard all the seeds from the center. Slice each squash into half-moons—about 3/4-inch thick.

In a large bowl, toss squash with 1/3 cup of olive oil, cinnamon, coriander, and garlic powder. Lay squash in a single layer on a baking sheet—this may require two pans to ensure squash has enough room to bake properly—then crack fresh salt and pepper on top and sprinkle a few pinches. of paprika. Bake for about 15 minutes, then flip pans around in the oven (to ensure even cooking)and cook for another 5-7 minutes—the squash will begin to caramelize.

Remove squash from oven and allow to cool for 5 minutes.

Sprinkle on feta, basil, and pomegranate seeds. Crack with fresh pepper and serve!
Hello and welcome to my home and table!
I'm Sandy—lover of food, family, cooking, THE BIG BOARD, travel, and bringing people together. Through great recipes and connection around the table, we become better, stronger, and more courageous people. Feasting on Life is real, and every time we do it, we grow a little more. Read more...