Best Sprinter Van Conversion: The Kitchenette
Second part of our Best Sprinter Van Conversion: The Kitchenette. Follow along how we converted our Mercedes Sprinter Van from shell to simple RV.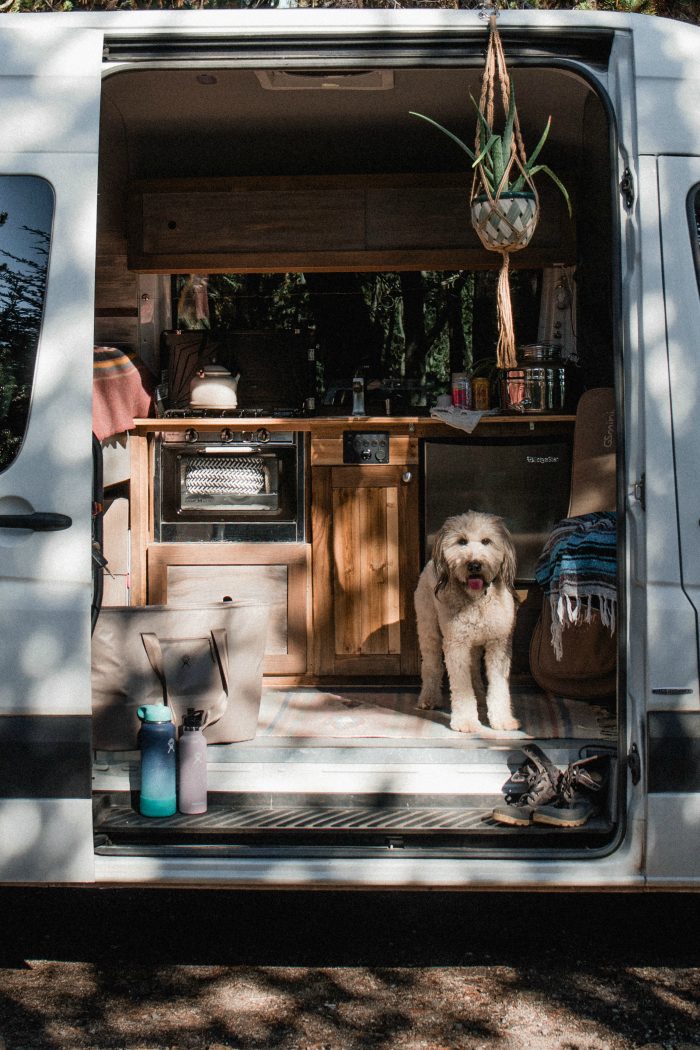 Friends, welcome to our last post on our Sprinter Van Conversion: The Kitchenette. We started with a shell Mercedes van, and built out the entire conversion to a multi-functioning minimalist camper van!
Sprinter Van Conversion: The Kitchenette
We've been enjoying the last days of summer in our Sprinter Van, which we converted this past year. You may have already read my [PART 1] Best Sprinter Van Conversion: The Build post. This summer we took the van to the coast, and then camping at nearby lakes here in Bend, Oregon. [All photos by Abbs Coughlin]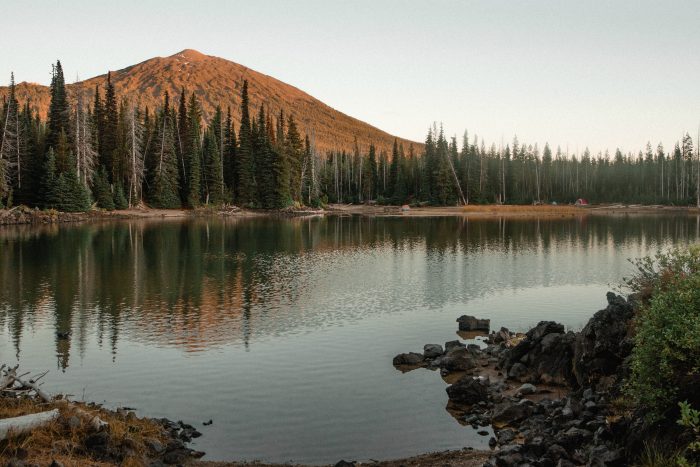 Sparks Lake, Oregon
Last month Abby took the van to Sparks Lake, Bend, Oregon.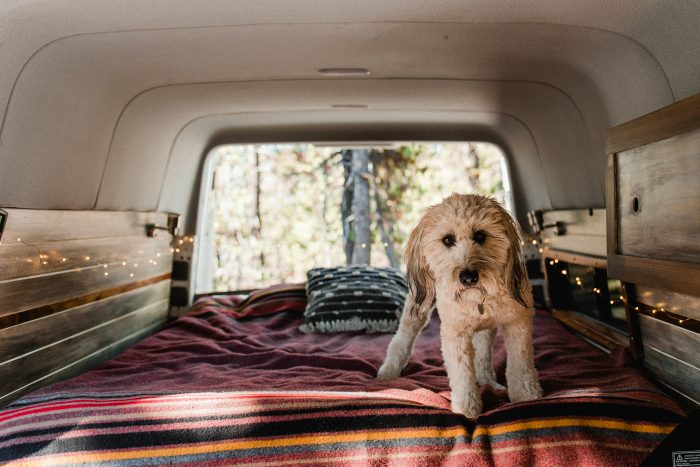 Our favorite Whoodle always comes with us. :)
Next year we really want to drive to Yellowstone National Park. Can you believe I've never been there?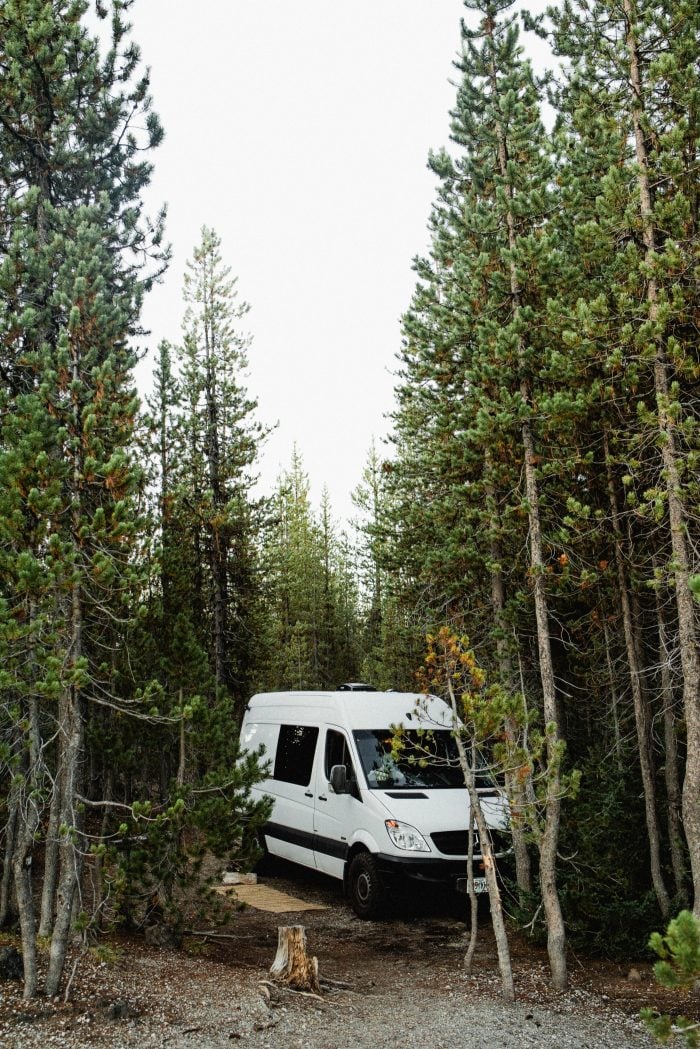 Mercedes Sprinter Van Conversion
We converted our shell-of-a-Sprinter van two years ago, when we sold our '87 VW Westfalia, full camper van. Read all about it, here.
We wanted a more comfortable bed, a van we could stand up in, and a better driving experience. The Mercedes van offered this. We also put really great tires on. The Mercedes Sprinter is something to experience. It really is like driving a car.
We're also able to expand our circle of travel, since we don't have to worry about breaking down as we did in the past!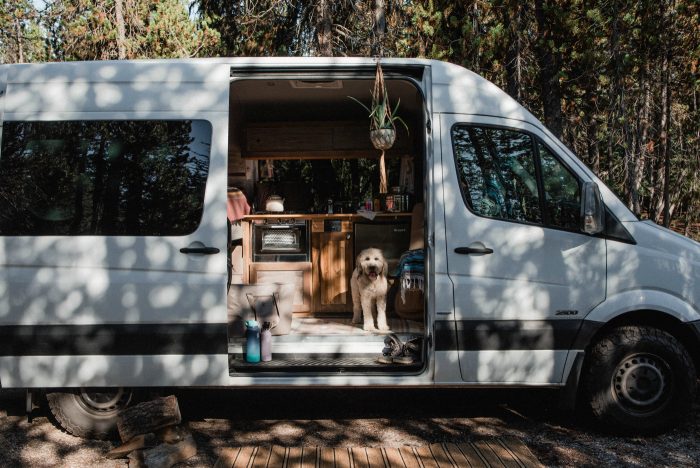 After the van layout was done, next came the big momma: The Kitchenette.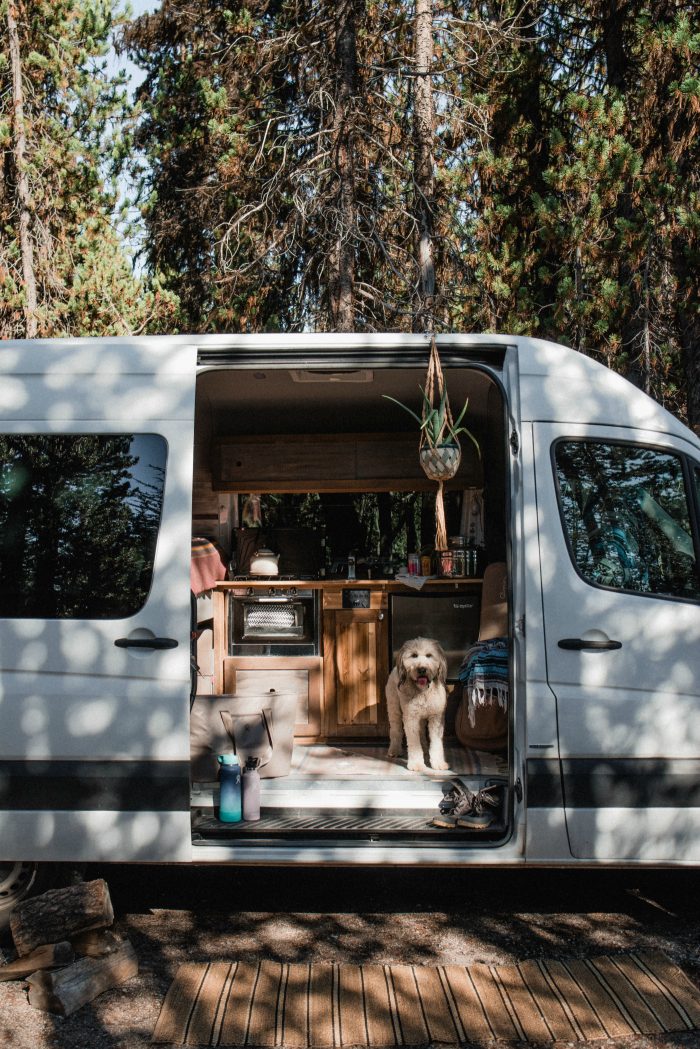 We drew up a number of configurations before settling on our final one, with which we are very pleased (complete with tiny, walnut backsplash).
Paul also built a large storage shelf above the kitchenette, that includes mood lighting above, and cooking lighting below.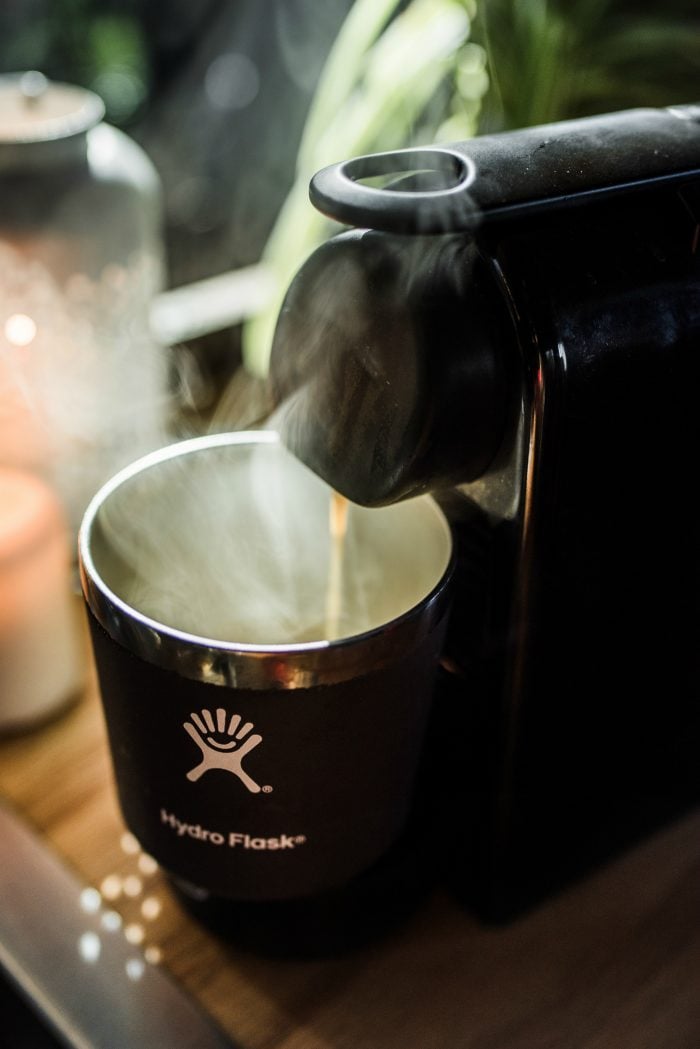 Inverter for espresso
We also installed a larger inverter, so we can enjoy homemade espresso in the mornings.
KRIËGER 1100 Watt 12V Power Inverter Dual 110V AC Outlets, Installation Kit Included, Automotive Back Up Power Supply For Blenders, Vacuums, Power Tools
Buy, HERE [afflink]
DeLonghi EN85B Nespresso Essenza Mini Espresso Machine, Black
Buy, HERE [afflink]
Storyville Espresso Pods [Click on capsules for above machine.]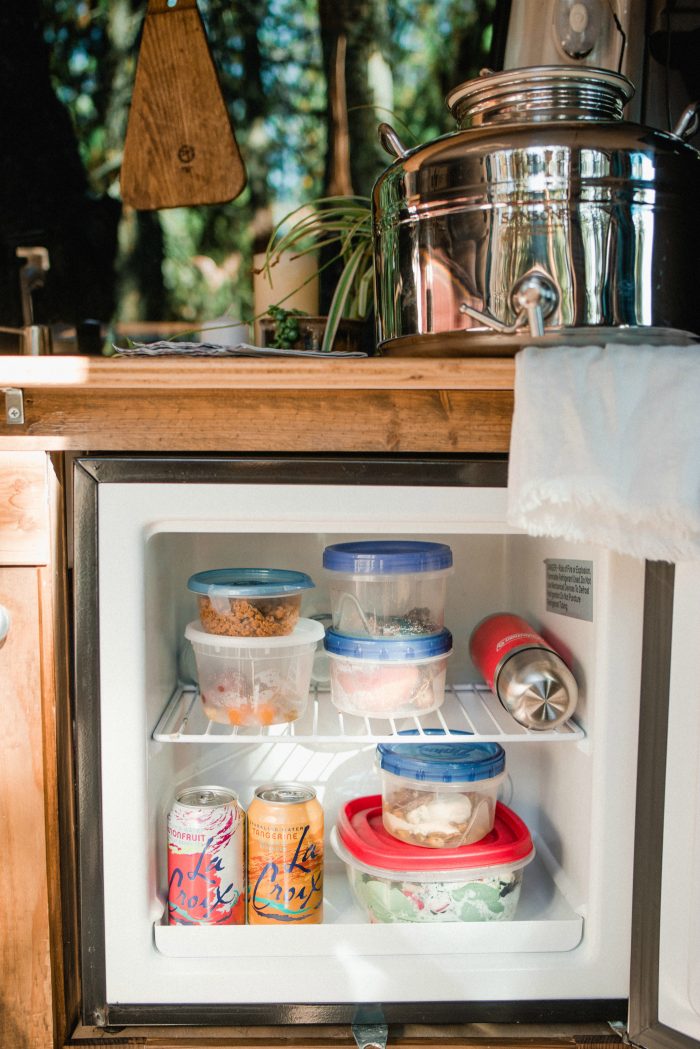 The kitchenette
EdgeStar 1.1 Cu. Ft. Convertible Refrigerator or Freezer w/Lock – Stainless Steel
Buy, HERE [afflink]
Houzer Hospitality Series Topmount Stainless Steel 2-Holes Bar/Prep Sink
Buy, HERE [afflnk]
Camp Chef Outdoor Camp Oven/Stove
We love our oven (holds 2 9×13 pans) and stove! Buy, HERE [afflink]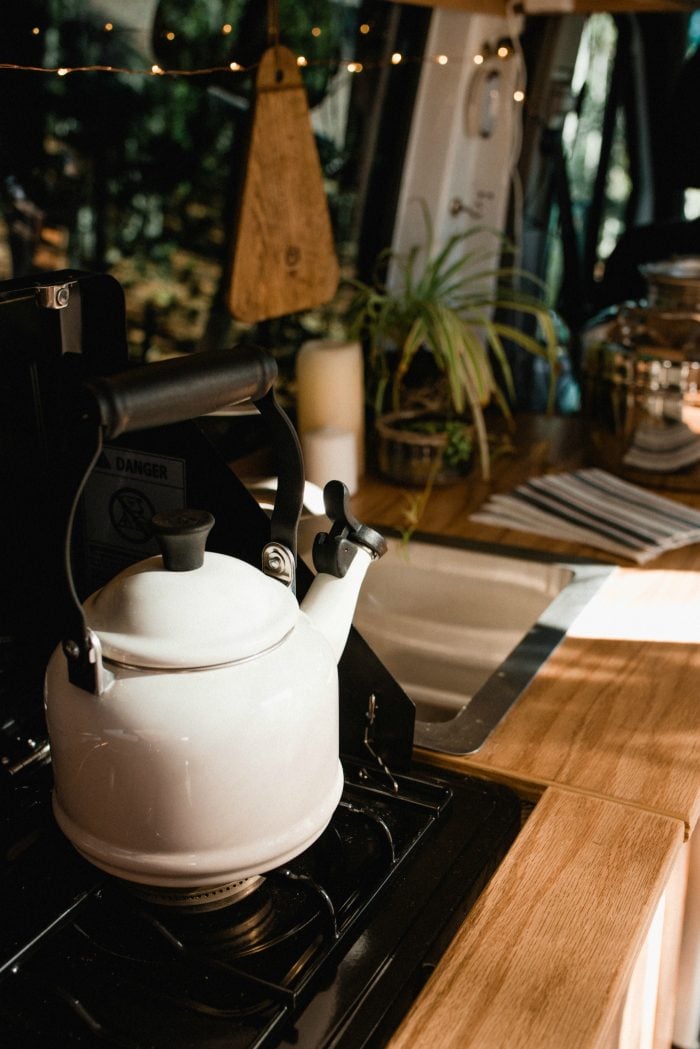 Le Creuset Enamel-on-Steel Whistling 1-4/5-Quart Tea kettle, White
Buy, HERE [afflnk]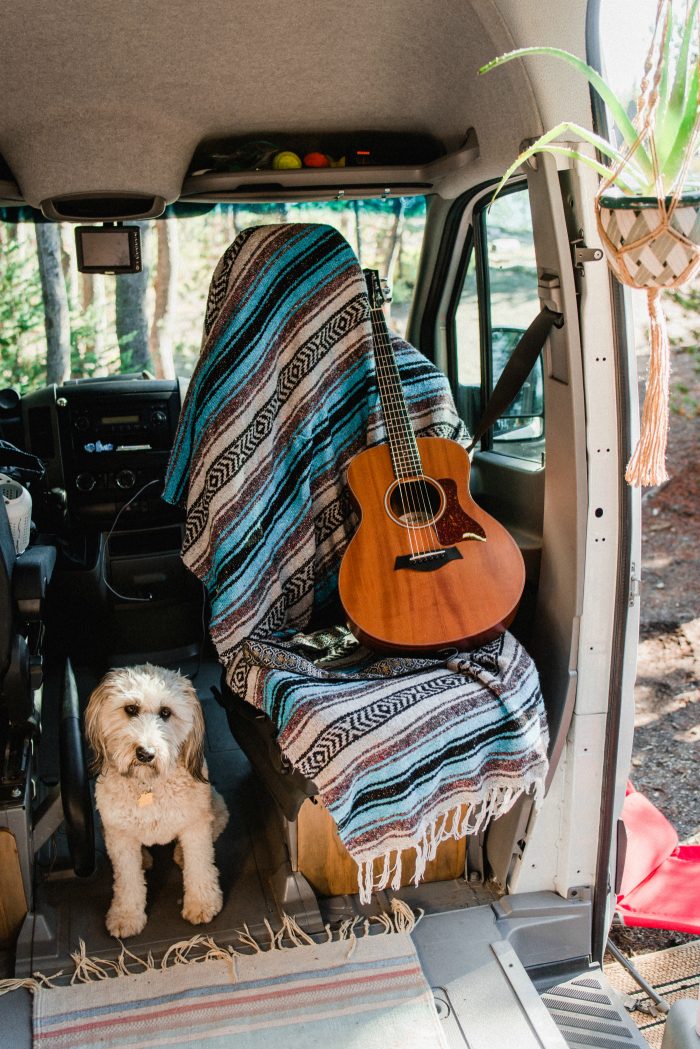 Chairs that spin
Sprinter Swivel Seat Adapters for Sprinter Vans – a MUST for turning the front seats around!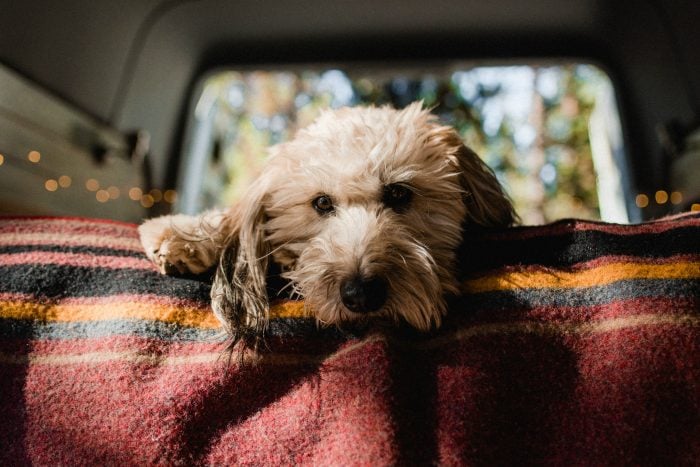 We always stay cozy with our Whoodle and Pendleton blanket! Sorry, guys! No affiliant link for the #AlderTheWhoodle :)
Pendleton Yakima Camp Thick Warm Wool Indoor Outdoor Striped Throw Blanket, Mineral Umber, Twin Size
Buy, HERE [afflnk]
Are you surprised with our mini charcuterie? Earlier this summer we made this Summer Camping Charcuterie Board when we camped in Florence, Oregon.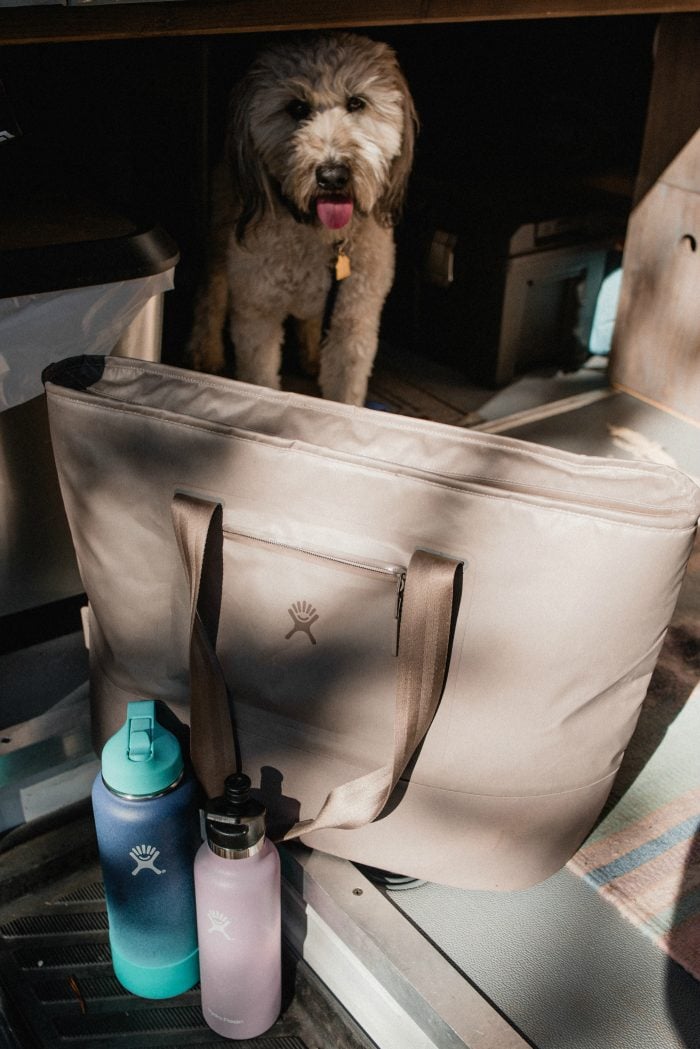 Hydroflask products
Besides the fridge, we love Hydroflasks Insulated Totes for additional food!
Hydro Flask Lightweight Collapsible Insulated Tote – 20 L, Mushroom
Buy, HERE [afflnk]
Hydro Flask Standard Mouth Water Bottle, Flex Cap – Multiple Sizes & Colors
Pick your favorite color, and buy, HERE [afflnk]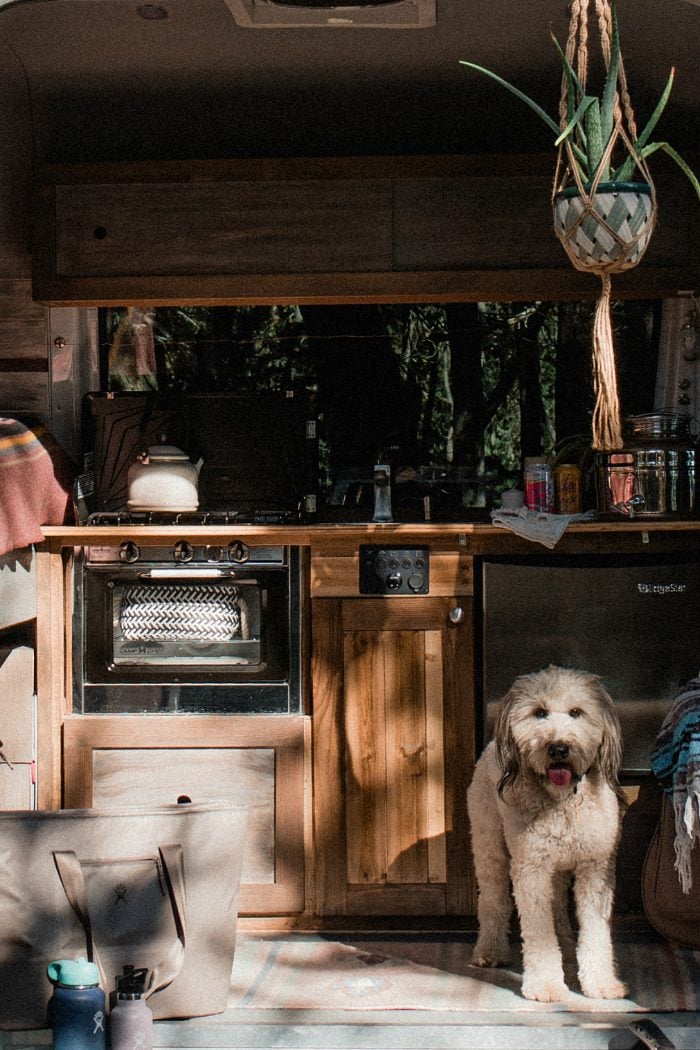 Name the Sprinter van
But now we have a very serious problem that we hope you can help us with. We've yet to come up with a name for our new Sprinter!
If you remember, the last 10 years we camped in Rosemary, our 1987 VW Westfalia. Her name was so fitting!
We've kicked around a few names—Paul likes Rhino and Stormtrooper. But we know there's a better name out there. My friend, Barb, suggested Mercedes.
Send your ideas my way! I'd love to hear what you think?
Oh, and don't forget the hammock that hooks on the back doors!
ENO Singlenest Hammock. Buy, HERE [afflink]
And always be safe with your campfires!
Don't forget your Hydroflasks for water, coffe, and more!
Hydro Flask 32 oz. Wide Water Bottle
Buy, HERE [afflnk]
Hydro Flask 12 oz Travel Coffee Mug
Buy, HERE [afflnk]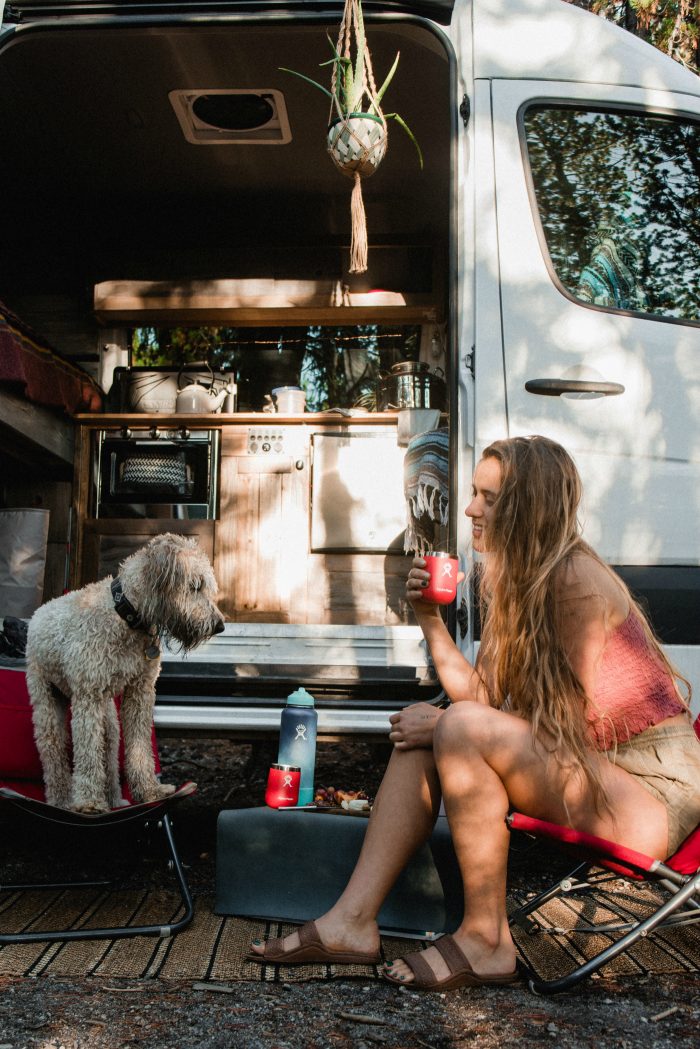 Links to tools and wood
All of our wood was from Home Depot, HERE.
Jig saw, HERE.
Bench drill press, HERE.
Bench sander, HERE.
Band saw, HERE.
Nail gun, HERE.
Ryobi propane generator, HERE.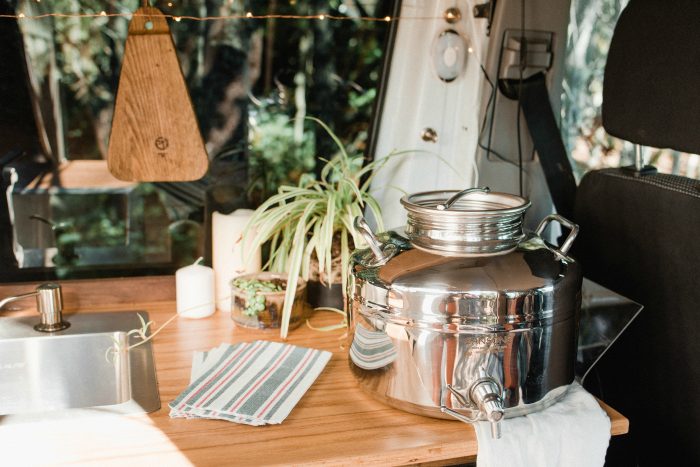 Other important links
Sansone NSF Stainless Steel Water Dispenser with Spigot, 2.64 gallon, 10 Liter, Silver
Buy, HERE [afflink]
Ontel Arctic Personal Air Cooler, White
Small A/C! Buy, HERE [afflink]
Brightown Personal Ceramic Portable-Mini Heater
Buy, HERE [afflink]
Zinus Memory Foam 6 Inch Green Tea Mattress, Short Queen. Buy, HERE [afflink]
(2) Cascade Mountain Tech Compact Low Profile Outdoor Folding Camp Chair with Carry Case
Buy, HERE [afflnk]
5′ X 8′ Floor Carpet, Bamboo Area Rug Floor Carpet Non-Slip Roll Runner Indoor Outdoor
Buy, HERE [afflnk]
Camco Premium Portable Travel Toilet With Three Directional Flush and Swivel Dumping Elbow | Designed for Camping, RV, Boating And Other Recreational Activities – (5.3 gallon)
Buy, HERE [afflnk]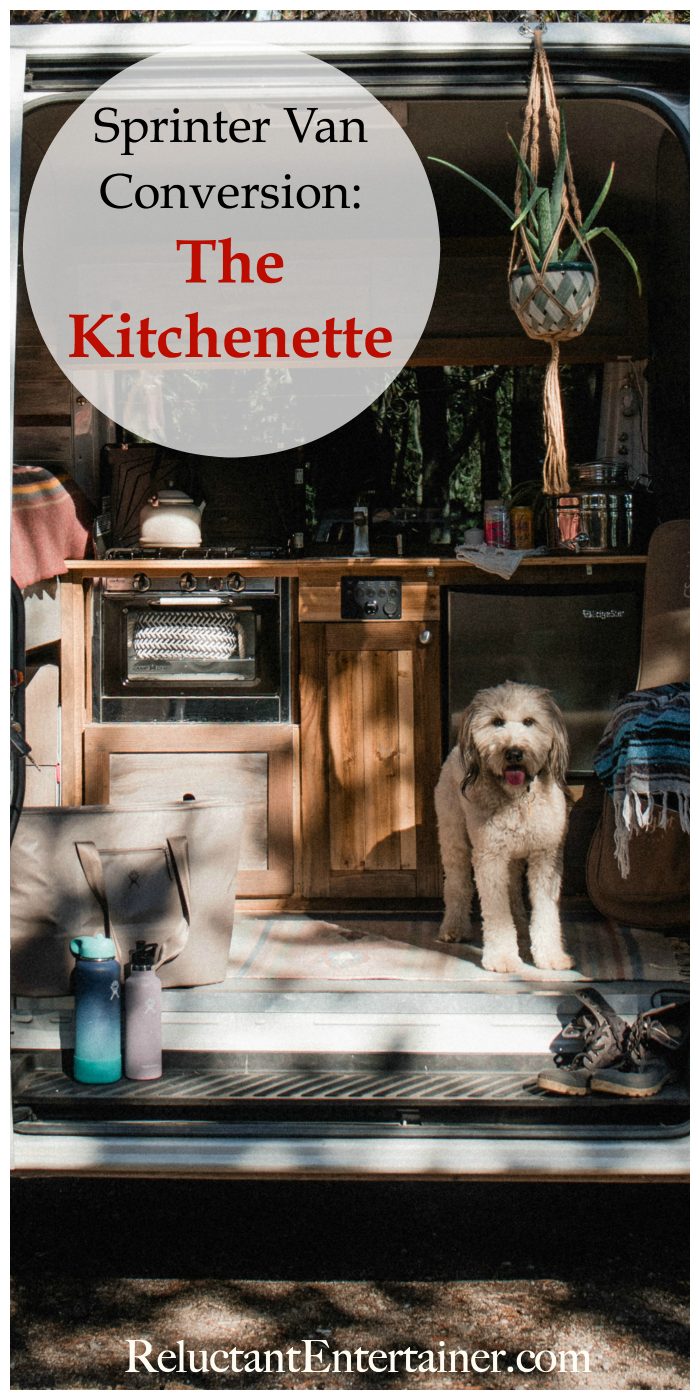 This post has affiliate links. Every purchase from these links supports RE at no extra cost to you. Thank you!
Hello and welcome to my home and table!
I'm Sandy—lover of food, family, cooking, THE BIG BOARD, travel, and bringing people together. Through great recipes and connection around the table, we become better, stronger, and more courageous people. Feasting on Life is real, and every time we do it, we grow a little more. Read more...