Best Turkey Burger Recipe
This Best Turkey Burger Recipe (and amazing sauce) is perfect for this weekend and summer entertaining, because every family loves a burger!
(This is a repost from 2 years ago when our eldest graduated college; now this year our middle son is graduating and heading to China in a few weeks!)
Building a strong family doesn't just happen on it's own. You have to work at it. In fact, it takes years and years of investing in our kids, sometimes changing our approach and carving out family time. As I've shared little bits and pieces about parenting here and there on RE in the past few years, it's starting to pay off, as we're seeing little nuggets of where our kids are headed; their goals, passions, and dreams that they are starting to live out.
This past weekend, we sent our daughter off to Mexico to build houses, and then headed up to Eugene, Oregon to celebrate our son's college graduation in Human Physiology at the University of Oregon. His plans are to work in the medical field, studying for his MCATS to get into medical school in the next year or two. It takes hard work and discipline, as we watched our son work so hard for his degree, and now all the years of prayer and guidance will come to fruition for the next phase of his life. We're so very proud of him!
Make a difference.
We see that passion coming through Elliot, where he wants to make a difference in this world. There is so much to do, work to be done, love to be shared, lives to be saved—we really believe we are accountable to make a difference. Go, Big E!
Best Turkey Burger Recipe.
Now for the burger. I love summertime and the creativity that comes with building a burger. I mean, there are so many ways to create the ultimate burger, it's mind boggling.
Getting home from graduation just in time for dinner, I had all the ingredients on hand to whip up this burger recipe. It seriously was the best burger, and the sauce … so good. I made it with Organic ketchup and Delallo's Balsamic Glaze. I've tried other brands, but their brand is the richest and most flavorful.
Use whatever cheese you have in your fridge, but we used thick slices of gouda, with herbs from the garden, your preference of meat (turkey, lamb, beef), veggies in the garden or fridge. Cooking down the onions until they are soft and sweet, the burger ingredient list goes on and on!
I can't wait to leave you with this yummy recipe today. Try it, and create a new family memory around your dinner table!
Do you have a favorite sauce that you put on your burgers?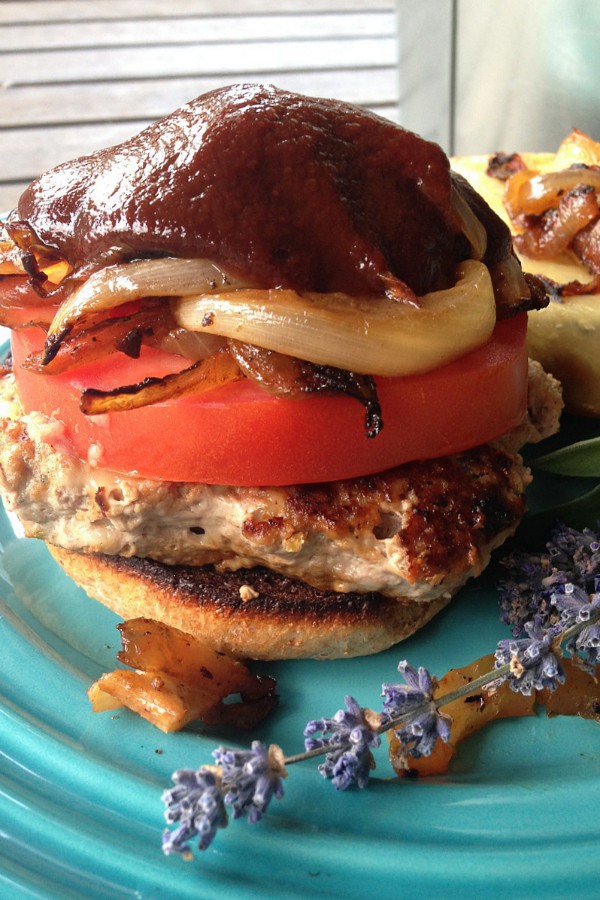 Get the Recipe: Best Turkey Burger Recipe
Ingredients
1 cup ketchup
2 Tbsp. balsamic glaze, I use Delallo brand
3 Tbsp. olive oil
3 large sweet onions, thinly sliced
Salt and pepper
1 1/2 pounds ground turkey
1/4 cup dry red wine
2 Tbsp. chopped fresh rosemary
2 Tbsp. chopped fresh sage
3 large cloves garlic, pressed
8 oz. 8 slices gouda cheese, sliced
Instructions
In a small bowl combine the ketchup and the balsamic glaze for a delicious sauce.

In a large skillet, heat 2 Tbsp. olive oil and add the onions, sautéing them for about 5-8 minutes, or until clear and soft. Turn down to low, salt and pepper, and cook another 20 minutes. They will become brown and very sweet.

Add the ground turkey, wine, herbs, salt and pepper, garlic, and 2 oz. of cheese (chopped in very small pieces). Mix together and form 6 turkey burger patties.

Cook in a very hot skillet (with about 1 Tbsp. oil) for about 4 minutes on each side, until the patties are done.

Broil or toast the hamburger buns, ending with adding a slice of gouda on the larger top bun to melt, before putting the burger together.

Layer the bun, burger, sauce, onions, and top with the toasted bum with cheese. Serve.
Hello and welcome to my home and table!
I'm Sandy—lover of food, family, cooking, THE BIG BOARD, travel, and bringing people together. Through great recipes and connection around the table, we become better, stronger, and more courageous people. Feasting on Life is real, and every time we do it, we grow a little more. Read more...