Mango Cherry Apple Brie Recipe
This Mango Cherry Apple Brie Recipe is the perfect appetizer for any party – sweet and savory and a crowd pleaser every time!
A few weeks ago I traveled to the Pinion Pines, nestled in the beautiful mountains of Park City, Utah, for a small retreat with 14 other bloggers. It was called a "Better Blog Retreat," otherwise known as BBR, with the sole purpose of spending time with other bloggers in a relaxed setting, with the goal of becoming a better blogger. And that truly did happen.
Mango Cherry Apple Brie Recipe
We enjoyed this Mango Cherry Apple Brie Recipe for appetizer one night!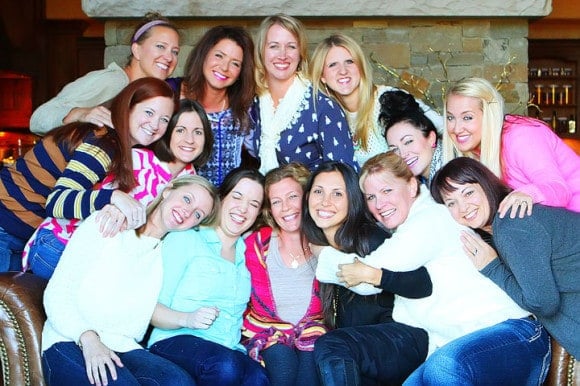 (Photo above by Amanda, from top left: Heidi, Kristen, Amanda, Jessica, Jenny, Rachel, Maria, Ali, Lindsay, Kelley, Gina,Lori, and Dara).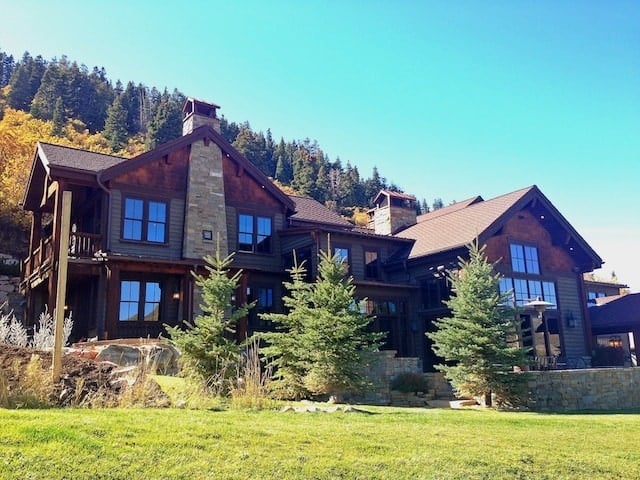 The weekend revolved around food, relaxation, friendship, sharing, laughing, and learning. I walked away inspired by some of my best blogging friends, in the most beautiful, unique environment. Here, in this home (above photo from Maria), is where minds were filled with blogging ideas and new business strategies, and our tummies were fed with the most delicious foods! (Read below for the awesome sponsorers.)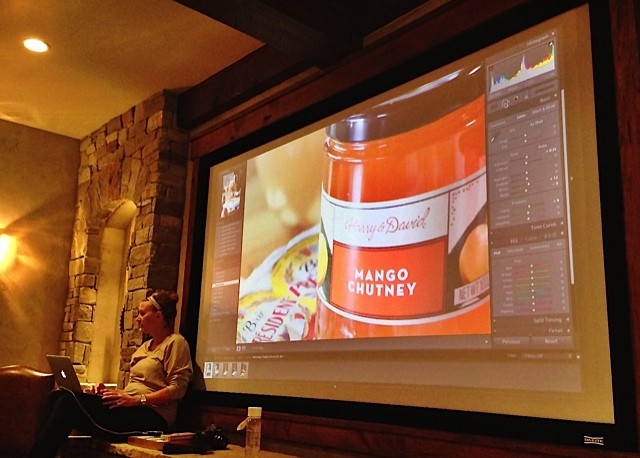 Hearts were warm with love and friendship, some of us meeting for the very first time. (Gina and Rachel.)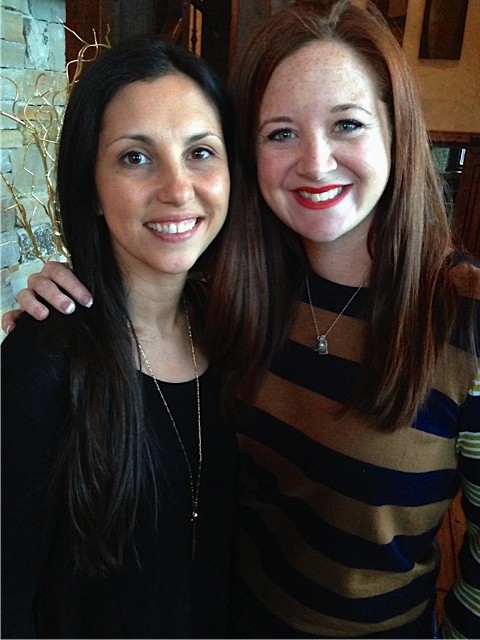 Love this shot from Amanda. (Lindsay, Gina, me, Jenny, and Amanda.)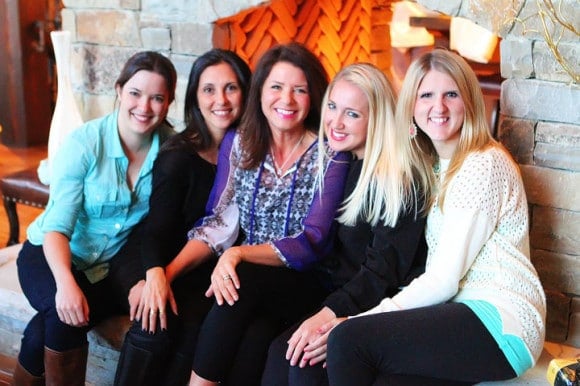 Did I mention that we stayed in the grandest chalet in Park City? It was the most amazing luxurious home I've ever stepped foot in, for sure.
Because I'm an espresso lover, I got a kick out of the espresso machines in the bedrooms! (Heidi, our fabulous model, and Ali, enjoying her fresh brew.)
I lost count of how many bathrooms and bedrooms there were in this home (6?). The space went on and on … we were all spread out, but seemed to come together to mingle at just the right time (usually around food). It was so fun to be together!
Heidi, Foodie Crush, and Maria, Two Peas and Their Pod, were the hosts of the event, along with Kelley, of Mountain Mama Cooks, who were equally amazing and showed true hospitality.
They were always making sure we had everything we needed, up early cooking, picking up, organizing–you name it, they made this retreat rock and roll! (Above: Kelly, Heidi, Lori, me and Maria.)
Here they are with Dara (photo credit to Amanda), who also lives in Salt Lake City (who I think was part of helping, too – thank you, Dara!)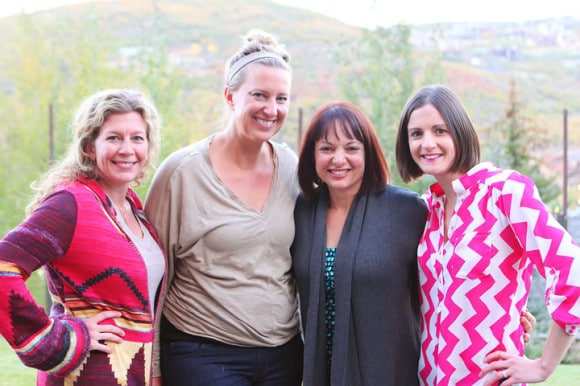 When we all arrived, gift baskets were waiting in each of our rooms. Of course, the lovely Harry & David provided a basket for each blogger. Classy and full of taste, the baskets included gorgeous pears from the beautiful Rogue Valley (my home town). Thank you Harry & David!
The gifts that we received went far above and beyond the normal SWAG. Here's the deal about SWAG gifts for bloggers–we don't expect them, but it's always so generous and so appreciated when we do get to enjoy some surprise gifts!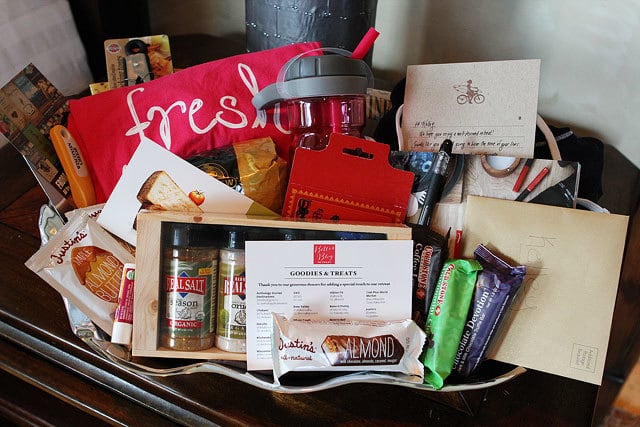 Back to the home, Anthology Destination was the sponsor letting us use the home, and we are forever grateful for the experience they gave to us!
The mountains around us were so beautiful. The first morning, we woke up to a gorgeous blanket of snow that lined the surrounding mountains. It was breath-taking! Kelley and I put on our running shoes, clothes, hats and gloves, and hiked to the top! Loved our time together and I'll always cherish our conversation.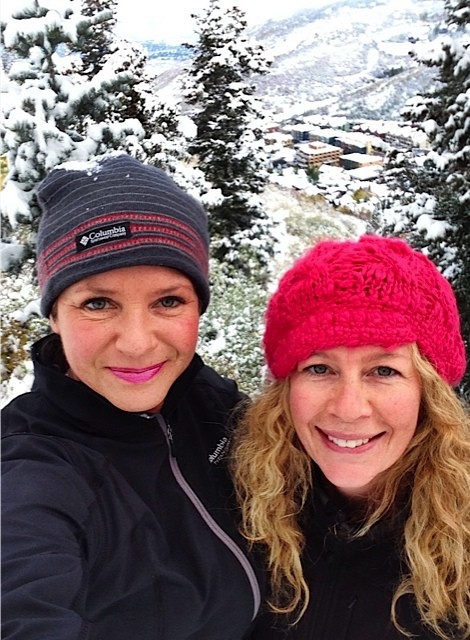 The 3 ladies–Heidi, Maria, and Kelley–spent months planning, researching brands, gathering recipes that were cooked from each blogger, cooking, and bringing it all together. Truly fabulous ladies! And I'm so happy they included Harry & David, for which I represented at the first night's appetizer: Mango Cherry Apple Brie Recipe with Pistachios.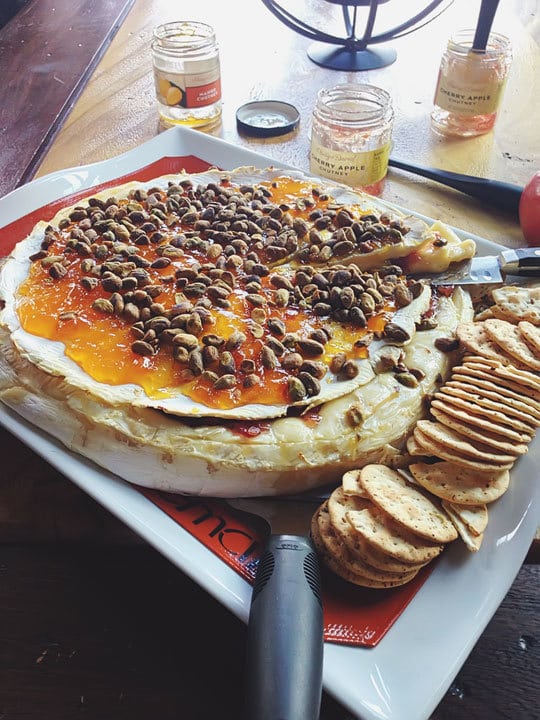 Taking the largest round of brie cheese (thank you, Wisconsin Cheese), it took me a little time to cut the top off, but then I stuffed it with 2 jars of Harry & David's Apple Cherry Chutney.
Put the lid back on and added a jar of Mango Chutney to the top, ending with pistachio nuts.
We baked it for about 30 minutes (because of the size of the brie) at 400 degrees.
Had to get lots of pictures, because it was so gigantic and fabulous. :)
Here's the recipe. ENJOY!
Get the Recipe: Mango Cherry Apple Brie Recipe
Serve hot with sliced apples, pears, salty pita chips, or baguette rounds.
Ingredients
½ cup pistachios
8 oz. Brie cheese
1 cup cranberry chutney or relish
1 cup mango chutney or relish
Instructions
Preheat the oven to 400 degrees. Place brie round on an ovenproof serving dish (I used a small baking stone).

Slice the top of the brie round off, cutting inward to make a bowl. Remove the "lid."

Fill the bowl with cranberry chutney or relish. Place the lid on top, pushing down. (It's okay if a little bit falls to the side).

Spread the mango chutney or relish on top, sprinkling with pistachio nuts.

Bake for 12 minutes or until the cheese inside the rind is melted.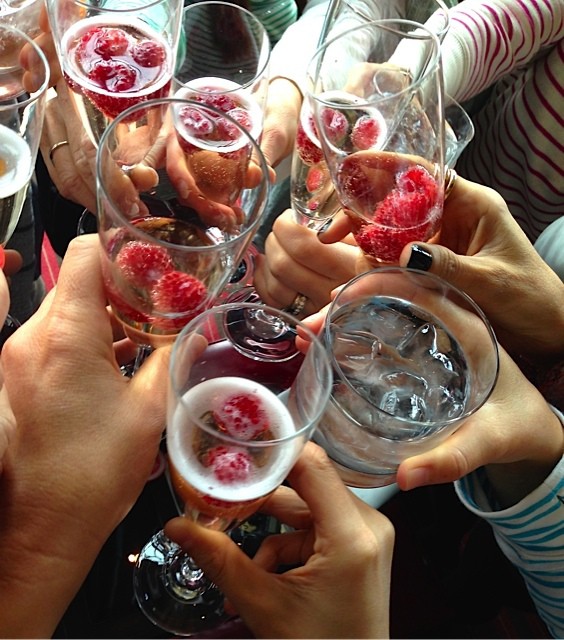 Baked until bubbly, we drank a little bubbly, and welcomed everyone that first night with a toast–and a little bit of southern Oregon-ness–and offered up a glass of "Cheer!"
Harry & David was also generous in sponsoring a few desserts, and their Moose Munch for snacks!
We definitely were not without sweets on this vacation! (Cupcakes by Sweet Tooth Fairy Bakery, a local biz.) (Rachel, Lori, Jenny, Amanda, and Kristen – who had a very special birthday on this trip!)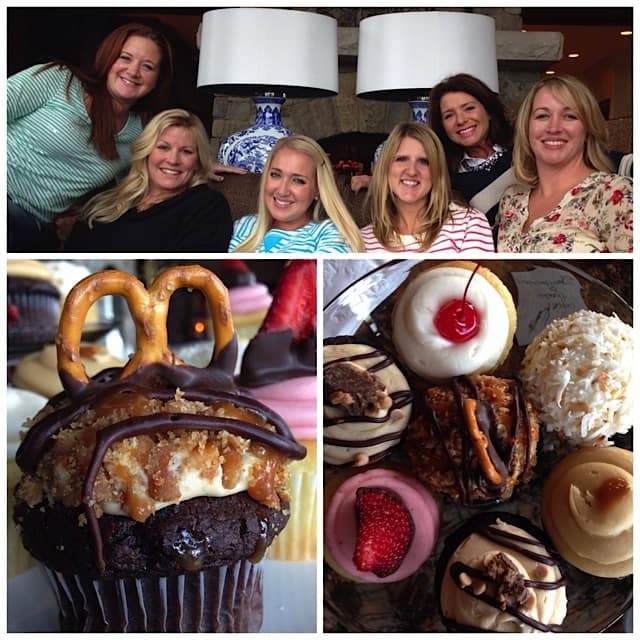 Another sponsor for the event was KitchenAid, and the last morning we indulged in waffles using a new product … coming soon! The new KitchenAid Waffle Baker – the cool kind that flips over like in the restaurants! I can't wait to get one myself! My family is going to love this!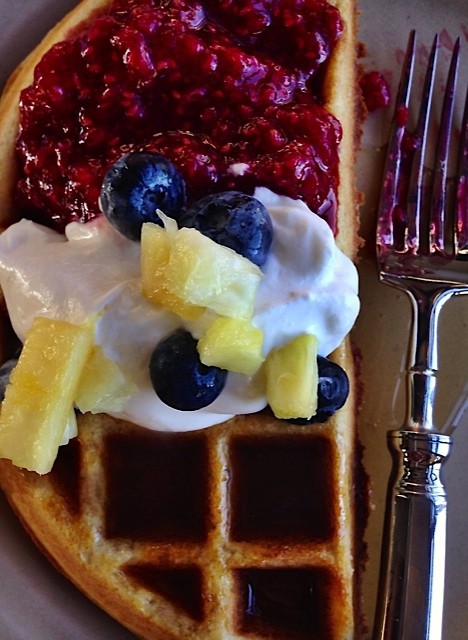 Chobani filled our tummies every morning. Fresh, delicious yogurt with amazing toppings! They were also incorporated into our lunch menu with soups and sauces. And I loved the little wreck jars that we used so much, they sent me a box! :)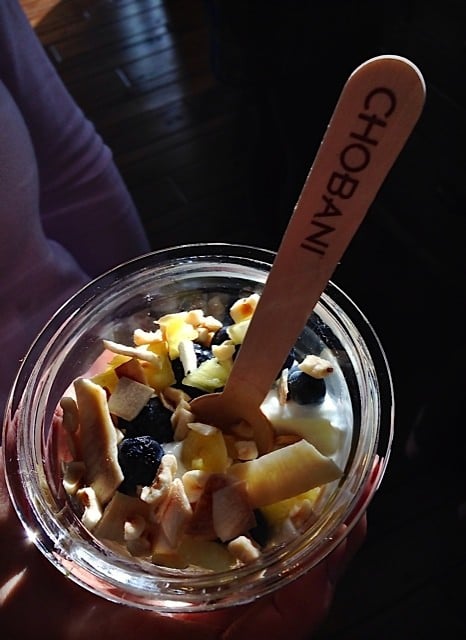 DeLallo provided several entrees to the meals (Burrata with cherry tomatoes, olive oil, basil, and balsamic glaze!)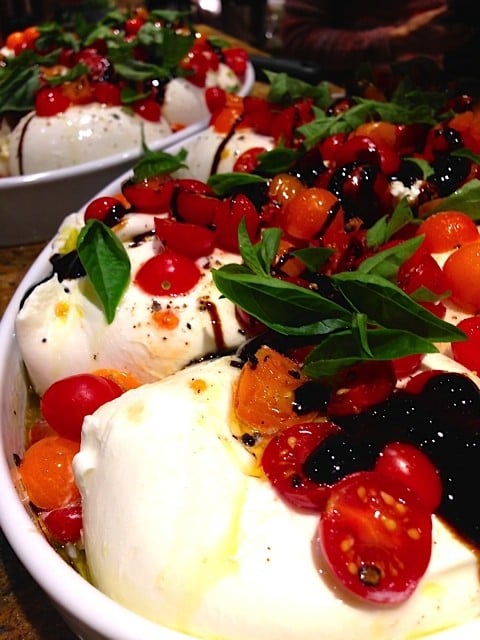 And they provided a fantastic salad bar lunch! (Lindsay, Rachel, Maria, and Jenny.)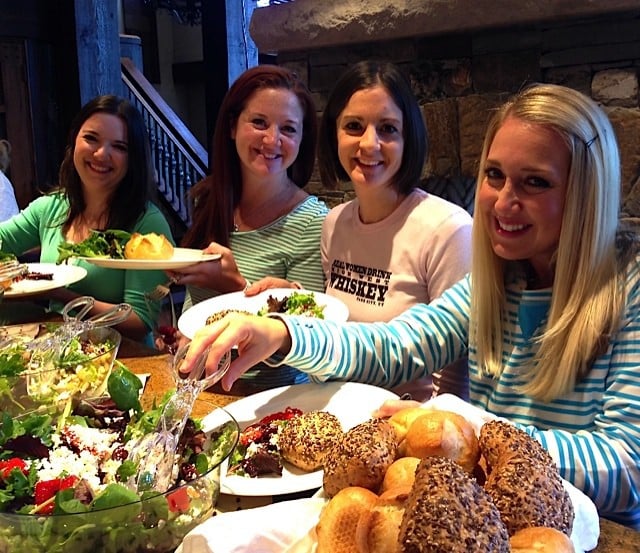 We did girlie things like try new lipstick colors, talked hair and beauty products, hot tubbed, shopped, and then we had a little mini spa treatment one afternoon (read more over at Maria's). (Jenny and Jessica.)
The last night we had one of the Deer Valley Chefs cook our dinner, which was a nice break for the gals who did so much for us all. (Photo from Maria.)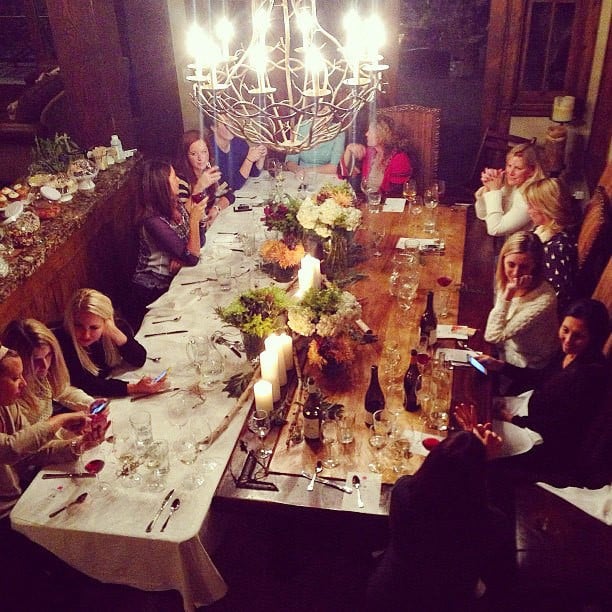 Each lady who attended had gifts and talents that were truly inspiring–sharing wisdom, insights, tools, apps, websites, business tips, experiences–and we all knew it was a time to dig a little deeper, to get to know each other a little better than when we came. I think we were all aspired to become better at not only blogging, but family life in general, which means managing our time wisely and prioritizing our spouse and families first.
I felt blessed to be included in such an extraordinary group of talented women, and definitely came away from the weekend not only a better blogger (with better skills), but hopefully a better person who knows how to love just a little bit more!
* * * * * * * * * * * * * * * * * * * * *
A special thanks to Anthology, Chobani, DeLallo, KitchenAid, Deer Valley, OXO, Whole Foods, Harry & David and Wisconsin Cheese for making the first Better Blog Retreat a huge success, and to all of the sponsors who made the weekend so fantastic.
And, what really made my day? Both trips to and from the airport with this little guy–Josh and Maria's little boy–Caleb, He is the cutest ever, and loved by all!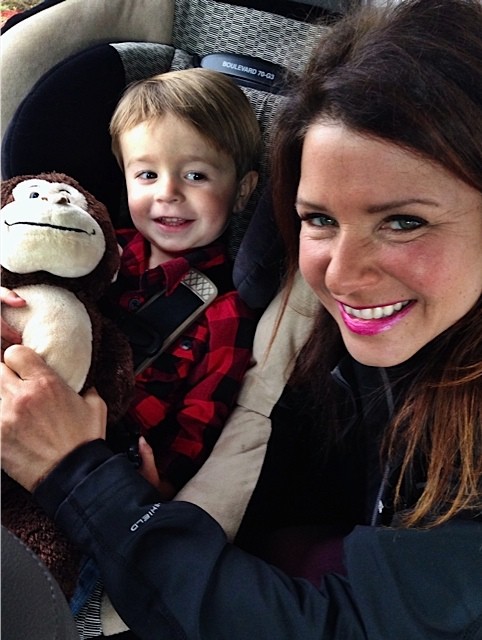 Harry & David sponsored my attendance to the BBR, and my airfare to Park City; as always, all opinions regarding using their products are my own.
Hello and welcome to my home and table!
I'm Sandy—lover of food, family, cooking, THE BIG BOARD, travel, and bringing people together. Through great recipes and connection around the table, we become better, stronger, and more courageous people. Feasting on Life is real, and every time we do it, we grow a little more. Read more...