Pumpkin Custard Bites
ENJOY Pumpkin Custard Bites for Halloween or Thanksgiving, the perfect dessert to bring to a party, potluck, or small gathering!

Who doesn't love to show up to a Halloween Party with a tasty treat that you are proud of? Today I'm sharing a very simple recipe, Pumpkin Custard Bites, as I am partnering with Pepperidge Farm® Puff Pastry.
Back to little bites for the holidays. My daughter and I did some cooking over the weekend, and came up with this delicious recipe using Pepperidge Farm® Puff Pastry Cups.
These ready-to-bake bite size cups are perfect for entertaining, and I can't wait to share more recipes with you this holiday season.
They are not only good for desserts, but for appetizers.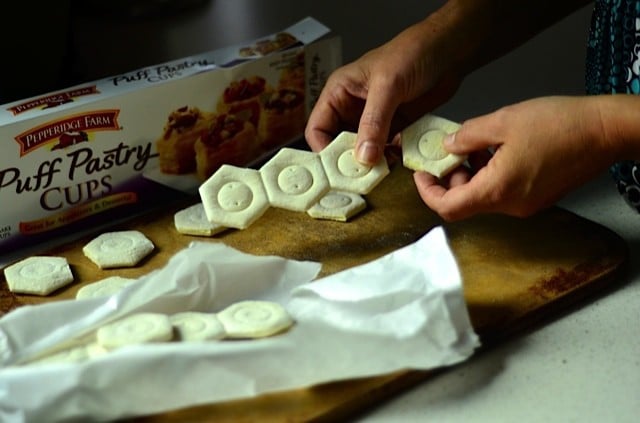 Pumpkin Custard Bites
The process is so simple. You take them straight from the freezer, breaking each piece on the pre-scored lines, right to the baking sheet with the "tops up." No defrosting! I always get mixed up on the defrosting times and hate to deal with sticky pastry. The instructions are so easy.
Then you bake for 20 minutes. When the puffs come out of the oven, you take the handle of a wooden spoon and barely push down the center of each cup.
Next, you cool the cups for 5 minutes, and depending on whether you are going to serve them warm or not, fill them with your favorite filling.
I love these little bites of heaven (it's what my daughter and I called them).
We then made a homemade pumpkin custard that we filled each pastry cup with.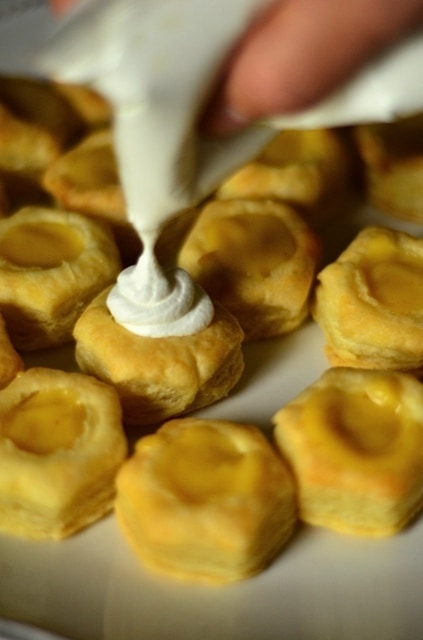 Since we wanted to serve them warm, we immediately topped the custard with whipped cream (you can use Cool Whip if you desire), by placing the cream in a small ziploc bag. We snipped the corner of the bag and made a fun swirly design with the cream on top of the custard.
Next, we sprinkled fresh nutmeg on top.
Wah-Lah! The little bites of heaven were ready to serve!
These would be a great little appetizer or dessert for the holidays ahead. Whether Halloween, Thanksgiving, or Christmas, my favorite way is to serve them warm, on a pretty platter, and garnished with lots of love!
What ingredients would you use to fill these pastry cups, and would you serve them hot or cold?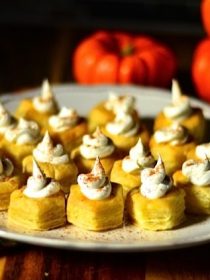 Get the Recipe: Pumpkin Custard Bites
Serve warm or cold for an appetizer or a dessert.
Ingredients
1 pkg 9.5-ounce frozen Pepperidge Farm Puff Pastry
¼ cup sugar
1 ½ tsp. cornstarch
¼ tsp. salt
1 egg yolk, beaten
1 cup heavy cream
½ tsp. vanilla
1 Tbsp. butter
¼ tsp. cinnamon
½ cup pumpkin, I used organic Trader Joe's
Whipped Cream, or Cool Whip
Nutmeg
Instructions
Preheat the oven to 400 degrees F. Remove all wrapping and break apart the frozen pastry pieces along the pre-scored lines to separate the pastry cups. Place the pastry on a baking sheet (perforation-side-up). Bake 20 minutes, or until golden brown and puffed.

Make the pumpkin custard by combining the sugar, cornstarch, and salt in a small pan. Gently mix.

Add in the beaten egg yolk and heavy cream. Cook over medium heat, stirring constantly until smooth and thick. Add the vanilla, butter, cinnamon, and the pumpkin. Stir and set aside to cool.

When the pastries come out of the oven, use the end of a wooden spoon to press down the center of each pastry into bottom of cups.

Spoon the pumpkin custard into each pastry cup, not overfilling the cup.

Fill a small Ziploc baggie with whipped cream (or Cool Whip) and snip a very small piece of the corner of the bag with scissors.

Gently squeeze whipped cream onto the top of each custard-filled tart, swirling in a design if desired.

Sprinkle with fresh nutmeg. Serve immediately (while custard and cups are still warm), or serve them chilled.
Disclosure: I am working with Pepperidge Farm® Puff Pastry, creating recipes using their products as part of their "Puff is the Spark" panel. As always, all opinions are my own.
Other recipes made with Puff Pastry:
Apricot Brie Bites
Halloween Appetizer (Spinach Goblin Eyes)
Candy Bar Puffs
Peanut Butter S'More Turnovers
Bubbling Cauldron Treats

Hello and welcome to my home and table!
I'm Sandy—lover of food, family, cooking, THE BIG BOARD, travel, and bringing people together. Through great recipes and connection around the table, we become better, stronger, and more courageous people. Feasting on Life is real, and every time we do it, we grow a little more. Read more...