Out of Town Guests Breakfast: Blackberry Spelt Bread Recipe
This Blackberry Spelt Bread recipe is scrumptious, hot out of the oven, served with butter or seasonal jam. Or, freeze and serve later!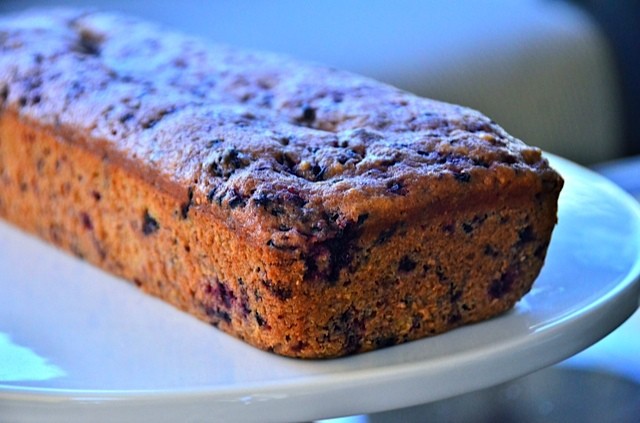 Having overnight guests can be stressful or fun, depending on your perspective. I've found the more I prepare, especially when it comes to cooking, the more I enjoy my guests.
Last year I wrote about keeping our guests' dietary needs in mind, which can be tricky, but it also feels good to pamper and to make our guests feel special!
On a personal note, I'm really looking forward to this weekend with our guests from out of town. I'll be making a loaf of this Blackberry Spelt Bread Recipe!
I'm going to try to set aside my "to do" list and revel in God's creational rhythms that nourish and restore our bodies, souls and relationships. Sometimes setting our agendas aside, simply relaxing and being present with others, especially in the "busy" days that we live in, is a true gift.
Being with people, loving them, getting to know them more, is really a beautiful thing and is what we are created for. The gift of enjoying one another.
Blackberry Spelt Bread Recipe
So keeping our guests' needs in mind (wheat-free diet) this weekend, I whipped up a blackberry loaf of bread with Spelt flour, baked and cooled it, then wrapped and froze so it would stay fresh before our friends arrived.
Earlier this week I spotted a patch of blackberries when I was out for a run, so I drove back and picked a bucket full. I love summer delights like warm blackberries on the vine. I did eat as I picked, but that's when they taste the best. :) Even though they were hanging over the fence, I went around onto our neighbors' property, reaching up high and picking the "big ones," and their front door opened. Caught! But it all turned out okay.
Depending on how long our guests stay, it's always good to be prepared.

Do you worry about dietary needs when you have guests into your home?
Now for the delicious taste of when applesauce (mine was home-canned) and blackberries come together …
Get the Recipe: Blackberry Spelt Bread Recipe
Delightfulness of blackberries and applesauce coming together in a warm loaf of bread.
Ingredients
4 T. butter
2/3 cup sugar
1/3 cup unsweetened applesauce
2 eggs
1/2 cup orange juice
2 teaspoons vanilla extract
2 cups spelt flour
2 teaspoons baking powder
1/4 teaspoon salt
2 1/2 cups fresh blackberries
Instructions
Preheat oven to 350°F. Butter or spray a large loaf pan. In a large bowl, cream together butter or oil and sugar. Stir in applesauce, eggs, orange juice and vanilla.

In a second large bowl, whisk together flour, baking powder, and salt. Stir flour mixture into butter-egg mixture until just combined. Gently stir in blackberries.

Spoon batter into pan and bake until a toothpick inserted in the center of a muffin comes out clean, about 35-40 minutes.
Now to highlight some other fabulous blackberry recipes … ENJOY!
Two Peas and Their Pod: Lemon Ricotta Blackberry Muffins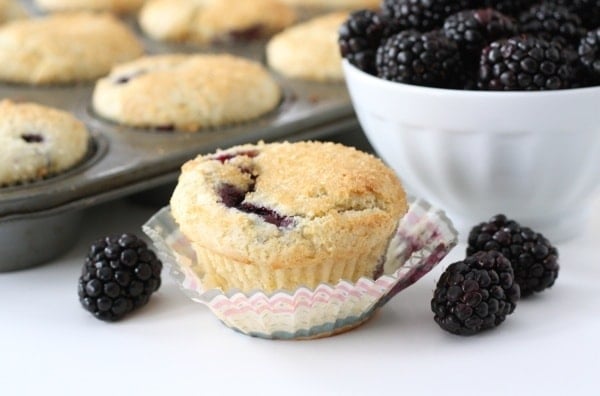 Steamy Kitchen: Salmon with Blackberry Brandy Sauce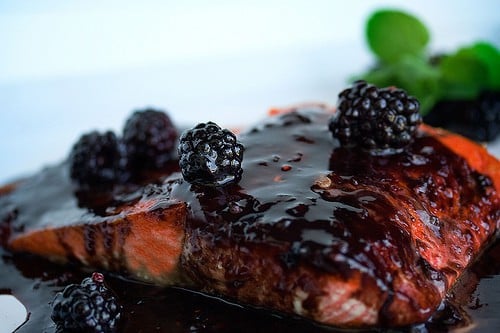 Add a Pinch: Blackberry Tartlets
How Sweet It Is: Blackberry Cobbler Waffles
Happy Yolks: Blackberry Brownies
Luna Cafe: Summer Tomato, Sweet Onion, & Blackberry Salad with Basil Mint Crema
Give Me Some Oven: Spinach Berry Salad with Blackberry Vinaigrette
And, if you didn't see my post earlier this week: Berry Nutella Bruschetta
Hello and welcome to my home and table!
I'm Sandy—lover of food, family, cooking, THE BIG BOARD, travel, and bringing people together. Through great recipes and connection around the table, we become better, stronger, and more courageous people. Feasting on Life is real, and every time we do it, we grow a little more. Read more...