Browned Butter Rosemary Scallops with Mascarpone Polenta
Enjoy Browned Butter Rosemary Scallops with Mascarpone Polenta for an elegant dinner, served with a side salad and a loaf of hot crunchy bread.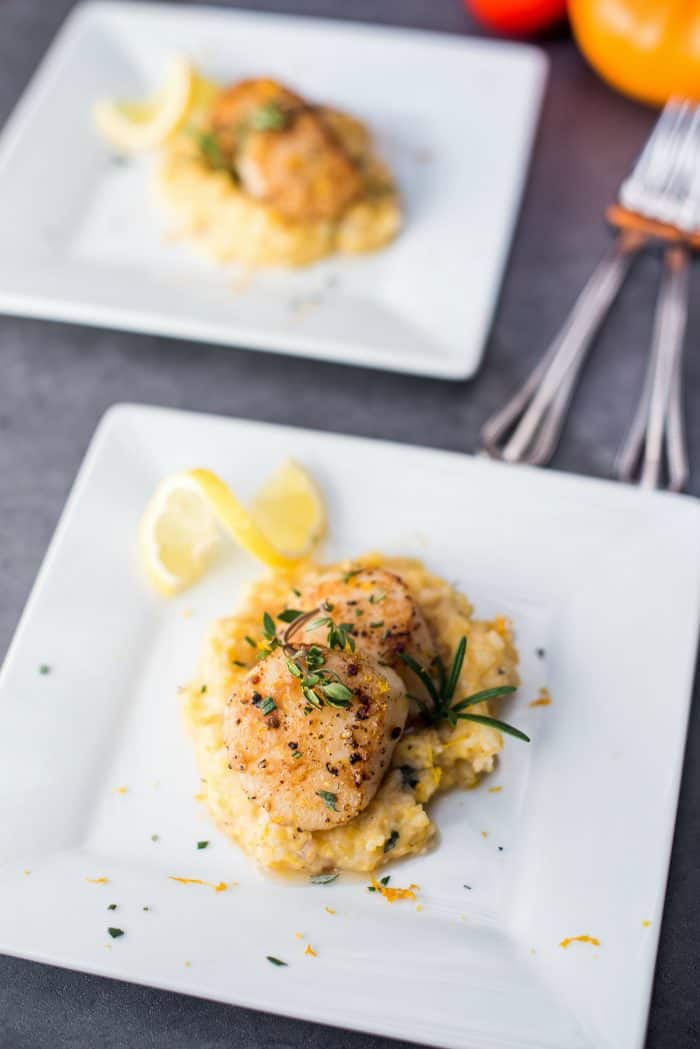 Looking to host a small dinner anytime soon and want a delicious, elegant dish to serve?
Brown Butter Rosemary Scallops
Then this Browned Butter Rosemary Scallops with Mascarpone Polenta may be what you are looking for. Or another quick recipe is my Herbed Brown Butter Scallops.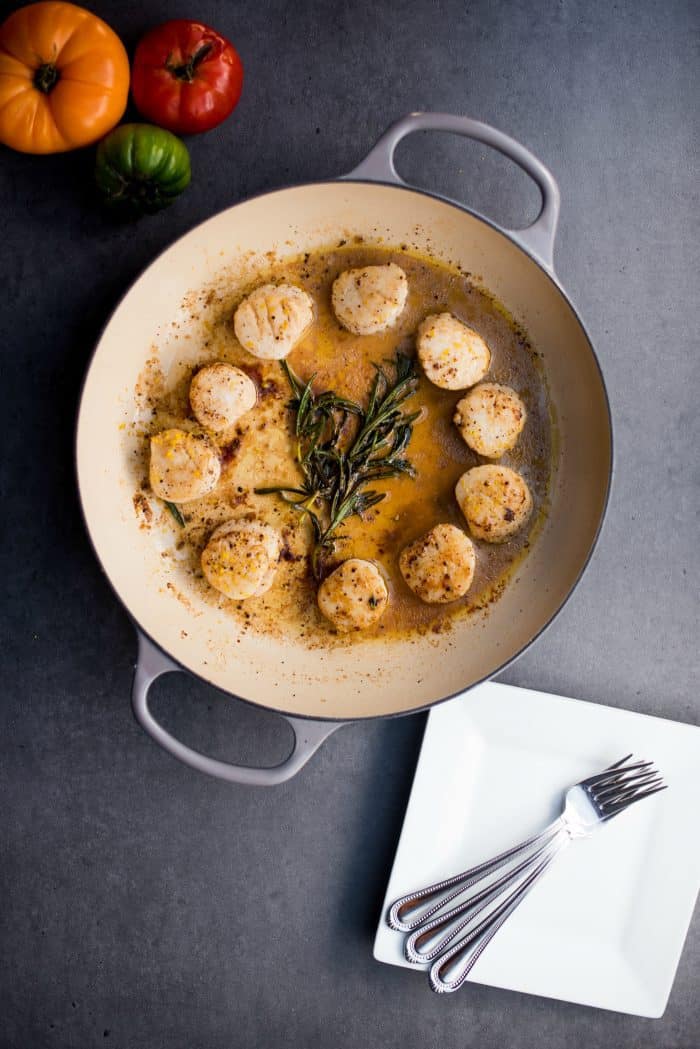 How to sear scallops
In a large skillet, heat with oil and allow the pan to get very hot.
Lay down the scallops and sear.
Add butter and herbs and flip the scallops over.
Spoon rosemary butter over the top for about 2 more minutes.
Drizzle lemon juice on top, then remove from heat!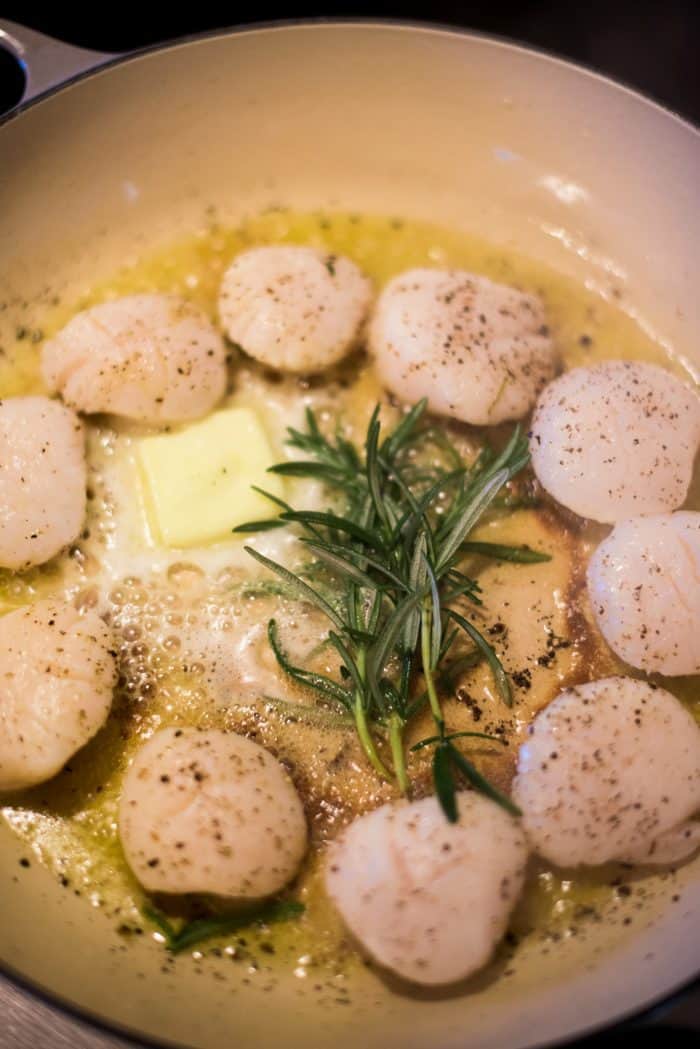 Where to buy Scallops
Scallops are so easy! We buy them in a large bag (frozen) from Costco!
My friend and I were talking about vulnerability the other day. It's hard to invite people over for dinner if you can't open up around the table, talk about life, and just be real.
Being "real" means different things to different people. I love Brene Brown's new book, Braving the Wilderness.
Browned Butter Rosemary Scallops with Mascarpone Polenta
I say, get comfy (wear your slippers!), invite some people you are comfortable with, make a comfort dish, like this Browned Butter Rosemary Scallops with Mascarpone Polenta.
The other night, we had friends from out of town over for dinner. They had recently been through a very hard time, and actually their pain may never go away. I was so proud of our kids, choosing to hang around the table and engage in the conversation. We asked questions; we were there for them. They were vulnerable; we were safe to talk to.
This is what the table experience should be. A place where people can open up about their lives, surrounded with kindness and pure love. We'll rarely agree, especially in the world we live in today. You ask questions and figure out why people think the way they think. And it's great when they ask back.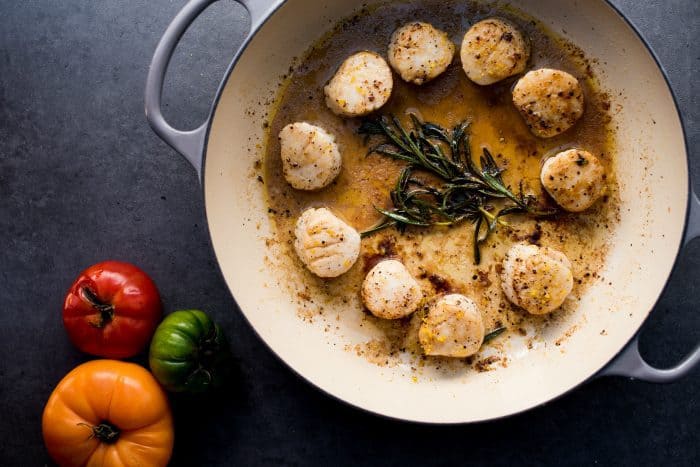 Vulnerability around the dinner table
The table should be a place of maturity and vulnerability, at least for the hosts. I'm not saying that every guest will come and be civil or mature, but you can provide that sacred space.
Brene Browns says the definition of vulnerability is uncertainty, risk, and emotional exposure.
Vulnerability is not weakness, it's our most accurate measure of courage." —Brene Brown
Friends, we can still stay true to our own beliefs, and trust ourselves, even when we don't agree. We don't need to get angry, we need to listen more …….
You can always change the subject. And talk about the food.
I promise that people will talk about these scallops. :)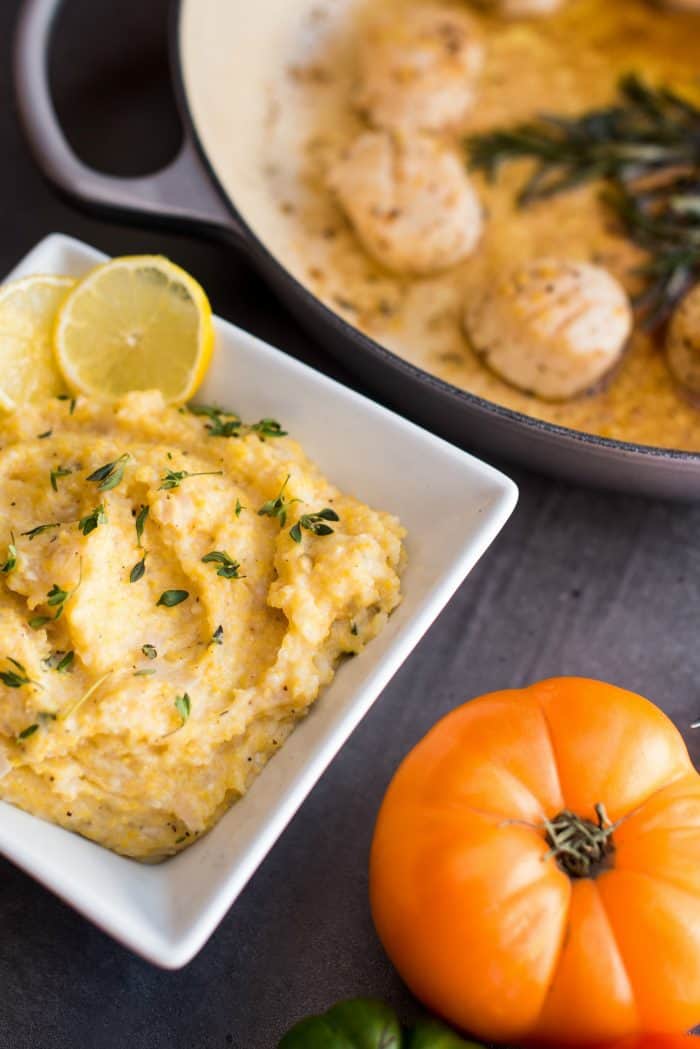 Mascarpone Polenta
Follow the recipe for the polenta. Serve together and ENJOY the people around your table.
Remember what I always say here, hosting is "more about them and less about us."
Happy hosting! Please email and share your stories with me!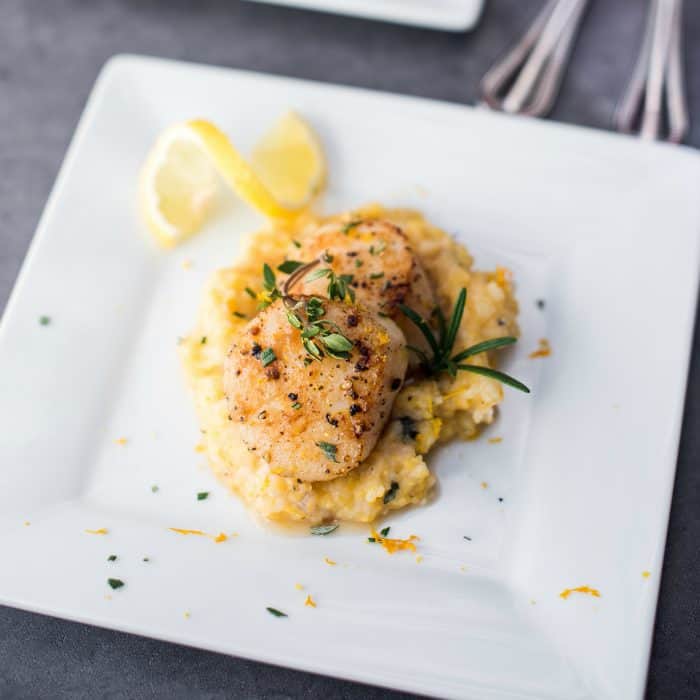 Get the Recipe: Browned Butter Rosemary Scallops with Marscapone Polenta
Ingredients
12 large scallops
2 Tbsp butter
2 large sprigs rosemary
1/2 lemon, juiced and zested
Polenta: 2 Tbsp butter
18 oz polenta, precooked (purchased from Trader Joe's)
1 large shallot, diced
1 Tbsp crushed garlic
1/2 c mascarpone cheese
1/2 c Parmesan
1 c. water
1/2 Tbsp chicken bouillon
Garnish: Thyme
Rosemary
Lemon zest
Instructions
Coat the bottom of a large skillet with oil, then heat on medium-high. When pan is hot, lay scallops down. Allow bottoms to sear for about 3 minutes, then add butter and rosemary to center.

Flip scallops and baste with rosemary butter for about 2 more minutes. Drizzle over lemon juice, then remove from heat—do not overcook.

In large sauce pan, melt butter on medium heat. When the butter has melted and begins to froth slightly, add shallots and garlic.

Allow aromatics to brown slightly, then add polenta. In order to make the polenta smooth, I used a potato masher to mash the polenta, added an additional cup of water to add moisture and achieve a thick, smooth consistency, and 1/2 tablespoon of chicken bouillon for flavor.

Heat polenta for 5-8 minutes on medium-low heat, then stir in mascarpone and Parmesan until creamy and melted.

Plate the scallops on top of a dollop of polenta. Garnish with fresh thyme, rosemary, and freshly grated lemon zest.
More scallop recipes: 5-Minute White Cheddar Almond Apple Scallops Salad [RE], Easy Scallop Scampi [A Spicy Perspective], and Seared Jumbo Scallops [RecipeGirl].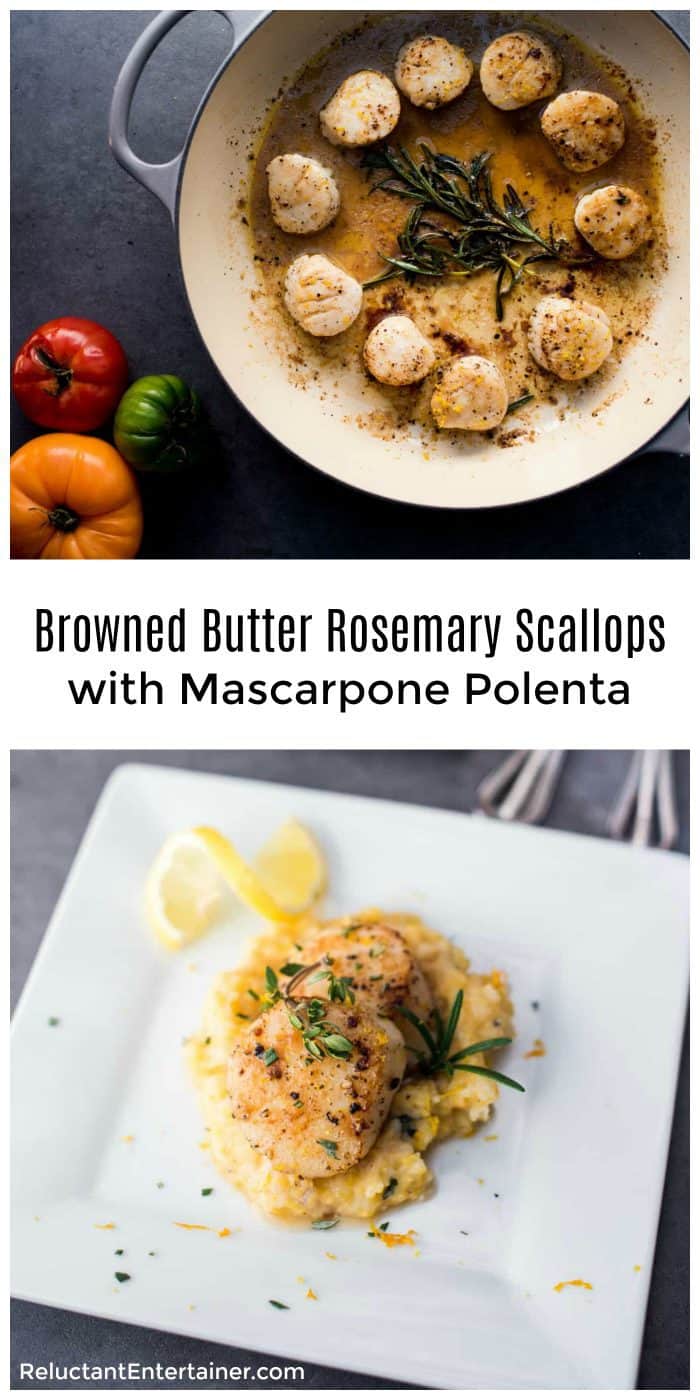 Hello and welcome to my home and table!
I'm Sandy—lover of food, family, cooking, THE BIG BOARD, travel, and bringing people together. Through great recipes and connection around the table, we become better, stronger, and more courageous people. Feasting on Life is real, and every time we do it, we grow a little more. Read more...