The Painted Hills #Oregon and Buttermilk Waffles with Pear Compote
This Buttermilk Waffles with Pear Compote recipe is delightful to serve for breakfast, brunch, Easter or Mother's Day!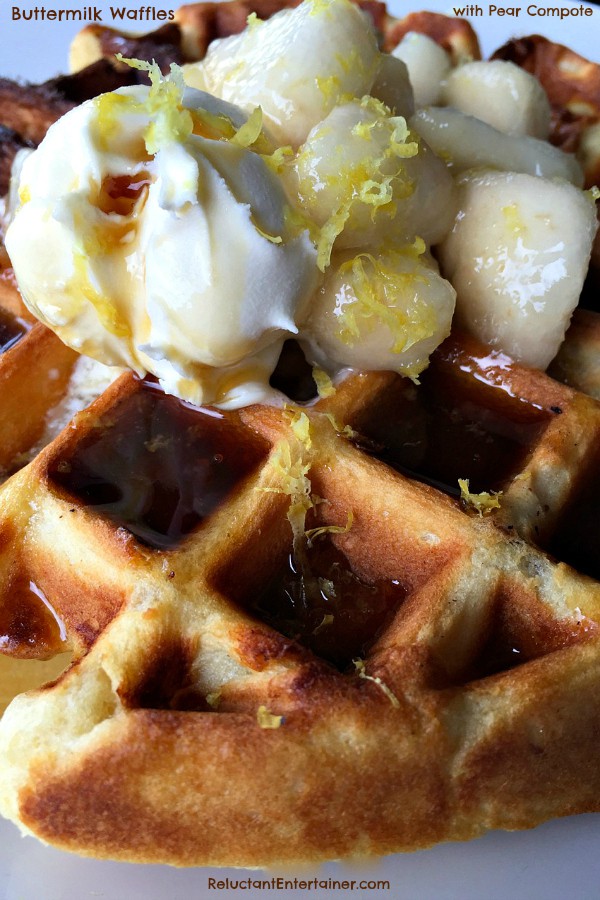 The hills are alive … with stunning textures and colors! Go ahead, just hum a few notes with me of The Sound of Music tune, because I surely have been since our recent visit to the Painted Hills in Central Oregon. And then, there's the 10 fun takeaways from 'The Untold Story of The Sound of Music' if you didn't see the Diane Sawyer special. Salzburg Austria's hills, the Painted Hills in Oregon–I couldn't help but tie it all together into this post. :)
Last week, our day started with waffles, not a bad way to start. But then we ended up, here …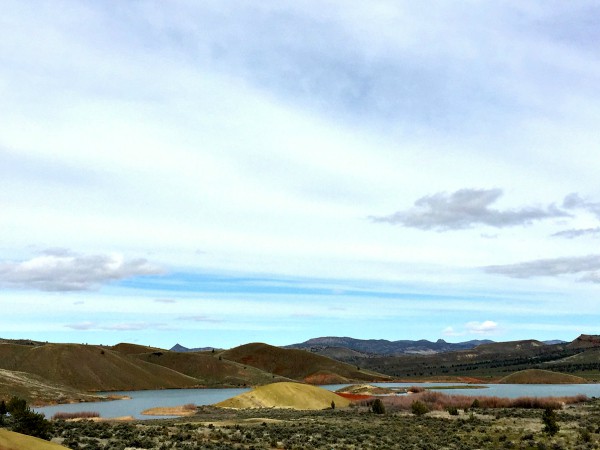 Painted Hills.
This was the first time for our family to travel to the Painted Hills, outside of Bend, Oregon, (Mitchell, OR) where you can see millions of years of history revealed in the layers of mountains of earth, with stunning colors. The Painted Hills are one of the three units that comprise the John Day Fossil Beds. There is so much to explore in this area, we can't wait to go back!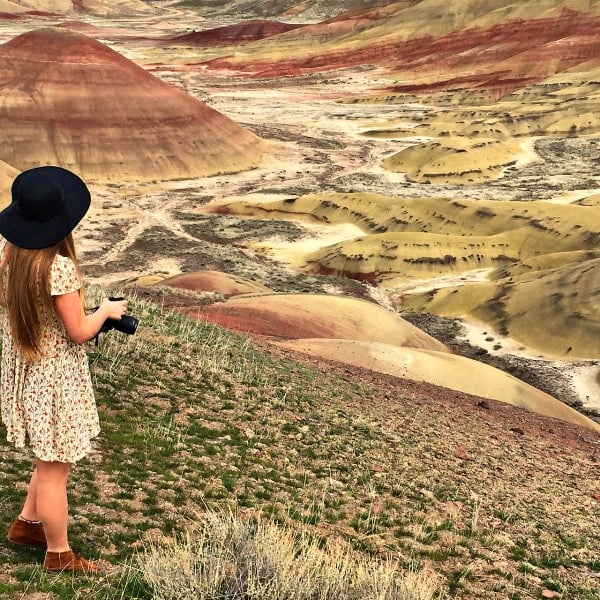 The hills get their name from the delicately colored stratifications in the soil and the yellows, golds, blacks, and reds of the Painted Hills are best seen in the late afternoon.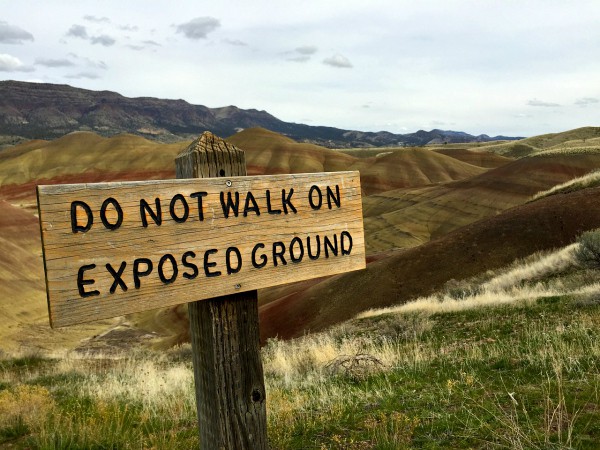 7 Wonders of Oregon.
Now I understand why The Painted Hills are considered one of the 7 Wonders of Oregon!
The tones and hues changed as the sun set across the sky. They say the claystones differ with ever-changing light and moisture levels.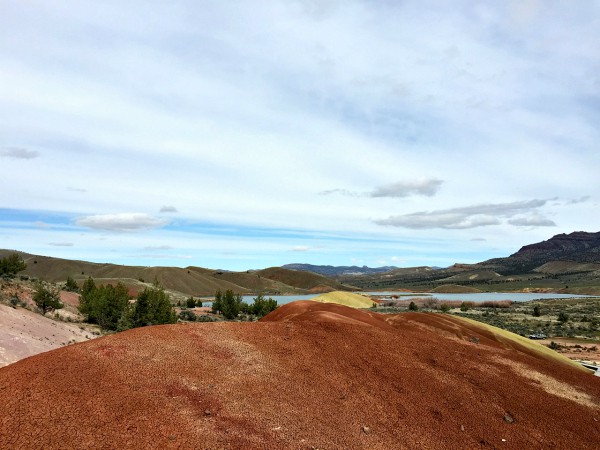 Some facts.
If you come to Oregon, friends, this is a must see! It's absolutely gorgeous.
We started the day off in Sunriver with a yummy breakfast (waffles below), and not only did we choose a great day to go, the four hour drive there and back didn't really seem that long. New, gorgeous, desert, clear skies territory is always first on my list.
Buttermilk Waffles with Pear Compote.
Today's recipe we recently enjoyed in Seattle— a Buttermilk Waffle with house made Labneh, pear compote and candied walnuts–which I recently recreated my own recipe using Harry & David pears.
This is a really yummy recipe that can be served for a weekend breakfast, brunch, Easter, or even Mother's Day!
In the meantime, I look forward to The Sound of Music coming our way to local theatres soon, to celebrate its 50th anniversary.
Have you been to the Painted Hills, or does The Sound of Music happen to be one of your favorite all-time movies as well?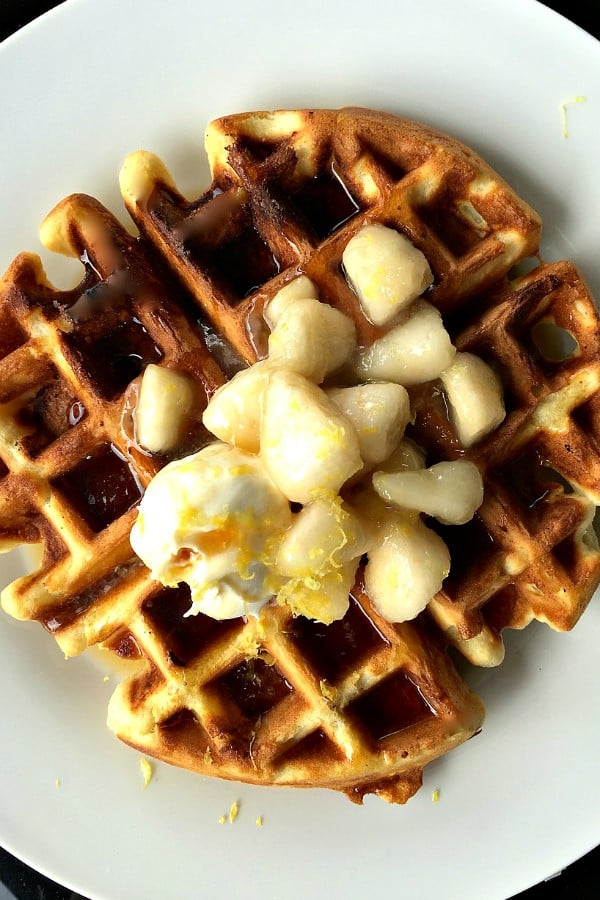 Get the Recipe: Buttermilk Waffles with Pear Compote
Ingredients
3 cups all-purpose Gold Medal Flour
1/4 cup sugar
1 Tbsp. baking powder
3/4 tsp. salt
1 tsp. vanilla
2 eggs
1/4 cup oil
2 cups buttermilk
1 tsp. lemon juice
Lemon zest
2 pears, peeled and cut into small chunks
¼ cup sugar
2 teaspoons cornstarch
1 teaspoon vanilla
1/2 lemon juice
Lemon zest
Mascarpone cheese
Instructions
Preheat the waffle maker. In a large bowl, mix the flour, sugar, baking powder, and salt.

Add the vanilla, eggs, oil, and buttermilk to the bowl. Whisk well. Add lemon juice and lemon zest. Stir.

Pour the batter into the waffle maker. Use enough batter to fill the griddle sections, without overflowing. Cook 3-4 minutes, or according to the baking instructions of your waffle baker. Then check the waffle for a golden brown color.

PEAR COMPOTE: In the meantime, combine pears, sugar, cornstarch, vanilla, lemon juice and zest in a medium saucepan. Heat over medium heat until juicy and thickened, about 3-4 minutes.

As the waffles come out of the waffle maker, place them directly on a warm plate and serve with Pear Compote and one small scoop of mascarpone cheese. Drizzle with maple syrup; serve!
Are you following me on Instagram, Twitter, Facebook and Pinterest? If you'd like to subscribe to Reluctant Entertainer, to have each post delivered straight to your e-mail box, then please add your email, here. It's really easy! Thanks for being here today!
Hello and welcome to my home and table!
I'm Sandy—lover of food, family, cooking, THE BIG BOARD, travel, and bringing people together. Through great recipes and connection around the table, we become better, stronger, and more courageous people. Feasting on Life is real, and every time we do it, we grow a little more. Read more...