Strawberry Coconut White Chocolate Upside Down Cake
A delicious dessert to serve for sping or summer, enjoy this Strawberry Coconut White Chocolate Upside Down Cake. Serve warm with vanilla ice cream or fresh whipped cream! The delicious flavors of coconut and white chocolate, paired with strawberries and buttermilk cake. So good!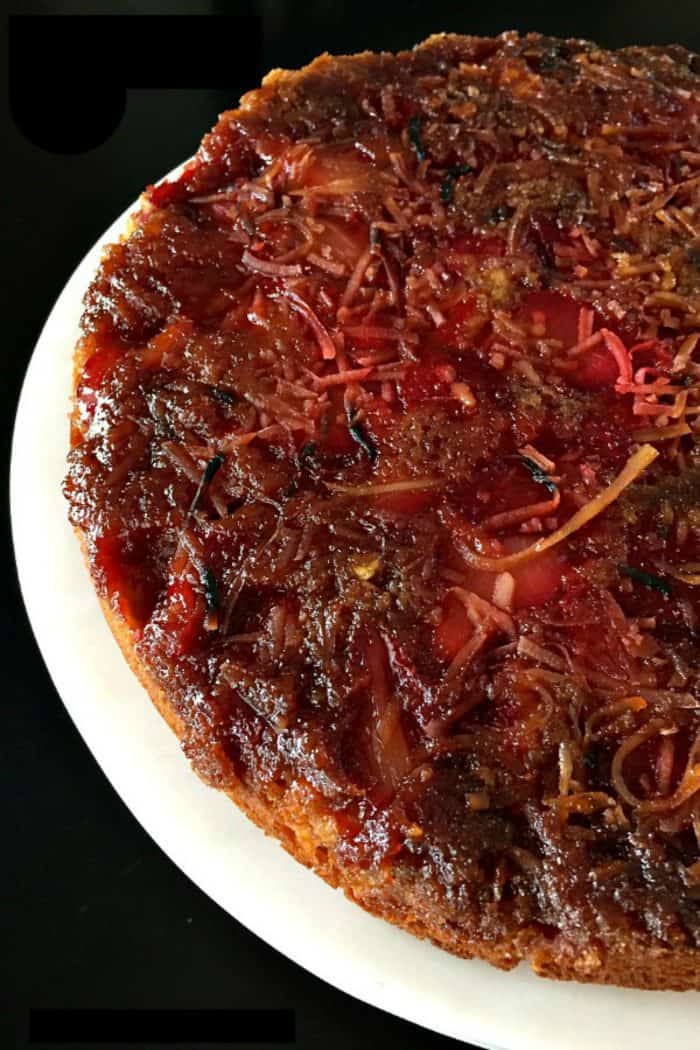 There is something wonderful about sitting down for Easter dinner at a beautifully set table, a place where you want your guests to feel comfortable so they stay for hours. Hee-hee … I never pray that, but it always seems to happen.
We love mingling around the table, and the conversation that always takes place.
Upside Down Cake
Add this Strawberry Coconut White Chocolate Upside Down Cake dessert to the table? A show stopper!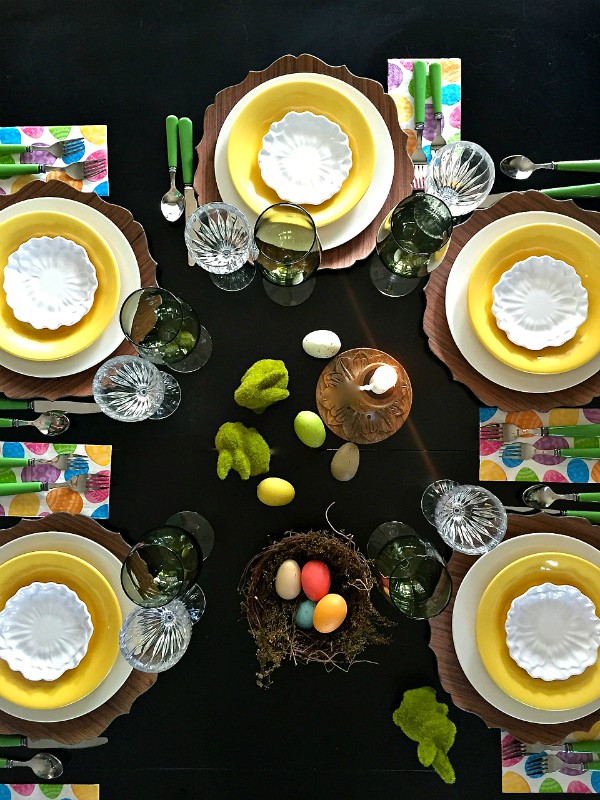 Having a dressed table topped with beautiful, springy bunnies and eggs is what I love about Easter this year.
From the moment guests arrive, and come into our house, seeing the table is a beautiful way for our guests to feel the embrace of our hospitality. Your table is just the beginning of a beautiful feast!
Today I'm sharing 6 dinner party rules, which should help if you're hosting Easter this year. My first tip today is that you have to be organized to pull off a great Easter dinner. Once the meal is planned, and the guests are invited, the rest is up to you.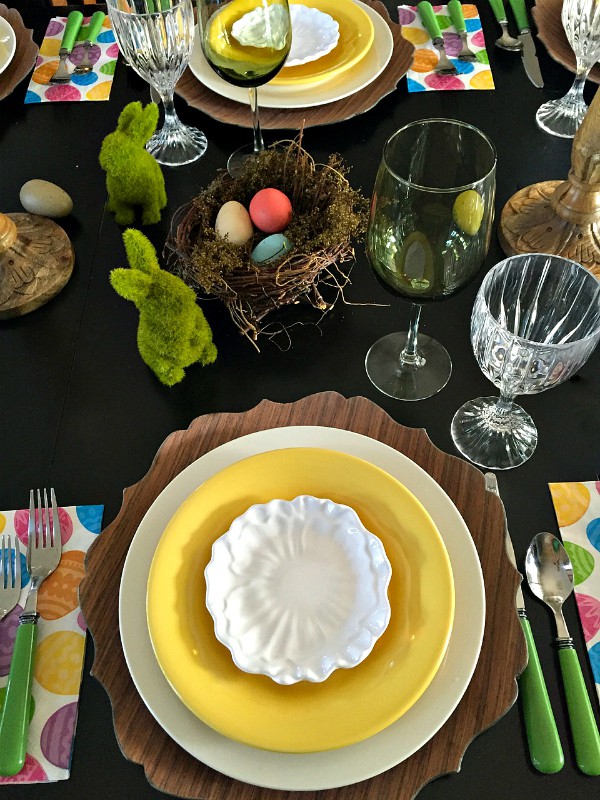 Rule 1. Set a timeline.

Create a timeline and a to-do list well in advance, and check off the tasks as you go. Much of the work you do before the guests arrive actually frees you to enjoy your own party. This is essential to pulling off a great party, and includes the prep work, and schedule for when dishes are to go into the oven. You can time a meal perfectly. I like to write it down where I can visually see it.

Rule 2. It's about the faces.

Entertaining is all about the people, right? Guests should be able to see one another's faces across the table, which means you need to create a centerpiece or arrangement below eye-level. You can make the dessert the centerpiece for the table, with small touches around it. You want your guests to talk, get to know each other, and feel "free" around the table, not confined.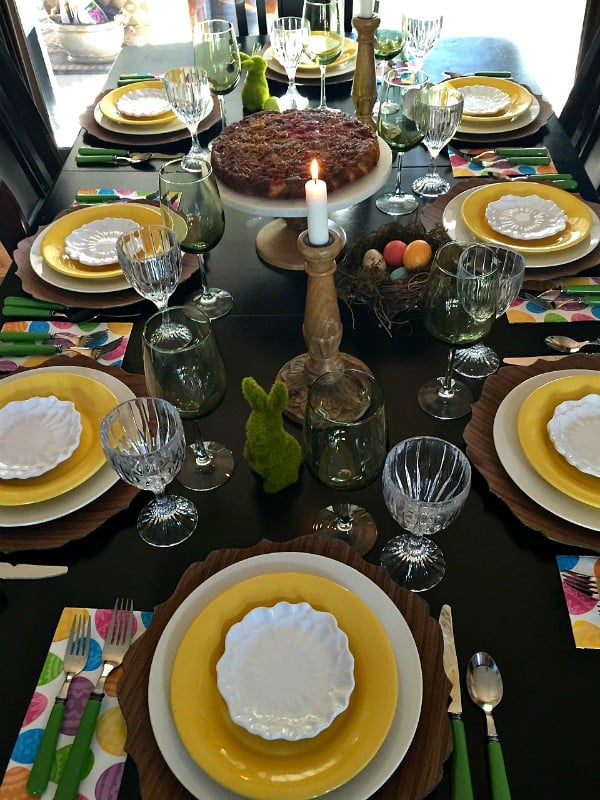 Rule 3. Set a pretty table.

Mix and match the dishes, napkins, and patterns, as long as the color theme is in balance with the centerpiece or candle. Two tapers are fine, because they are tall and narrow. Things do not have to be perfect to be beautiful, so remember that when you're stressing about the table (why stress the small stuff?)

Rule 4. Serve hot food.

I like to keep the menu on the counter as I'm preparing. This shows me who's bringing what food, so I keep the menu straight. Think ahead to each dish and set out serving dishes and utensils. If serving buffet, make sure the buffet line is set and ready! You want a pretty presentation for Easter! When you serve it, makes sure the dishes are hot!

Rule 5. Clean butter.

Don't forget the butter (a fresh stick), for those yummy rolls or croissants, and salt and pepper. (No crumbs on the butter, folks!)

Rule 6. Play music.

Classical or jazz background music sets the mood for a relaxing day, but it's not going to ruin your party if you don't have it. Check out Pandora and if you have a sound bar, it's easy to connect your iPhone (free music) to have built-in music playing in the background.
(Table details: Chargers are from Michaels, but pretty sure they were seasonal at Christmastime, white plates and green wine glasses – Dollar Store; yellow plates – Pier 1; appetizer plates and green flatware – Q Squared NYC; napkins – WalMart; bunnies – Hallmark; cakestand and candle holders – World Market)
I always like to think about this: If you are relaxed and having fun at your dinner party, your guests will, too.
Strawberry Coconut White Chocolate Upside Down Cake
Abby and I made a delicious buttermilk cake with strawberries, coconut and white chocolate, perfect for springtime entertaining. Yes, all of these amazing ingredients mixed together!
In an upside down cake.
You just can't go wrong.
So pretty, you can make it the "star" of the table! You can choose if you want to serve whipped cream, ice cream, or nothing (it's that good).
ENJOY! And Happy Entertaining this weekend!
Watch the video!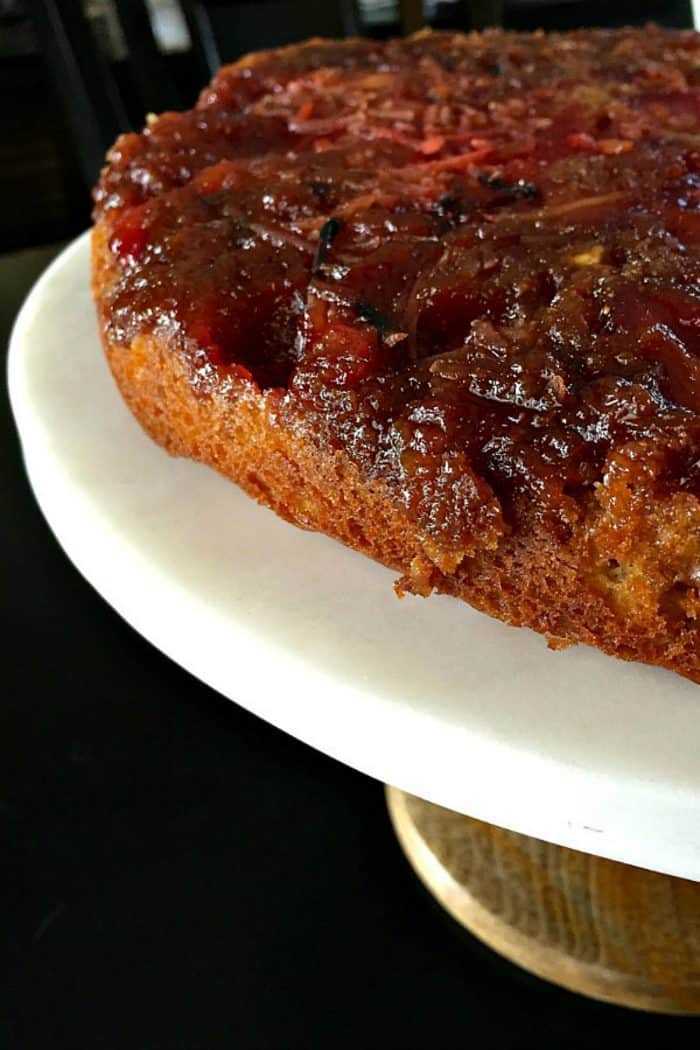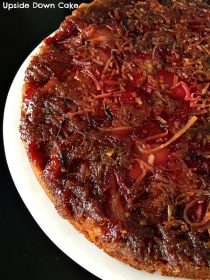 Get the Recipe: Strawberry Coconut White Chocolate Upside Down Cake
A delicious dessert to serve for Easter or a springtime dinner, Strawberry Coconut White Chocolate Upside Down Cake. You can replace the coconut for chopped nuts, if you're not a coconut lover.
Ingredients
3 Tbsp. butter, melted
1/2 cup dark brown sugar
1 lb. strawberries, sliced
3/4 cup coconut, toasted
1 3/4 cups all-purpose flour
1/2 cup sugar
1 teaspoon baking powder
1/2 teaspoon baking soda
1/2 teaspoon salt
1 stick unsalted butter, melted
2 large eggs
1 teaspoon vanilla extract
1 cup buttermilk
3/4 white chocolate chips
1 1/2 teaspoons finely grated lemon zest, from 1 lemon
Instructions
Preheat the oven to 375 degrees F.

Lightly spray an 11″ round baking pan (a 9×12 pan works, too) with cooking spray. Line the bottom with parchment paper.

Melt 2 Tbsp. butter and stir in the brown sugar until blended. Spread over parchment paper.

On a paper towel, toast the coconut in the microwave for 30 seconds; move around; microwave another 20-30 seconds until lightly toasted.

Sprinkle toasted coconut on top of the brown sugar mixture. Arrange the strawberry slices on top of the coconut.

Combine the flour, sugar, baking powder, baking soda, and salt in a large bowl. Using an electric mixer, beat in the 1/2 cup butter, and then beat in the buttermilk, vanilla, and eggs. Beat for 1 minute. Mix in white chocolate chips.

Spoon the batter evenly over the strawberries. Bake until the top is golden and a toothpick inserted into the center of the cake comes out clean, about 45 minutes.

Remove from the oven; transfer the cake to a wire rack and cool for 15 minutes.

Run a knife blade around the edge of the cake to loosen it from the pan. Invert the cake onto a serving plate.

Peel off the parchment paper. Serve the cake warm; optional to top with whipped cream or serve with ice cream. Room temp is good, too!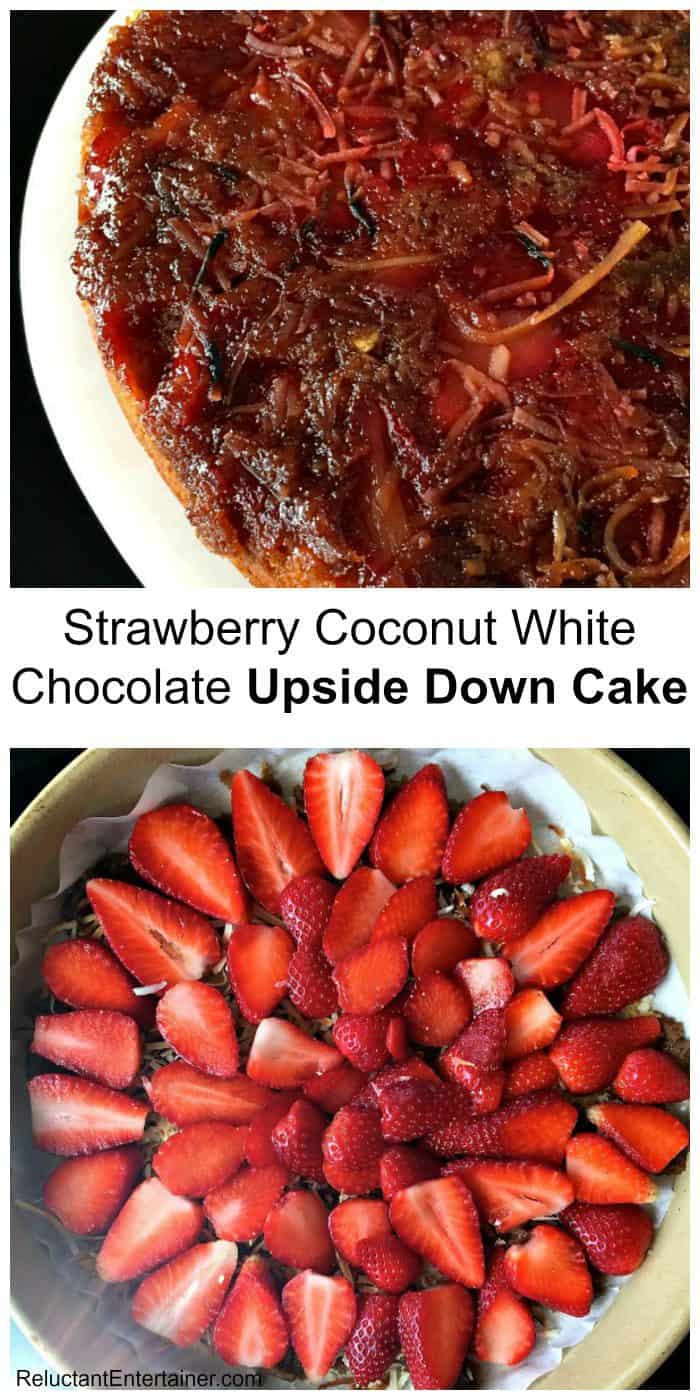 Hello and welcome to my home and table!
I'm Sandy—lover of food, family, cooking, THE BIG BOARD, travel, and bringing people together. Through great recipes and connection around the table, we become better, stronger, and more courageous people. Feasting on Life is real, and every time we do it, we grow a little more. Read more...