DIY Party Lights Fun Camping Stuff
I have to attribute much of our "glamping" experience as of late to my husband, Paul, who worked hard to make our trip fun, with new camping stuff, and a good time for all. We've had our VW 1987 Westfalia camper van for years, and it runs like a charm. (Read on and I'll tell you more about the party lights!)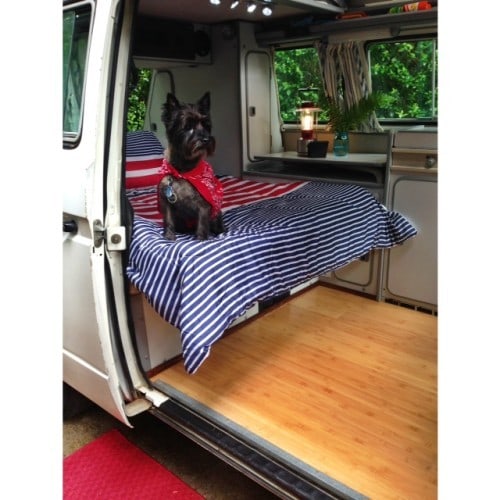 But to gear up, or "glamp up," the van a bit, he put in a new floor, we got a few "red" hints of decor–like our new red cooler and Camp Chef oven, bedspread, party lights, tablecloths, dishes, and red bandana for our Cairn Terrier, Haggis–to bring charm to the great outdoors.
The van ride is interesting because we're packed in rather tight

Haggis McStitch, our Cairn Terrier, makes the trip quite amusing. He's our little buddy.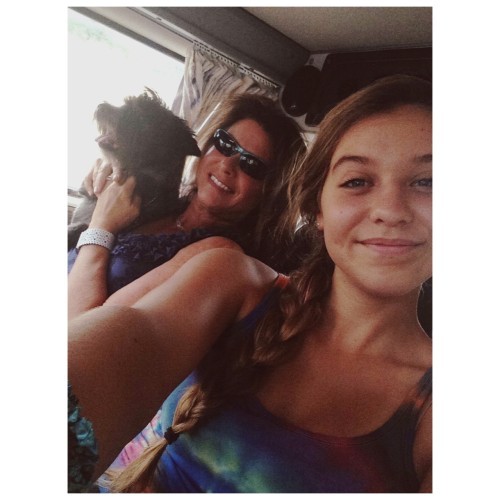 We started our vacation at Jedediah State Park in California.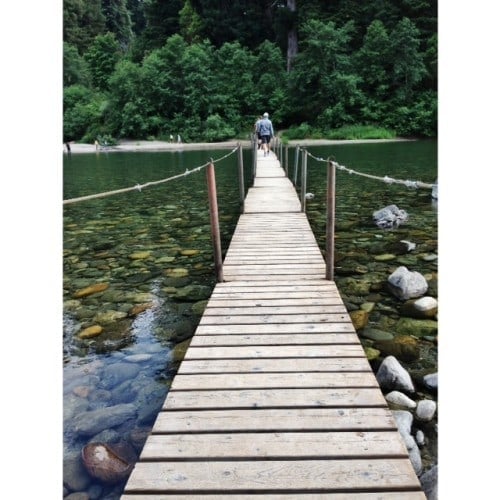 This is how we roll.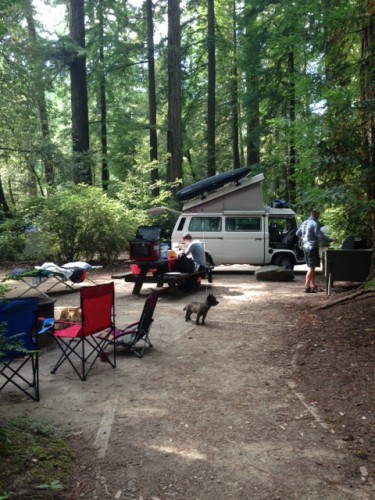 The beauty of the amazing redwoods.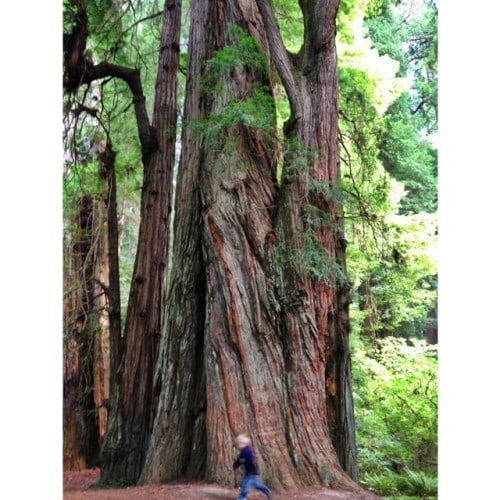 Crunchy clouds.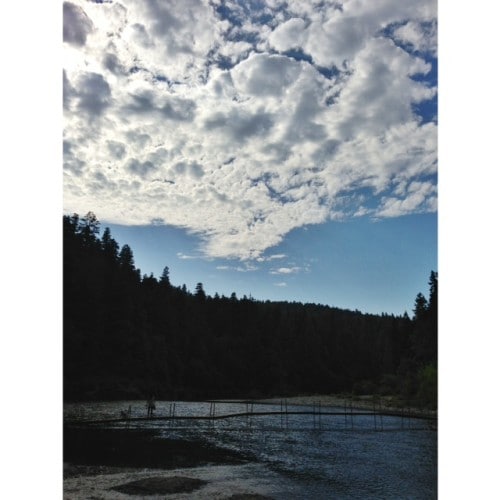 And the Smith River.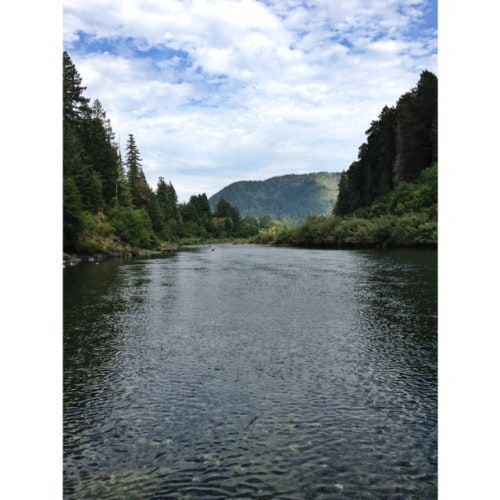 Miz Abigail taking an early morning dip.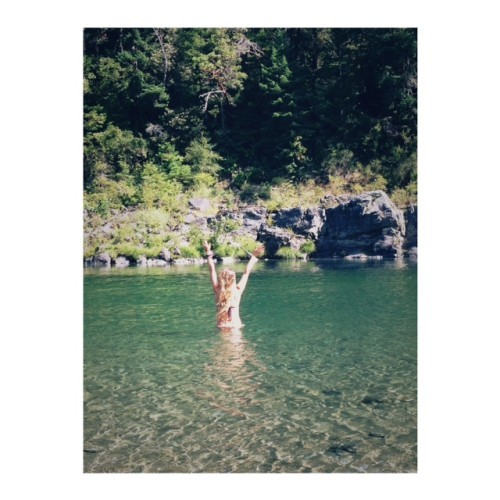 Good food, and recipes to come, like the one we tried in our new Camp Oven by making a zucchini pizza at home before we left.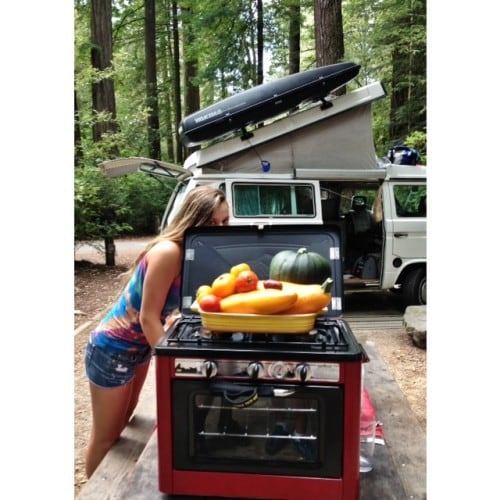 At dusk we pulled out our new DIY party lights.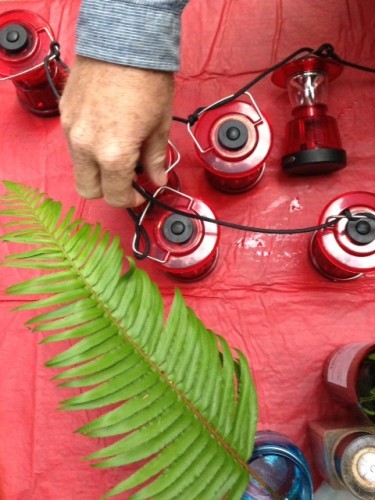 It's much more cost effective to glamp up your own string of lights!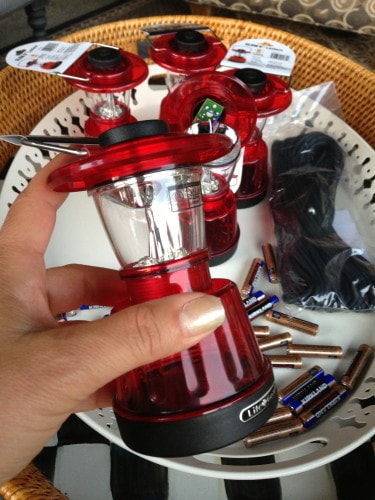 How to make glamping party lights:

-Buy 6-10 mini lanterns
-Black string
-Batteries for the lanterns

String together and ENJOY!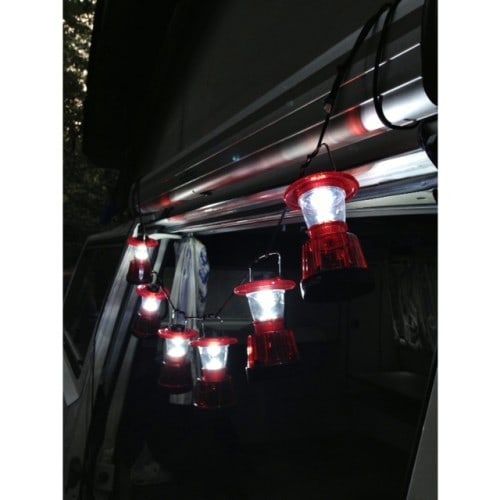 The lights we bought came with 2 different settings, normal lighting and red blinking lighting.
For us, the color red made glamping fun and colorful for our outdoor experience.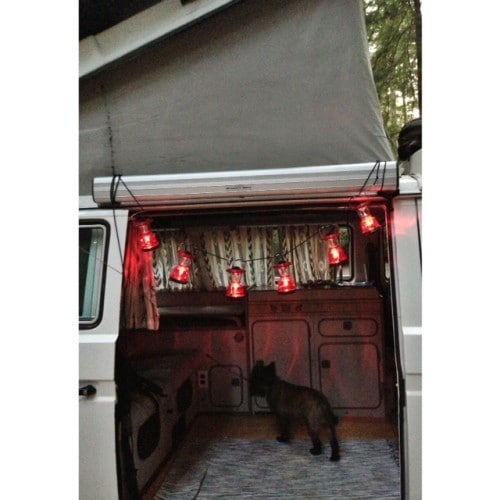 Stay tuned for more recipes that we tried in our new camp oven. But more importantly the fun family memories that we're creating with our kids.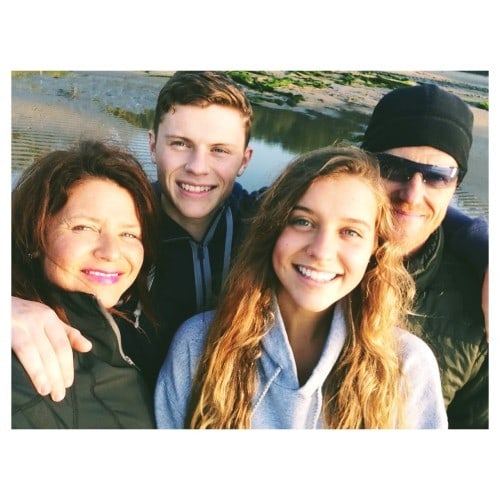 Before we know it, (photo before our oldest met up with us) they'll all be on their own, so I'm thankful for the memories we can make with them now!
What cool things have you made yourself for camping?
Last year: Easy Camping and Cooking Tips
Hello and welcome to my home and table!
I'm Sandy—lover of food, family, cooking, THE BIG BOARD, travel, and bringing people together. Through great recipes and connection around the table, we become better, stronger, and more courageous people. Feasting on Life is real, and every time we do it, we grow a little more. Read more...