Caramelized Onion Gorgonzola Crostini and "Contentment"
This Caramelized Onion Gorgonzola Crostini is delicious served with a dab of pumpkin butter on top for holiday entertaining!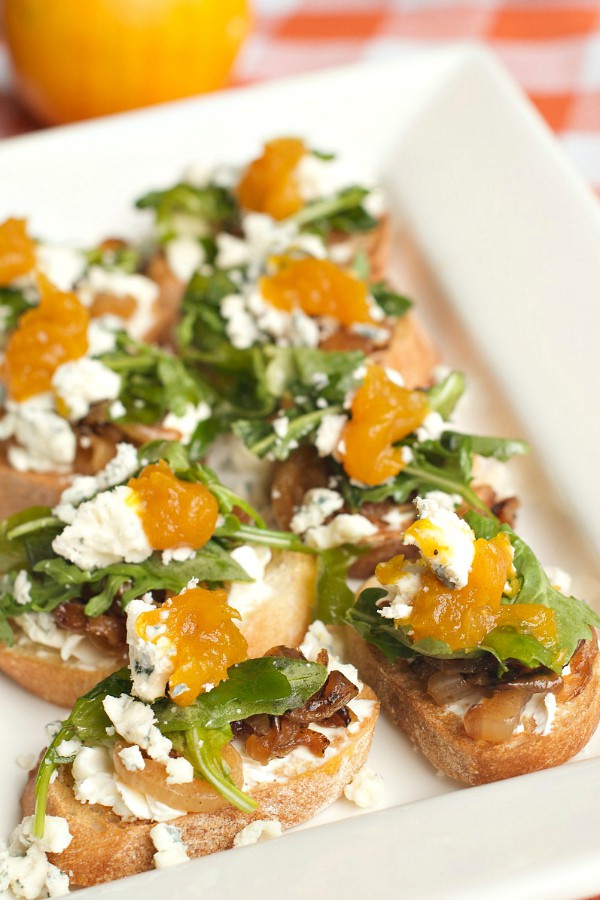 Friends, this is the week! The holiday festivities begin and I am very excited. For me personally, the more I have people into my home, connecting with friends and family, the happier I am. Yes, it's a lot of work, but there is a sense of fulfillment inside when I'm preparing, giving out, and loving the people in my life. I think most women who practice hospitality are pretty content and happy and satisfied, especially when you have good boundaries–you do not overdo, you are organized, you take care of yourself first, before giving out to others–and you give your very best! If you're struggling with contentment, I wrote a post a few years back that may help you get a healthy perspective this holiday season! It's about how to find contentment (a story about contentment).
I read a study that Good Housekeeping shared, which said: The more often that women have dinner with their families, the more satisfied they are overall. And those who see friends and entertain at least every few months are more content in general.
I love this. It is indeed true in my life. Community is so important to me, and I know my readers here on RE feel the same. A sweet friend just wrote me on Facebook this week:
Sandy, your blogs bless me tremendously!! I'm 70 years and a very reluctant entertainer but I know that the LORD is using you to get me out of my comfort zone and do it!!!
With Thanksgiving here this week, here are a few quick and easy things that I like to do to get ready for company!
Get Ready for Company!

1. Have warm cider in the slow cooker where guests can easily serve themselves throughout the day.

2. Make sure the guest bedroom is stocked with bathroom supplies, reading material, bottled water, maybe a few snacks (or chocolate!)

3. Clear a space in the garage or utility room for the holiday spread. Have one designated area for extra food, such as when the desserts arrive, and for extra dishes, bottled drinks, etc.

4. Need a quick appetizer? You'll love my recipe below, but another delicious treat is to heat brie in the microwave for 3-4 minutes on LO, and top with your favorite chutney, relish, honey mustard, or just honey! Top with chopped nuts and serve.

5. Set utensils, plates, etc out the night before, so you have something done already the morning of your event.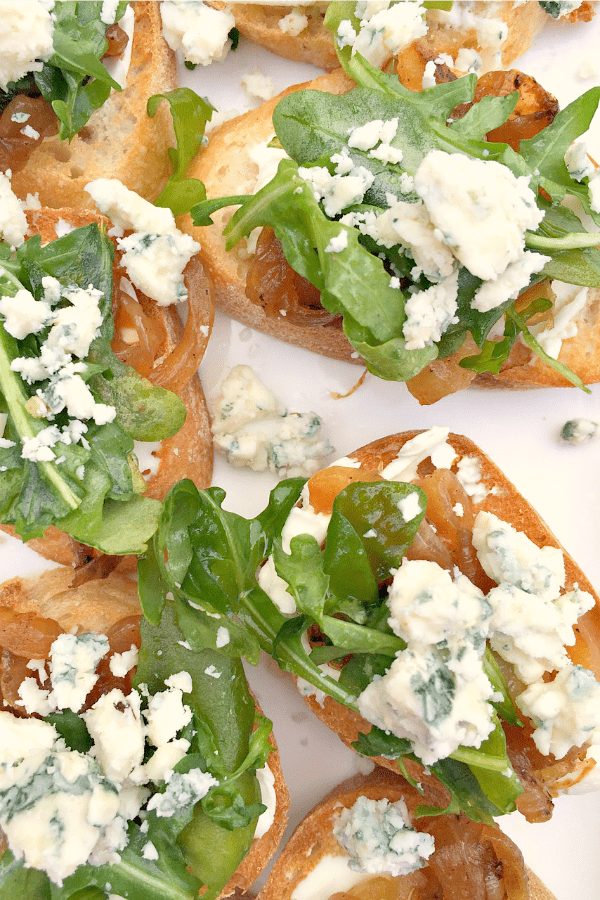 Caramelized Onion Gorgonzola Crostini.
Whether you're planning the perfect holiday party or just looking to make an appetizer, this Carmelized Onion Crostini recipe is really simple to make, plus it's delicious with a dab of Pumpkin Butter on top. This, of course, is optional, but you can pick up a jar at Harry & David's or Trader Joe's. Use up the rest of the jar the next morning on waffles! YUM!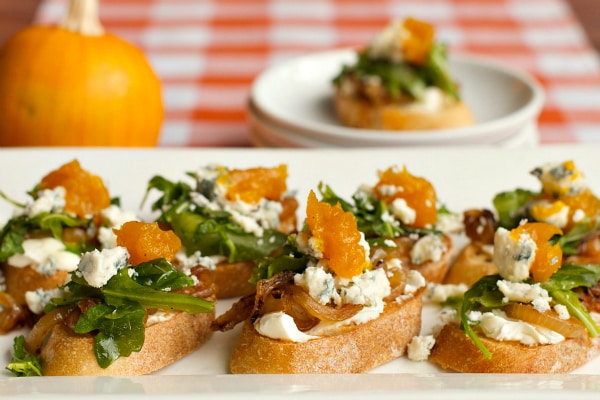 Make your crostini, and while still warm, spread with goat cheese (or cream cheese).
Carmelize the onions with a little brown sugar and balsamic vinegar; moisten the arugula leaves with olive oil. Combine into delicious bites and serve! Or, make the onions and crostini ahead of time and assemble right before serving!
Here are a few more easy appetizers. Roasted Honey Pear Crostini, Apricot Almond Bites (for the gluten-free crowd), and Pickled Green Bean Salami Rolls.
ENJOY! Happy Thanksgiving week!
Do you feel that family meals and sharing your home are stressful, or do they add to your contentment?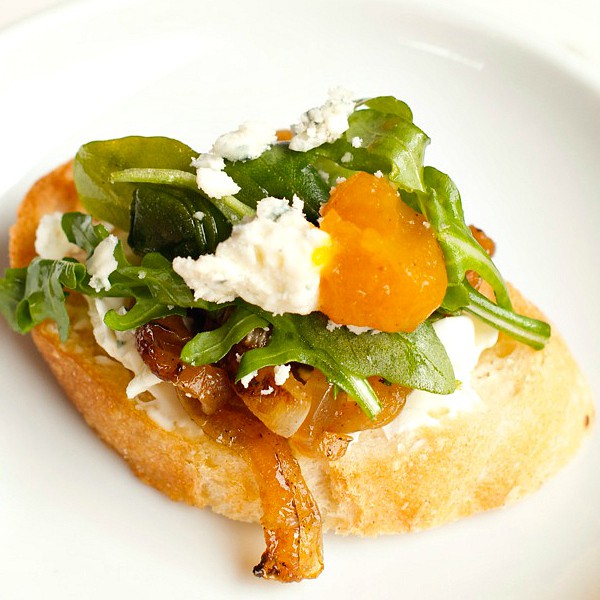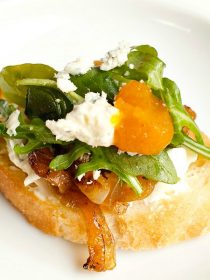 Get the Recipe: Caramelized Onion Gorgonzola Crostini
This Caramelized Onion Gorgonzola Crostini is delicious served with a dab of pumpkin butter on top for holiday entertaining! Make the onions and crostini ahead of time and assemble right before serving!
Ingredients
2 Tbsp. olive oil
2 medium sweet onions, thinly sliced
Salt and pepper
1 Tbsp. packed brown sugar
1 Tbsp. balsamic vinegar, I use DeLallo brand
24 slices 1/4-inch thick French bread baguette
Nonstick cooking spray
2 cups baby arugula leaves
1/4 cup of olive oil
1 package, 4 oz goat cheese or cream cheese, softened
1/2 cup Gorgonzola cheese
1 jar Pumpkin Butter
Instructions
In a nonstick skillet, heat oil over medium-high heat. Stir in onions; cook uncovered 10 minutes, stirring every 3 to 4 minutes.

Turn heat down to medium-low; stir in salt, brown sugar, and vinegar. Cook 30 to 35 minutes longer, stirring every 5 minutes, until onions are deep golden brown (onions will shrink during cooking). Cool slightly.

Heat oven to 325°F. Place bread slices on ungreased cookie sheet; spray lightly with non-stick cooking spray. Bake 6 to 9 minutes or until crispy.

In small bowl, add arugula and olive oil. Using your hands massage the oil into the leaves.

Spread each crostini with goat cheese, top with 1 tsp. caramelized onions and arugula. on each bread slice End with 1 tsp. Gorgonzola cheese on top, with a dab of pumpkin butter (optional).
Are you following me on Instagram, Twitter, Facebook and Pinterest? If you'd like to subscribe to Reluctant Entertainer, to have each post delivered straight to your e-mail box, then please add your email, here. It's really easy! Thanks for being here today!

Hello and welcome to my home and table!
I'm Sandy—lover of food, family, cooking, THE BIG BOARD, travel, and bringing people together. Through great recipes and connection around the table, we become better, stronger, and more courageous people. Feasting on Life is real, and every time we do it, we grow a little more. Read more...