Chicken Lentil-Farro Soup
This Chicken Lentil-Farro Soup is a pure comfort dish–delicious, nutritious, an easy crock pot meal for weeknight cooking.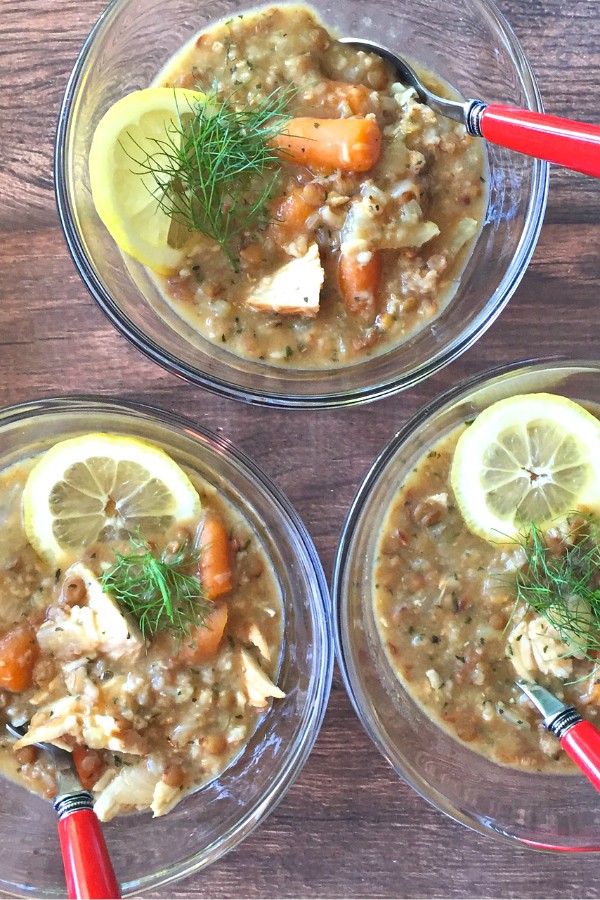 Most people let their moments slip through their fingers, half-lived. They avoid the present by worrying about the future, or long for a better time and place. They forget that they are creatures who are subject to the limitations of time and space. They forget their Creator, who walks with them only in the present. — Sarah Young
Wow. Every moment that we have is alive, and full of so much potential, if we only would embrace it. Our lives matter, today.
Which is partly why my husband and I decided to sell out house and move to Bend, Oregon. Yes, we are heading to Central Oregon and we are very excited. We're actually buying a fixer-upper home, and I'll be sharing quite a bit here on RE about the updates! Let me just say, it's not your normal type of home, it has some unique features about it.
I'm scared to death, to leave my little community of wonderful people and so much support, but I'm also up for the adventure of new things. My husband and I have prayed for over a year about this move, then BAM! Everything fell into place.
The risk.
Back to living in the present moment. That thought reminds me of a lunch date with a new friend in my life, this past week. In an hour's time, we walked through her life's happenings, and of course she asked me about mine. We talked about faith, passions, goals, dreams, risks, and even hurts. Yes, it's difficult to ask the hard questions about the things that make us sad in life, but if you saw the movie Inside Out, one of our family favorite movies, remember there is no joy without sadness, or sadness without joy.
The certainty of today is that we have people in our lives to connect with, but we have to make the time.
And we have places to go, if we're willing to take the risk.
And we have things to get done, if we focus and take the steps it takes to get to that dream.
That dream …
Chicken Lentil-Farro Soup
In the meantime, I made this delicious slow cooker soup, and once again shared it with my 2 friends, who stop by my house on the way to work. It's fun to share lunch with a friend, even if I can't be there with them when they enjoy it. Ha! (In my new little community, I'll have to find people to share soup with!)
Farro and lentils combined … Mm-m-m- … so healthy!
What is that dream that you have, that you feel you need the extra encouragement to make happen? I'd love to hear.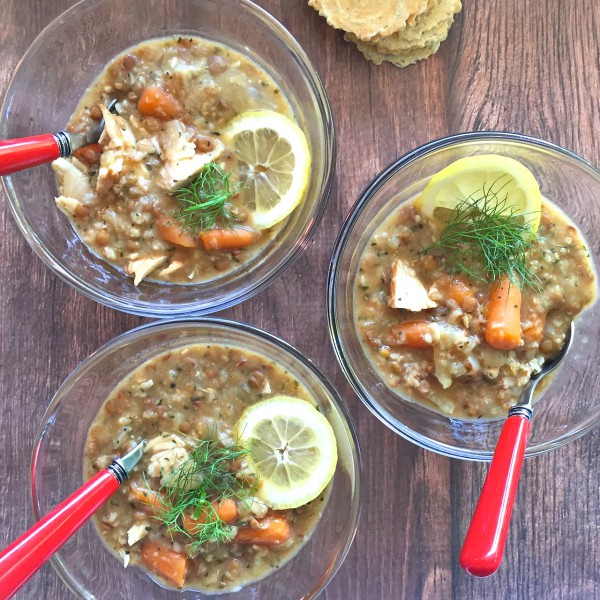 Get the Recipe: Chicken Lentil-Farro Soup
Ingredients
8 cups chicken broth
1 cup farro
3/4 cup dried green lentils
1 large fennel bulb, sliced (or 2 small)
3 carrots, halved lengthwise and sliced
1 sweet onion, chopped
2 cloves garlic, minced
1/2 teaspoon salt
1/2 teaspoon black pepper
2 cups shredded cooked chicken, Rotisserie is easy!
3 tablespoons snipped fresh parsley
Five spice, to taste – optional
Lemon slices, optional
Instructions
In a 4-quart slow cooker, combine the first nine ingredients (through the pepper).

Cover and cook on high heat for 3 to 3 1/2 hours, or on low heat 6 to 7 hours.

Stir in the chicken and parsley. Add more salt and pepper to taste or five spice (or your favorite spices).

Serve with fresh lemon slices.

Hello and welcome to my home and table!
I'm Sandy—lover of food, family, cooking, THE BIG BOARD, travel, and bringing people together. Through great recipes and connection around the table, we become better, stronger, and more courageous people. Feasting on Life is real, and every time we do it, we grow a little more. Read more...