Easy Entertaining Cinnamon Apple Cream Cake
This Cinnamon Apple Cream Cake, with sweet whipped cream on top, is the perfect cake to share at a fall dinner party, or a slice with your neighbors!
Friends, we are so enjoying our home here in central Oregon. It's smaller, different, wide open, with lots of windows and light, it smells good, feels good, and we're so happy we made the move.
Of course this was the largest purge of our lives. Everything we had collected and owned for over 25 years of marriage went through our hands, packed into boxes. Then it either came into our new home, or is sitting in a small storage unit. Our plan is to eventually eliminate the storage unit, but for now, with 3 kids in their 20's, it's just not doable. Once they all get on their feet, they get their stuff :) By the way, have you noticed that girls collect more stuff than boys? Yes, that is true!
Part of our new existence over in central Oregon is that we feel lighter, in many ways. It's an emotional lightness, and I think back to when my husband and I went to Africa, with only 26 pounds each, for over 2 weeks. It felt so good …
I don't think I'll ever be stuff-less, as long as I enjoy entertaining. There are shelves in the garage with items that I want to keep, that help me with posts and entertaining. They're organized by glass, decor, seasons, etc. Much I thinned through though, so I like the collection that I currently have.
But let's talk neighbors.
The one thing that I long to do, and I have not been good at (yet), is to be a good neighbor. Just yesterday I got a text from our neighbor back home (the ones that I would bring slices of cake or cookies or appetizers to on a regular basis). They sent pictures of their new side yard. It was so good to hear from them!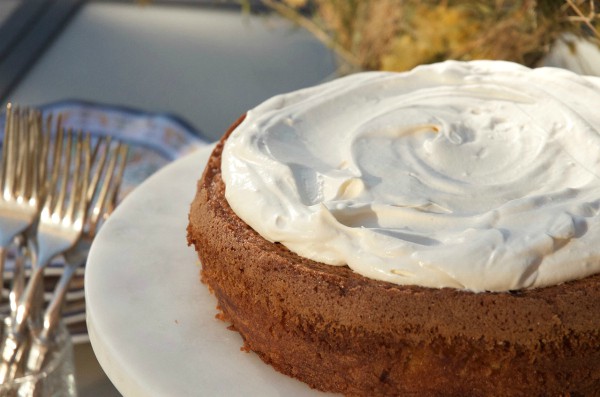 Being a good neighbor
I'm looking forward to being a good neighbor again. You may be thinking "start now," but quite honestly, we've been swamped with many guests this summer, and travels of our own. Now we have a list of people we long to connect with.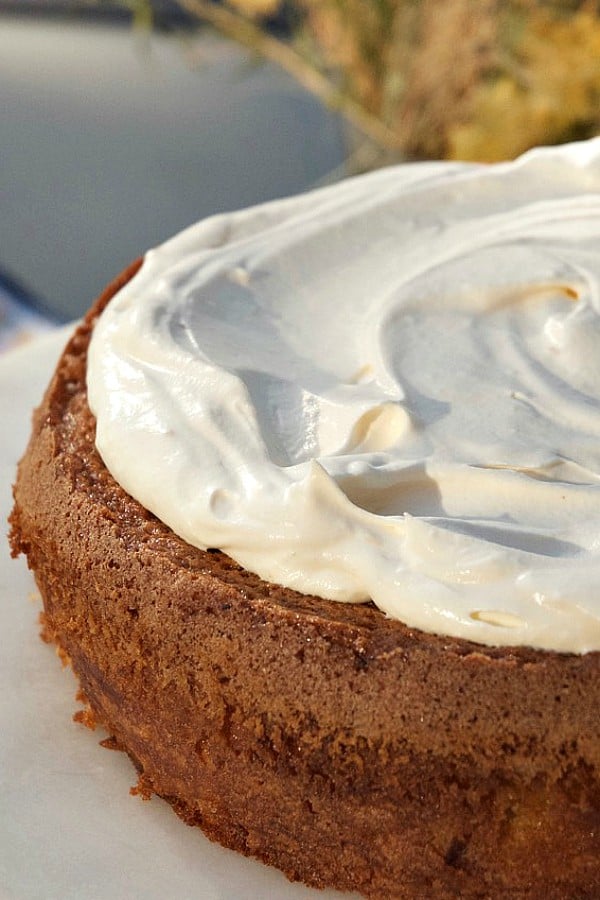 Cinnamon Apple Cream Cake
In the meantime, this Cinnamon Apple Cream Cake is made with my favorite apple, Fuji.
Fuji apples just seem to be consistent, as in you don't have to hope and wonder when you cut into them, whether they're going to be good or not.
Adapted from Sunset Magazine, this cake is made with tender-sweet apples (unpeeled) and almond extract. I love a cake with almond flavor, and I skipped the dusted powdered sugar on top, instead making a sweet vanilla cream.
Use a spingform pan– butter and flour the pan, or you can simply use parchment paper.
Bake and cool, and then flip the cake over for serving.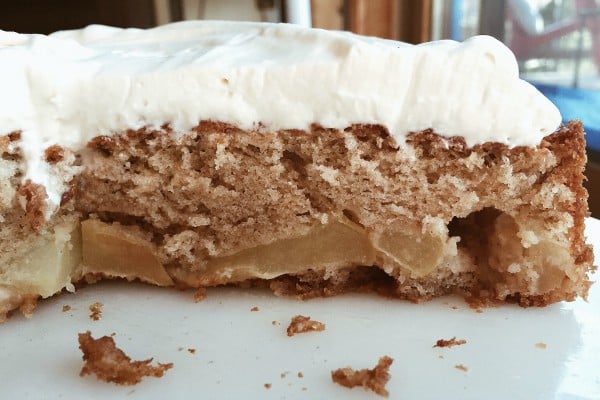 Sweet cream
Make a regular (vanilla) whipped cream, or a sour cream whipped filling, or a spiced whipped cream for the topping!
The perfect autumn cake for bringing a slice to your neighbor!
Or, bring them the entire cake. :)
Cinnamon Apple Cream Cake
Yield: 8-10
Prep Time: 15 minutes
Cook Time: 1 hour + 30 minutes cooling
Total Time: 1 hour 45 minutes
Adapted from Sunset Magazine, September 2016 issue. Makes one 9″ cake.
Ingredients:
3 sweet apples, sliced and chopped (I used Fuji), unpeeled
3 large eggs
1 cup granulated sugar
3/4 heavy whipping cream
1 tsp. vanilla extract
1 tsp. almond extract
1 cup flour
1 tsp. cinnamon
1 ½ tsp. baking powder
1 tsp. salt
1 cup heavy whipping cream
1/2 cup powdered sugar
1 tsp. vanilla
2 tsp. mixture cinnamon/sugar for dusting
Directions:
Preheat oven to 325F. Butter base and inside of wall of 9-inch springform pan, then lightly flour it. Shake out excess flour and set aside.
Wash the apples. Thinly slice the apples with the peels on, and then cut into small pieces. Set aside.
With a stand mixer, mix eggs and sugar on high speed until pale and slightly thickened. Reduce speed to medium and add cream, vanilla, and almond extract; blend in.
Add the flour, baking powder, and salt until evenly combined.
Gently mix in the apples with spatula. Pour mixture into prepared baking pan and arrange apples flat (push down on the mixture with a spatula, spreading it flat).
Bake the cake for 1 hour. Make sure and check the center with a toothpick to make sure it's done. (Every oven heats differently.)
Remove pan to rack to cool for 20 minutes. Then run spatula or butter knife around edge and remove rim of pan. Cool cake for another 10 minutes.
Whip the cream with powdered sugar and vanilla. Spread on top of the slightly cooled cake. Optional to dust with cinnamon and sugar; serve!
Sunset Magazine, September 2016 issue
More fall desserts: Pumpkin Spice Flourless Chocolate Cake, Apple Butter Pie Bars, Banana Split Honeycrisp Apple Nachos, Apple Pear Skillet Dessert, Apple Pie Dumplings.

SaveSaveSaveSave
SaveSave
SaveSave