Strawberry Cobb Salad Recipe with Creamy Poppyseed Dressing
Today's easy weekend brunch menu consists of this Creamy Poppyseed Dressing with a Strawberry Cobb Salad Recipe, crunchy bread, and a light crisp for dessert.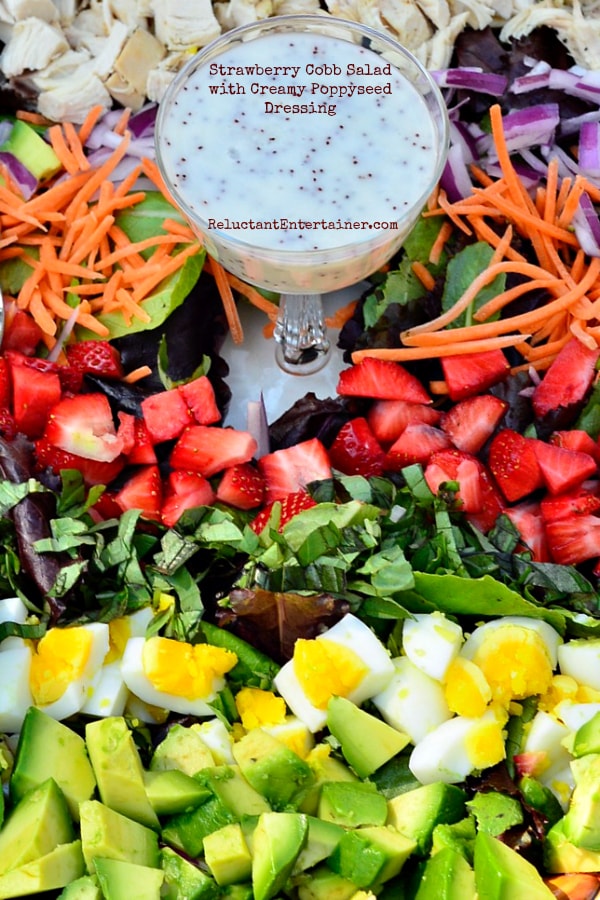 It's fun to have friends over for a weekend brunch, but no one wants to wake up bright and early to actually pull it off. Planning a light brunch during the summer season is a refreshing way to host friends. It's all about planning a light menu, with a delicious spread of fresh-from-the-garden dishes, and enjoying the guests. Right?
Cobb Salad Recipe
My easy menu consisted of this Creamy Poppyseed Dressing with Strawberry Cobb Salad, crunchy bread, and a light crisp for dessert.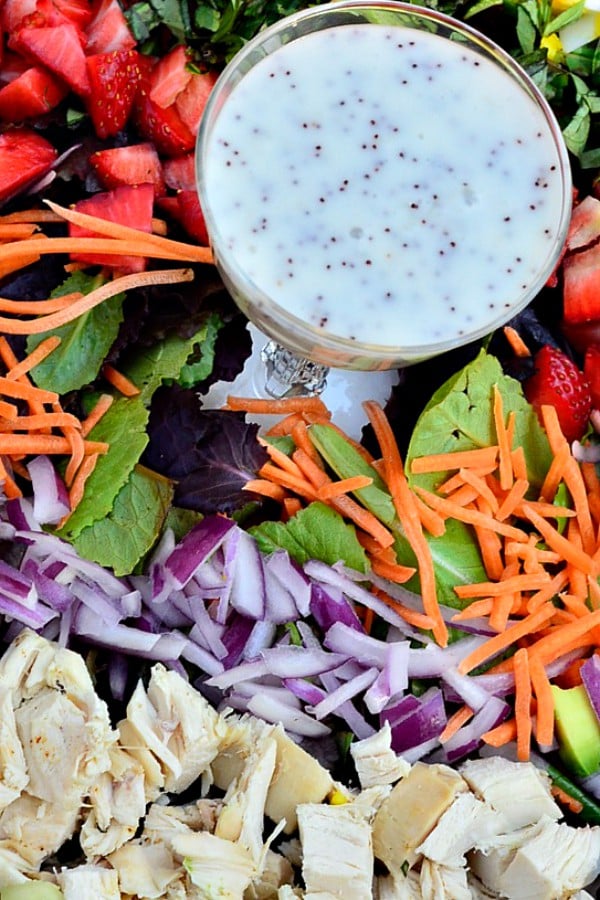 The night before.
I chopped up the salad ingredients and hard cooked the eggs, and set the table, so I'd be able to enjoy my Sunday morning and not feel rushed. I also made the Creamy Poppyseed Dressing and popped it in the fridge to chill overnight.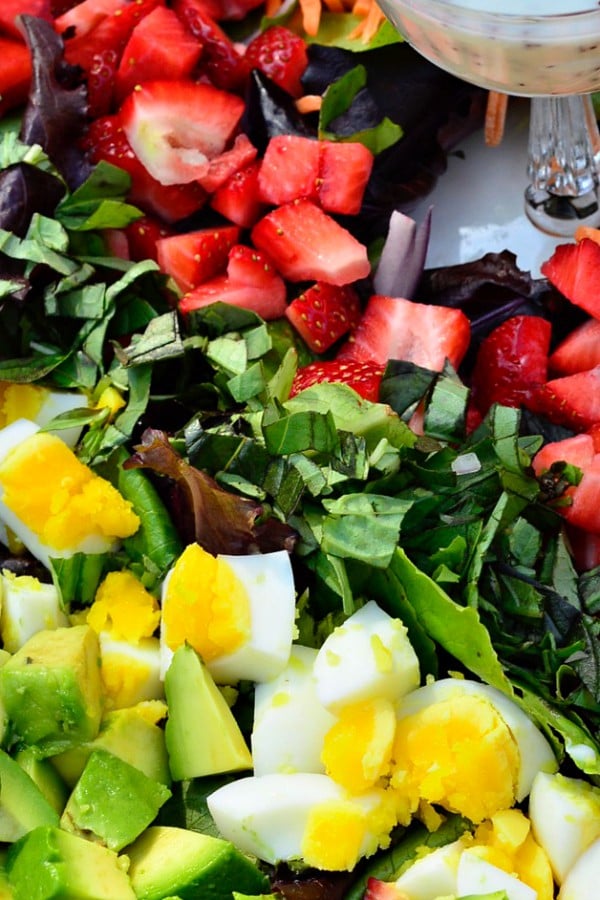 The morning of.
I whipped up the dessert and set it off to the side until the guests arrived, and then popped it into the oven so we could serve it warm for dessert. I also prepared a fruit platter, cutting up season's freshest fruit, and laid it on a serving platter. I arranged the salad ingredients onto a large serving platter and made fresh poppyseed dressing one hour before the guests arrived. Bread was warmed, butter set out, and we served a summery Sparkling Grape Cocktail, using sparkling wine with white grape juice. We mixed the drinks in a pitcher right before the guests arrived, freezing half of the grapes to use as mini ice cubes!
Brunches are easy.
Brunches are just plain ol' simple. No one should be afraid to make a mess at the table, or be afraid to get up for seconds. With a midday brunch, there's really no timeframe for when to wrap up the party.
There's no excuse to head home to bed, only to stay and mingle, and to enjoy the day.
It's just a relaxed, easy day!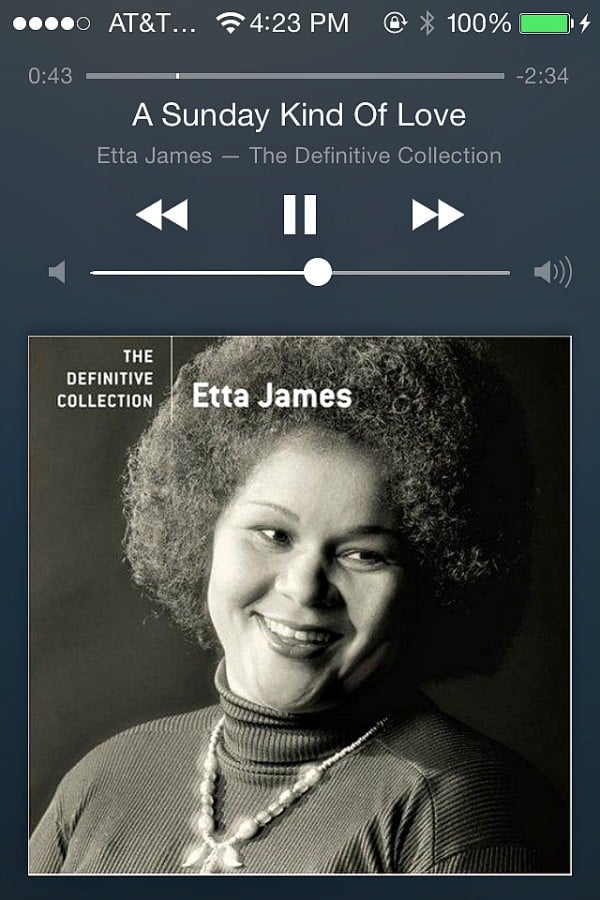 Oh, and always fun with Etta James!
What's your favorite thing about hosting a weekend brunch?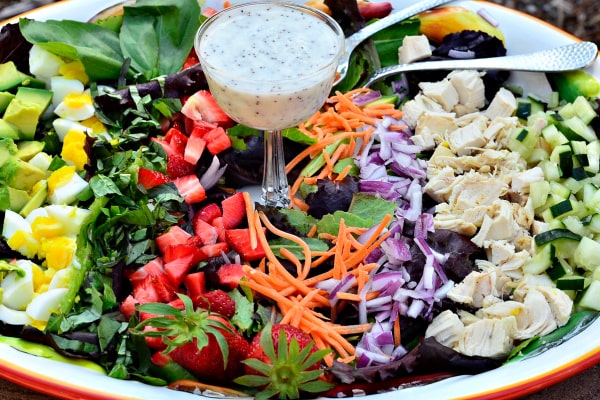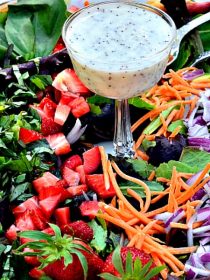 Get the Recipe: Strawberry Cobb Salad Recipe with Creamy Poppyseed Dressing
Add bacon for a "true" cobb salad. Follow this technique for the perfect, peelable hard cooked egg.
Ingredients
Fresh baby spinach
Strawberries, sliced
Hard cooked eggs, chopped
Avocado, sliced
Fresh basil, finely chopped
Carrots, finely chopped
Red onion, finely chopped
Rotisserie chicken, chopped
Cucumber, chopped
1/4 cup granulated sugar
3 tablespoons apple cider vinegar
1 tablespoon olive oil
2/3 cup plain Greek yogurt
1 1/2 teaspoons poppy seeds
Instructions
For the salad, place the spinach on a large platter. Top with all the chopped ingredients, which include strawberries, hard cooked eggs, avocado, basil, carrots, onion, chicken, and cucumber.

For the dressing, combine the sugar, vinegar, olive oil, yogurt, and poppy seeds together in a jar. Mix very well until combined and smooth. Place in a small dish.

Serve the dressing alongside the salad for a buffet meal. Serve with crunchy bread.

Are you following me on Instagram, Twitter, Facebook and Pinterest? Thanks being here today, and if you'd like to subscribe to Reluctant Entertainer, to have each post delivered straight to your e-mail box, then please add your email, here. It's really easy!
Hello and welcome to my home and table!
I'm Sandy—lover of food, family, cooking, THE BIG BOARD, travel, and bringing people together. Through great recipes and connection around the table, we become better, stronger, and more courageous people. Feasting on Life is real, and every time we do it, we grow a little more. Read more...